Want to Get In on the Feather Trend? Here's How
As POPSUGAR editors, we independently select and write about stuff we love and think you'll like too. If you buy a product we have recommended, we may receive affiliate commission, which in turn supports our work.
Feathers are all the rage right now. You'll see them on the stylish streets of Paris to high-fashion runways to your neighborhood bar. But if you're feeling unsure about how to integrate this bold statement into your wardrobe, we can help. Ahead, you'll find an array of feathered clothing and accessories to ease your wardrobe into this new trend.
Should you want to go all out, we've got dresses in full feather and shoes to match. For those who are just dipping their toes in, we've got a delightfully playful feather purse and dangling feather earrings. Whichever you choose, go confidently. This trend isn't flying away any time soon.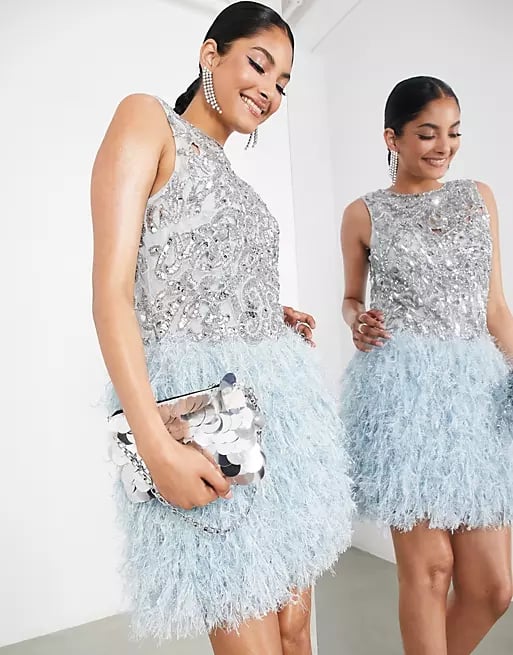 ASOS Edition Sequin Cutwork Mini Dress With Feather Hem in Blue
This ornate dress ($199) simply screams holiday party with a crystal-embellished bodice and a faux-feather hem. It delivers sparkle and flounce — ideal for dancing into the night, whether you're at a New Year's Eve soiree or a black-tie winter wedding.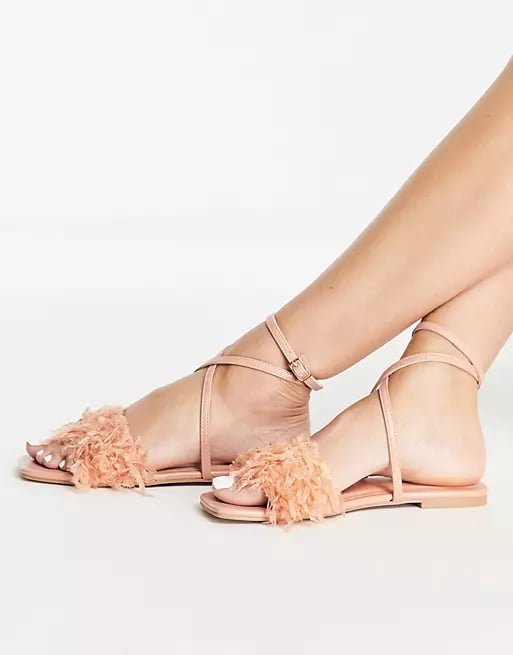 ASOS Design Four Faux Feather Flat Sandals in Pink
Why yes, you can jump on the feather trend, literally, with these delicate flats ($35). The peachy faux-feather strap makes them fun and festive for your next beach vacation — or any day if you're lucky enough to live in a warm winter spot.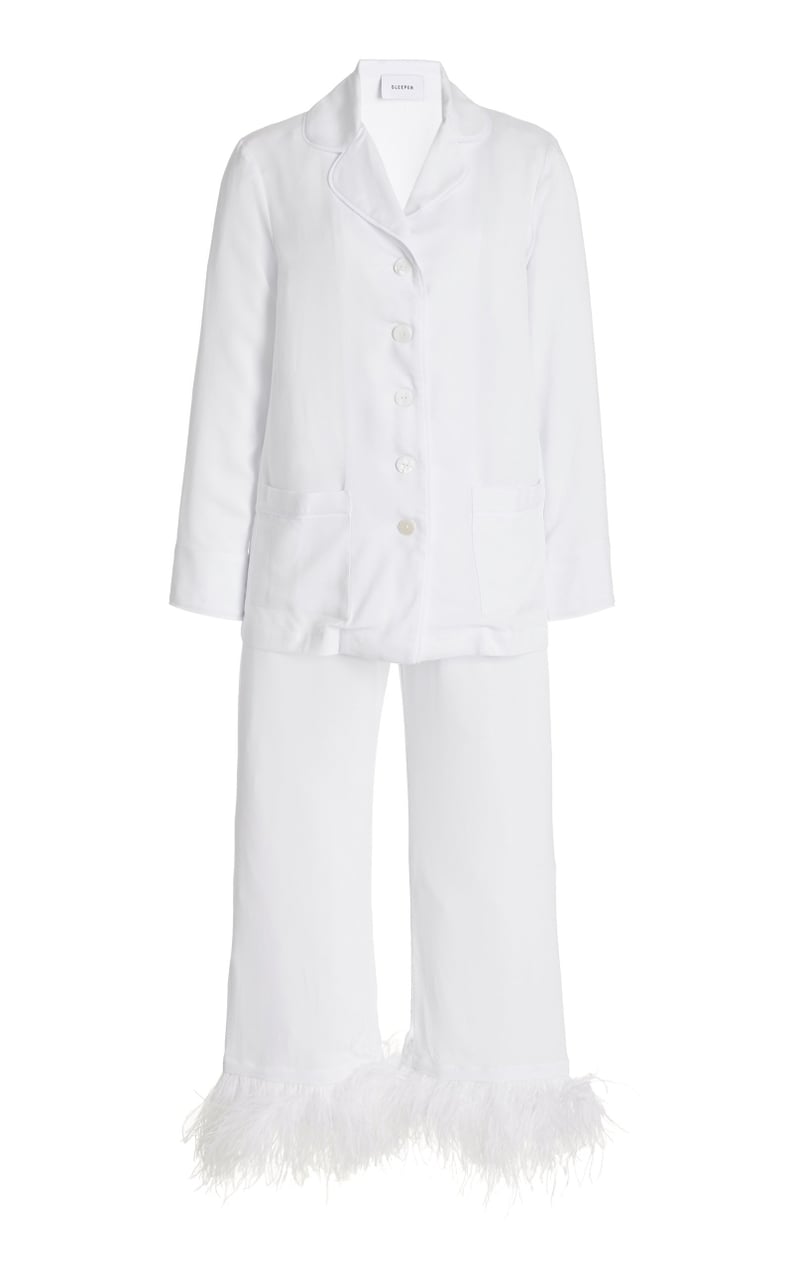 Sleeper Party Feather-Trimmed Woven Pajama Set
Whether you like to lounge in luxury or you're a bride prepping for your big day, these silky pajamas ($290) with ostrich-feather cuffs will meet the mood. Of course, the feathers are removable if you prefer to sleep without them, but we prefer to dream in style.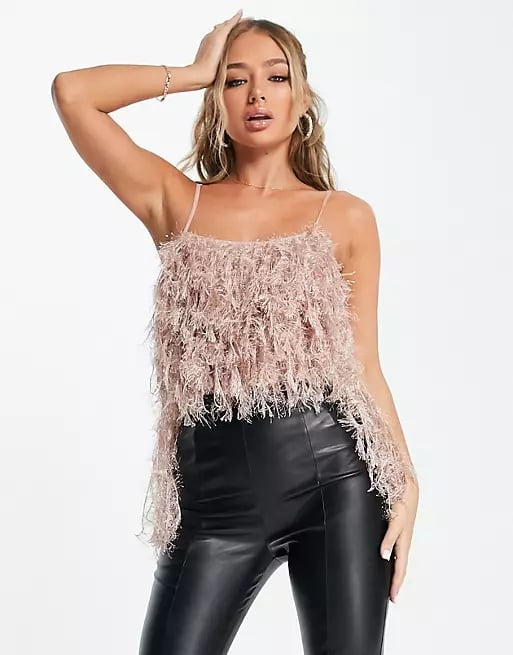 ASOS Luxe Feather Low Back Cami Bodysuit
We love a bodysuit to wear under a chic pair of leather pants or trousers. And this bodysuit ($70) works double duty, bringing the party wherever you go with lots of flowing faux feathers. With adjustable straps, the square neck and low back will fit just how you want them.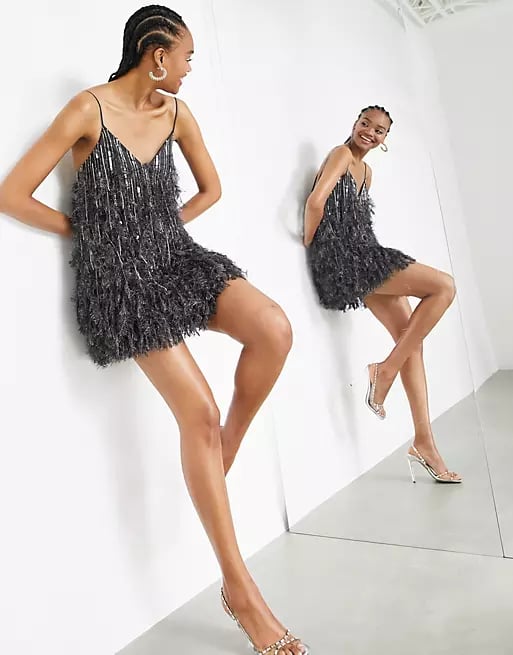 ASOS Edition Feather and Sequin Mini Dress
This feather- and sequin-laden dress ($199) is primed to party. With a thigh-high cut and a low back, it's truly a mini (and a showstopper). Pop it on for any night out, and you'll instantly feel glamorous. All you need is a pair of heels, and you'll be ready to go.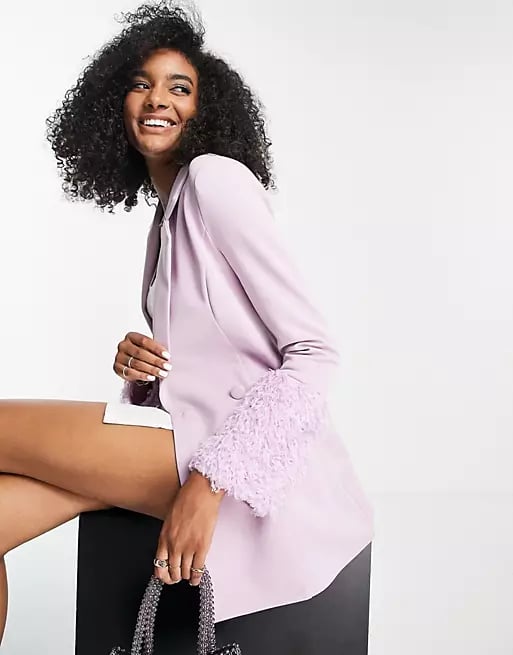 ASOS Design Jersey Longline Blazer
If you want to integrate some feathers into your work wardrobe, look no further than this cheery blazer ($74) with faux-feather cuffs. Of course, the blazer is perfectly suited to off-hours, too. Throw it on over a crop top and skirt or a minidress to keep warm on a chilly night and make a feather statement.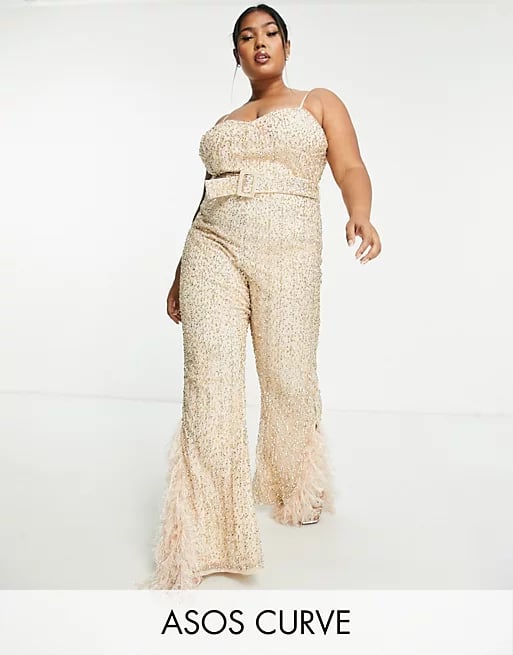 ASOS Luxe Curve Embellished Belted Jumpsuit
This cream-colored jumpsuit ($171) gets added flair with wide legs with faux-feather trim. We love the flattering waist belt and sweetheart neckline. Wear it to your next holiday party with some pumps for a stunningly festive, feathered look.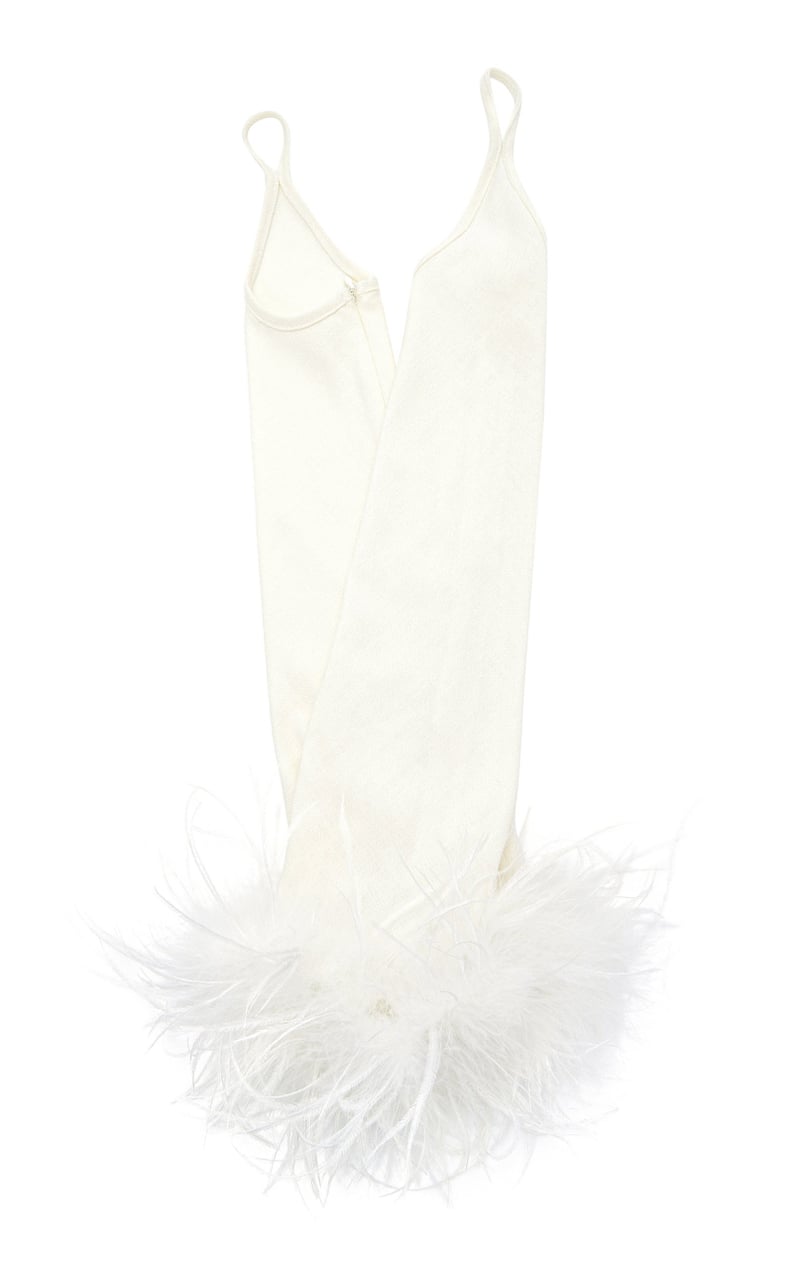 Cult Gaia Gaia Feather-Embellished Jersey Gloves
Bring the feather trend to your wedding day or a white-tie party with these elegant longline gloves ($195). Looping simply over the middle finger, they're distinctive and eye-catching with delicate hand-placed feathers. Slip them on, and you'll feel like a princess.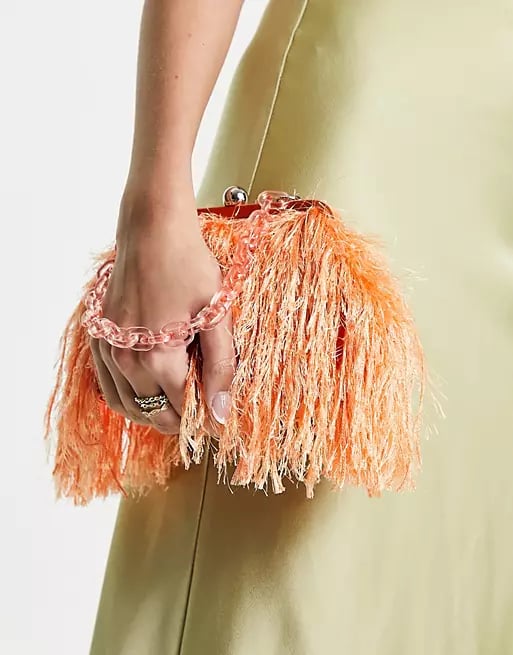 ASOS Design Faux Feather Clutch With Resin Handle in Orange
Perfect for dinners out, fancy parties, and shopping with friends, this chic little clutch ($37) combines form and function: enough space for your essentials and flowing faux feathers. Plus, it has an orange chain-link resin handle if you want to hold it like a purse instead.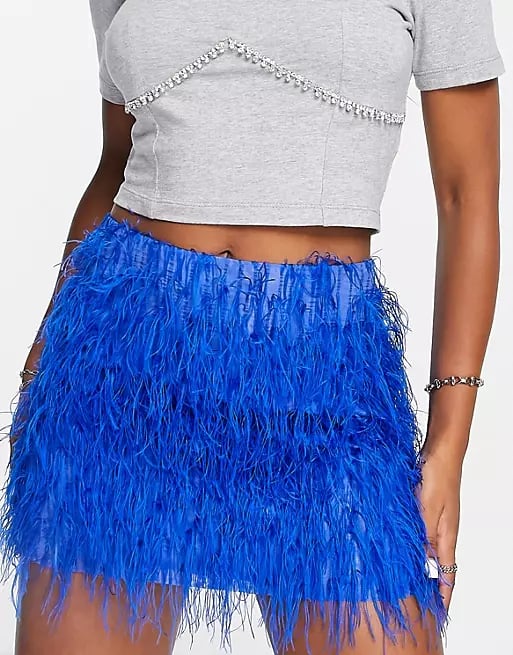 Topshop Faux Leather Mini Skirt in Blue
If you want to wow friends and family, pop on this wild feathered miniskirt ($71) in cobalt blue. With a slim fit and a high-rise waist, it's ultraflattering. Pair it with a cute crop top, or tuck in your favorite blouse. While it'd be perfect with heels for a night out, you could also dress it down with white sneaks and a denim jacket for an on-trend, everyday look.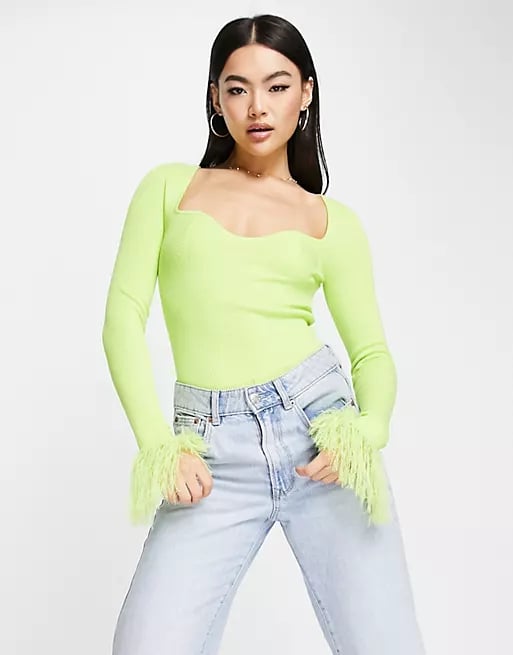 ASOS Design Sweater With Sweetheart Neck and Faux Feather Trims
Stand out from the crowd with this head-turning sweater ($40) in a sunny lime green. Accented with a sweetheart neck and feathery cuffs, it'll add some pizzazz to a pair of everyday jeans. Made from body-hugging viscose, the ribbed knit will hug you in all the right places.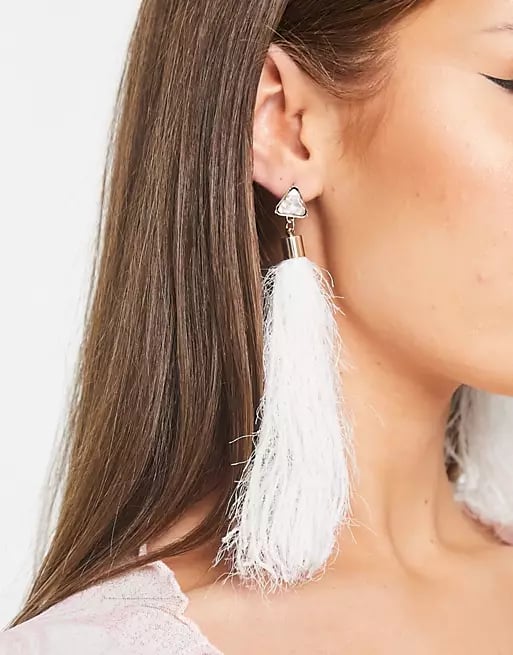 ASOS Design Drop Earrings With Feather Tassel
Deliver the feather trend to your jewelry box with these billowy drop earrings ($12). They're elegant enough for a bride-to-be and chic enough to dress up your workday look, too. It's time to put away the hoops and pop on these feathery tassels instead.