These Celebrity #OOTDs Prove That Everyone Has a Different Style at Home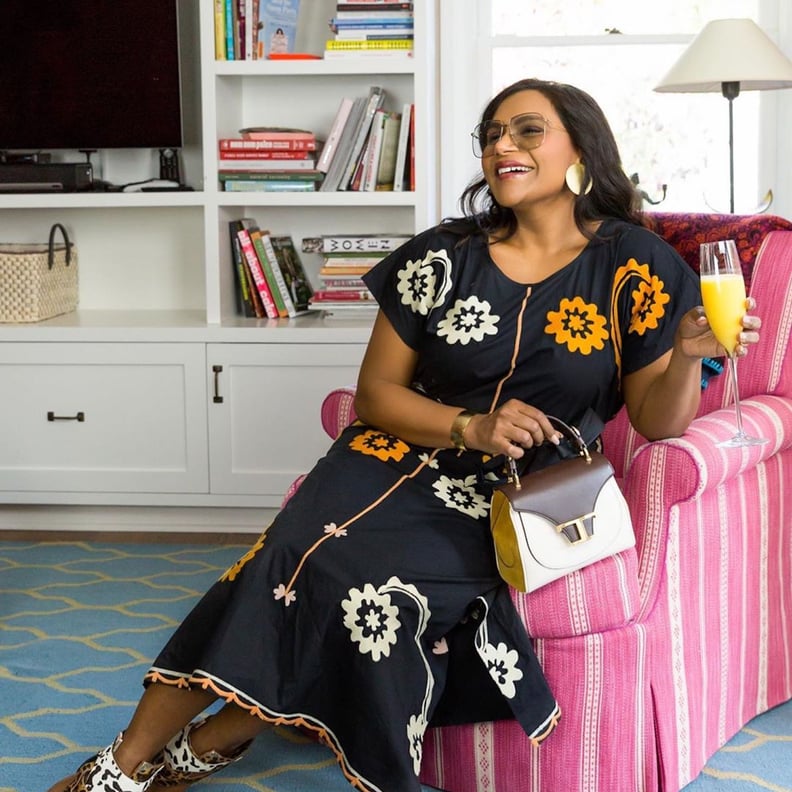 I know figuring out what to wear while working from home seems very minute and is probably the last thing on your mind right now, but keeping your routine and dressing up as if you were going into the office can help lift your spirits — even if it's just a little. Now more than ever, it's important for us to practice social distancing and stay at home to help flatten the curve of the coronavirus. While a ton of celebrities like Selena Gomez, Jimmy Fallon, and Neil Diamond have all been posting videos and songs of how to wash your hand and stay safe at this time, they're also asking fans to stay at home and show us their cozy "staying in" outfits.
If you're looking for a little mood lifter and are in need of some outfit ideas for staying indoors, these celebrities have you covered. You can slip into a cozy hoodie and sweatpants while reading a book for book club, like Yara Shahidi, or dress up in a yellow avant-garde outfit and matching hat like Suki Waterhouse if you want to brighten up your mood. Keep reading to see some more outfit ideas for staying indoors, ahead.
Mindy Kaling
If you feel like dressing up, wear a colorful dress and heels like Mindy Kaling.
Millie Bobby Brown
Cuddle up with your pets in a white top tucked into cozy gray sweats and a white tee like Millie Bobby Brown.
Emily Ratajkowski
Read a book in bed wearing a white, long-sleeved crop-top like Emily Ratajkowski.
Yara Shahidi
Read a book like Yara Shahidi in a comfy sweatshirt and track pants.
Justin and Hailey Bieber
You can make TikToks with your SO wearing PJs like Justin and Hailey Bieber on a lazy Sunday morning.
J Balvin
Brighten up your mood in a matching hoodies with your furry friend, like J Balvin.
Suki Waterhouse
If you want an avant-garde look, dress up in a sheer yellow top and matching wide-brim hat like Suki Waterhouse.
Madelaine Petsch
Stay cozy in a hoodie, sweatpants, and combat boots like Madelaine Petsch.
Zoey Deutch
Channel the '00s like Zoey Deutch in a velour tracksuit and fuzzy jacket.
Martha Hunt
Opt for a cardigan and trousers for a put-together look like Martha Hunt's.
Kate Bosworth
If you want to keep it casual, throw on a fuzzy hoodie like Kate Bosworth.
Steve Lacy
Choose a printed hoodie and gold bracelet like Steve Lacy.
Kylie Jenner
Cozy up in a black turtleneck sweater dress like Kylie Jenner.
Dua Lipa
Practice a little self-care like Dua Lipa in a ribbed tank top.