The Rise of the Boudoir Spring 2020 Fashion Trend
Boudoir Fashion Is the Romantic Spring Trend That Has Us Dreaming of a Walk-In Closet
If you're lounging at home in your fabulously silky undergarments, you're already ahead of one of fashion's favorite Spring trends: boudoir dressing. A woman's boudoir might be a dated idea, but it seems that fashion's fascination with a bygone femininity continues from the puff-sleeve dresses on the prairie to the fur-trimmed robes of the dressing room.
The boudoir was once understood to be a woman's private sitting room in a very wealthy home. Today, when we think of boudoir, many of us have instant references of a woman floating around her walk-in closet wearing hair rollers, fluffy slippers, and an extravagant sheer robe. Although the idea of the boudoir has faded, the aesthetic that it inspires couldn't be more relevant.
Premier fashion search engine Tagwalk released in its Fall/Winter 2020 trend report that searches for "boudoir" were up by 140 percent, as compared to the Fall/Winter 2019 season. Particularly at Paris and Milan Fashion Weeks, boudoir dressing was reported as a top-four fashion trend, alongside volume (think puff sleeves and tulle), fringe details, and metallic looks.
On the Fall 2020 runways, the best interpretations of the boudoir trend were at Alexander McQueen and Fendi, and they extended to Victoria Beckham's pink satin bra tops, Atlein's satin quilted coats, and the sheer black lace lingerie styled as eveningwear at Saint Laurent and Tom Ford.
"Lace and the boudoir is associated with romance, self-care, and fantasy."
It was interesting to see that boudoir-inspired looks were just as popular as latex on the Fall 2020 runways. Although lace and latex are better suited for the bedroom, boudoir dressing is much more versatile than edgy latex fabrics. When we say boudoir, we're referring to designs that reminds us of lounging in luxury — think silk, satin, lace, ribbons, organza, robes, quilting, fur-trimmed mules, bustiers, and corsets. Unlike latex, boudoir dressing can be either sweet and girlish in shades of pastel, or more sensual in shades of black and red. While latex carries notions of power and sex, lace and the boudoir is associated with romance, self-care, and fantasy.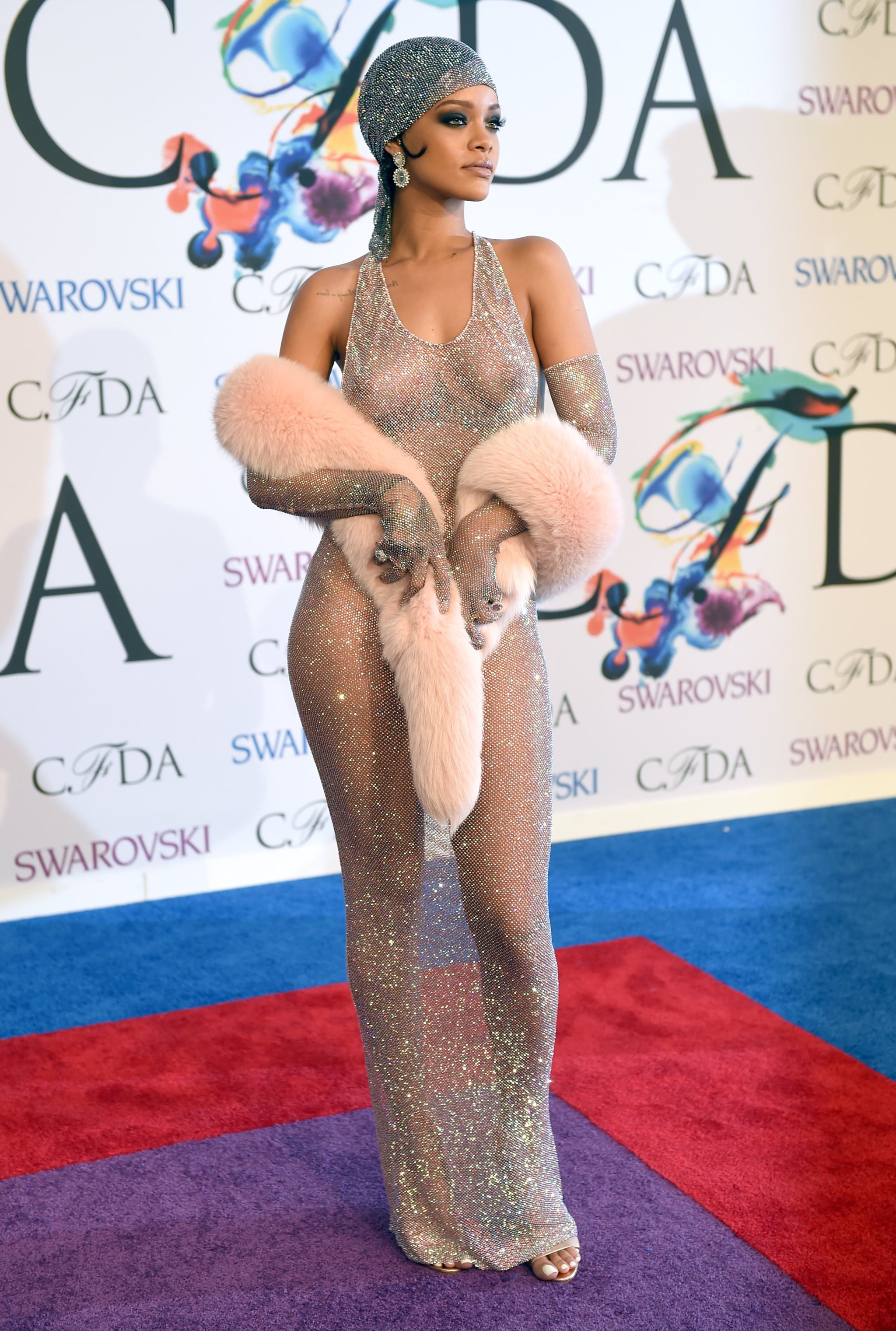 Our fascination with boudoir started with the not-so-humble naked dress — the year was 2014, and the icon was Rihanna. When she turned up on the CFDA red carpet in a Swarovski-studded Adam Selman gown with matching fur stole and durag, it was certainly one of the most memorable red carpet appearances of the 2010s. Since then, the naked dress has been a red carpet winner with megastars like Jennifer Lopez, Beyoncé, Zendaya, Kim Kardashian, and Bella Hadid, used as a sartorial weapon. But what is boudoir responding to, and why now?
"Lace is one of very few fabrics that is still gendered."
Except for Zendaya, all of the women previously mentioned use their sensuality as a huge part of their star power to command both media and monetary attention. Donatella Versace famously said, "I believe, for a woman, a dress is a weapon to get what she wants," and when it comes to fashion, there are few phrases that ring more true. Whether that means wearing a puff-sleeve floral frock to appear cute and disarming, or a cape dress to announce your defiance against a monarchy or a patriarchy — the boudoir trend not only recognizes the power of female sensuality but uses that to its own advantage, while seeming vulnerable and exposed.
Boudoir dressing sits nicely between the cuteness of the prairie trend and the overt sexuality of leather and latex looks. It takes what is traditionally thought to be private and concealed and confidently flaunts it in the public. But while it commands unrivaled attention, the defining fabric of the trend — lace — is one of very few fabrics that is still gendered. There is an element of hyperfemininity with the boudoir aesthetic, and perhaps this fashion trend opens up a conversation on why lace continues to be one of fashion's final taboos.
Ahead, a closer look at the key pop culture and fashion design moments that led to boudoir dressing being one of Spring's biggest trends.