Jimmy Fallon's House Is Filled With So Much Delightfully Quirky Artwork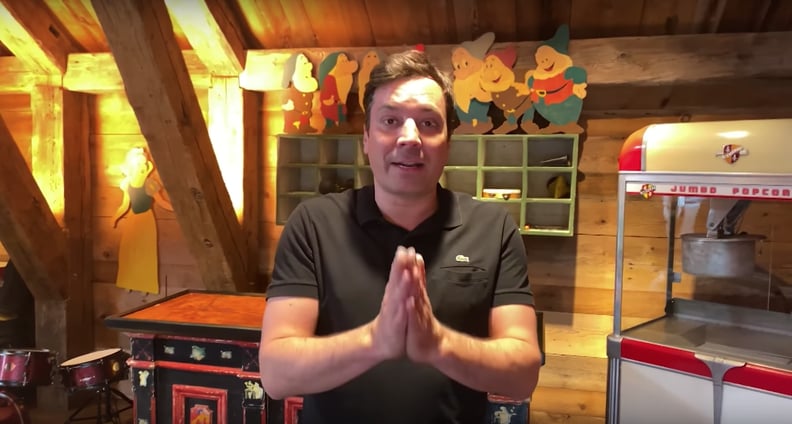 Jimmy Fallon is bringing fans inside his house for special at-home editions of The Tonight Show after shutting down his studio amid the coronavirus outbreak. Although we undoubtedly love seeing the late-night host interact with his adorable daughters, Winnie and Franny, we can't help but focus on his family's treehouse-esque abode, which is just as fun and quirky as he is.
In the many glorious episodes shared so far, we've gotten a look at some one-of-a-kind decor features, including giant figures of the characters from Disney's Snow White and the Seven Dwarfs, a shuffleboard table, an old-school arcade game, and a plethora of eccentric paintings and artwork his family scored from eBay and various flea markets. Oh, and they even have a freakin' indoor slide that Jimmy's wife, Nancy, goes down "all the time" — usually with a handful of laundry in tow, she said in a recent "Ask the Fallons" segment. Umm, jealous!
Our fingers are crossed Jimmy gives us a full-on house tour soon, but in the meantime, you can find us obsessing over all the details we screenshot for your convenience, ahead.
Watch Jimmy Fallon's First At-Home Episode of The Tonight Show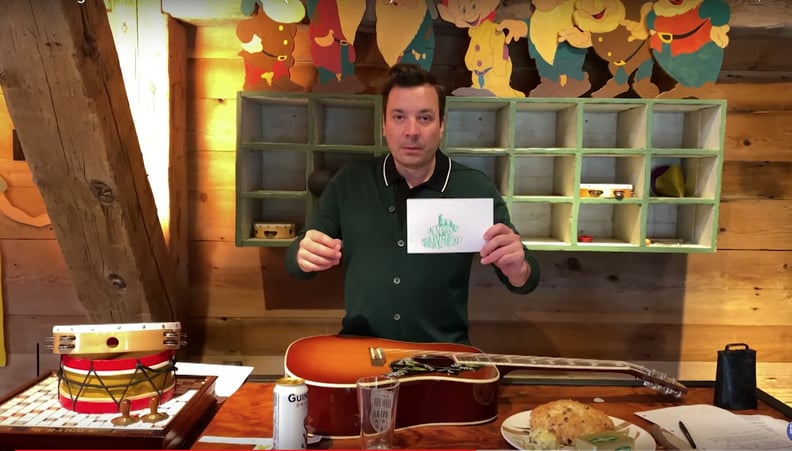 Jimmy Shot Most of the First Episode in His Wooden-Beam-Filled Living Room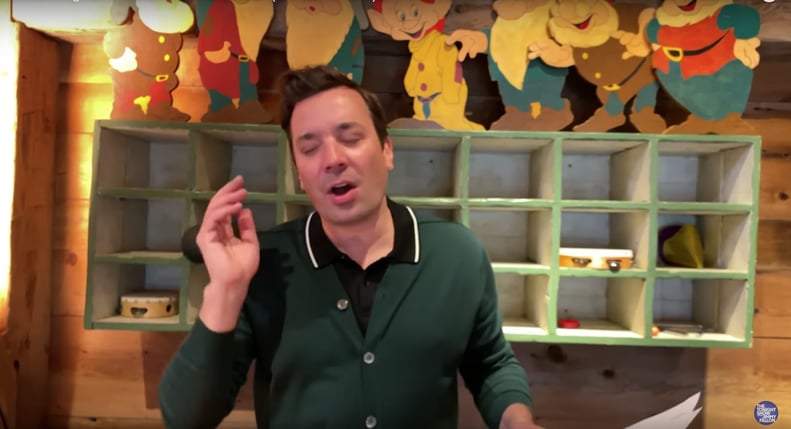 Above the Cubbies, You'll Catch a Glimpse of Those Seven Dwarfs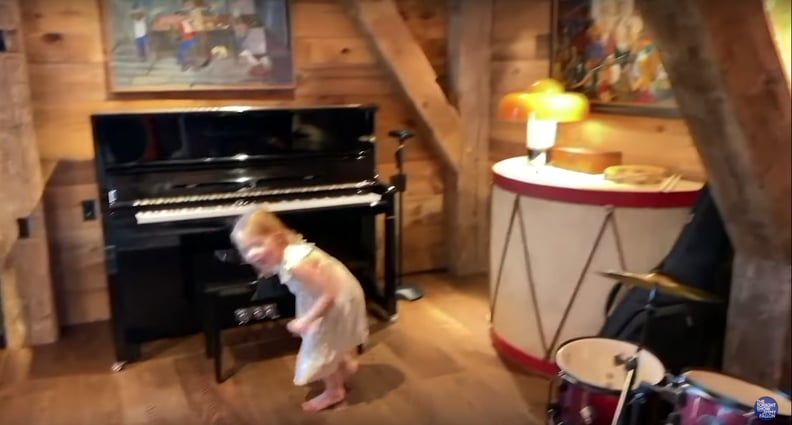 He's Got a Side Table That Somewhat Resembles a Drum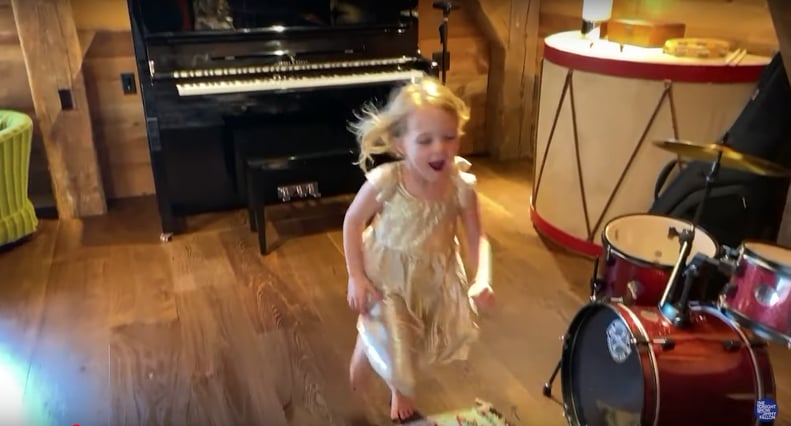 It's Right by His Drum Set — Perhaps This Is His Little Music-Themed Corner?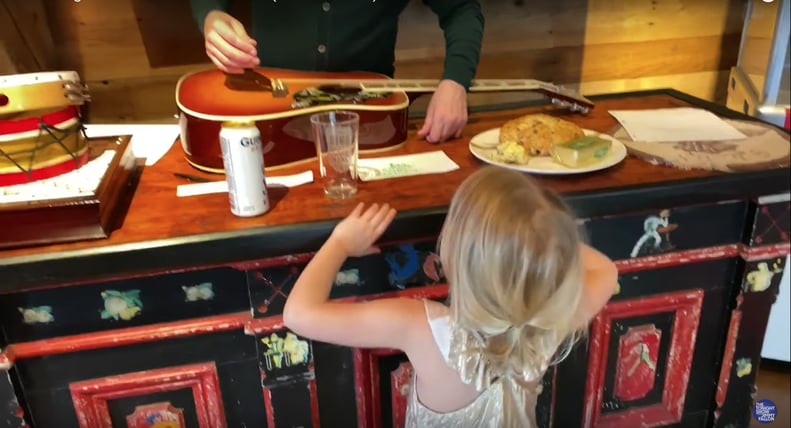 There's This Vintage-Looking Counter, Featuring Some Cool Designs
Yep, That's a Popcorn Machine (Unfortunately Devoid of Popped Kernels)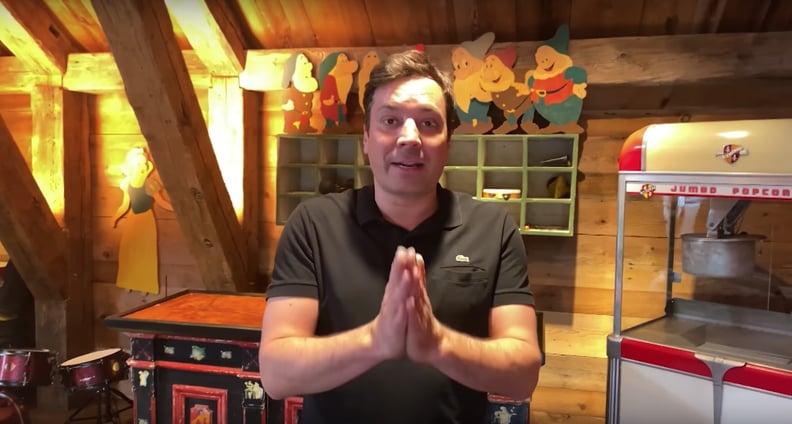 Here's a Better Look at Those Dwarfs, and to the Left, You Can See Snow White, Too!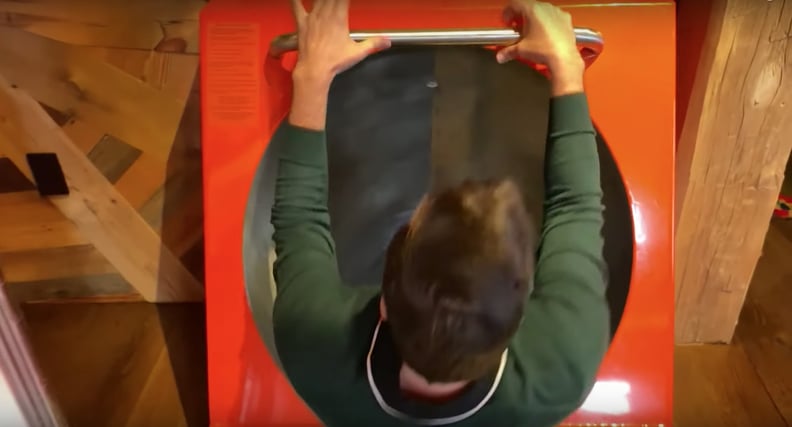 Ah, the Infamous Slide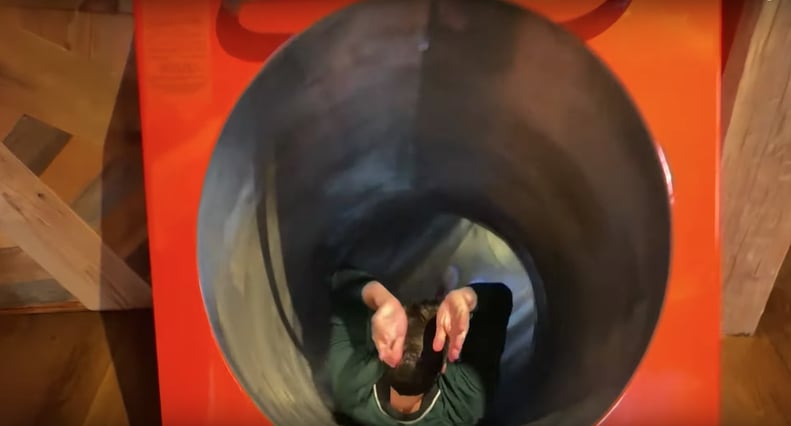 Down He Goes!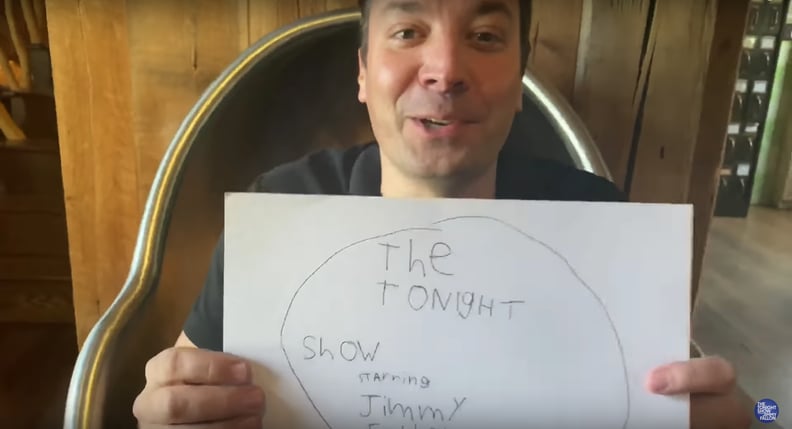 He Started the Second At-Home Episode by Zooming Down the Slide, Naturally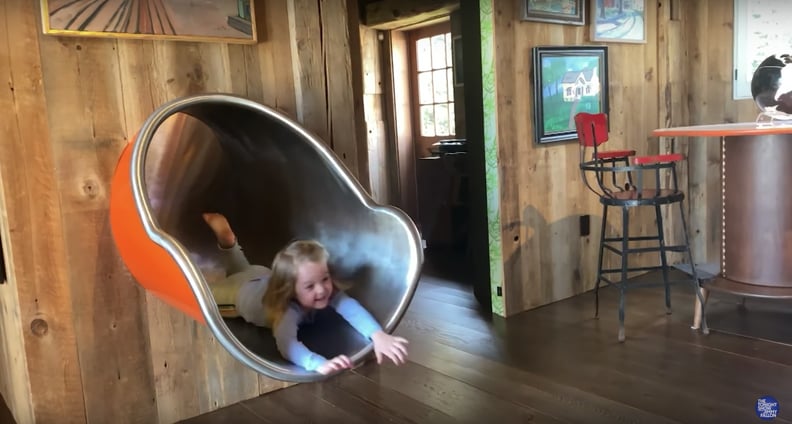 His Kids Are a Big Fan of It, Too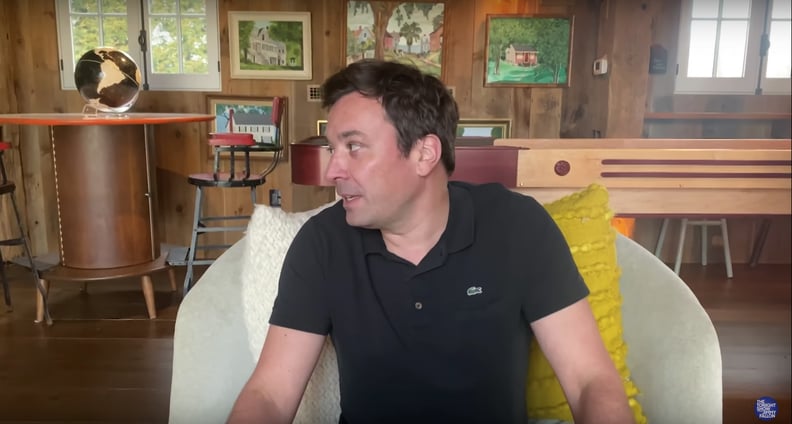 To Jimmy's Left, You'll See a Quirky Circular Table and Some Red Chairs With Footrests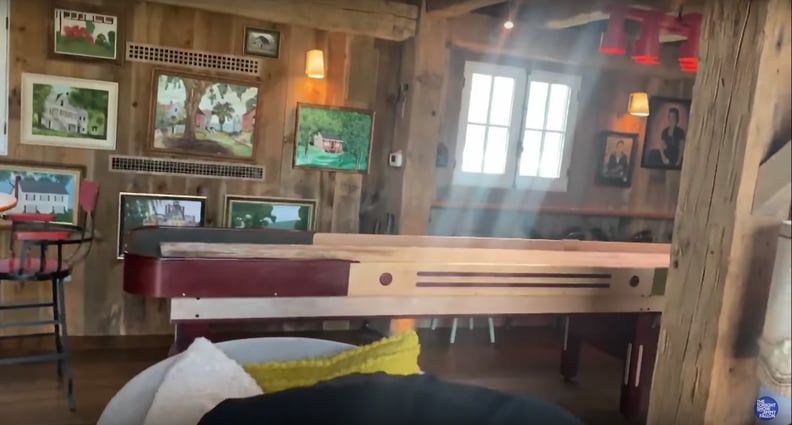 The Wall Behind the Shuffleboard Table Is Covered in Paintings of Random Houses
One Room Has This Interesting Wallpaper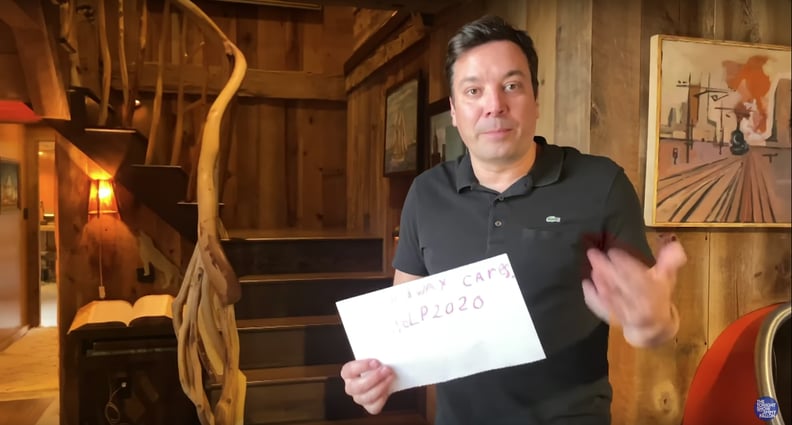 Meanwhile, the Staircase Features a Rustic Wooden Handrail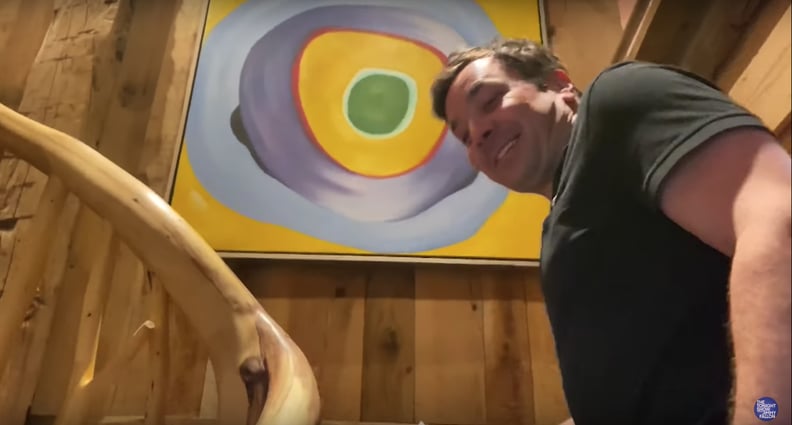 The Wooden Wall Bordering the Staircase Features This Bright Painting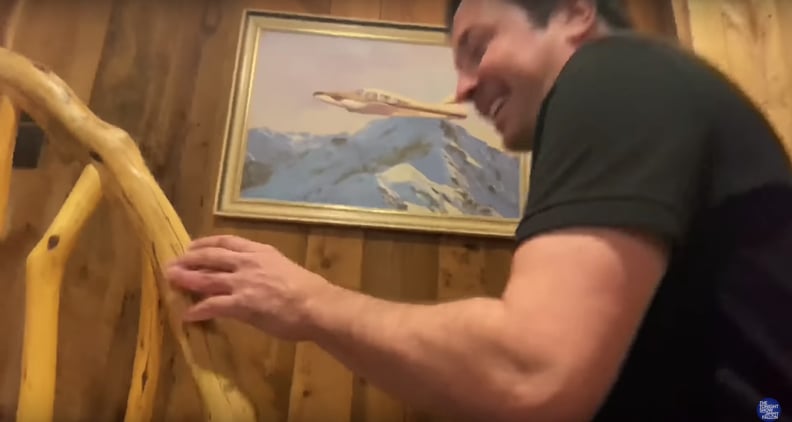 And This Airplane Painting, Too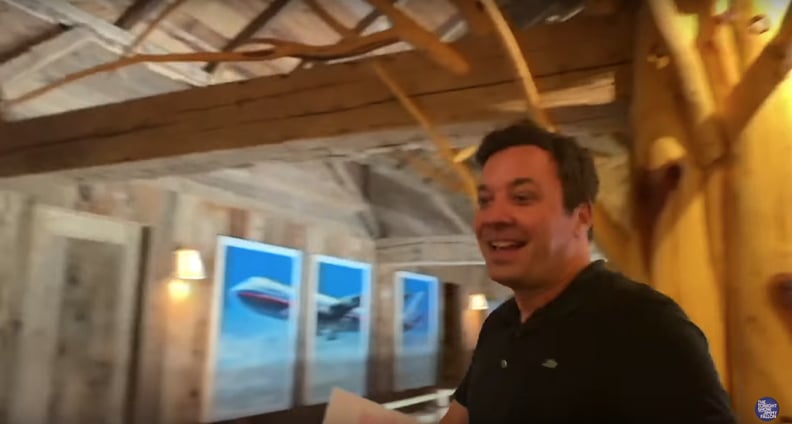 There's This Three-Paneled Piece of Airplane Art on Another Upstairs Wall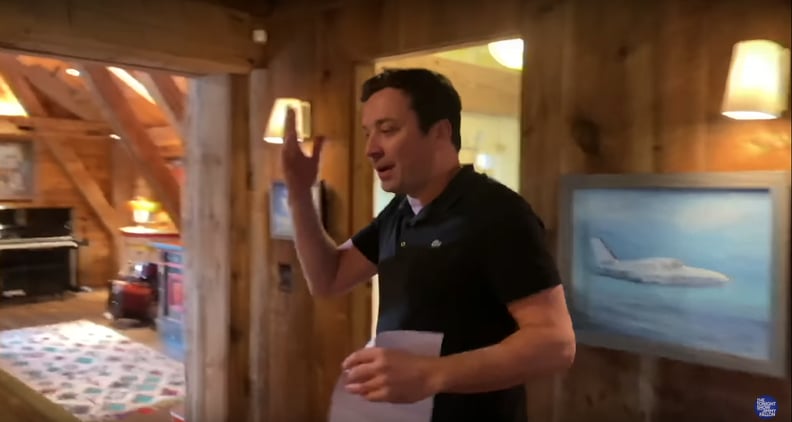 OK, We're Sensing a Theme Here — Who Knew Jimmy Was Such a Fan of Planes?!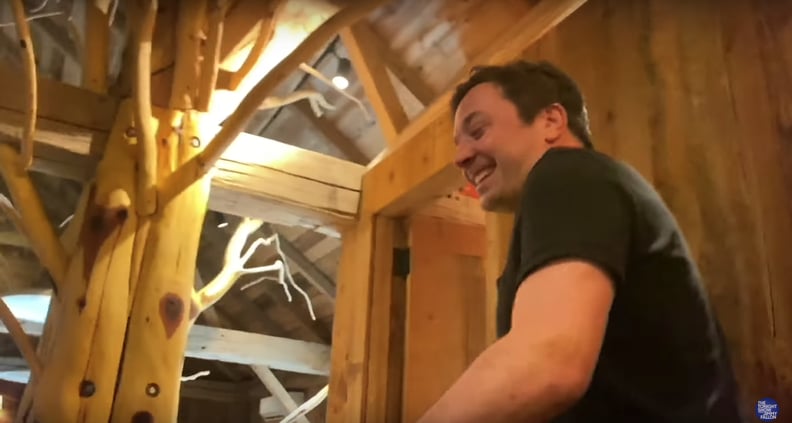 The Top Floor Appears to Have Some Sort of Skylight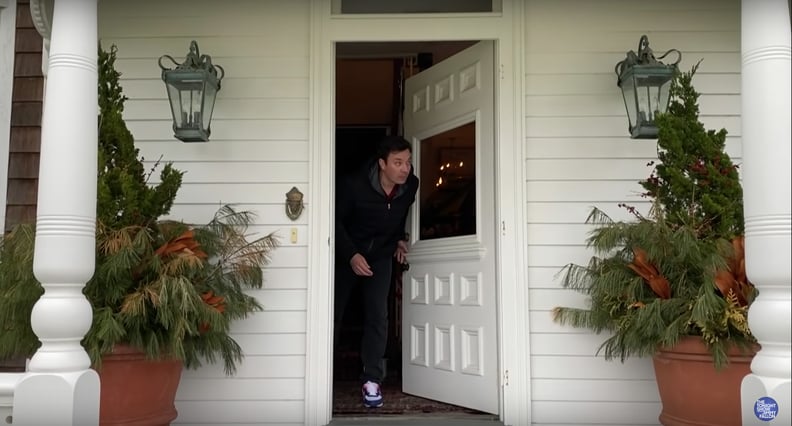 Here's a Peek at His Front Porch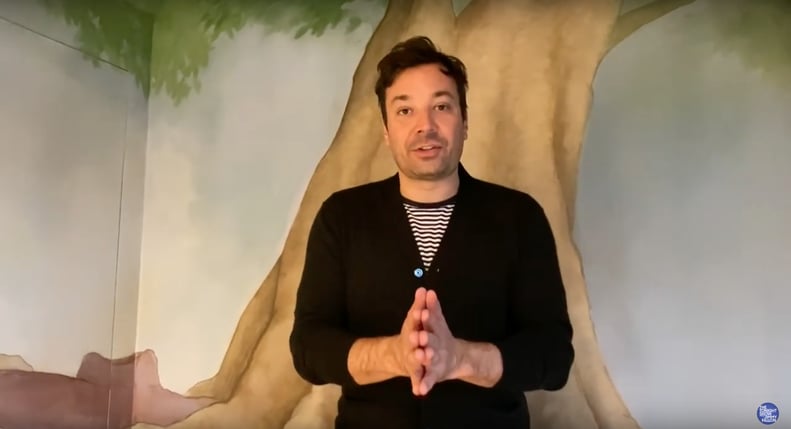 This Corner Has a Giant Tree Mural Painted on It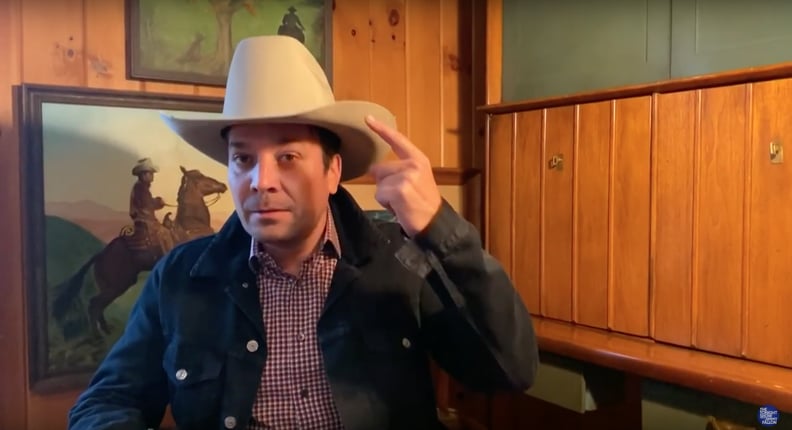 Meanwhile, This Other Corner Appears to Have a Cowboy Theme
Through This Window, You Can See Their Outdoor Playset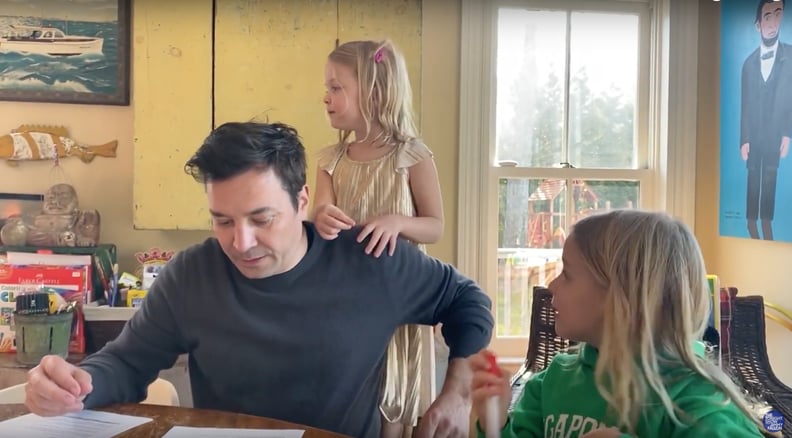 There's a Painting of a Mysterious Man With a Mustache on One Wall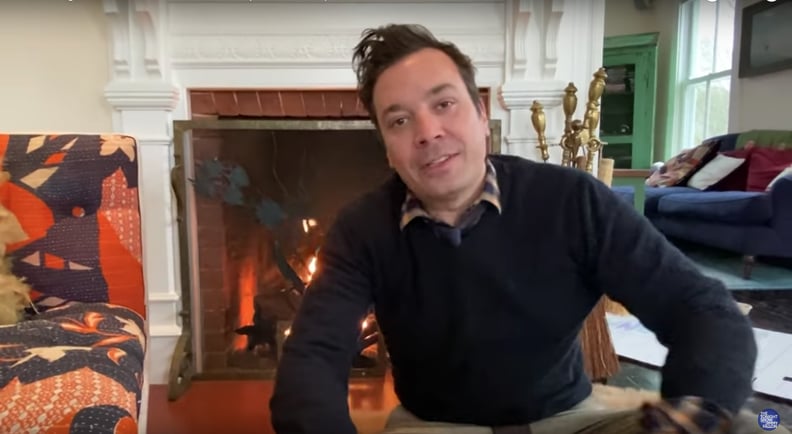 He's Got a Cozy Fireplace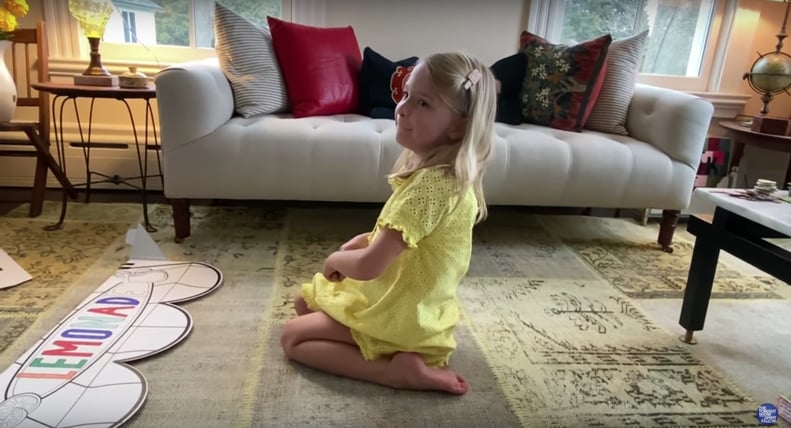 This Couch Has a Delightfully Eclectic Collection of Pillows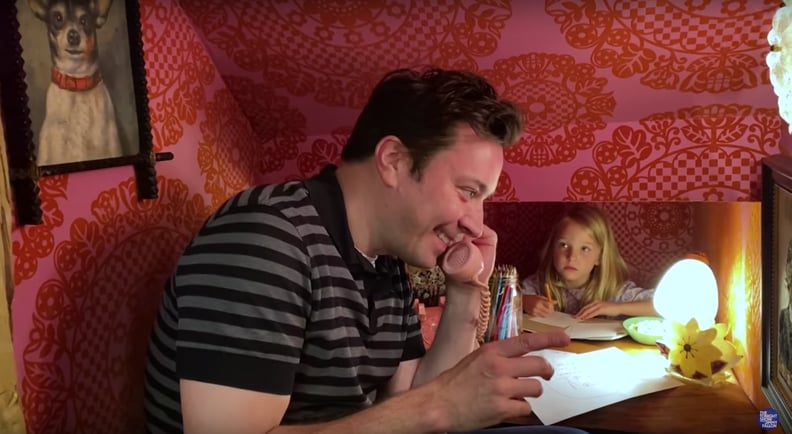 How Cute Is This Lil' Nook Where His Girls Do Their Coloring?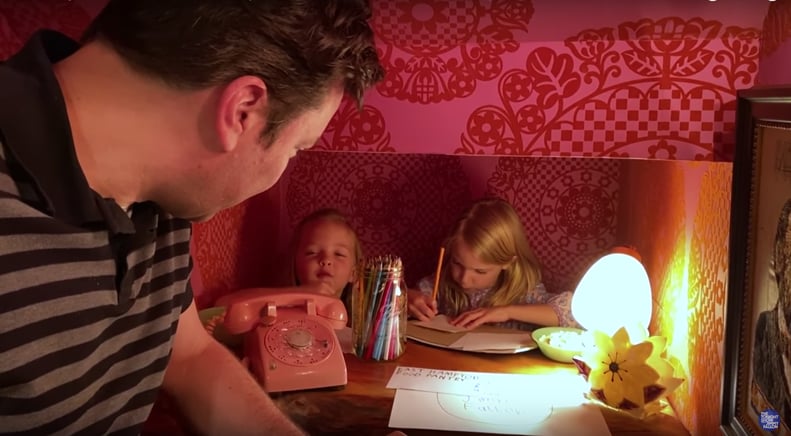 Loving That Patterned Wallpaper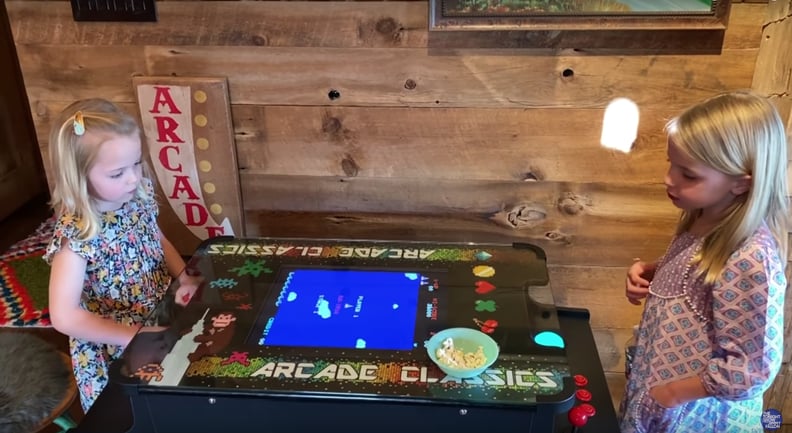 Oh, and They Casually Have a Full-Fledged Arcade Area, Too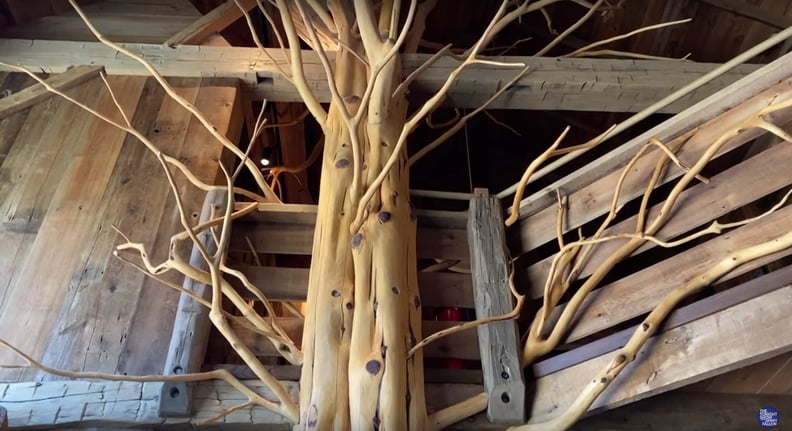 His Home Really Is Like a Treehouse!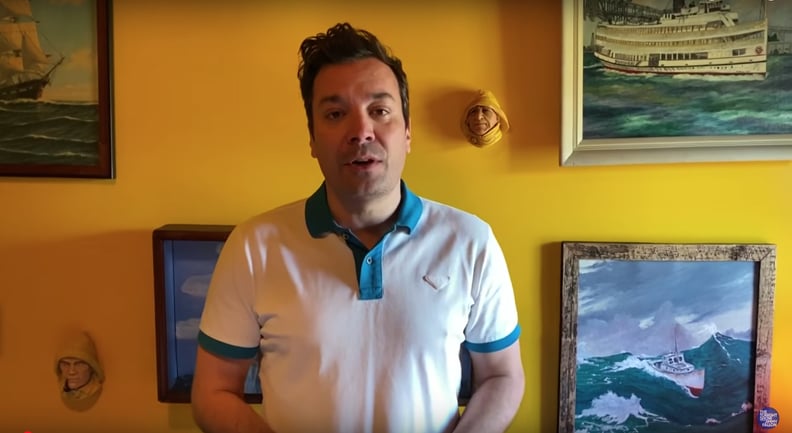 Very Intrigued by This Wall Covered in Boat Paintings and Little Sailor Man Heads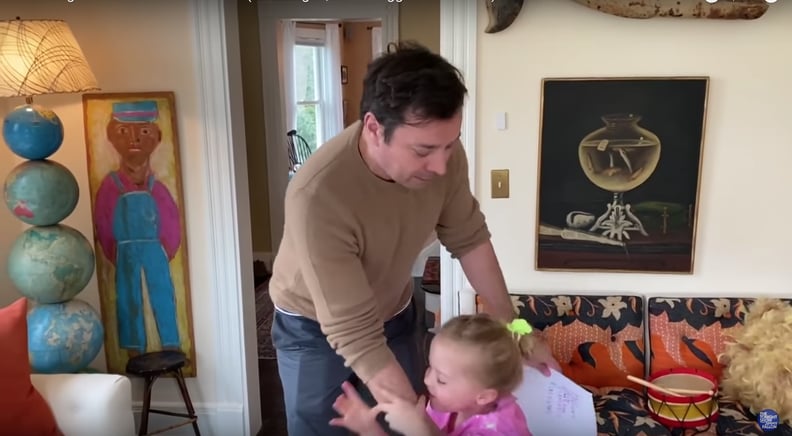 Get a Load of That Cool Globe Lamp!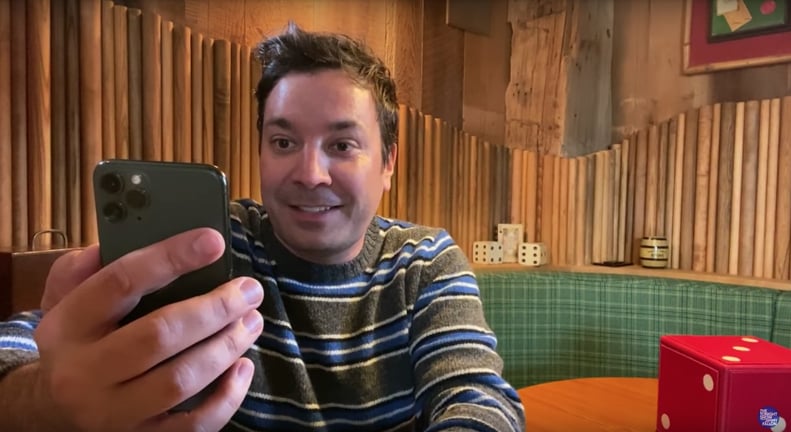 This Corner of His Home Appears to Have a Dice Theme Going On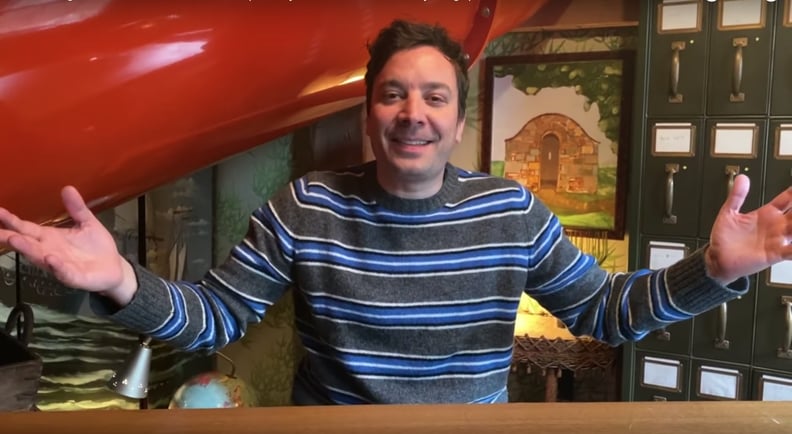 Here's What's Hiding on the Underside of That Slide