Dead to Me's leading ladies, Jen Harding and Judy Hale, are proof that opposites do, indeed, attract. The two characters couldn't possibly be more different if they tried. Jen (portrayed by Christina Applegate) is a stern, often cynical widow who listens to screamo music, tosses back wine as if it's water, and drops f-bombs without flinching. Judy (played by Linda Cardellini), on the other hand, is an inherent optimist who always looks on the bright side, teaches arts and crafts at a nursing home, and forgives others like it's her job. And yet, the women are two peas in a pod, bound by constant chaos, dark secrets, and a trust that knows no bounds.
Jen and Judy's clothing choices only further confirm the juxtaposition — Jen regularly opts for basics like button-up shirts and trousers, while Judy has a penchant for floral prints and feminine dresses — and these spot-on wardrobe decisions were all deliberately made by the show's costume designer, Trayce Gigi Field. We chatted with Trayce about styling the outfits for Dead to Me's second season, and she revealed tons of juicy tidbits on tracking down the perfect pieces for the characters (hello, thifting tips!), which outfits fans are loving the most, and so much more. Get the full scoop ahead, and join us in praying for a third season so we can see even more of Trayce's genius costume design work in action.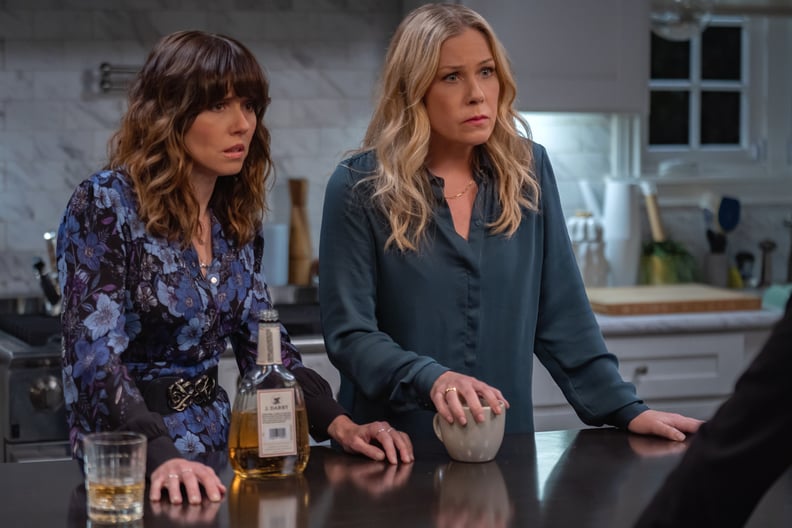 On Jen and Judy's Different Styles
"Judy's attire conveys approachability. Her clothes help you understand that Judy is super sweet, almost like a hug."
Ever since Dead to Me's first season, Trayce has used Jen and Judy's clothing as a visual reminder of just how dissimilar they are. This, of course, required a deep understanding of the characters' personalities. "Jen is a super strong woman, so her clothes are an extension of that," the costume designer told POPSUGAR. "She wears darker tones, strong silhouettes, and her clothes are almost like armor. Structured suits with bold striped or solid shirts, dark jeans, and chunky booties all shout out, 'Stay out of my way.'" Well color us fascinated!
Conversely, Judy's wardrobe is the equivalent of a warm embrace. "Judy's attire conveys approachability. Her clothes help you understand that Judy is super sweet, almost like a hug," Trayce explained. Her tendency to combine high-end and economical finds in one look reflects her life path. "Judy comes from having to make do, so she became a master thrift shopper, pairing those finds with her more expensive pieces that she was able to mindfully purchase while being in a relationship with wealthy Steve."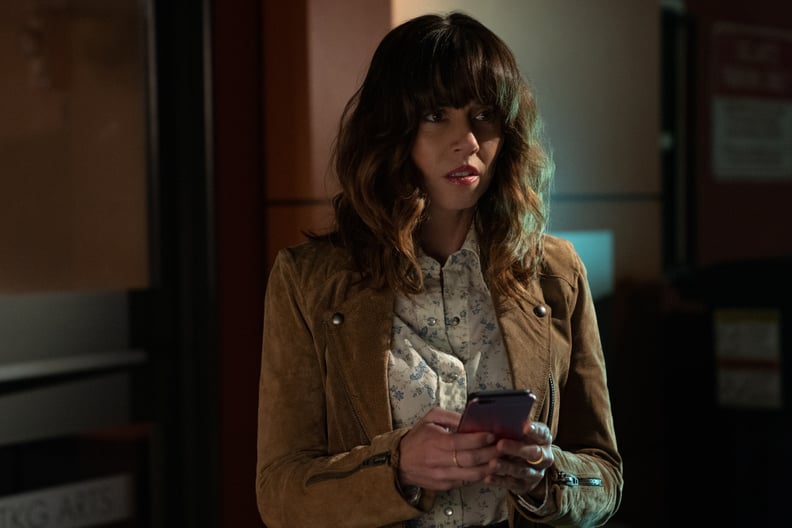 On Her Thrift-Shopping Process
"I look at every piece in the store. I find such gems this way."
Scoring those aforementioned vintage finds for Linda to wear as Judy (like the snap-button shirt pictured above) was quite the process, to put it lightly. Trayce described it as "an elaborate plan" that requires a lot of patience. "That's the key: take your time," she advised. She typically dedicates an entire day or two to vintage shopping, mapping out which thrift stores she'll visit and then perusing each in their entirety. "Yep, that's right. I look at every piece in the store. I find such gems this way," she explained. Trayce's favorite go-to spots in Los Angeles? Lemon Frog Shop, Top Knot, Jet Rag, and Worship LA, to name a few.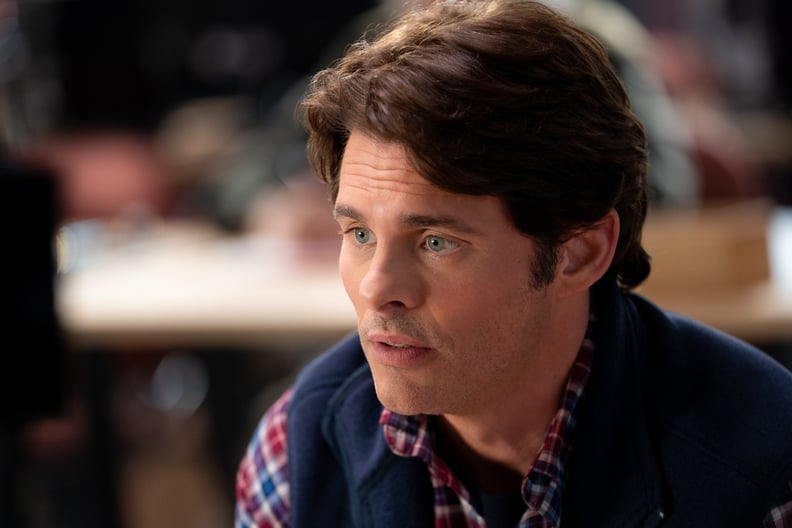 On Differentiating Steve and Ben's Styles
Perhaps one of the biggest plot twists in Dead to Me season two is the fact that the late Steve Wood (portrayed by James Marsden) has a "semi-identical" twin brother named Ben (also portrayed by — you guessed it! — James Marsden). Although the two characters once shared a womb, they "are not alike in any way except their faces," Trayce said.
Confident, sly, and always in control, Steve regularly wore expensive suits, tailored to a T and adorned with a pocket square. Ben, on the other hand, has more of a sweet, dorky dad vibe, and Trayce chose to portray those characteristics by styling him in pieces by sensible brands like J.Crew, Old Navy, and Clarks. (James Marsden in a fleece vest is quite the delight, if we do say so ourselves!) "Ben feels like the guy who always does the right thing — someone you could trust," Trayce said. Welp, that *was* true, until we watched the last few seconds of season two, that is!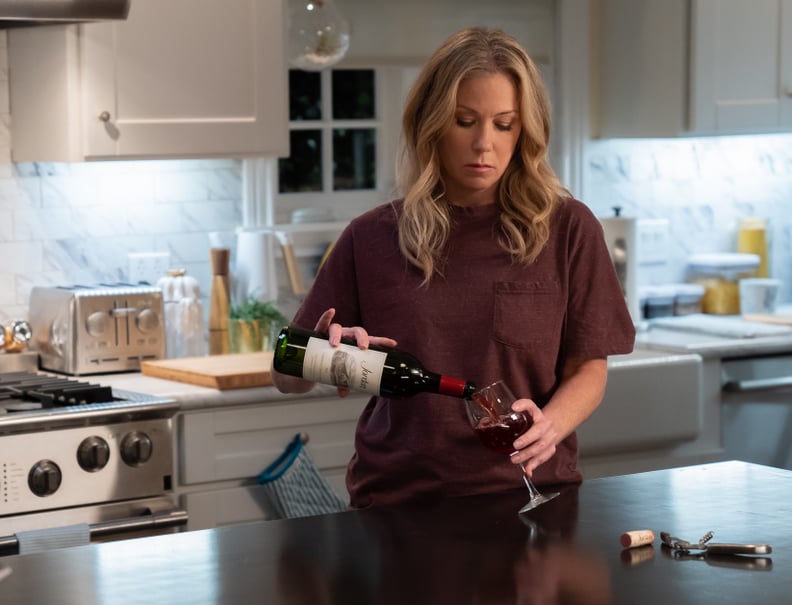 On How Jen's Style Is Subtly Different in Season Two
Although Jen is still the same wine-loving widowed mother of two in season two, there's one big difference in her character versus season one: the fact that she bludgeoned a man to death in her backyard. To reflect the resulting pressure and stress Jen is under, Trayce decided to make her look slightly less put together for the show's second season. "She is going through some stuff, some heavy life stuff, so she is a little looser with her silhouettes — more untucked and more relaxed, less buttoned up. Because she is becoming a little unraveled. Wouldn't you, if you were her?" Why yes, we absolutely would.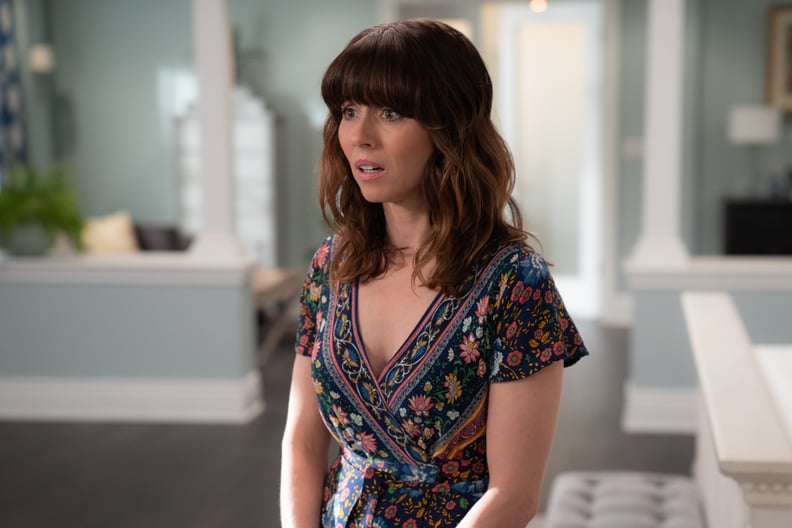 On Which Pieces Fans Are Loving the Most
Ever since Dead to Me's second season hit Netflix, Trayce's Instagram DMs have been flooded by viewers asking where to purchase items worn on the show. In fact, she receives inquiries daily. The most sought-after pieces fans can't get enough of? All of Judy's jewelry (a few pieces from season two were made by jewelry designer Peggy Li, FYI), Judy's brown Blank NYC moto jackets, Judy's floral wrap dress from Amazon (pictured above), and Jen's blue plaid Gap shirt. "You can never predict what the fave pieces are going to be," Trayce said, adding that any fans are more than welcome to shoot her a DM on the 'gram (@traycegigifield) with any outfit credit questions.
As for Linda and Christina, their favorite wardrobe picks were more timeless pieces. Linda loved her Topshop jeans so much, she bought a few pairs for herself to wear in real life, and Christina did the same with Jen's Hudson jeans. Because nope, they aren't allowed to keep any of their on-screen outfits! Trayce explained, "We are required to house their character closets for season three, if there is one." Eeeek, we're crossing our fingers that there is!