Gwen Stefani's 2 Wedding Dresses Were an Ode to Blake Shelton and Her 3 Children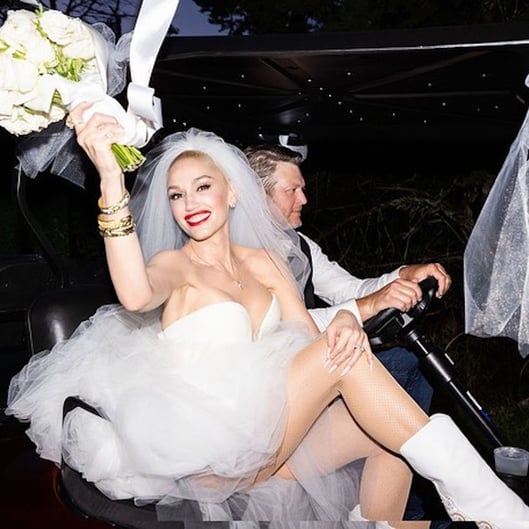 Gwen Stefani married Blake Shelton at his Tishomingo, OK, ranch on Saturday, July 3, and she tapped trusted bridal designer Vera Wang to customize her two wedding dresses, which she posted on Instagram. For the first, the star chose something traditional — a white silk georgette and hand-tumbled tulle high-low gown with a plunging neckline teamed up with a white chapel-length veil that was embroidered with the names Blake and Gwen, plus the names of Gwen's three children — Kingston, Zuma, and Apollo — and then she made a switch.
Gwen's country-infused rock-star edge came to life in her Vera Wang Haute minidress at the reception, which came with crystals and sequins on the skirt and two hand-sewn lovebirds alongside three baby lovebirds! While the dress details really spoke to Gwen's love for her family, her Le Silla stiletto cowboy boots, fishnet tights, and custom Vrai necklace, made with sustainably created diamonds as part of a collaboration with her stylists Rob Zangardi and Mariel Haenn, highlighted her signature fashion sense.
Her eccentric vibes weren't lost on her first John Galliano hot-pink ombré wedding dress from 2002, nor on her two looks in 2021, proving that Gwen stays true to herself through and through. Even her wedding band, which we're assuming she exchanged with Blake in a civil ceremony prior to the party, is unique. Scroll to check out images from Gwen and Blake's special day taken by photographer Jeremy Bustos.
Gwen Stefani's Vera Wang Haute Wedding Dress
Gwen Stefani's Vera Wang Haute Minidress and Le Silla Cowboy Boots
Gwen Stefani on Her Wedding Day