Picture this: you're in the dressing room at one of your favorite clothing stores, panicking because you went up a size in jeans. Relax. According to Madewell's head denim designer Mary Pierson, it's perfectly normal to fit into two different sizes at the same store depending on the fabric and the style. That's a relief and an important fact to know — but it's just one of the learnings that came out of our chat with a true expert at one of America's top denim retailers.
Mary explained how to read those confusing size conversion charts online, revealed the trick to shopping for flattering white denim, and confirmed that, yes, you can measure yourself at home. Read on for an enlightening tell-all you'll definitely want to keep on hand the next time you're ready to shop.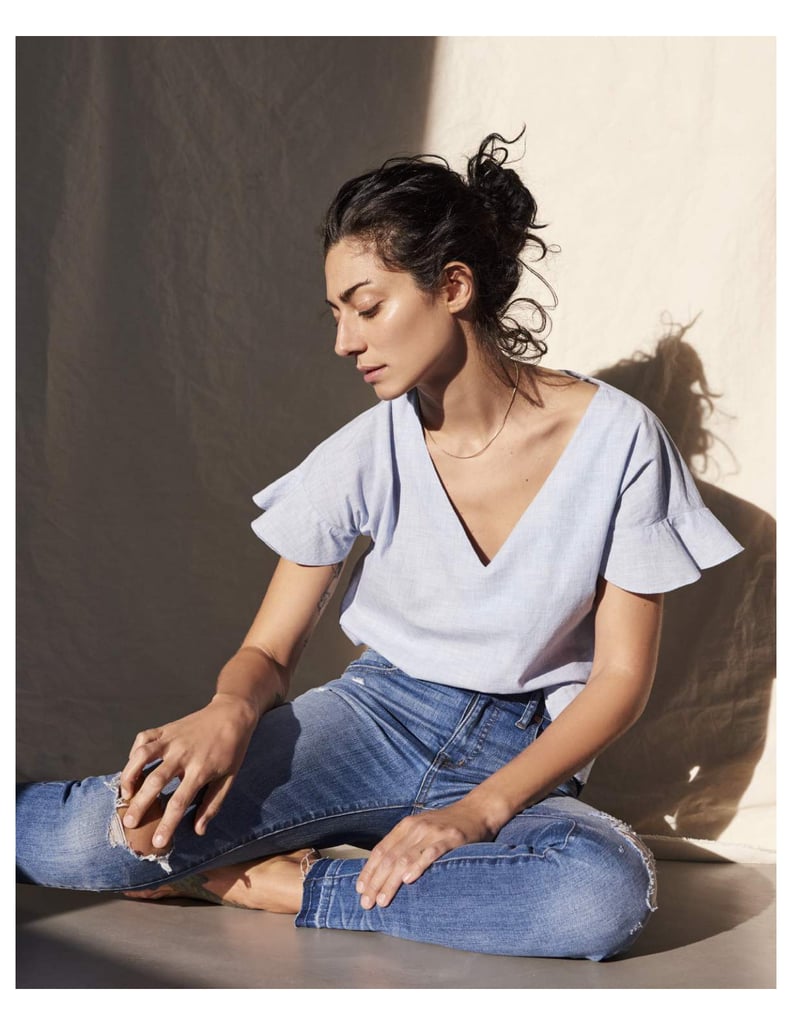 How to Find Your Jean Size at Home
"Your waist at its narrowest part should indicate the measurement that correlates to your jean size. Even though that should give you a good idea of your size, all body types are a bit different, so I recommend you order two pairs to test out. For a stretch jean, order the size that your measurement indicates and one smaller. For nonstretch, go the other way and order your size and one bigger. It's always best to go to a store if you are new to a brand and try on different styles and sizes."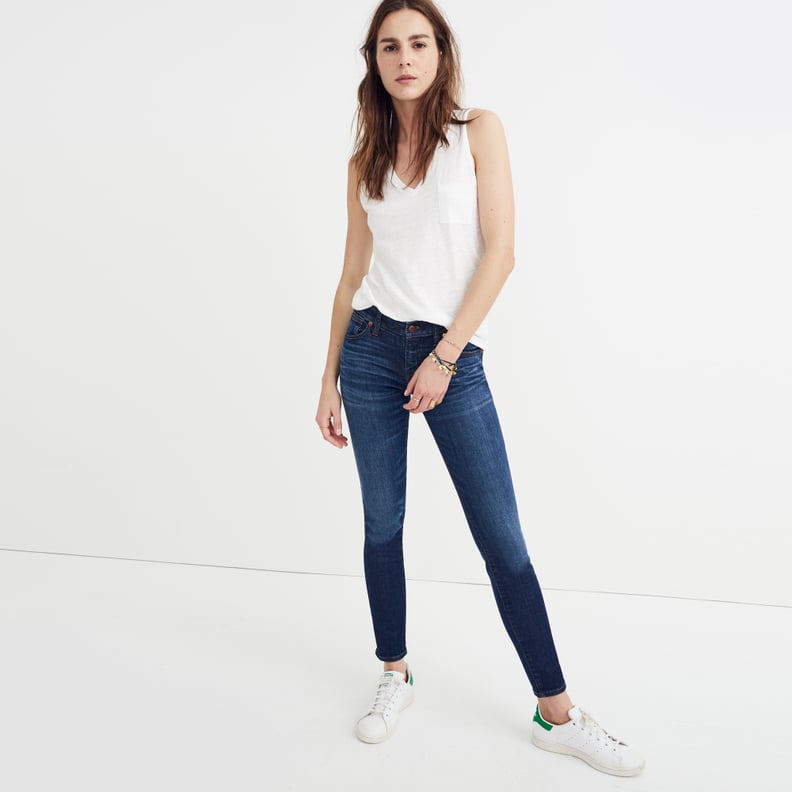 The Number 1 Mistake Women Make When Sizing Their Own Jeans
"My biggest pet peeve is when people wear skinny jeans that are too big. We design our fits to enhance all body shapes and our denim fabric has enough stretch and recovery to hold you and be comfortable, so there is no reason to size up. I think this mistake can make someone look less pulled together."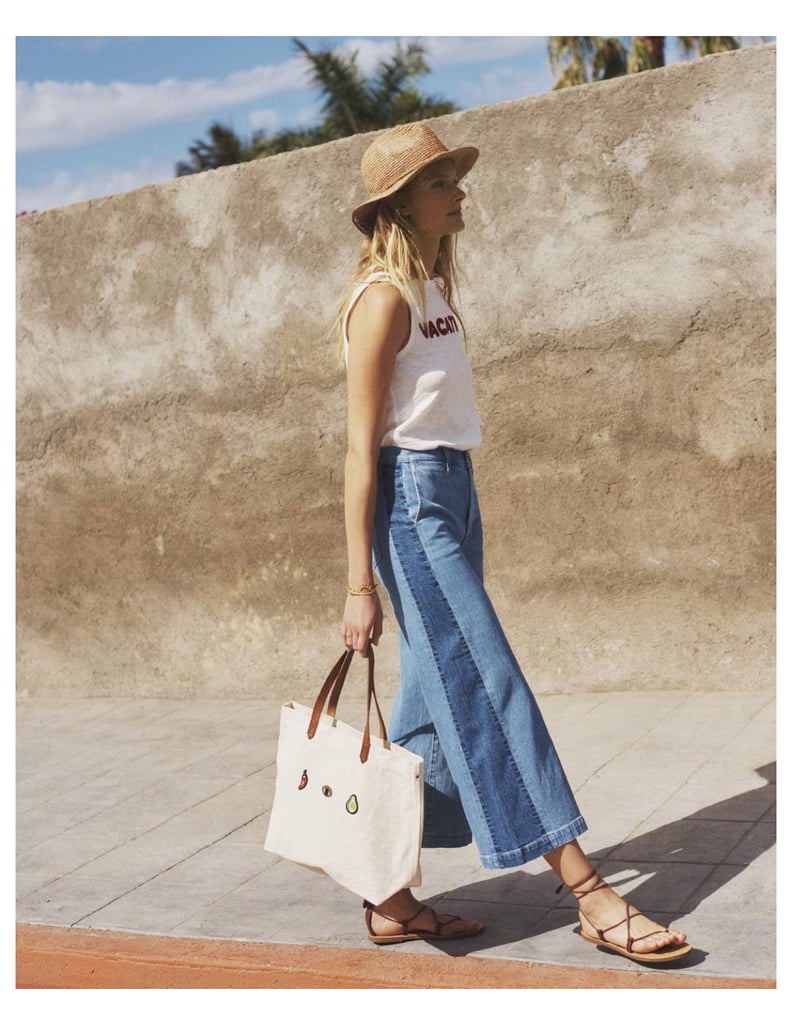 Why You Might Be 2 Different Jean Sizes at the Same Store
"It depends on your body type and the denim fabric used on the style. There is more forgiveness with stretch fabric as it will mold to your body, but if there is no to little stretch, you have to get the size you feel comfortable in. As far as height of rise goes (i.e., high-waist, mid-rise, low-rise), you should be the same size no matter what."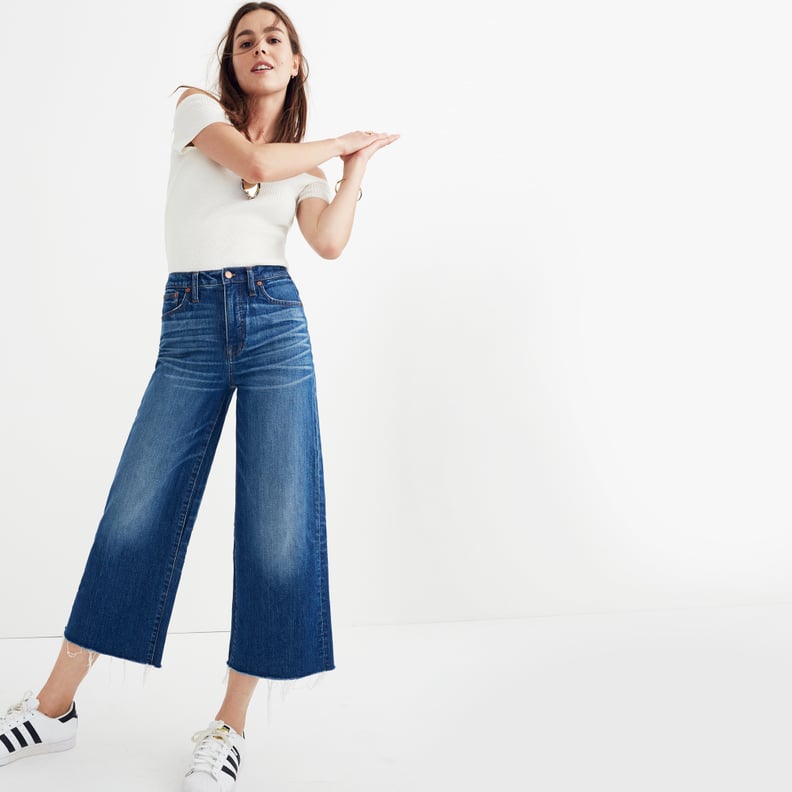 How to Read a Denim Size Chart Online
"I think most women know approximately what size they are, but where people typically get thrown off is when they have to convert between different sizing conventions. In that case you really have to experiment to find the size you feel good in. Premium denim brands have started using waist sizes instead of numeric, and most denim brands have followed suit. Grading from one size to the next (28-29 or 6-8) should be the same, so the fit should be consistent."
The numeric-to-waist size conversion typically goes . . .
0=25
2=26
4=27
6=28
8=29
10=30
12=31
14=32
16=33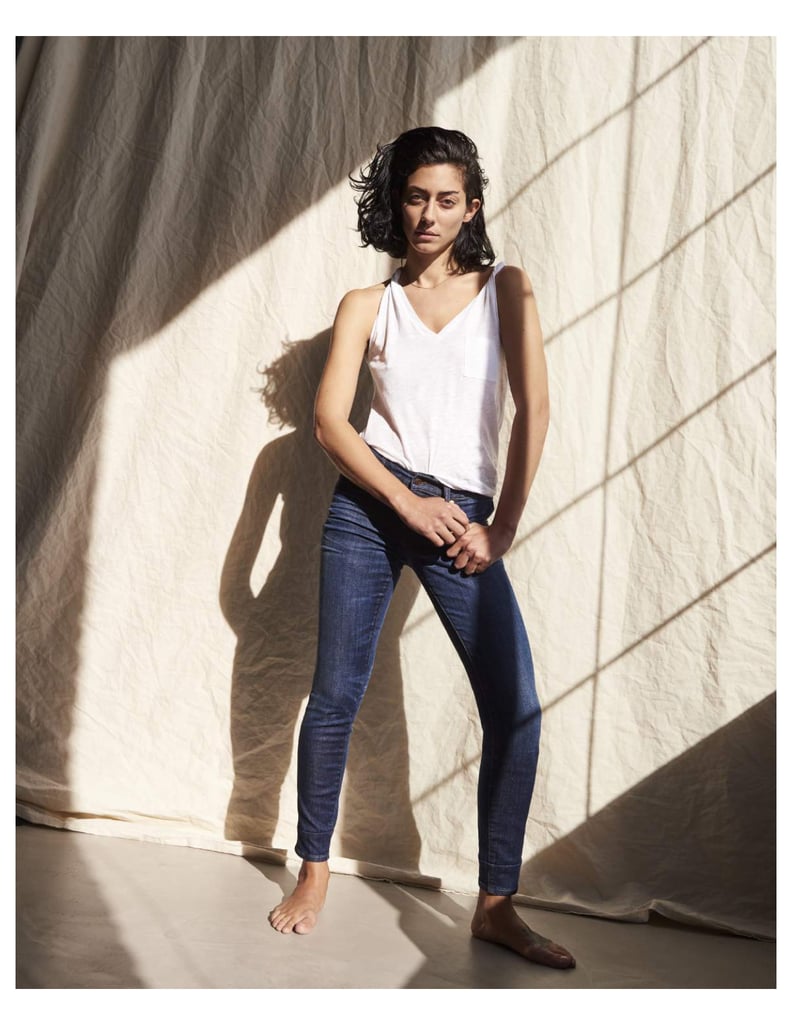 The Denim Fabric to Look For to Fight "Daily Stretch" Issue
"All of our stretch fabrics hold you in so the jean doesn't bag out. Our performance fabric from Isko is especially leading in this type of technology. To find them on our site, look for Reform or Reform XP."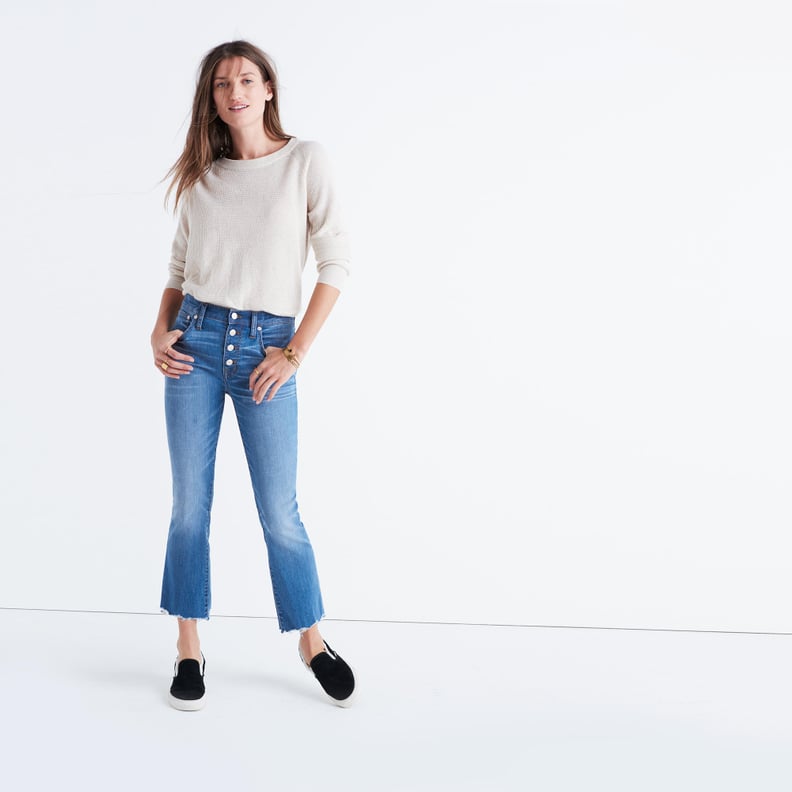 The Most Universally Flattering Madewell Jean
"Any of the high-rise skinny jeans and our Cali Demi boot. We have this new construction in our high-rise jeans that holds you in and flattens your tummy while being totally comfortable. This gives women a little waist and elongates their legs!"
Madewell Cali Demi Boot Jean ($135)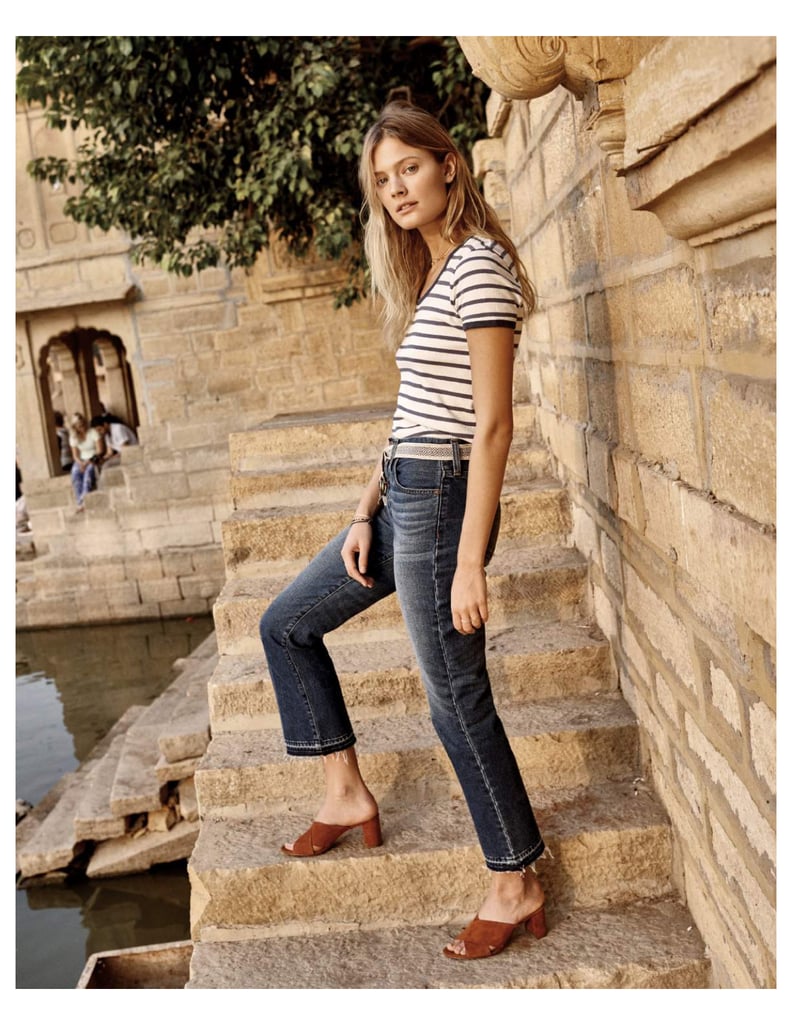 The Proper Way to Hem Denim If You're Petite
"In order to make sure the leg opening doesn't look too wide, you need to make the leg slightly narrower as you hem your jeans."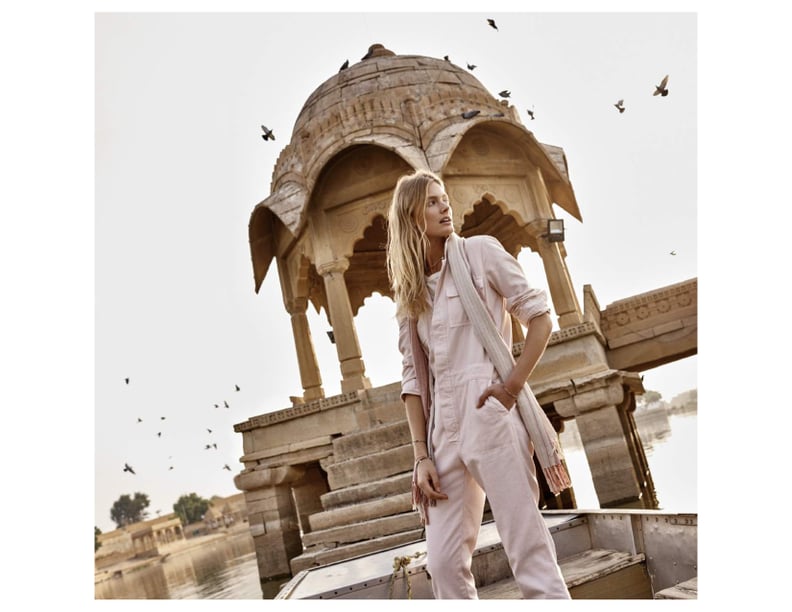 The Trick to Finding a Well-Fitting White Jean
"If the fabric is good quality, it should stretch but hold you in and give you a clean shape. More importantly, if you are comfortable and feel good in your jeans, you are guaranteed to look great."