As POPSUGAR editors, we independently select and write about stuff we love and think you'll like too. If you buy a product we have recommended, we may receive affiliate commission, which in turn supports our work.
Kate Middleton taught us the power of owning a good coat for every season. The duchess of Cambridge seemingly has every color and print on hand, rocking them at a moment's notice to public events. Whether she's coordinating them with her shoes or hat, Kate's mastery of outerwear is completely brilliant.
Of course, knowing where to shop helps a lot. The royal is known for wearing designs from Catherine Walker, Hobbs, and Alexander McQueen — just some of her favorite brands. Now that we know the labels, we can easily track down similar outerwear styles too. Read on to see the 10 coats Kate always turns to and then shop the variations for Fall.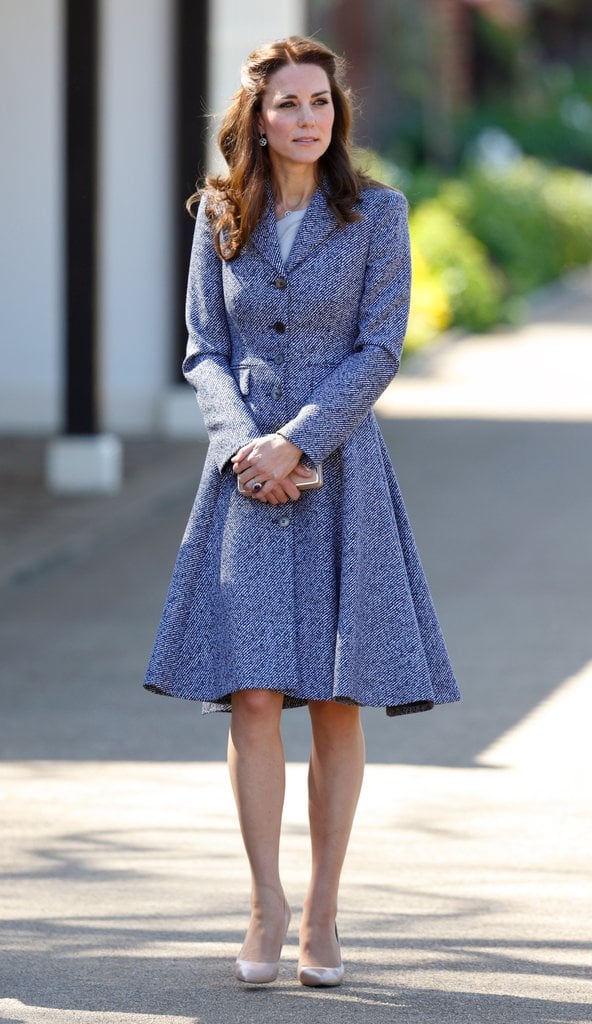 Blue Coats
Kate has a penchant for rewearing her clothes like the rest of us. One blue coat she keeps in her rotation is this pleated one by Michael Kors, which flares out at the bottom and has buttons trailing down the front. She's worn the outerwear three times since debuting it in 2014 and pairs it with different shoes to keep the look current.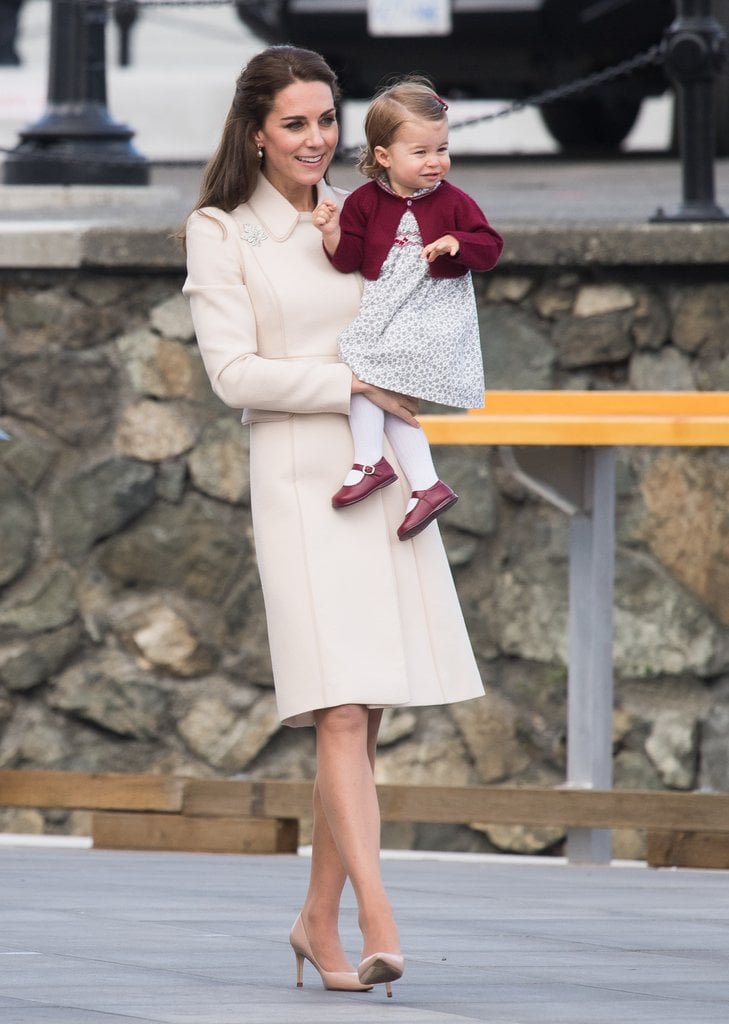 Cream-Colored Coats
When it comes to a coat that matches everything, the royal looks to white or cream-colored options. Somehow, Kate manages to keep them clean and crisp while often carrying her two children. These coats often feature a collar and hit at the knees, giving Kate a chance to style anything she wants underneath (usually a dress). This particular Catherine Walker coat had a tailored fit complete with the queen's maple brooch and L.K. Bennett pumps.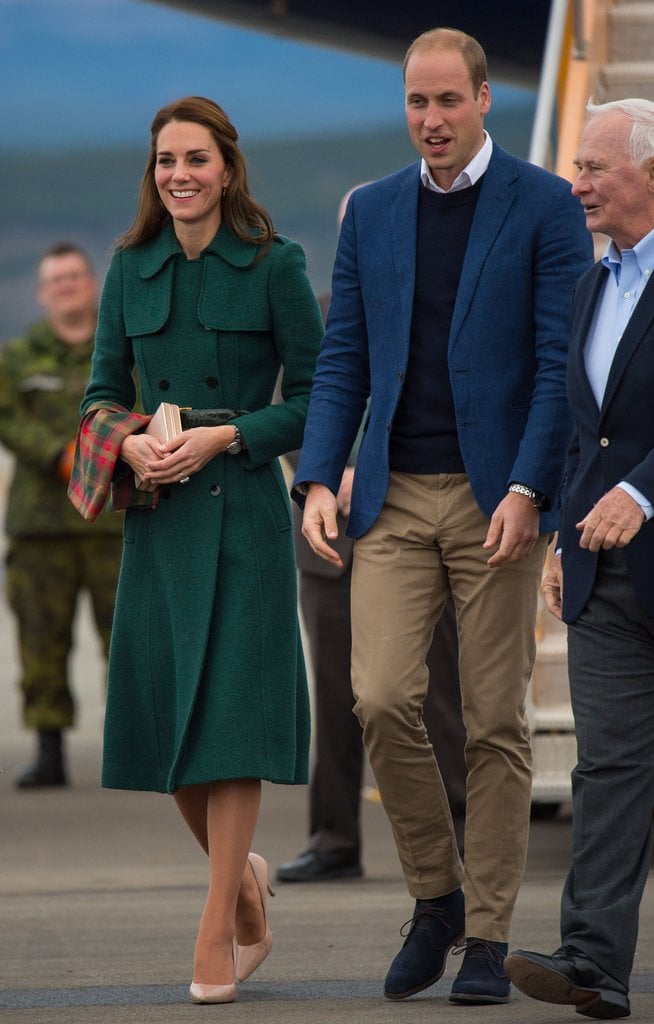 Coats That Are Knee Length
Speaking of knee length, this is Kate's favorite type of coat. It provides modest coverage while still showing off her legs. For royal tours — here she is in Canada wearing Hobbs — and public events, this is her go-to length for keeping it proper.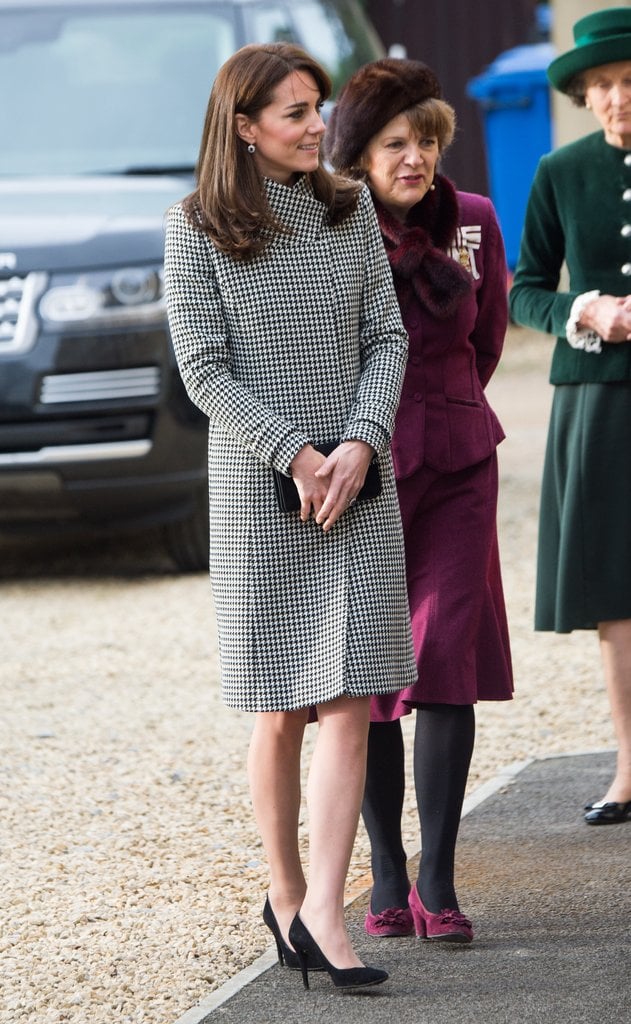 Coats With a Cool Print
The duchess of Cambridge also enjoys a printed coat or two, which always makes a strong statement. Kate wore this houndstooth Reiss coat while visiting New Zealand in 2014 and appears to favor the black-and-white design — she has this Ralph Lauren dress in houndstooth too. The royal must be on to something, though, because this is the type of outerwear you can wear season after season.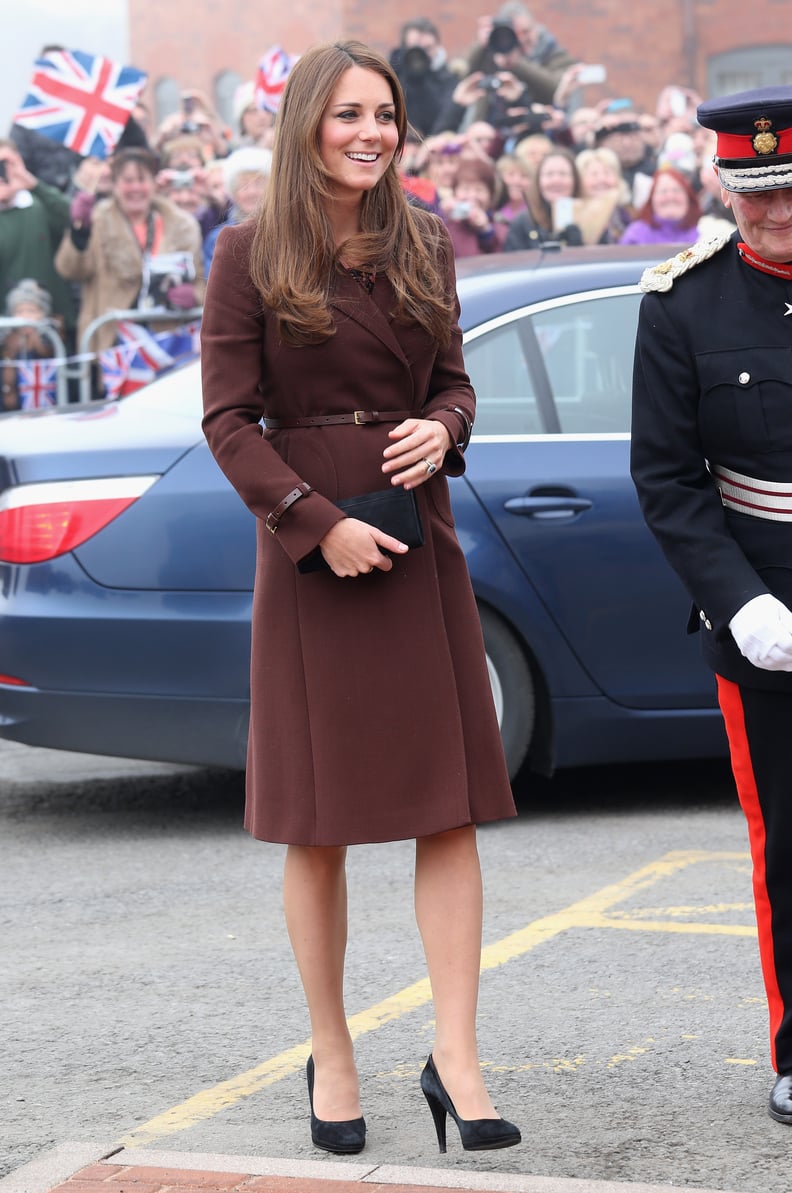 Coats That Belt at the Waist
You'll notice that Kate's coats often come with a belt or she adds one on to make it fitted at the waist. She wore this burgundy-brown Hobbs piece to the National Fishing Heritage Centre on March 5, 2013, and paired it with black pumps. A belted coat looks much more sophisticated, and it's a style to keep your eye on as you do your Fall shopping.
Coats With Pocket Details
Though we doubt Kate actually stuffs anything into her pockets (she's always carrying a clutch), her outerwear features the design. It serves both a functional and stylish component like in this baby-blue Alexander McQueen coat. Kate styled the ensemble with heels, a bow-adorned hat by Lock, and a sparkling Air Cadets Dacre brooch.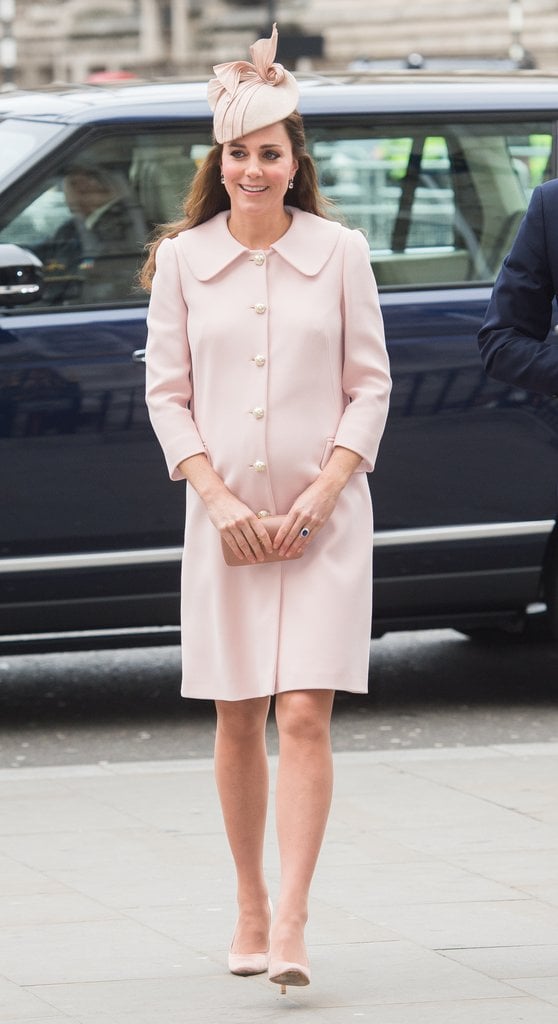 Coats With Large Buttons
In keeping with her Alexander McQueen coats, Kate wore this feminine pink piece while she was pregnant with Princess Charlotte. The coat featured large pearl buttons, a detail that pops up every now and then in Kate's outerwear selections. The royal topped off this specific look with a Jane Taylor headpiece.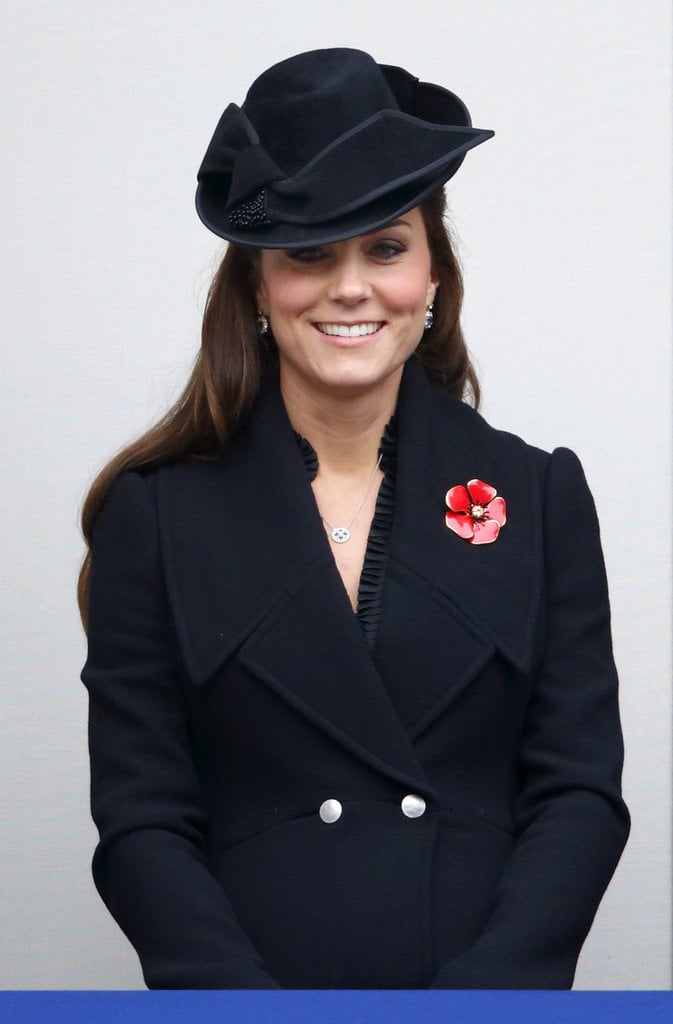 Black Coats
Saved for more somber occasions, Kate keeps a couple of black coats handy. She wore this Diane von Furstenberg jacket to Remembrance Sunday (an event that honors fallen soldiers in London) in November 2014 and continued to turn to the dark hue in the following years.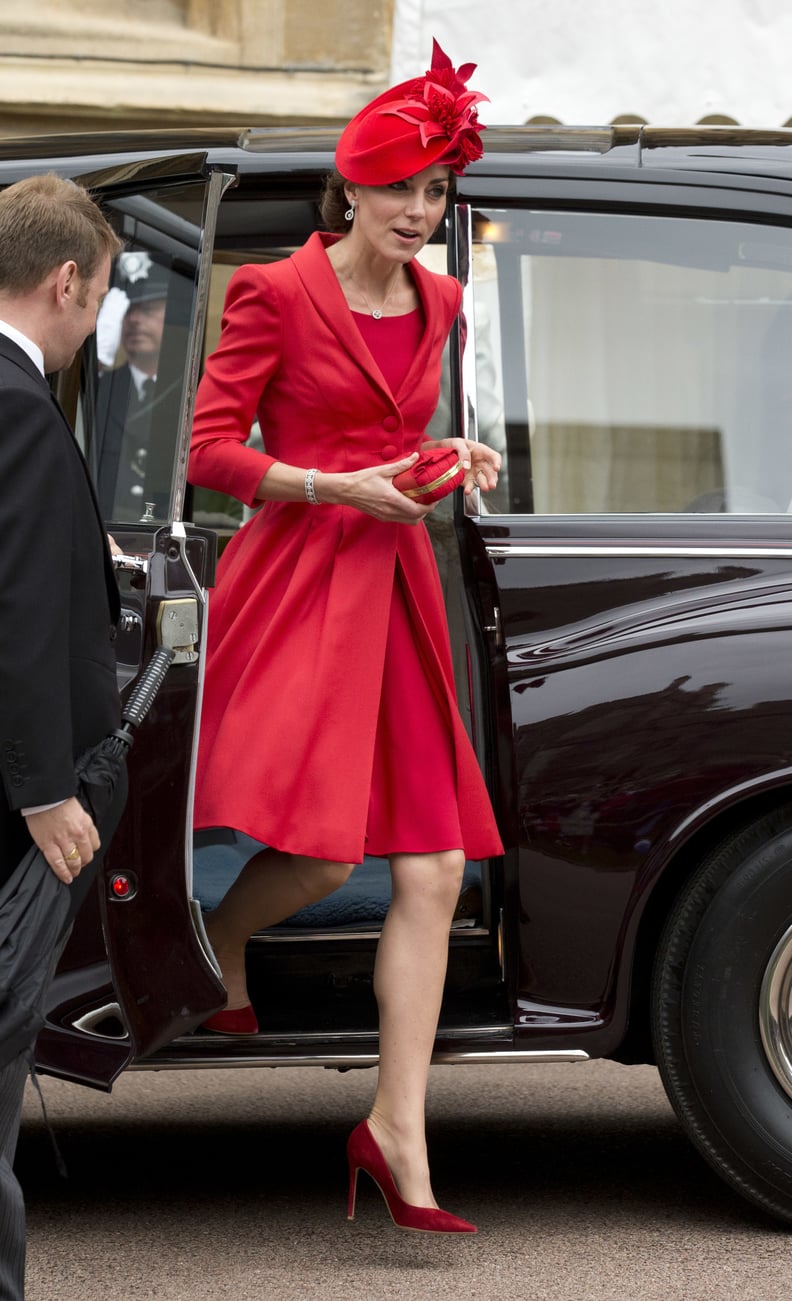 Red Coats
A pop of red is sometimes all you need to brighten your day. Kate owns several red coats including this Catherine Walker piece, which she wore to the Order of the Garter Service on June 13, 2016. In true Kate fashion, the royal matched her fascinator and shoes to her coat.