Naturally, fans of Netflix's Halston, who are learning all there is to know about the late American designer and his friendship with Liza Minnelli, will be searching for Liza's wedding look IRL. Episode three of the miniseries reimagines Liza's small 1974 wedding to Jack Haley Jr., for which Halston customized a buttercup-yellow pantsuit for his best friend, who is Judy Garland's daughter. Some have said that the shade was chosen as a tribute to the yellow brick road from Judy's famous film The Wizard of Oz.
According to columnist Marilyn Beck, much of the wedding, which took place at a church in Montecito, CA, was a tribute to Judy, since she passed away five years before and Jack's father starred as the Tin Man in The Wizard of Oz. (Imagine that connection!) "For the lavish party following the night, Liza will be dressed in a black velvet gown and replicas of the red jeweled slippers Judy Garland wore in The Wizard of Oz," Marilyn wrote.
In the Netflix show, we see Halston coaching Liza, played by Krysta Rodriguez, outside of the church, fixing the details on her pantsuit. "Repeat after me: I am going to marry the man of my year," he says. This was Liza's second wedding of four. She had previously married Australian performer Peter Allen in 1967 and would later marry sculptor Mark Gero in 1979 after divorcing Haley. (Halston was invited to this wedding as well.) Liza wore white dresses to wed Peter and Mark, which you can see glimpses of ahead, and finally married producer David Gest in 2002 wearing a silk Bob Mackie gown, though they separated in 2007.
Ahead, reminisce about the yellow Halston pantsuit (our personal favorite in the gallery), then see the rest of Liza's bridal moments.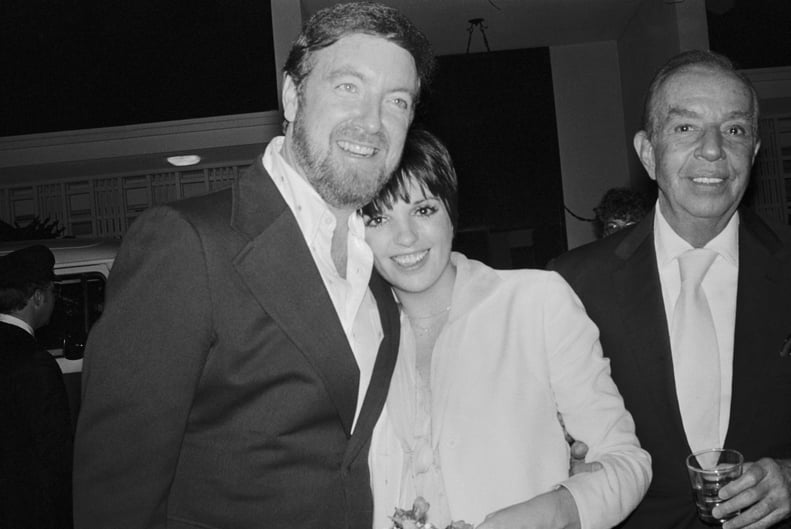 Liza Minnelli and Jack Haley Jr. on the Day of Their Wedding Reception, 1974
Liza wore a chiffon pussy-bow blouse underneath her yellow suit with delicate, layered necklaces.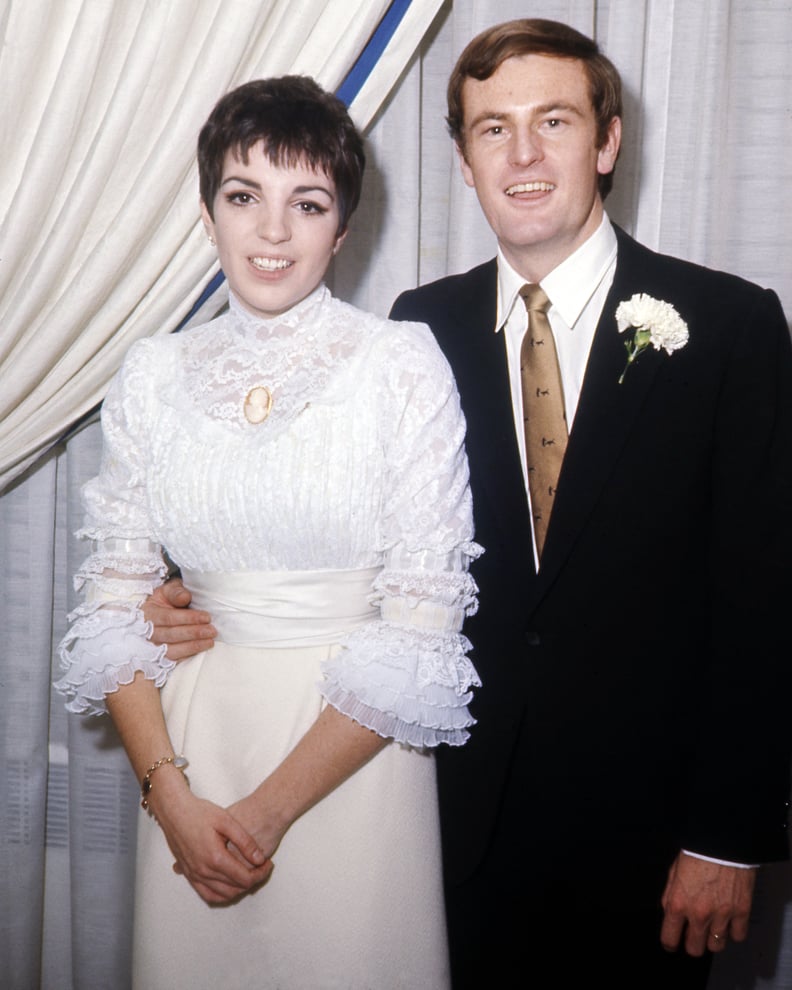 Liza Minnelli and First Husband Peter Allen, 1967
Liza's first-ever wedding dress was this Victorian-inspired high-neck lace gown with a satin sash that cinched at the waist.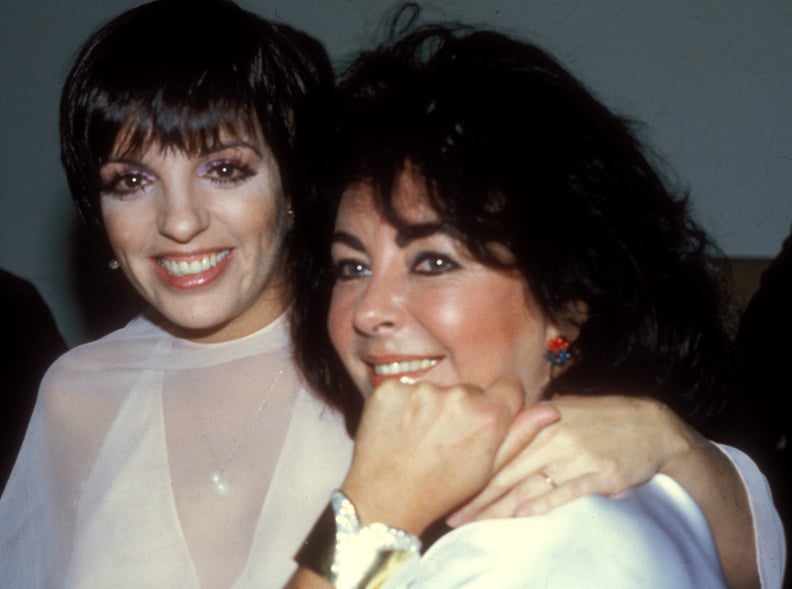 Liza Minnelli at Her Wedding to Mark Gero, 1979
Liza married sculptor Mark Gero at St. Bartholomew's Church in New York. Here she poses with Elizabeth Taylor at her reception. (Elizabeth stood in for Liza's mom, Judy Garland, who passed in 1969, during the ceremony.) Liza opted for an off-white plunging dress with a sheer overlay and a pearl necklace.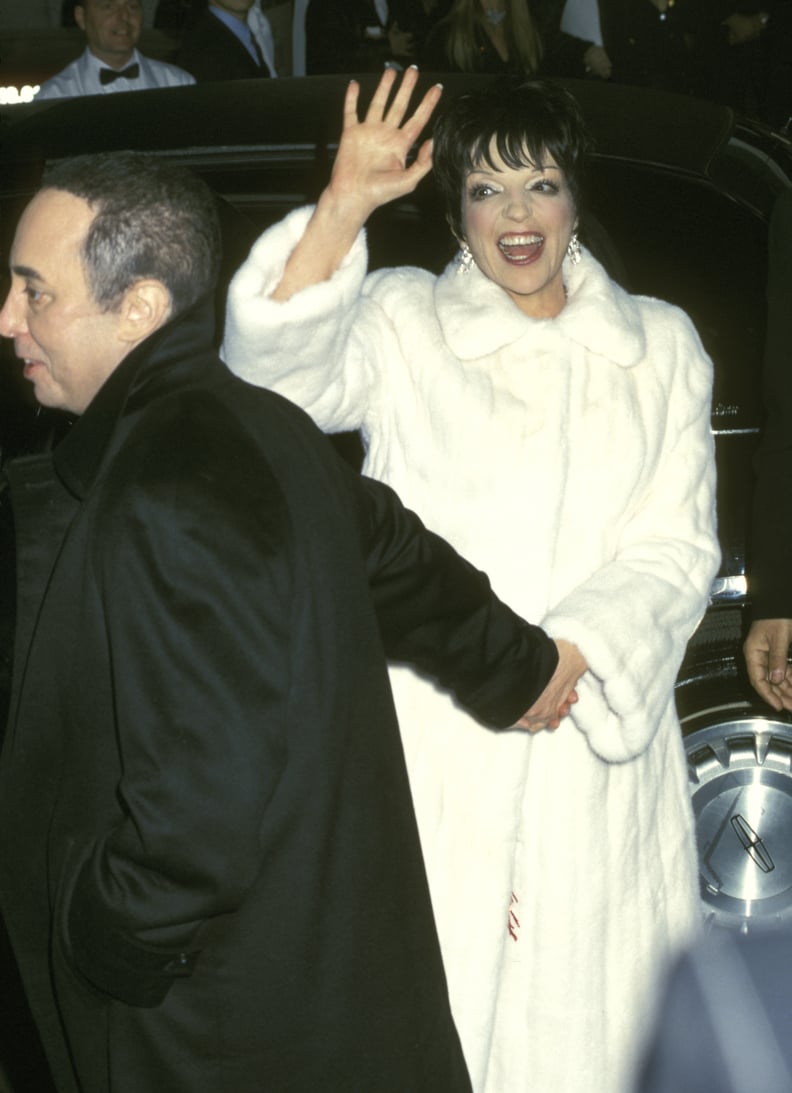 Liza Minnelli and David Gest at Their Wedding in 2002
Liza wore a silk Bob Mackie dress underneath that white furry coat for her extravagant 2002 nuptials to music promoter David Gest. The ceremony took place at the Marble Collegiate Church in NYC and the day reportedly cost over $3 million.