The Evolution of Controversial Mall Stores From the 2000s
Can Brands Like Victoria's Secret Really Evolve? I Went to the Mall to Find Out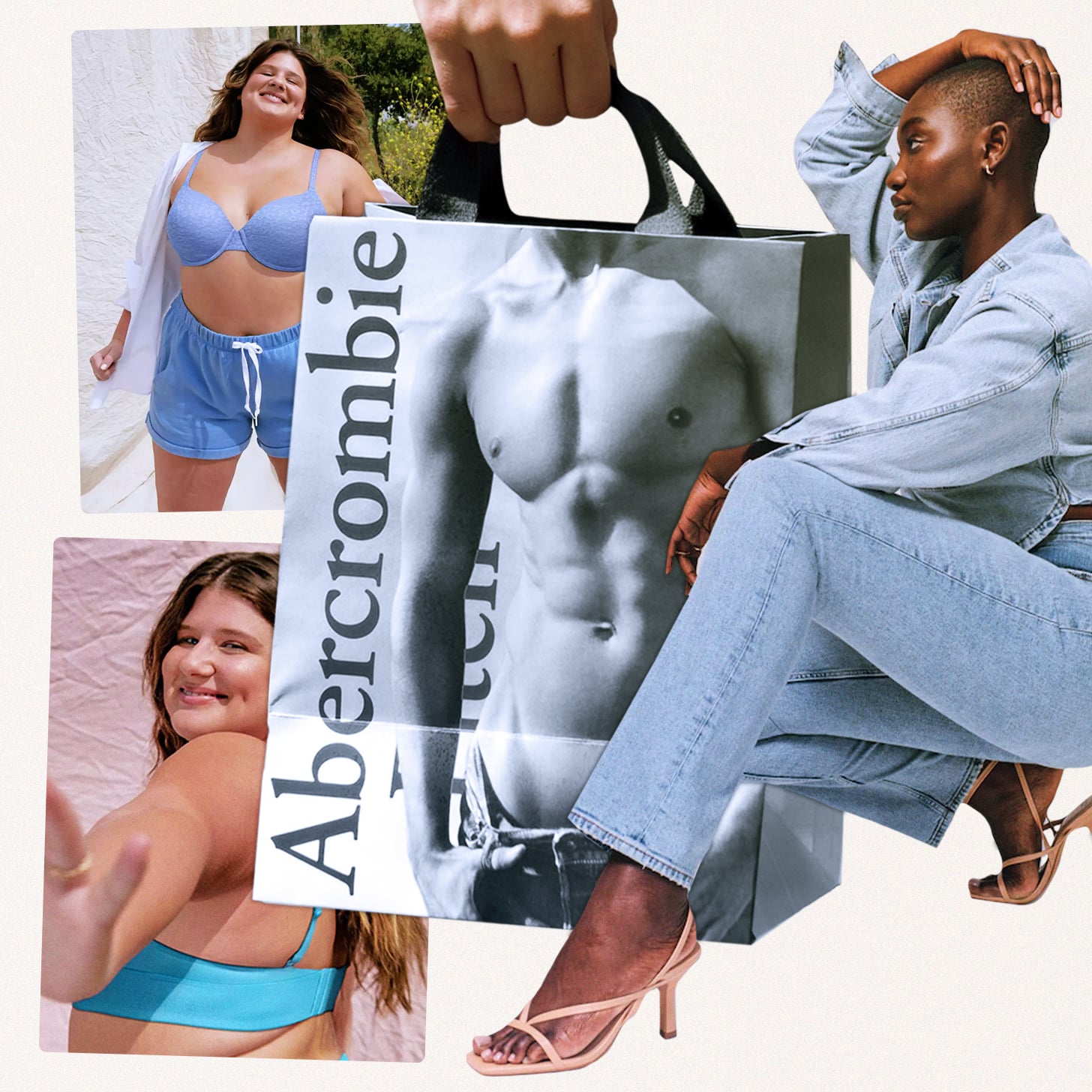 Abercrombie & Fitch still smells faintly of "Fierce" cologne as you round the corner in the mall and approach the storefront. The logo is still inscribed in the same serif typeface, boldly welcoming the customer into the club and assuring them this is where they want to be and this is what they should wear.
These were my first observations as I apprehensively embarked on an intimate shopping experience at the Paramus, NJ, outpost recently, where the store manager promised I would be introduced to the new A&F. Of course, I can still recall my love/hate relationship with the old one. As a teenager struggling to embrace my rapidly changing body, the size exclusivity used to send the message that I did not belong in A&F's world. I remember watching my friend slip her legs into the same A&F jeans I had bought and feeling jealous that hers were three sizes smaller. It was a reminder that I didn't look like her or the models in the ad campaigns.
At school, my thighs would press through the rips in my A&F denim as if trying to break free. I'd push my skin back into the holes or adjust my position out of fear of looking chubby. "You don't have to buy the jeans with rips," my mom offered as a solution. But I did anyway, because I felt I was supposed to. In the early aughts, Abercrombie sold a singular image of thin, white, and cool, and customers were either erased completely or expected to conform. That sense of exclusivity has been unwavering since 1992, when former A&F CEO Mike Jeffries came up with a marketing plan that catered to white elitism, not unlike that of lingerie giant Victoria's Secret's at the time.
Abercrombie sold a singular image of thin, white, and cool, and customers were either erased completely or expected to conform.
Two documentaries released last year — "White Hot: The Rise & Fall of Abercrombie & Fitch" and Hulu's "Victoria's Secret: Angels and Demons" — shed light on the problematic past of two renowned mall brands that soared to popularity in the early 2000s. While these companies are currently attempting rebrands to appeal to a more diverse customer base, many millennial shoppers still have an underlying connection to the early iteration of these stores, just like me. Bearing in mind that VS and A&F were, for many years, centering young, thin, white Americans, I wanted to test the waters to see how I felt walking into the stores today, in a mall setting. Would it be both familiar and uncomfortable all at once? Would I still feel so intimidated?
"Candidly, we go after the cool kids," Jeffries infamously said in a 2006 Salon interview. "We go after the attractive all-American kid with a great attitude and a lot of friends. A lot of people don't belong [in our clothes], and they can't belong. Are we exclusionary? Absolutely. Those companies that are in trouble are trying to target everybody: young, old, fat, skinny. But then you become totally vanilla. You don't alienate anybody, but you don't excite anybody, either."
Ostensibly, a lot has changed in the decade and a half since. A&F can now be seen as a "TikTok-friendly" label, with CEO Fran Horowitz at the helm since 2017. VS, meanwhile, launched VS Collective, a platform that centers women from diverse backgrounds who show progressive leadership in their fields.
Still, the in-person shopping experience at VS in particular remains fairly unchanged from that of the early 2000s. Meanwhile, A&F has installed more of an innovative overhaul in-stores, establishing an altogether different presentation than you'd recall from the early aughts. But whether or not these brands will ever feel quite as influential to the younger generation as they once were for millennials is worth examining. Does Gen-Z have the same emotional connection to mall brands? And, no matter how much these brands progress, will millennials ever let go of their stigma?
How A&F Became Synonymous With Scandal
Abercrombie & Fitch clearly left a mark on me, but on a broader scale, the corporation became known for discreditable behavior after a long series of shocking incidents.
Back in 1992, Jeffries was tasked with reinventing A&F when it was formerly owned by L Brands. It was during this time that the label became synonymous with offensive company culture and racism — and a slew of protests and lawsuits followed. In 2002, the brand produced anti-Asian T-shirts that were subsequently pulled from stores — after Asian American college students and advocacy organizations held protests.
Phil Yu, who runs the Angry Asian Man blog, was featured in "White Hot" to discuss the shirts and their impact. Upon being told there was at least one Asian designer who approved the designs, Yu said, "I feel like you just dropped a bomb on me," continuing, "Your cover is the one Asian guy in the room who they ask, 'Do you find it offensive?' . . . Is he going to flip over the table and be like, 'No, I think this is really offensive to my identity'? In that environment, in this corporate, stuffy environment where everybody around you is white, he's going to be like, 'I don't know if this is really a safe place to do that.'"
The scandals kept coming, solidifying a sense that the brand was perpetuating entrenched racism. In 2003, former A&F employee Dr. Anthony Ocampo charged the company with a discrimination lawsuit titled Gonzalez v. Abercrombie & Fitch Stores, in which he and other plaintiffs alleged that they were refused jobs, terminated based on their race, or given responsibilities that kept them out of public view within stores. (In November 2004, a settlement was reached, winning $40 million dollars for rejected applicants and requiring the company to start various diversity-promoting initiatives.)
In 2008, Samantha Elauf also filed a lawsuit when she was denied a job at A&F in Tulsa, OK, allegedly because her hijab conflicted with the company's in-store dress code. Her case was taken to the Supreme Court in 2015, and Abercrombie & Fitch reportedly paid $25,670 in damages to Elauf and $18,983 in court costs.
While the brand was forced to reckon with exclusionary practices in the courtroom, publicly, A&F didn't seem very apologetic. Activist and public speaker Benjamin O'Keefe, who is featured in "White Hot," explained why he feels the company dropped the ball on making amends at the time, or any time for that matter: "Discrimination was not just a blip. It was not just one quote from seven years. It was their brand. It was their identity. They rooted themselves in discrimination at every single level."
In the following years, the company took a nosedive, perhaps both because of its actions, along with the rise of social media where a raised awareness of social justice causes spread rapidly. A&F's stock price dropped from $84.23 in October 2007 to $14.64 in November 2008. Mike Jeffries stepped down from his role as CEO in December 2014.
The Curse of the V&S Angel Fantasy
In the case of Victoria's Secret, Ed Razek, then-chief marketing officer of L Brands, set a standard of beauty for women that revolved around whiteness and thinness. He assembled an all-star cast of models called Angels that rarely deviated from this standard, rejecting plus size and transgender models altogether and only occasionally hiring women of color, like Tyra Banks and Liu Wen. The Angels reached international stardom on the brand's annually televised runway show and in commercials and catalogs throughout the '90s, but both fans and critics decried the brand's exclusionary casting practices.
It wasn't until 2018 that Razek addressed the criticism with his now-infamous discriminatory remarks about plus size and transgender women. "Shouldn't you have transsexuals in the show? No. No, I don't think we should," he told Vogue at the time. "Well, why not? Because the show is a fantasy." The comments sparked outrage and ultimately led to the cancelation of the entertainment special in 2019. Editors, models, and shoppers alike criticized the lingerie giant's tone-deaf and outdated tactics. Business Insider reports that around this time, same-store sales numbers at VS brick-and-mortar stores were down 3-5 percent overall.
While the brand was getting panned for discriminatory casting in the press, employees were dealing with a culture of harassment behind the scenes. "Ed Razek [...] was the subject of repeated complaints about inappropriate conduct," read a report in The New York Times. "He tried to kiss models. He asked them to sit on his lap. He touched one's crotch ahead of the 2018 Victoria's Secret fashion show."
And while L Brands founder Leslie Wexner was reportedly alerted to Razek's behavior at the time, he did nothing to stop it. In fact, Wexner's ties to sex offender Jeffrey Epstein became public after Epstein, who managed Wexner's finances, posed as a recruiter for VS in an effort to lure women. As more accusations against Razek came to light, he resigned in 2019. Wexner stepped down as CEO of VS's parent company the following year.
The Attempt to Rebrand: Too Little Too Late?
Horowitz took the helm at A&F in February 2017 with the goal of rebranding the company to be more inclusive. As part of its new Equity Project, DE&I efforts include hosting honest conversations about the environmental and social impact of the brand on today's society. A&F has raised money for The Steve Fund, an organization founded to support the mental health and emotional well-being of young people of color, and The Trevor Project, which provides tools for LGBTQ+ youth.
"Visual representation is certainly important, but inclusivity is so much more than who appears in front of a camera," Michael Lopez, A&F senior vice president of environmental, social & governance, told POPSUGAR. "It has to be more than merely the models we cast or the creators with whom we partner." The brand's new direction apparently includes reshaping the company culture as well. A&F was 14 on Fortune's 15 best retail workplaces list in 2021, and it achieved a perfect score on the Human Rights Campaign's 2022 Corporate Equality Index.
Meanwhile, Victoria's Secret launched the VS Collective, where women who are leaders in their fields are asked to keep the brand in check by advocating for women's rights. The current lineup includes names like Hailey Bieber, Bella Hadid, Adut Akech, Priyanka Chopra, Megan Rapinoe, Paloma Elsesser, Naomi Osaka, and Valentina Sampaio, the brand's first-ever openly transgender model hired in 2019. Additionally, Sofía Jirau made her debut as the first model with Down syndrome in a 2022 campaign for the VS Love Cloud collection. The brand has also committed to developing partnerships with LGBTQIA+ organizations, including Point Foundation and Campus Pride.
But as customers become privy to the scandals and subsequent changes these brands are making on the macro level, they might experience the brands in a completely different way walking inside a brick-and-mortar store. My visits to the A&F mall front in New Jersey and the VS Fifth Avenue Flagship in NYC confirmed that while both feel different than they did in the early aughts, A&F was seemingly more willing to depart from its early DNA.
Rather than the dark, exclusive, club-like atmosphere it was formerly associated with, the A&F store was open and inviting, albeit still clinging to the familiar scent of Fierce cologne. The edit has been marketed toward all young millennials and Gen-Zers who want comfortable, quality, on-trend items for an aspirational long weekend, according to Carey Krug, SVP and head of marketing.
"If a brand can't reckon with the sins of its past, then it's a nonstarter for me."
Horowitz's first order of business was to ask store employees for feedback and invent immediate solutions to the problems customers complained about. Today, the store stocks sizes XXS-3XL (23 to 37 in denim), and associates, who are often the ones featured in campaigns themselves, carry around handheld Honeywell systems that search for unavailable items in real time, so shoppers can immediately place orders for alternative styles. Fitting rooms include adjustable mood lighting and music choice via personalized monitors, where many people stay for hours organizing their hauls for social media and taking selfies.
The team also consistently rotates clothing so that pieces and trends going viral on TikTok — where the brand saw a resurgence thanks to hashtags like #AbercrombieIsBack and #AbercrombieIsTrending — are at the forefront. Sales are up, too; in 2018, A&F exceeded $1 billion in annual digital sales for the first time in history.
VS has widened store aisles for increased access, according to a spokesperson who talked to POPSUGAR, and introduced mannequins in a wider range of shapes and sizes starting in 2021. The Bra Fit experience is largely the same as it was when I was a teen, with limited varieties of mastectomy and maternity bras now available.
While the VS team did listen to the customer's request to bring back its swim category in 2019, after its termination in 2016, the online VS & Co-Lab, a platform that highlights third-party brands run by women entrepreneurs who push boundaries, makes virtual shopping feel more inclusive. While POPSUGAR was told that VS décor has been elevated, with brighter lighting and more modern and diverse marketing imagery, the pang of nostalgia I felt walking through the door was immediately perceivable, and not necessarily in a good way. VS reported its 2022 second quarter financial results in late August, with a net income of $70 million, as compared to $151 million last year.
Ultimately, emotions come into play when determining whether both brands are capable of winning back old shoppers, rather than just attracting new ones. Dr. Ocampo, for example, says he still wouldn't step foot in A&F, even after all the changes. "In the same way I would never walk into the house of someone who did me wrong and never apologized, I wouldn't walk into an Abercrombie store," he told POPSUGAR. "From afar, I can be like, 'That's great that you're doing these nice things about body acceptance,' but I think what happened to me was pretty darned egregious, and I don't feel like there's ever been a direct correspondence that said, 'Yeah, our company was racist and our employment practices were racist.' If a brand can't reckon with the sins of its past, then it's a nonstarter for me."
I thought back to my own A&F adventure, where I marveled at the updated, high-tech atmosphere and was encouraged to try on jeans by the associates. "Have you tried the new denim yet?" they asked me. "The fit really is so good. We'll have to get you some."
Even still, there was something about the thought of trying on denim at A&F that day that I just couldn't commit to. Maybe it's because I'm not easily swayed by TikTok hype, but for a brief moment, my old memories had come flooding back, along with the familiar pressure to stay thin enough to fit into an exclusionary culture. I walked out empty-handed.