Jill Biden's Inaugural Designer Markarian New Collection
Jill Biden's Inaugural Designer Shares Her New Collection and Her Fave Pic of Jill in Her Dress
Markarian, an emerging American brand known inherently for its elevated playfulness, was founded by Alexandra O'Neill in 2017. Based in NYC, every piece is made thoughtfully in an effort to reduce waste, with the support of the garment district's fine craftsmanship at its core. That is likely what attracted our First Lady Dr. Jill Biden to the label for Inauguration Day. After all, she has used her fashion choices to signify her dedication to sustainability before. But O'Neill also designed a truly remarkable coatdress set for Biden in a lovely ocean blue tweed that came with a matching face mask. Later on in the evening, the president's granddaughters, Natalie and Finnegan Biden, also wore Markarian.
"Fashion is not all about pretty dresses and glamour, it is a huge industry that supports 180,000 jobs in New York City alone."
"I think it is so wonderful that this administration recognizes the power their fashion choices have. Not only did Dr. Biden, Natalie, and Finnegan look beautiful on Inauguration Day, but their choice of an American brand directly supported independent workers and small businesses in New York's Garment Center who are struggling right now. Fashion is not all about pretty dresses and glamour, it is a huge industry that supports 180,000 jobs in New York City alone," Alexandra told me when I talked to her about dressing Jill, the presentation of her new fall/winter 2021 collection, and the current mission of her brand.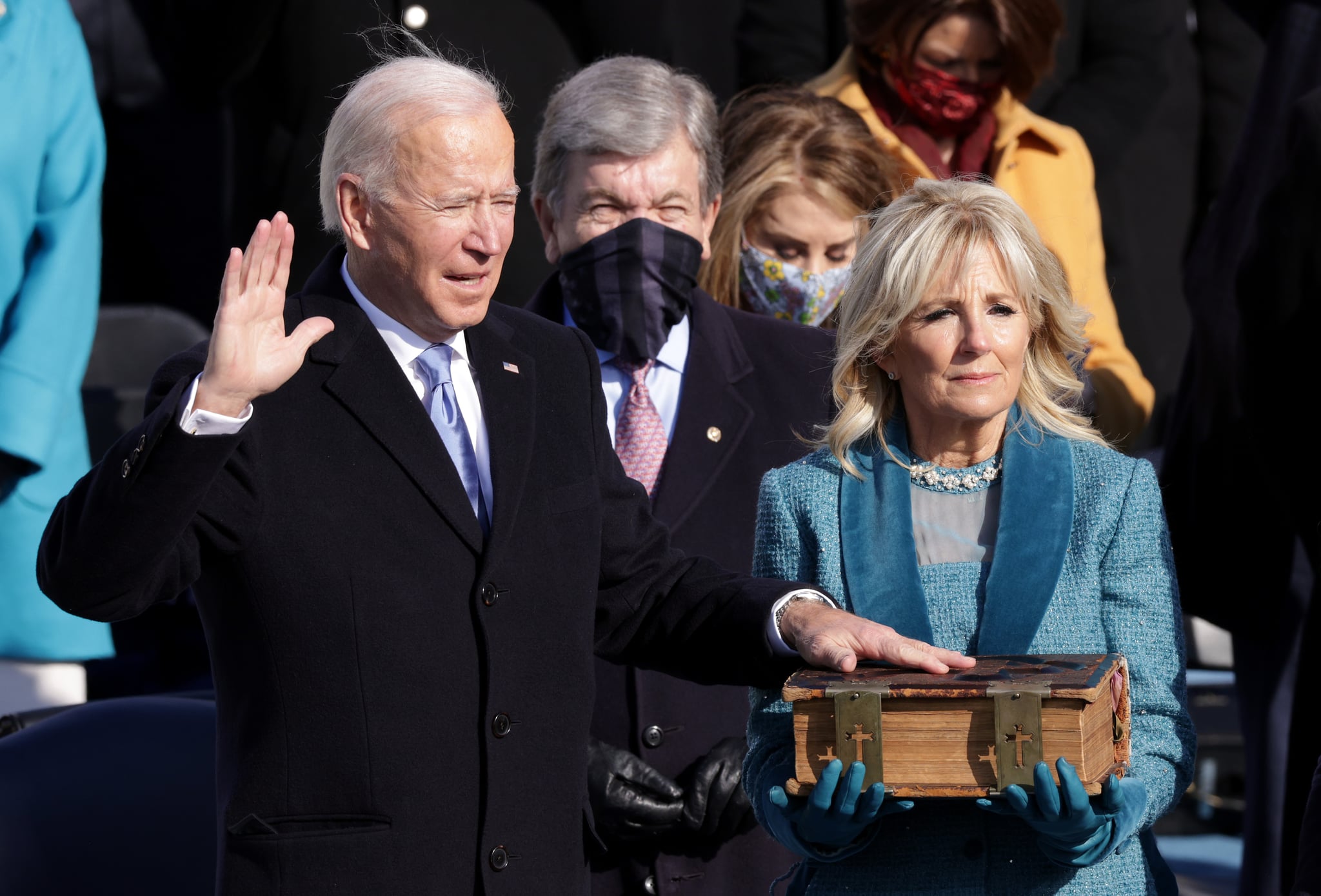 Image Source: Getty / Alex WongAbove: Alexandra's favorite photo of Dr. Jill Biden wearing Markarian on Inauguration Day.
O'Neill, who also creates bridal wear, still counts Emma Roberts's appearance in one of her dresses the first week she launched as one of the most memorable moments. "It was so nice to have that kind of support so early on," she said. Since then, Markarian has become a celebrity go-to as well — Jameela Jamil wore a rainbow sequined robe on the comfort of her own couch for the 2020 Emmys and Demi Lovato recently styled the sequined co-ords with her new pixie cut.
For fall 2021, there is much more high octane glamour to appreciate, with luxe-satin pajama style separates and beautiful, feel-good knits in the mix. Many of the pieces will likely end up on the racks of celebrity stylists, and maybe even hanging in Dr. Biden's closet too. Scroll down to hear more from Alexandra about the magnitude of Inauguration Day, and learn about her current values as a fashion designer with a platform to make a difference.