12 New Designers to Know in 2021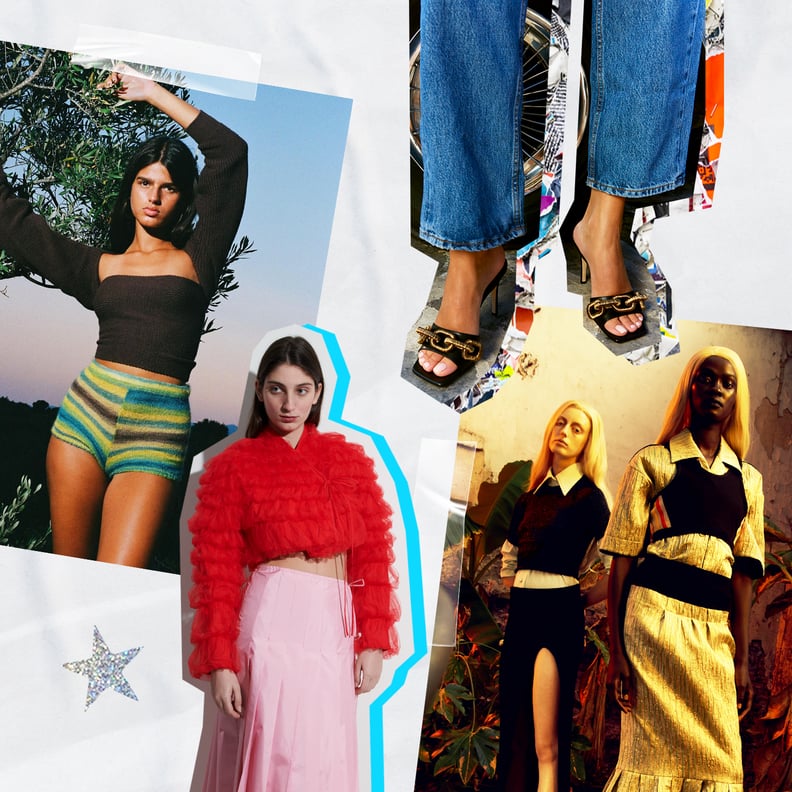 Gimaguas
Serena Uziyel
Renaissance Renaissance | Joyce NG and Makram Bitar
Meryll Rogge | Ismael Moumin
Gimaguas
Serena Uziyel
Renaissance Renaissance | Joyce NG and Makram Bitar
Meryll Rogge | Ismael Moumin
Ahead of Fashion month, get to know some new brands that have captured the attention of stylists and celebrities alike. Coming from a wide range of backgrounds, you'll find creative influence from around the globe. Whether you're in the market for a luxury purchase or simply looking to infuse some beauty and inspiration into your social feed, these are the names to know and follow in 2021.
Meryll Rogge​
Belgian-born Meryll Rogge previously designed for Marc Jacobs and Dries Van Noten before launching her namesake label. Her collection is a mix of oversize menswear tailoring, printed neon silks, and sleek '80s glam-inspired eveningwear.
Kenneth Ize
Kenneth Ize (pronounced "ee-zay") is an Austrian-Nigerian designer who has been steadily gaining recognition for his colorful woven suiting and has already had Naomi Campbell close his first Paris show last season. Ize's designs have an androgynous feel with oversize tops and jackets created in collaboration with asoke weavers. By modernizing this centuries-old African weaving technique, it helps to preserve and protect the work of these artisans.
PETER DO
Founded in 2018, PETER DO's namesake label takes a youthful approach to design that is founded on razor-sharp tailoring and architectural construction. Expect beautiful suiting, tailored shirting, and outwear in neutral tones.
Thebe Magugu
Thebe Magugu's label is a luxury brand designed in his hometown of South Africa. The brand pulls from motifs and designs that weave together a story of a post-apartheid South Africa. Magugu has already won the prestigious LVMH prize in 2019 and continues to create his collections with artisans and factories in Johannesburg and Cape Town.
Gimaguas
Gimaguas was created by stylish twins Sayana and Claudia Durany. The Spanish fashion design duo started the brand based on their love for traveling and finding unique artisans and crafts from around the world. Using a sustainable approach to design, the Durany sisters only release capsules in small batches to limit waste. Their latest collection will surely inspire your next warm-weather travel wardrobe.
Renaissance Renaissance
Cynthia Merhej's collection Renaissance Renaissance may only be a few years old, but she is no stranger to the world of design. Merhej is the third generation of women in her family to start her own atelier, following in the footsteps of her mother and grandmother. This Lebanese label draws from the art of meticulous tailoring. Expect to see voluminous gowns, corset tops, and touches of feminine ruffles.
Serena Uziyel
Designer Serena Uziyel is new to the scene, but her incredible line of accessories is sure to catch on quickly. Uziyel's designs are inspired by a lifelong passion for art and traditional craftsmanship. Everything in this collection is truly unique.
Maximilian
Maximilian Davis made his debut this past September at Fashion East (London's young designer incubator). The Trinidadian-British designer began his career working under Grace Wales Bonner before going out on his own. The collection is full of elegant clothing and tailoring. His debut collection was designed with sophistication at the forefront and was heavily influenced by the history of the Trinidadian Carnival and its meaning.
Aeron
Aeron is a Budapest-based brand, founded by Eszter Áron. This collection is produced locally with mindful practices. The result is a timeless and effortless wardrobe — simple color palettes and clean lines that can be worn for seasons.
Mach + Mach
Founded by Georgian sister duo Nina and Gvantsa Macharashvili, Mach + Mach has garnered international celebrity attention from the likes of Solange Knowles, Katy Perry, and Kylie Jenner. While the label has been around for a few years, it is still new to the US. With a design mix of bright, futuristic, and pop, these crystal-adorned heels work with everything from eveningwear to denim and blazers. Find Mach & Mach on Moda Operandi.
Diarrablu
Diarrablu is a high contemporary lifestyle brand founded by Diarra Bousso. The brand's mission is to use sustainable practices while highlighting Africa's rich colors and unique patterns. Think strong silhouettes, bold prints, and colorful fabric. The majority of the pieces are produced in Dakar, Senegal, and the brand's ethos is focused on sustainability and tradition. The pieces are known for being convertible and adjustable, so they can be worn again and again in new ways.
Supriya Lele
Supriya Lele's eponymous label is a mix of playful and feminine pieces that create a dreamlike quality. Her tailoring and sheer draping in colorful fabrics are inspired by her Indian and British heritage. Lele is known for her draping techniques and exquisite color combinations.