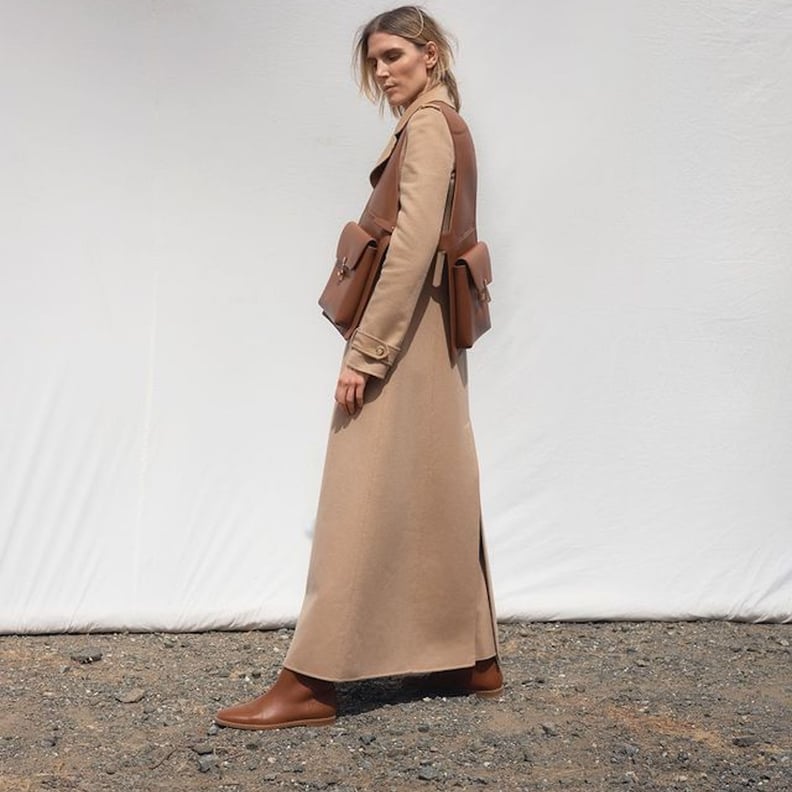 Companies can no longer remain neutral on issues of diversity, environmental impact, and racism. Consumers are demanding more and being very intentional on where they are shopping. We're helping you make smart decisions by putting an emphasis on the brands that stand for something; that are authentic and do not use activism as a marketing stunt. Ahead, we've curated a list of companies that grabbed our attention by answering the urgent calls for racial equity, climate change, and support in the midst of ongoing effects from a global pandemic. From Stella McCartney to Cuyana, each brand has diversity and sustainability built into its DNA, and a celebrity and influencer cult following to prove it.
Mara Hoffman
Mara Hoffman prioritizes clothing made of natural, recycled, and organic fibers. All of the swimwear is made of 100-percent recycled nylon and polyester. Hoffman first started using hemp in 2018, as it uses less water and helps crop rotation. The designer partnered with Earth Matter, a New York based organization working to improve organic waste processing and Queen of Raw, where they resell leftover fabrics to give them a new life.
Sophie Ratner
Jewelry brand Sophie Ratner commits to giving back with selected pieces in every collection. In 2019, the brand launched its "1973" series in collaboration with Physicians For Reproductive Health, where 30 percent of the proceeds were donated to fight for equality and access for reproductive healthcare. Recently, the brand came out with a "Selfmade" necklace, with funds going to Kiva, an international nonprofit organization with a mission to expand financial access to help underserved communities thrive. Other partnerships include Time's Up, Planned Parenthood, and ActBlue.
ModCloth
With a size range from 00-28, ModCloth has been about inclusivity since day one. Some of the brand's partnerships include The Trevor Project, National Domestic Violence Hotline, Girl Up, Black Lives Matter, I Am a Voter, Planet Bee, and A Purposeful Rescue. ModCloth's current collaboration with First Book will donate proceeds on select styles to help provide books and reading tools to children in need.
Lingua Franca
Lingua Franca has raised over $1 million in cash for giving back. In 2017, the brand's resistance sweaters ('I miss Barack' and 'I am an Immigrant') raised over $100K for a charitable organization. In 2018 and 2019, LF continued the resistance collection while referencing Time's Up, Women's March Organization, and Pride month. Throughout the COVID-19 pandemic, over 5K masks were delivered to healthcare workers, as well as several proceeds going to the Food Bank of NY, Save the Children, and the National Domestic Workers Alliance.
Shona Joy
Shona Joy participates in numerous clothing collaborations for a cause annually. A few notable ones are with I=Change, Dress For Success, Women Sport Australia, and most recently, SurfAid. The brand typically donates $1, $5, or $10 per item sold. SurfAid is committed to reducing the mortality rates of mothers and children living in isolated areas by improving their health and well-being with healthcare, clean water, and nutrition. For every garment sold in the SurfAid collection, Shona Joy will submit a donation of $10.
Alice + Olivia
To help mitigate the side effects of COVID-19, Alice + Olivia teamed up with No Kid Hungry to help get meals to children and rolled out the #MaskTogether initiative, providing the public access to masks and promising to match each mask sold with a donation. The brand recently released a casual collection filled with chic sweatpants and cozy staples. A portion of sales will go to six charitable organizations: A Sense of Home, Good+ Foundation, Race to Erase MS, Black Women Lead, Lifeway Network, and The Jed Foundation.
Gabriela Hearst
Gabriela Hearst set out to create the lowest impact in the production of the brand's clothing by producing in small batches. To fight the plastic-waste crisis, in 2017, the brand introduced TIPA flexible packaging to give bio-based alternatives to traditional plastic packaging. A special silver fabric was introduced in 2017 as well to prevent cell phone radiation from reaching women's reproductive organs.
Stella McCartney
Since her launch in 2001, Stella McCartney has been one of the main leaders in sustainability. The brand is governed by four main pillars: respect for nature, respect for people, respect for animals, and circular solutions. By sourcing sustainable materials like organic cottons and recyclable fibers, the brand protects the planet. As a vegetarian company, cruelty-free and restorative design are always used. The Fall 2019 show was centered around the initiative "There She Grows" in efforts to protect endangered rainforests. Similar to the spring 2021 collection, the brand often upcycles old stock into new items, minimizing overall waste and use of materials.
Aritzia
Since 1984, Aritzia has been producing quality products to last for years. Over the years the brand has removed fur from products and plastic from ecommerce packaging, and has joined the Sustainable Apparel Coalition, among others. In 2018, Aritzia looked into sustainable denim and started producing denim with organic cotton, tencel, and a bio-based softener. Aritzia also maintains carbon-neutral offices, stores, and distribution centers that offset the carbon gasses emitted daily.
Cuyana
Cuyana follows a three-step process in design: produce responsibly, maximize wear, and extend life. The brand prides itself in working with small, family-run businesses that have all gone through rigorous social-compliance terms. Cuyana also intentionally manufactures close to where its materials are sourced, minimizing additional shipping pollution. Cuyana is committed to 100-percent sustainably made materials by 2022. With an emphasis on minimizing overproduction, Cuyana only produces what it can sell, and in 2019, it sold through 90 percent of the products made. The timeless, functional, and versatile designs are made of alpaca, straw, recycled cashmere, wool, tencel, leather, and substantial silk. Every piece comes with a two-year warranty, so if you need a repair or light cleaning, a visit to any Cuyana store will restore your items.
Outerknown
Outerknown was the first brand to pursue Fair Labor Association accreditation before ever shipping a product. The brand is invested in the livelihoods of its 5K+ workers. With Outerknown's "Guaranteed For Life" program, any denim you purchase that needs repairing or replacing will be taken care of. In 2015, Outerknown collected fishing nets and regenerated them into ECONYL® products while cleaning up the oceans. An advocacy tee was then launched in 2017, with proceeds going to The Ocean Conservancy. In 2020, Outerknown created sustainable polybags and biodegradable stretch denim. In partnership with Vela, the label pioneered a sustainable and scalable solution to polybags that are FSC® certified, carbon neutral, and more widely recyclable than plastic. The Iconoclast High-Rise Skinny Jeans use a renewable, natural, plant-based rubber (COREVA™ Stretch Technology) to achieve stretch instead of the synthetic, petrol-based elastane traditionally used.
Agolde/Citizens of Humanity
To help with COVID-19, Citizens of Humanity and Agolde worked with Donate PPE to shift the brands' LA-based factory from producing clothes to producing cotton masks. Citizens and Agolde partnered with the Haas Brothers on limited-edition Pride month masks, and awarded 100 percent of proceeds to the Los Angeles LGBT Center. In June 2020, all mask sales were donated to organizations fighting injustice: Black Lives Matter, Color of Change, Rebuild Foundation, Planned Parenthood, and Real Justice.