Mindy Kaling, Instagram-Challenge Pro, DIYs a Face Mask Inspired by Artwork From the Met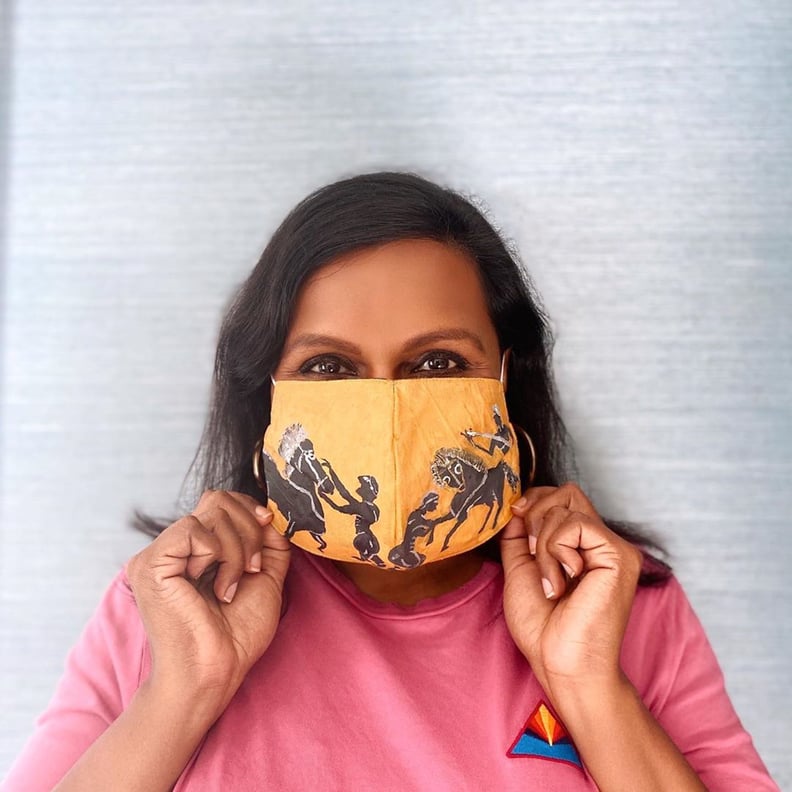 On May 20, the Met Museum challenged Instagram followers to get creative with a DIY project — create a mask inspired by artwork from the Met's current collection — and Mindy Kaling just posted the result of her own endeavor. "I did the #MetMaskChallenge and created my own mask inspired by artwork from The @metmuseum collection! I used the Terracotta kylix (drinking cup) ca. 540 B.C. (swipe for a picture!), attributed to the Amasis Painter," Mindy wrote, shedding light on the details behind her well-thought-out design.
Mindy is not the only celebrity posting about the importance of wearing a mask right now, as coronavirus cases spread across the country. Tory Burch started the #WearADamnMaskChallenge, which reached Tracee Ellis Ross, Jennifer Aniston, Reese Witherspoon, and Kerry Washington, just to name a few. (Side note: Mindy also participated in Tory's initiative, along with the #MetGalaChallenge, where she re-created Jared Leto's Gucci red carpet look.)
We love that the Met's new concept encourages people to browse through historical pieces and thoroughly appreciate and interpret an artist's work. Mindy did an awesome job with her own mask, but the hashtag has amassed nearly 200 posts already, so we did a little digging to uncover even more extraordinary submissions in case you're curious to see what people came up with — talk about reinventing the wheel! Scroll through to be amazed by all the amazing designs we found.
Mindy Kaling's Met Mask Challenge
Heidi Gardner's Met Mask Challenge
Met Mask Challenge Instagrams
Met Mask Challenge Instagrams
Met Mask Challenge Instagrams
Met Mask Challenge Instagrams