Mindy Kaling Re-Created Jared Leto's Met Gala Head Moment, and We're Cackling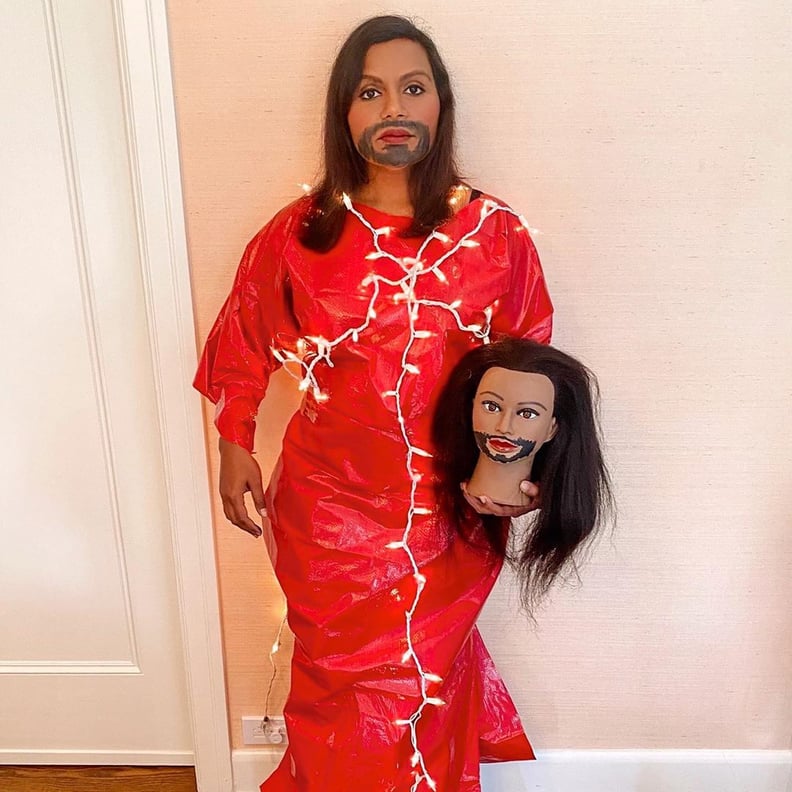 Remember when Jared Leto walked the Met Gala red carpet in 2019 carrying . . . his own head? Well, Mindy Kaling one upped him with her re-creation, which she showed off on her Instagram. Mindy joined the #MetGalaChallenge, which was created by Billy Porter and Vogue. The challenge encourages individuals to re-create iconic Met Gala looks from the past while staying at home since the event is postponed this year due to the coronavirus pandemic. Mindy absolutely crushed the challenge with her creative and fashionable outfit that left us in tears from how hard we were cackling.
The actress no doubt won the the challenge in our eyes with her interpretation of the infamous Gucci look. Mindy constructed a red dress and covered it with Christmas lights. She even went so far as to draw a beard on her face and carried a mannequin head that resembled herself — fake beard and all! (ICYMI: The head was a reference to Gucci's controversial Fall 2018 runway during Milan Fashion Week, where two models came down the catwalk carrying replicas of their own heads.) Keep reading to see Mindy's re-creation ahead and try not to giggle. Don't say we didn't warn you!
Mindy Kaling's Re-Creation of Jared Leto's Gucci Met Gala Look