The Major Style Difference Between Melania Trump and Michelle Obama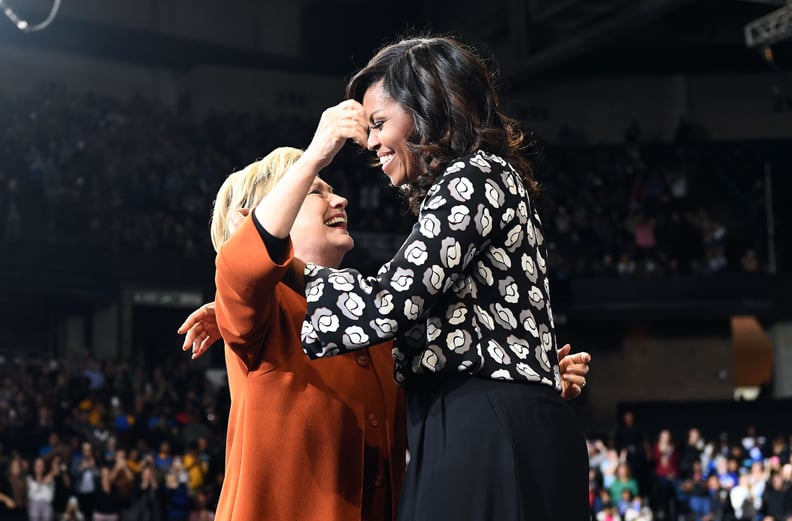 Image Source: Getty / JEWEL SAMAD
When I woke up the morning after Election Day to find that Donald Trump would be the next president of the United States, I cried. Then I signed online and covered the latest Instagram trend: DIY crop tops made from an old pair of tights. Then, obviously, I cried some more. I had just witnessed one of the most heartbreaking and important elections in history, at least in my opinion. How did I muster the strength to write about a passing fashion trend on a day like that?
After that, it was admittedly hard to keep working. I talked to my sister, who also felt devastated, and I texted my boyfriend, who is one of those people who, political views aside, always reassures me I am worrying before I need to be. Then Hillary Clinton gave her concession speech wearing a purple-lapeled Ralph Lauren blazer, and instantly, I was inspired to write again. She was most likely wearing that shade because it was a blend of red and blue, the Republican and Democratic parties unifying right there on her outfit.
I don't think that Hillary's pantsuit was more important than the powerful words she spoke, a recognition of defeat but a promise she won't stop fighting for women, minorities, and our nation's progress. I do think that Hillary hammered her point home with that blazer, and in that moment, I felt it my duty to explain why. For the time it took me to crank out that post, my job had purpose again.
Every time I have written about Michelle Obama's dresses, since I began my career as a fashion editor, I have felt a sense of pride. It has been remarkable to track Michelle's style during her time in the White House, watching her thoughtfully support American designers with each appearance.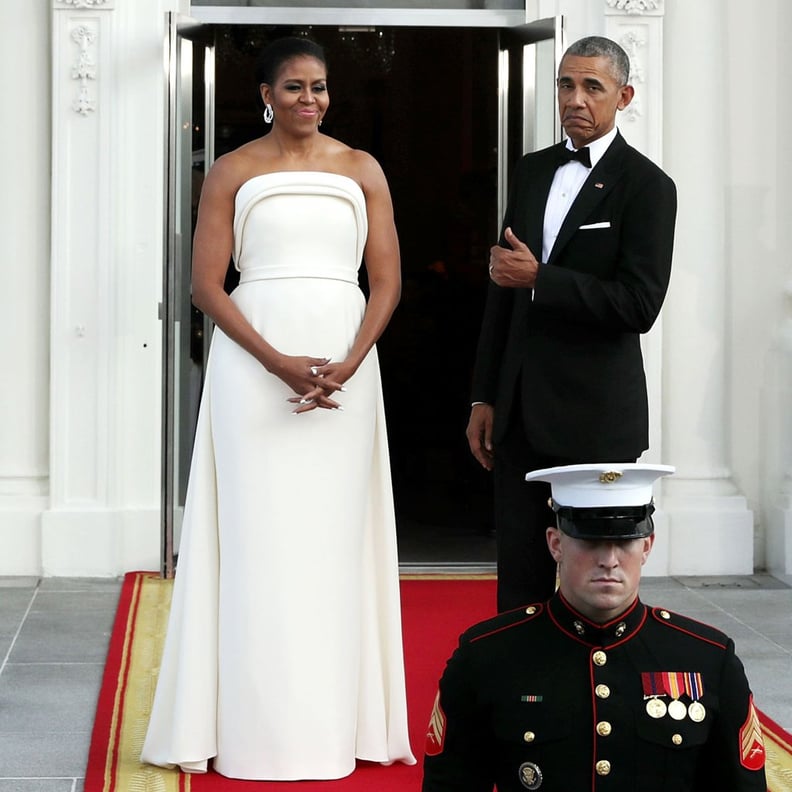 Image Source: Getty / Chip Somodevilla
I don't think she started to wear Brandon Maxwell (he dressed her for the Singapore state dinner and for the cover of InStyle) because he was Lady Gaga's stylist. I don't think Michelle was trying to resonate with pop culture, but rather to rally behind new art and its artists.
With every outfit choice Michelle makes, she tells a story. Michelle rotates between her favorite London fashion houses when she's in the UK, and she wore a Narciso Rodriguez dress to meet with Melania Trump for the first time. First, because Rodriguez is a Cuban-American designer whose family came to the country before he made a name for himself; an immigrant's success story like those Michelle and the Obama administration have often championed. Second, I'm sure, for its color palette: a purple dress, again marrying blue and red, but with a fiery orange stripe, a blaring, shocking wink: "Melania, can you handle this?"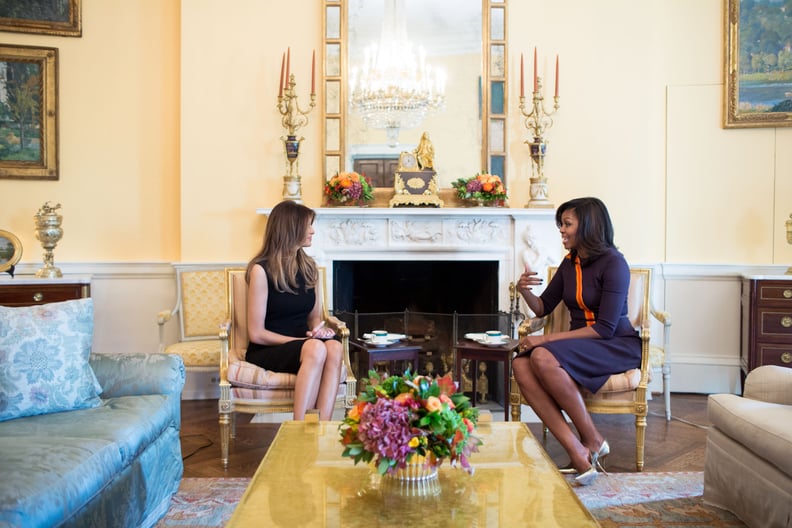 Image Source: Pacific Coast News
But Melania can handle this. She has been in the public eye for many years, and when CBS's Lesley Stahl stared her down during the Trump family's 60 Minutes interview, warning her that first ladies have been famously scrutinized and that they must present themselves "with not a hair out of place," Melania didn't bat an eyelash. Throughout the entirety of her husband's campaign, Melania wore a lineup of sophisticated looks that are nothing short of appropriate. They are what you'd call modern FLOTUS attire: well-tailored, modest, sleek, but with a bold twist thanks to an ultrasaturated color or a trendy sleeve. Her Inauguration wardrobe was no different.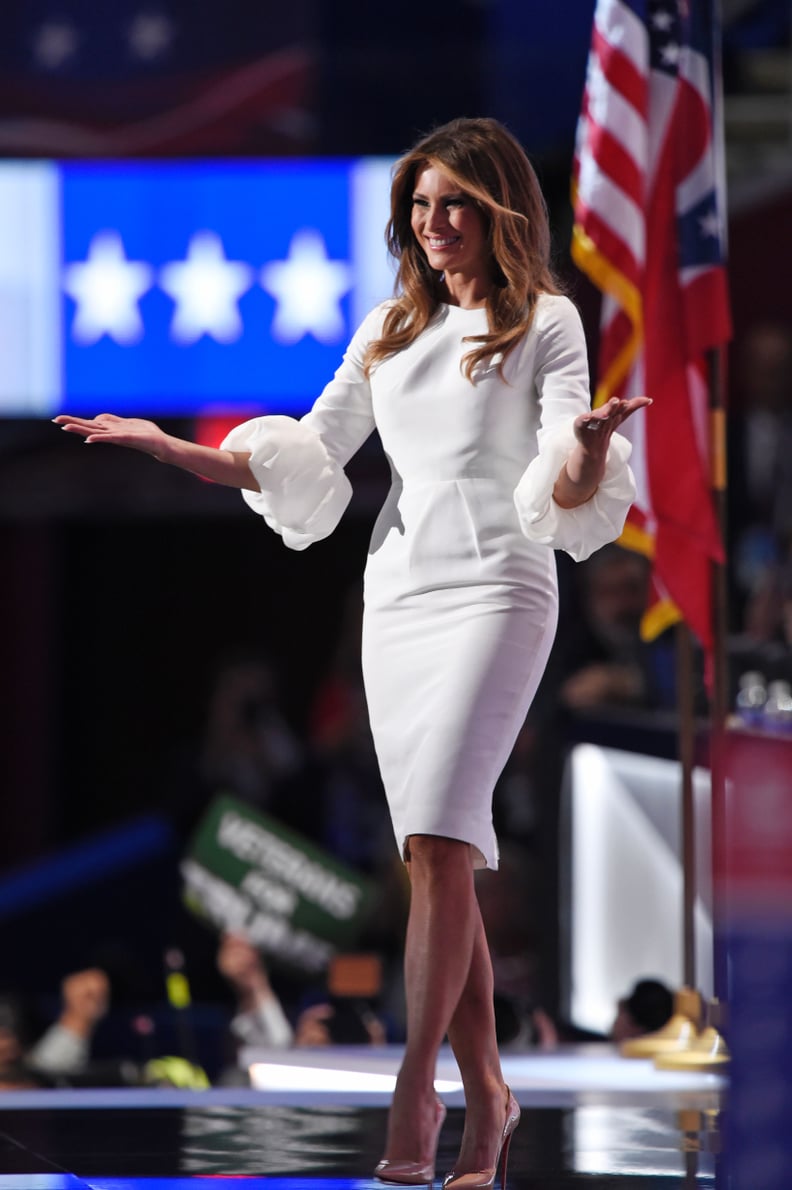 Image Source: Getty / DOMINICK REUTER
These pieces got her noticed; some of those pieces sold out instantly, right after she debuted them. Melania possesses the allure of a first lady. It might even be more uniquely exciting that Melania has shopped for a handful of these looks herself and counts covetable designers like Roksanda, Gucci, and Antonio Berardi as her favorites. Time will tell whether fashion houses begin to dress her more and more — Hervé Pierre did for the Inaugural ball, and whether you were Democrat or Republican, it was hard to knock her elegant gown.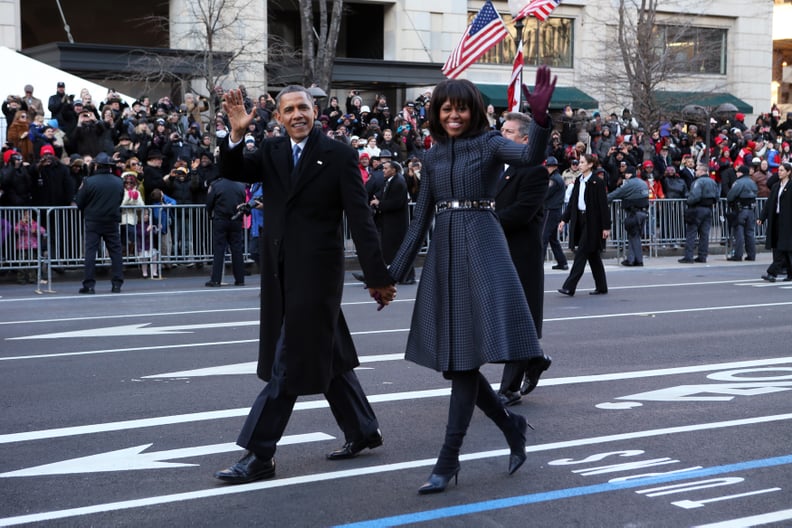 Image Source: Getty / AFP
What I will miss, ultimately, is a lady like Michelle, and maybe even one like Hillary, who uses her clothes to tell a story or to convey a mood. Throughout her period in the White House, Michelle mixed high and low. She wore a J.Crew studded belt with a long Thom Browne plaid coat because it was fun and it felt right, and she was learning about what she liked.
Once she did, she selected designs that did all the right things: they flattered her figure by showing off her toned arms or they recognized the holiday season with the mixing of two festive colors. They purposefully showed support for certain cultures or countries. Michelle's outfits did not always look perfect. Sometimes her skirt blew up in the wind or she had to fight a hair out of place. But Michelle's outfits were fairly thought out, brave, bold, and irrefutably American. Melania, are you ready?