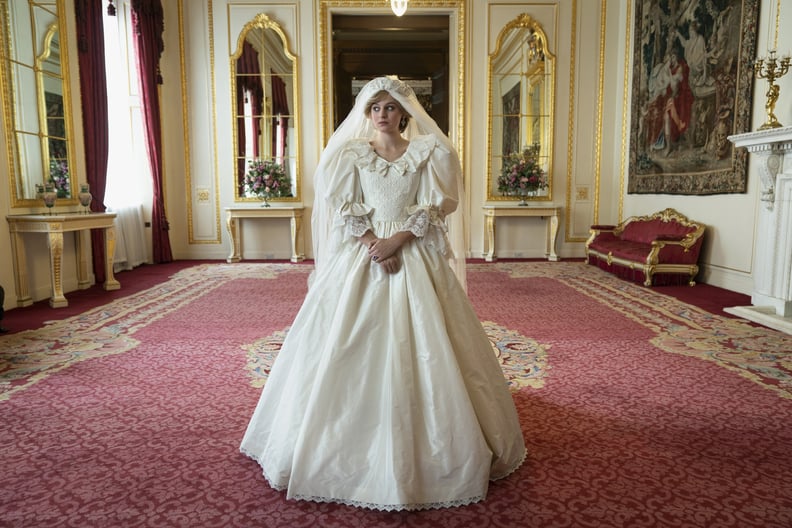 YouTube | Netflix UK & Ireland
If you've been keeping up with The Crown, then you know that Emma Corrin plays Diana Spencer in season four; and that means that we will see her get married to Prince Charles, just in case you were excited to gear up for the re-creation of what would be considered the wedding of the century. After all, this was a major historic moment for the British monarchy, as it marked the first time a British citizen married an heir since 1660.
Diana walked down the aisle in an incredible ivory silk Elizabeth and David Emanuel-designed wedding dress at Buckingham Palace on July 29, 1981. The look was complete with a whopping 25-foot train and a 153-yard tulle veil, which stole the spotlight in the trailer you'll marvel at ahead. It's less than one minute long, but those last three seconds, during which we catch sight of the gown on Emma Corrin, are certainly everything. Now, we even have a still that Netflix released to get giddy over. Not to exaggerate or anything, but how darn excited are you for that episode?
From the look of the poofy three-quarter sleeves — finished with lace — and the ruffle that travels around the neckline to the back of the dress, The Crown's costume designer Amy Roberts was obviously extremely meticulous when it came to reproducing such an iconic royal wedding dress — the resemblance appears to be uncanny. Watch the clip ahead, check out the snapshot, and then see the real photos of Princess Diana on her wedding day.