Priyanka Chopra's 75-Foot Long Wedding Veil Is Being Compared to a CVS Receipt, and OMG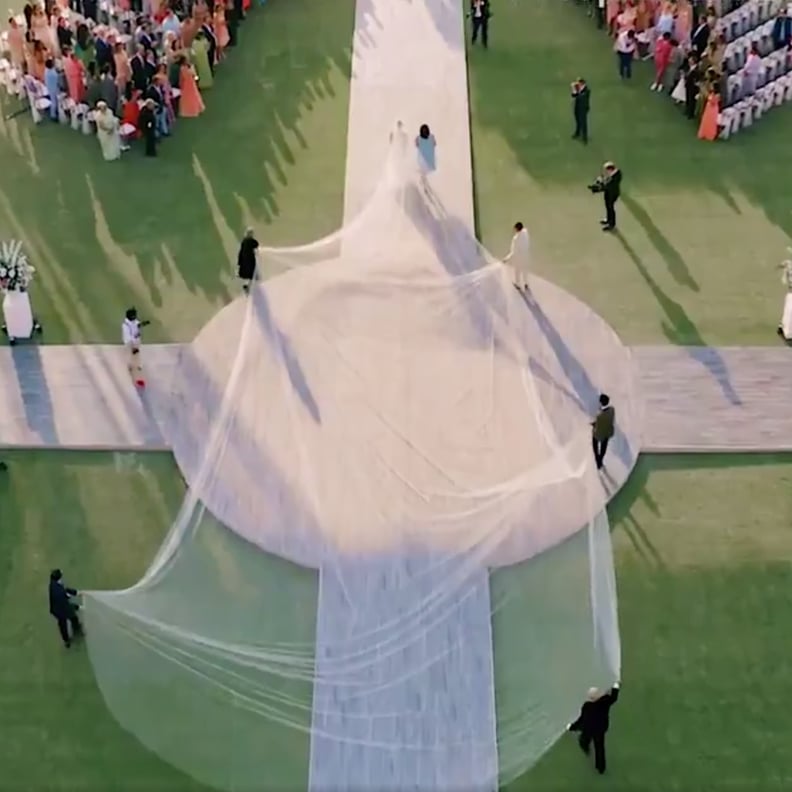 If you thought Priyanka Chopra and Nick Jonas's days-long wedding celebrations were extravagant, well, then you obviously haven't seen her veil. On Dec. 1, the couple tied the knot in India, surrounded by their closest family and friends. However, when Priyanka walked down the aisle in a custom hand-beaded and -embroidered Ralph Lauren gown with her mother by her side, she was surrounded by a stunning 75-foot-long veil. That's right — during the Christian portion of the couple's nuptials, the bride wore a veil so long, it required FIVE people to hold it in place as she walked down the aisle. For reference, Priyanka's close friend Meghan Markle's veil was over 16 feet long.
People shared an exclusive video from Priyanka and Nick's wedding, and after watching it, we can confidently say there are two types of people on the internet: those who gushed over Nick's emotional reaction to his bride, and those who likened Priyanka's veil to the length of a CVS receipt. Right now, we're falling into the latter group, and we're also wondering if the veil got a plus-one? Read on to see reactions to Priyanka's beautifully over-the-top 75-foot-long veil, then check out more photos from their wedding.
The Video of Priyanka's 75-Foot Veil