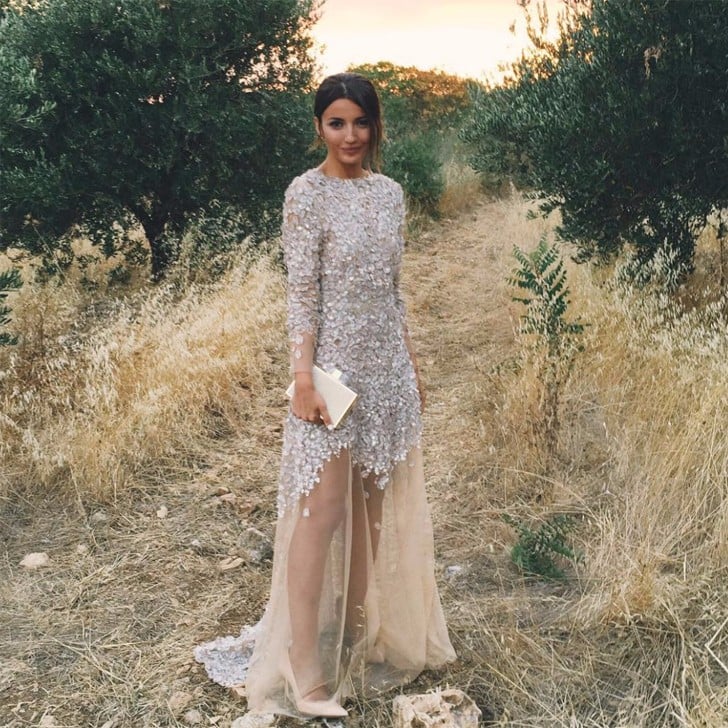 So you're thinking of wearing a sheer wedding gown? Instead of telling you that's an impossible idea, we wholeheartedly support it. For one, sheer gowns often appear breezy and light, and with the addition of lace or extra embellishments, the style can be both romantic and sexy.
It's also possible to go sheer without baring too much skin. We've seen brides with translucent sleeves and skirts just as often as we've seen illusion plunging necklines. Regardless of where you go sheer, there are ways to do so without exposing too much (if that's a concern). The brides ahead pulled this off flawlessly. Draw some inspiration from their 'grammable bridal looks.
Alexandra Pereira of Lovely Pepa got married in a sparkly Santos Costura dress. The sheer bottom is great for showing off your shoes.
This sheer gown takes the cake for straddling the line between sweet and sexy.
A boat-neck-style sheer gown shows off your collarbones and bridal hairstyle.
Australian E! News host Ksenija Lukich went for it with her daring custom Steven Khalil gown that featured an illusion plunging neckline.
Brazilian model Isabeli Fontana's naked wedding gown might have been surprising, but it perfectly suited her seaside nuptials in the Maldives.