In the Words of Stella Maxwell, Becoming a VS Angel Felt Hashtag "Blessed"
You can spot Stella Maxwell in a room right away. The Victoria's Secret model stands at 5'9", carries an air of confidence like most stars do, and isn't afraid to be herself. This was apparent when she was willing to sweat it out with the rest of us in a Ballet Beautiful class. In the middle of doing crunches and arabesques, I momentarily forgot I was in the presence of a celebrity (probably because I was too busy trying to stay coordinated), and after the group workout, Stella casually mingled with the crowd.
When I had the chance to chat with her, it was an easygoing conversation. We talked about her becoming an Angel, athleisure style, and sneakers. Speaking of which, Stella's favorite pair just so happens to be Vans, aka the It sneaker every fashion girl's already wearing. (So if you thought you had nothing in common with the model, you might at least have the same taste in shoes.) Stella's pretty much your average cool chick except, well, she's got a whopping 2.8 million Instagram followers, she dates actress Kristen Stewart, and, oh yes, she's a Victoria's Secret Angel.
The Sporty Piece to Buy Whether or Not You Work Out
"I think [the Victoria's Secret twist seamless bow bra] ($25) is the perfect item to buy because you can wear it working out or even on a date. I would buy this in any case. I think the cut is perfect and it feels fresh and clean for Summer. It's sexy but not too much."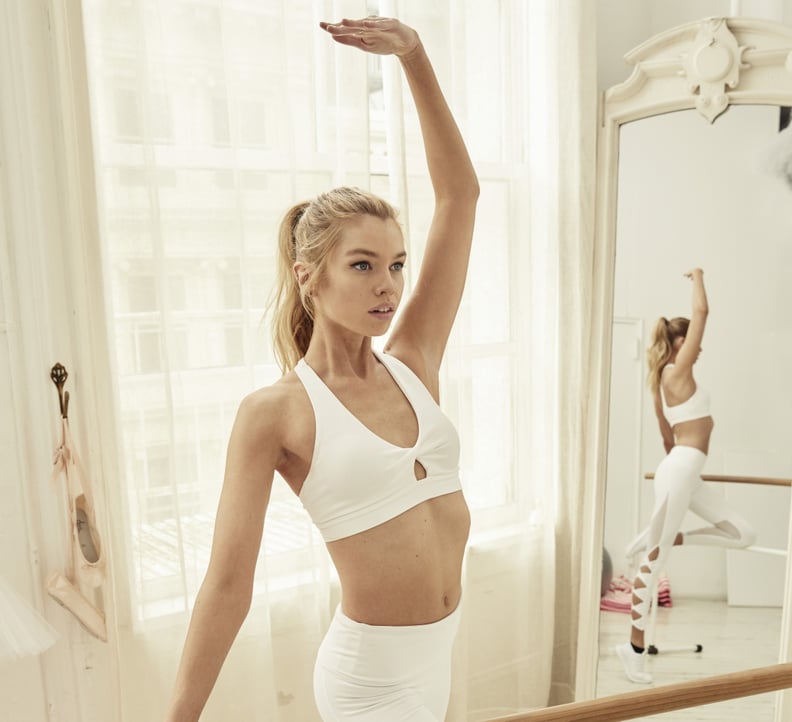 How She Works the Athleisure Trend on the Street
"I would wear [the bow top and white yoga pants] out tonight, maybe throw a jacket on. I like to be adventurous with my clothes and style, especially by mixing underwear and lingerie sets."
Stella's Favorite Angel Workout Buddy
"I generally work out on my own because I go to a different gym than the girls. But I've worked out with, I think, Romee and Jas, especially during the show or right before. We'll go together and team up on trainers so we can get the same time in. You can bounce your energy off them. I remember Sara Sampaio and I did a training session together. You feel like you're not alone."
The Vibe on Set — Whether She's Shooting Lingerie or Swim
"I try to feel comfortable in the outfit I'm wearing. I've worked with everyone in Victoria's Secret for a while now and I'm not scared to be there. They give you confidence and make you feel sexy and strong. I'm thankful for that, and I'm lucky to have such a good family around me."
The Sexiest Angle For a Bikini Shot
"My only tip with taking a photo is, if you're taking one standing straight up, take it lower so you look taller. It's all about perspective, but other than that, I generally take whatever. I'm just like, 'Oh, that's cool.'"
Stella's Favorite Pair of Sneakers
"I've been wearing a lot of Vans. They're making a comeback. I love Nike too and Chucks [Converse] — they never go out of style."
Her Reaction to Becoming an Angel
"This was like three years ago. I remember my agent just sat me down and called me and told me. It's one of those things that is surreal and kind of every girl's dream. It doesn't come around often and I kind of knew that. I felt really lucky and blessed."