Best Dairy-Free Ice Creams
Drop Everything and Pick Up All 8 of These Dairy-Free Ice Creams From the Frozen Section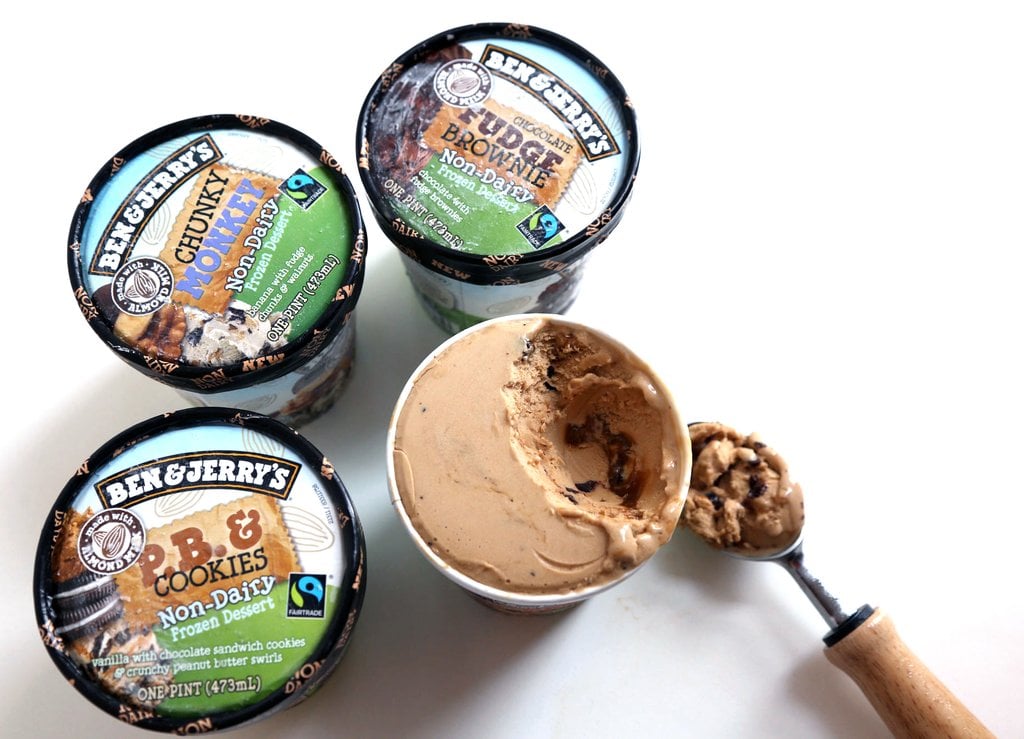 Whether you're vegan, lactose intolerant, or trying to cut down on dairy, there is some great news: you don't have to give up ice cream. In fact, with options like these, you won't even feel like you're missing out on the real deal. We've rounded up some of our favorite, most decadent options (with tips on the best flavors!) for you to choose from the frozen section, whether you're at a Safeway or a Trader Joe's or your local market.
Ben & Jerry's Non-Dairy: If you love classic Ben & Jerry's flavors, you'll love the vegan varieties (we love the Chunky Monkey, especially!). When the new flavors came out this year, our taste testers were blown away and devoured every last drop of our sample pints. Tip: look for these in the nondairy section of the ice cream aisle, not with the rest of the Ben & Jerry's!
Luna & Larry's Organic Coconut Bliss: The creaminess of dairy ice cream can sometimes be lost when you opt for a plant-based milk, but not with coconut milk. Our favorite of the coconut milk varieties, Luna & Larry's Coconut Bliss, has some of the most decadent and delicious flavors, like chocolate walnut brownie (yum!) and cinnamon chocolate fusion. It's insanely craving-inducing.
Breyers Non-Dairy: Our editor Jenny (resident vegan) found these 48-ounce vegan Breyers cartons at her local grocery store and fell in love with the Vanilla Peanut Butter flavor. Oreo was a close second!
Trader Joe's Coconut Milk: The TJ's coconut milk frozen desserts are so decadent, you'll forget they're dairy-free. I personally love the chocolate coconut milk ice cream more than regular chocolate ice cream. It's rich, creamy, dense, and so chocolaty. Strawberry is delicious, too! It's like a strawberry-coconut milkshake.
Trader Joe's SoyCreamy: Both the Vanilla and the Cherry Chocolate Chip (tastes like B&J's Cherry Garcia!) are outstanding. This nondairy dessert is so much like real ice cream, and like most Trader Joe's products, the price is right!
SoDelicious Cashew Milk: Jenny's also a huge fan of the SoDelicious Cashew Milk ice creams and suggests the Salted Caramel Cluster or Snickerdoodle (salivating) to curb a sweet tooth without dairy.
SoDelicious Almond Milk: Almond milk is typically a little lighter and less fatty than coconut-milk- and cashew-milk-based ice creams. The vanilla is a really great staple to have on hand for ice cream sandwiches and pie à la mode.
SoDelicious Coconut Milk: Best flavor of this iteration of SoDelicious's plant-based ice cream? Cookie dough. It's a total crowd-pleaser.
Image Source: POPSUGAR Photography / Erin Cullum