The Best Vegan Shredded Mozzarella Cheese
We Tried 5 Vegan Mozzarella Cheeses, and This Is Our Favorite
When I talk about how I don't eat dairy, nine times out of 10, the immediate response is, "Oh, I could never give up cheese." And immediately after, someone always says something about not being able to live without pizza. If you want to avoid dairy, many brands offer vegan shredded mozzarella — and they've come a long way! We put five cheeses to the test, and here's what we thought.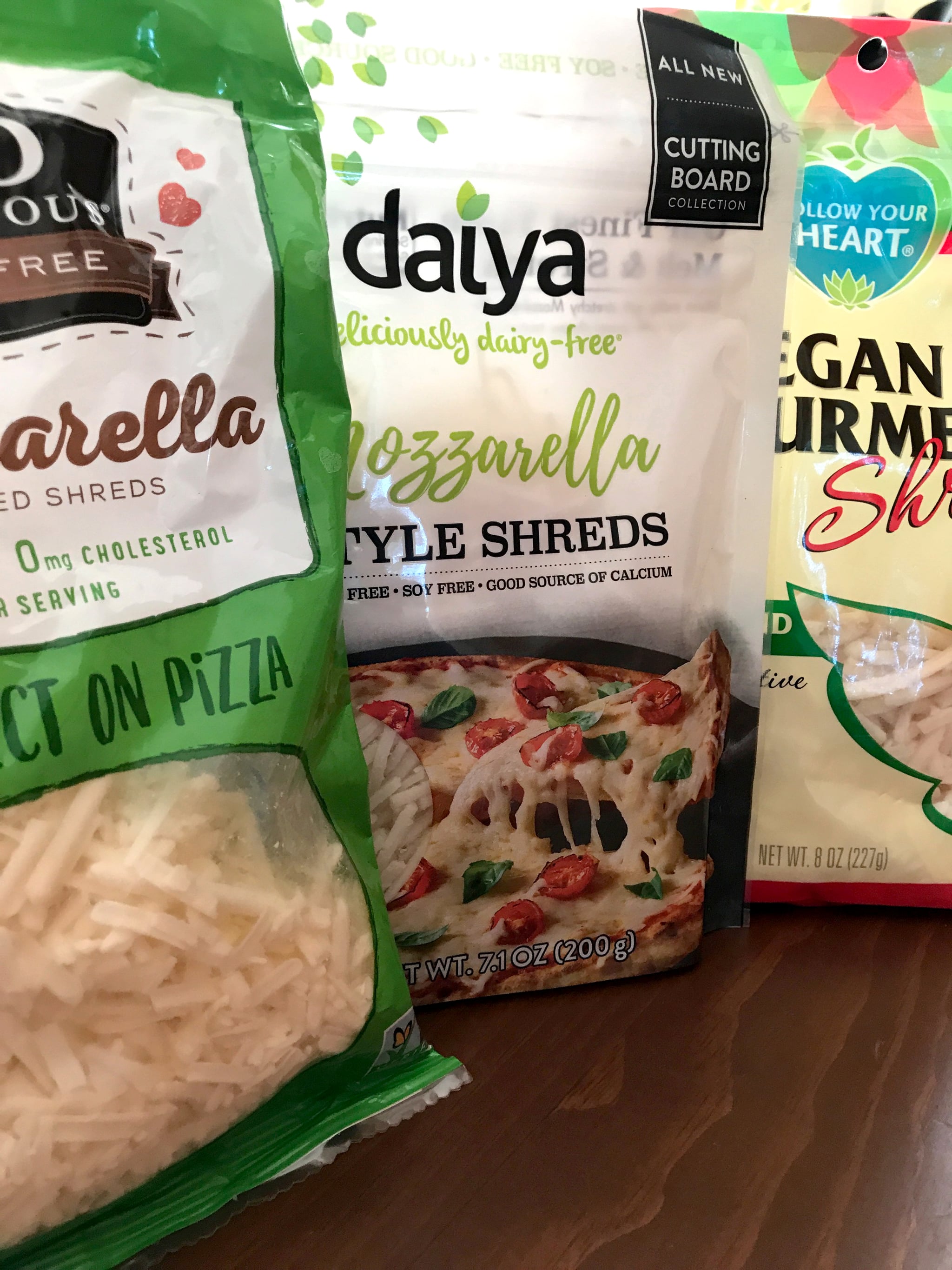 Daiya Mozzarella Shreds: This company has been around since 2009, but this formula has been improved since then. It melts and tastes somewhat salty and mild like mozzarella, but I found the consistency to be slightly tacky — it stuck to my teeth in a weird way. It does offer one gram of protein per serving, as well as two percent of both your daily calcium and iron.
Daiya Cutting Board Collection Shreds; Mozzarella Style: In comparison to the regular Daiya Shreds, this is way better in every aspect. It too offers one gram of protein but has better flavor, it melts and pulls more like real mozzarella, and it has fewer calories and less sodium per serving. It also offers more calcium (10 percent of your daily recommended amount). It is also, however, $1 more expensive, but totally worth it!
Follow Your Heart Dairy-Free Mozzarella Shreds: This mozzarella has a pretty long list of ingredients, offers zero protein, and is pretty high in sodium (280 mg per serving), but it's delicious! It melts like mozzarella and offers the saltiness you crave, and aside from its regular Mozzarella flavor, the brand also offers a Pizzeria Blend that has added parmesan. This is the brand I used to make this vegan lasagna that my dairy-eating husband loved.

Trader Joe's: I wanted to love this, since it's so cheap, and it's Trader Joe's! But it was pretty similar to the regular Daiya Mozzarella Shreds. I didn't love how it didn't melt well, and it stuck to the roof of my mouth when I bit into it. Good in a pinch, but not my favorite.
So Delicious Mozzarella Shreds: A trusted brand for vegan ice cream, this cheese does not disappoint. It melts and offers that salty flavor we love, and when you bite into it, it stays on the food. I'm a definite fan, especially since it's lower in sodium than the other brands (190 mg).
The verdict? The Daiya Cutting Board Collection Shreds is by far the best. It melts and tastes the most like real mozzarella, and I like that the list of ingredients is mostly pronounceable. And although it doesn't offer a ton of protein, which is one benefit of cheese, one gram is better than none.
The So Delicious and Follow Your Heart brands are tied for second place. They are very similar in how they taste and melt. I do prefer that So Delicious has a smaller list of ingredients and has 90 fewer milligrams of sodium. But Follow Your Heart offers 20 percent of your daily calcium, so that's a plus.
So there you have it. If you're craving pizza, look for the Daiya Cutting Board Collection Shreds. They're great if you're trying to avoid dairy but need to satisfy those cravings for melty goodness. Note that these aren't the healthiest foods you can buy. They're basically just salty calories — they don't offer tons of nutrition. They are, however, a cholesterol-free alternative to cheese, and if you top your pizza with fresh veggies, beans, and tofu, you're getting plenty of nutrition.
Prices and products may vary by Trader Joe's location.
— Additional reporting by Lauren Harano