Healthy Trader Joe's Breakfast Foods
Make All Your Breakfasts Healthy and Delicious With These Trader Joe's Staples
Trader Joe's is known for its delicious foods, made with well-known ingredients and few preservatives. And the brand certainly knows how to do breakfast! Aside from its fresh fruits and veggies, here are some staples you should keep in your kitchen at all times to whip up a nutritious breakfast any day of the week.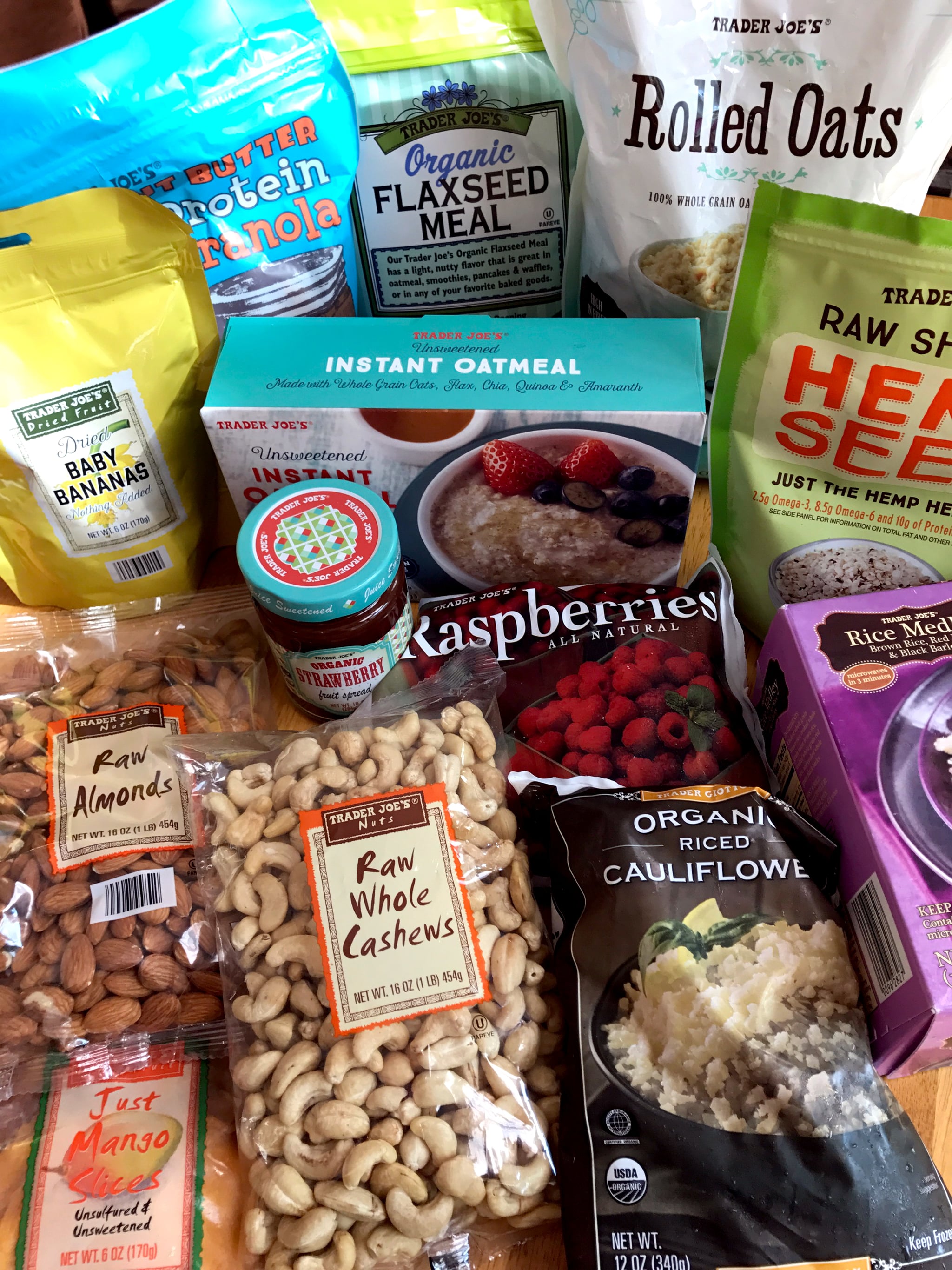 Fresh:
Medjool dates: great for making fruit-and-nut bars or to add to oatmeal.
Riced cauliflower: perfect for cauliflower porridge.
100% liquid egg whites: add greens and other veggies for a savory breakfast.
Unsweetened soy and almond milk: for cereal and smoothies.
Pomegranate seeds: these make it much easier to add them to yogurt or cereal.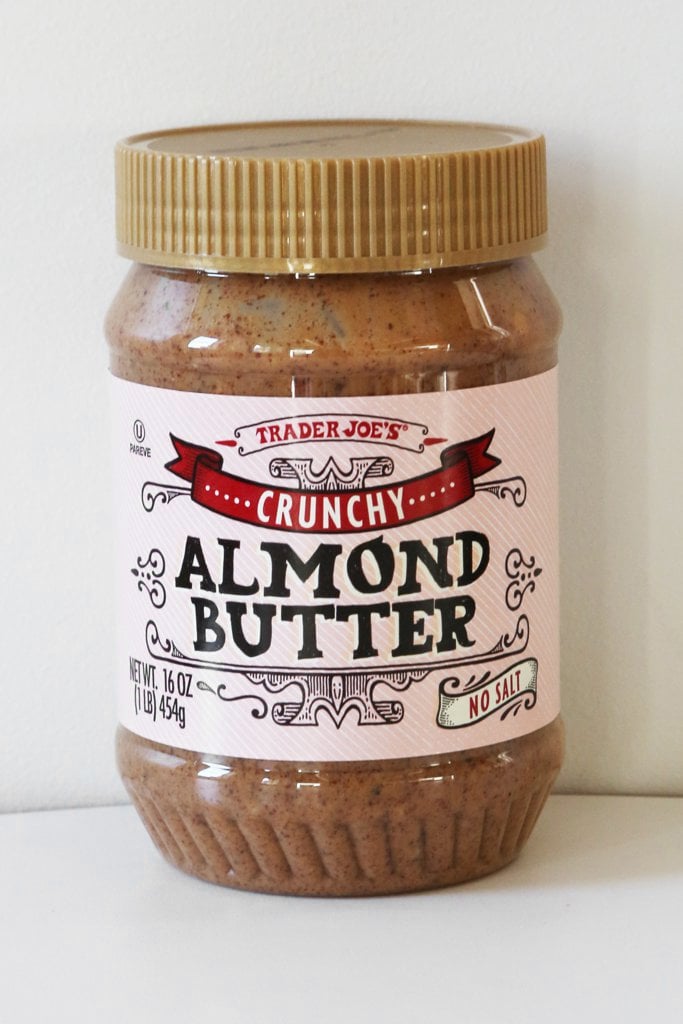 Packaged:
Dried nuts (almonds, cashews, peanuts, walnuts, pecans): enjoy them alone, make protein balls, or add them to oatmeal or smoothies.
Dried fruit (raisins, apricots, banana, mango): enjoy alone, add them to oatmeal or cereal, or make fruit-and-nut bars.
Rolled oats (they're gluten-free): for overnight oats and oatmeal bakes.
Hemp seed: for smoothies and this overnight hemp cereal.
Chia seeds: make chia pudding or add them to pancakes or overnight oats to make them more filling.
Organic flaxseed meal: add to smoothies, oatmeal, or baked goods.
Unsweetened instant oatmeal packets: use fruit to sweeten them naturally!
Peanut butter protein granola: enjoy with yogurt or milk.
Quinoa bread: for avocado toast.
Nut butters (peanut butter, almond butter, cashew butter): perfect for toast, oatmeal, smoothies, or topped on fruit.
Organic strawberry fruit spread: for toast or to sweeten oatmeal.
Cacao nibs: topping for yogurt or oatmeal.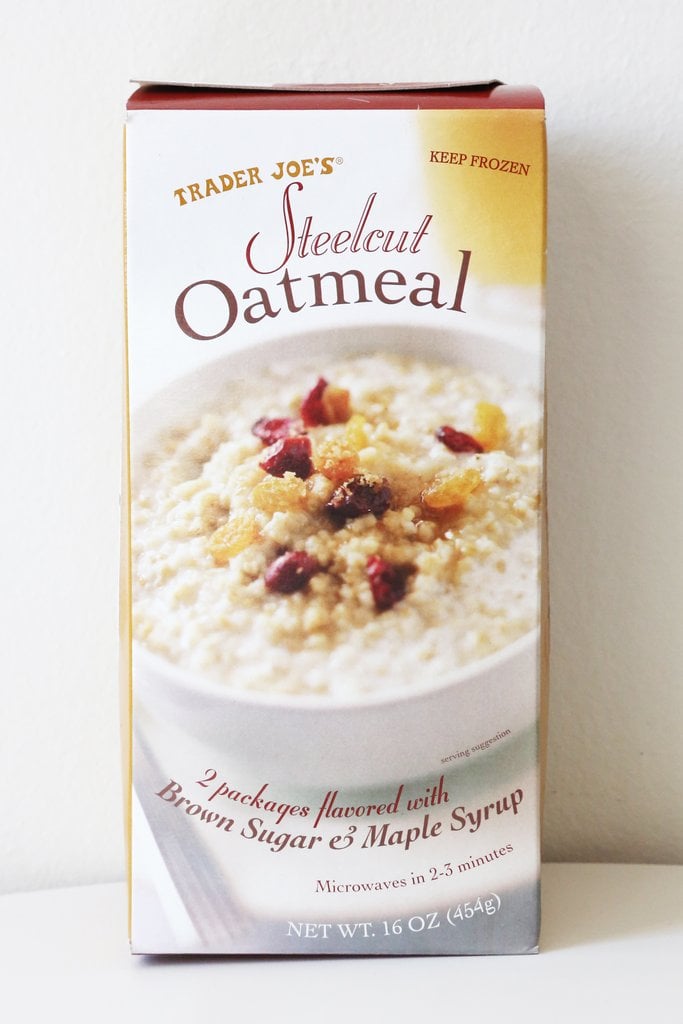 Frozen:
Fruit (mango, blueberries, raspberries, cherries, açaí purée packets, and coconut chunks): for smoothies and oatmeal.
Veggies (broccoli, corn, and edamame): for omelets or other savory breakfasts.
Steel-cut oatmeal: add whatever flavoring and toppings you like.
Cooked whole grains: use in place of oatmeal.
Riced cauliflower: for cauliflower porridge.
Multigrain waffles: spread nut butter on two of them and sandwich together for an on-the-go meal.