Mustard Greens Detox Soup Recipe
Spring Detox: Mustard and Collard Greens Soup
Need an energizing, detoxifying meal to go along with your Spring shape-up plan? This blended green detox soup should be on the menu. The main stars, mustard greens and collard greens, are chock-full of nutrients that aid in flushing out toxins in the body, called glucosinolates, which are found in high amounts in mustard greens and collard greens. Both greens are also high in vitamins C and E, beta-carotene, and manganese, making this soup an important part of a nutritious diet. At just over 100 calories, it's high in carbs from the vegetables and has a decent amount of fiber and protein; pair it with these filling lunch ideas to stay satisfied.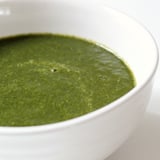 Ingredients
3 quarts organic low-sodium vegetable broth
1 bunch mustard greens, chopped (about 2 cups)
1 bunch collard greens, chopped (about 2 cups)
1 large onion, peeled and chopped
2 tablespoons Bragg's Liquid Aminos or low-sodium soy sauce
2 teaspoons chopped peeled fresh ginger
Salt
Pepper
Directions
Combine all the ingredients in a large pot and bring to a boil over high heat. Reduce heat to medium, cover, and simmer for 20 to 30 minutes, until the vegetables are tender.
Working in batches, transfer the broth and vegetables to a blender or food processor and blend until smooth. Taste between pulses and add salt and pepper as necessary before continuing.
Serve immediately and refrigerate or freeze the remaining portion.
Makes four servings.
Information
Category

Soups/Stews

Cuisine

North American

Yield

Four servings
Nutrition
Calories per serving

116