Vegan Sun-Dried Tomato Dip
The Healthy Dip You'll Make All Summer Long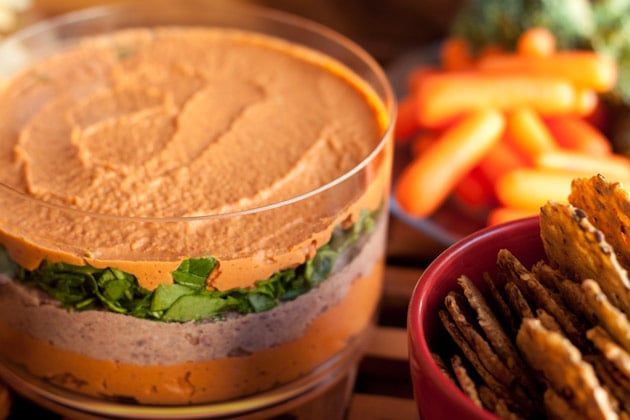 Whether you're enjoying game night with your family, preparing for lunches for the week, or in need of the perfect appetizer for a backyard party, this layered dip is a tasty way to increase your daily fiber and protein. It combines the soft taste of lemon with sun-dried tomato and just a hint of chili. Best part: no one will ever suspect it's good for them!
Ingredients
For the sun-dried tomato dip:
1/4 cup pine nuts
1 tablespoon coconut oil
1 clove garlic, chopped
1/2 onion, chopped
1/3 cup lemon juice
1/2 cup sun-dried tomatoes, soaked in 1/2 cup water for 20 minutes
6-8 tablespoons reserved sun-dried tomato water
1/2 cup red kidney beans
1/2 teaspoon Herbamare
1/4 teaspoon dried oregano
Pinch dried basil
For the chili-walnut dip:
2 tablespoons Braggs liquid aminos
1 cup kidney beans
1/2 cup walnuts, raw
1/2 teaspoon chili pepper
2-4 tablespoons water
Additional dip ingredients:
2 handfuls of spinach, chopped
Directions
Preheat oven to 375°F. Line a cookie sheet with parchment paper or a silicon baking mat. Spread pine nuts evenly across sheet and bake for 9-10 minutes or until golden. Allow to cool for 10 minutes before using.
Melt coconut oil in small frying pan on medium-high heat. Add garlic and onion and sauté until translucent. Drop into blender.
Add the remaining ingredients for the sun-dried tomato dip into the blender and blend until smooth. You may have to add an additional 2 tablespoons of the sun-dried tomato water, depending on its thickness. I used 8 tablespoons. Once mixture is smooth, set aside.
To make the chili walnut dip, process all its ingredients in a food processor until smooth.
In a glass bowl, layer half of the sun-dried tomato dip, followed with all of the chili dip, then spinach, and lastly another layer of sun-dried tomato.
Serve with chips, crackers, or veggies.
Information
Category

Dips, Appetizers

Cuisine

North American