Charlene Lost 100 Pounds and Kept It Off — Here's How
Losing weight is a struggle. It's a commitment. It's work. But it's also an engaging challenge. When the scale reaches the magic number, it's all too easy for your dedication to wane. We know maintaining your goal weight is a less exciting challenge than dropping all those pounds, so we tapped someone who has been through the process for advice. Charlene Bazarian, from our Before and After series, lost close to 100 pounds and has successfully kept it off for more than nine years. Her weight-loss transformation is truly inspiring, and her tips for keeping the weight off are easy to put into practice. Here is practical advice directly from Charlene on how she has maintained her goal weight:
Charlene Before and After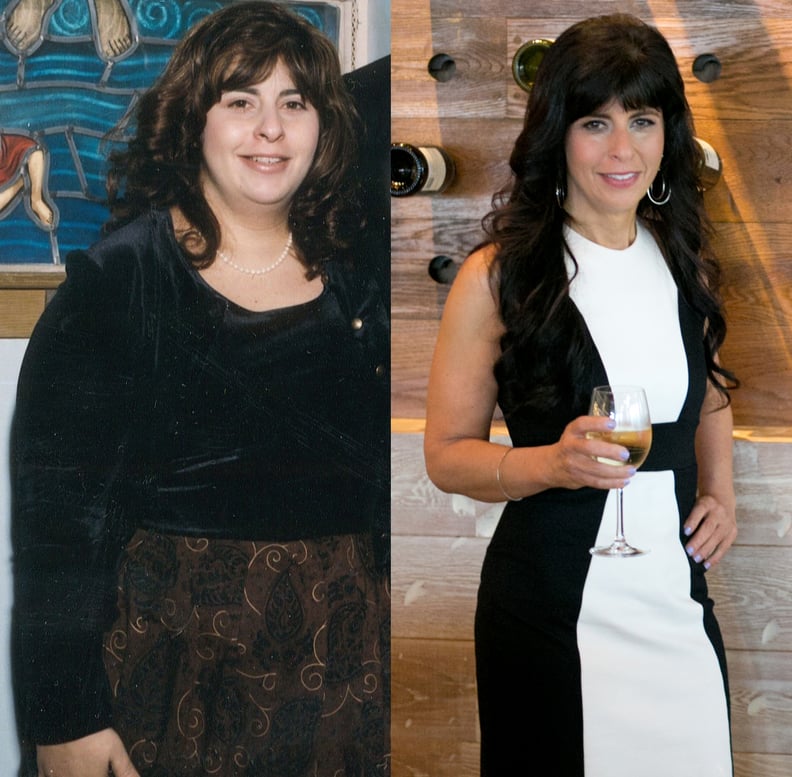 You're Never Really Done
I never thought that I would ever hit 208 pounds, so even though I've lost close to 100 pounds and kept it off for nine years, I am always mindful that I'm only a few bad decisions away from backsliding. I think there is a tendency to think of being "done" when you hit your goal weight.
I give myself a three-pound range for wiggle room. If I creep out of my range, it's back to the straight and narrow with my food choices, and I'll try to work in some extra activity.
The Scale as a Tool
I managed to wake up one day and weigh 208 pounds, and while I certainly knew I needed to lose weight, I never felt THAT heavy. There are lots of "You're more than a number" sayings, and it's true: the number doesn't define any of us. The number on the scale is one of the tools I use to maintain the goals I worked very hard to achieve. If you are struggling to balance your checkbook, would you not use a calculator? Numbers help.
I don't want to give the impression that I'm all about the number on the scale. I've put on muscle over the years, and so my weight has gone up from my initial low of 112, and I realize putting on lean muscle mass is important. Two other tools I use to monitor my weight: I have my body fat percentage measured periodically and pay attention to how my clothes fit.
Workouts and 10,000 Steps
I still work out every day. When people ask me about it, I tell them, "I don't want tomorrow to turn into never." Honestly, I truly feel better when I am done with my workouts. I call my morning workout "my coffee before my coffee."
I have a strict rule that I have to be on a piece of cardio equipment to watch TV, so I DVR my favorite programs and hop on my exercise bike when I want to watch them. I'll make exceptions to the TV Rule for big sports event and movies when it's the whole family watching. With all the articles about sitting being the new smoking, I try to be mindful of moving and use my Fitbit to aim for 10,000 steps on top of my regular workouts.
Charlene "Walking the Walk"
Food Philosophy
Some foods I've broken up with forever. I almost never have pasta, breads, mayonnaise, heavy sauces, or a lot of cheese, and I don't miss them. I do, however, think that Golden Oreos are the crack of the cookie world and joke that vodka leads to Oreos. Now in my goal range, I try to take my own advice and say, "It's not about never having a cupcake; it's about not always having a cupcake." When I had close to a hundred pounds to lose, though, I saved the treats for only ones that were truly "worth it," and now I really do enjoy the clean foods I eat. Should I make a few bad choices on the weekend, I try not to dwell on it.
Blogging For Accountability
I also use my blog persona on FBJFit.com to keep myself honest. I feel like my story has inspired and encouraged a lot of people and I feel a responsibility to walk the walk. I was at a birthday party once and having the salad, when a woman came up to me and said, "I follow your page and love your advice!" and I joked, "Well, it's a good thing I wasn't eating all the pizza!"
Advice For Starting
Articles on The Biggest Loser contestants regaining their weight or people with supersaggy skin after losing weight always trouble me a bit. I fear they feed into the self-doubt of people struggling to lose weight and make them feel like "why bother?" because it's hopeless. I use my social media pages to offer hope and encouragement without promises of a magic bullet. When people learn I lost almost 100 pounds, they'll ask how and are almost always disappointed when I talk about clean eating and my workouts. I tease them gently and say, "I know it's sad. You wanted me to say I had cabbage soup on Tuesday and it fell off."
I hear from a lot of people — through my blog and social media pages — how they've tried everything, and I always tell them not to get discouraged by what didn't work before. I say I took a hundred first steps before I found what worked for me.