Apple Fitness+ Is Launching BTS Workouts
Attention, ARMY: Apple Fitness+ Is Launching BTS-Themed Workouts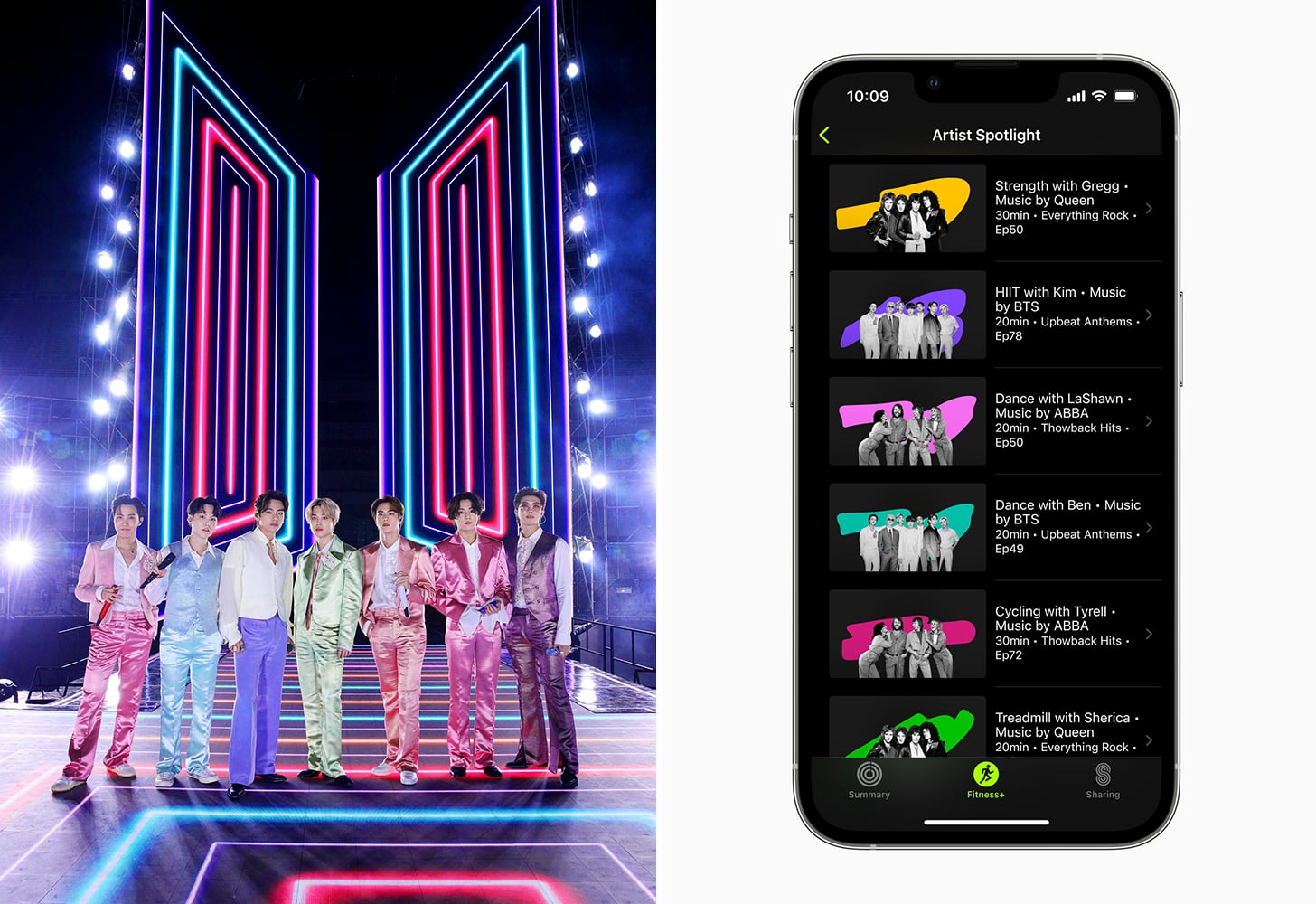 Attention, ARMY: Apple Fitness+ is bringing the "Fire" with four new BTS-themed workouts, including one that teaches choreography pulled directly from the band's music videos. The iOS-powered platform is incorporating the seven-member K-pop group into its expanding Artist Spotlight catalog starting this week.
In their Artist Spotlight series, Fitness+ dedicates an entire workout playlist to a single artist. (Alicia Keys, Ed Sheeran, and Jennifer Lopez were previously spotlighted by the workout platform.) Their latest batch includes BTS, ABBA, and Queen-themed classes, which will drop over the course of four weeks.
On April 18, Apple Fitness+ released a 20-minute ABBA dance workout, a 30-minute Queen strength workout, and a 20-minute BTS HIIT workout. Over the next three weeks, the iconic bands will continue to be featured across strength, HIIT, dance, treadmill, cycling, yoga, and Pilates classes on Apple Fitness+.
On April 25, we'll get "Permission to Dance" with trainer Ben Allen in the first-ever BTS-themed dance workout that incorporates the group's signature choreography. "Butter (feat. Megan Thee Stallion)," "Boy With Luv (feat. Halsey)," and "MIC Drop (Steve Aoki Remix)" are a few fan-favorite tracks you can expect to dance to. The moves featured in this workout are taken directly from the choreography in BTS videos, according to an Apple press release. Later that week, a new collection of six dance workouts will launch with hip-hop, Latin, and '80s songs, taught by beloved Fitness+ trainers LaShawn Jones and Jhon Gonzalez.
On April 29, International Dance Day, users will have the chance to gain a "limited-edition award" for their Apple Watch and "animated stickers for (iPhone) Messages" when they log a dance workout that's 20+ minutes long.
Get ready to "Go Go" on International Dance Day by grabbing your iOS device and signing up for Apple Fitness+ ($10 per month or $80 annually) so you get access to all these new classes — and, most importantly, get to sweat with BTS.