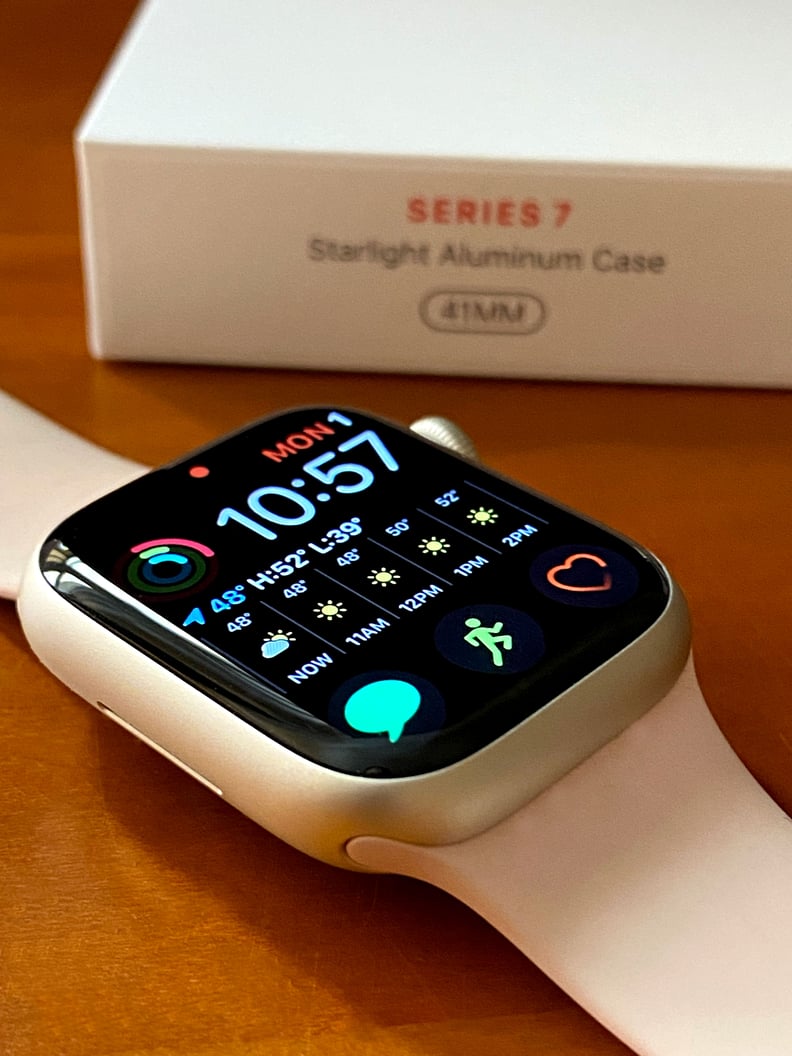 POPSUGAR Photography | Jenny Sugar
POPSUGAR Photography | Jenny Sugar
Every editorial product is independently selected by our editors. If you buy something through our links, we may earn commission.
I have worn my Apple Watch Series 6 every day for the past year, and I rely on it for all the amazing features, including activity and workout tracking, easily checking texts, answering calls, checking the weather, calendar reminders, and finding my phone (probably my favorite feature!). So when Apple sent me the new Series 7 watch (starting at $399) to test out, I was so excited to use it. Keep reading to find out about all the new health- and fitness-related features that make this new Apple Watch so special.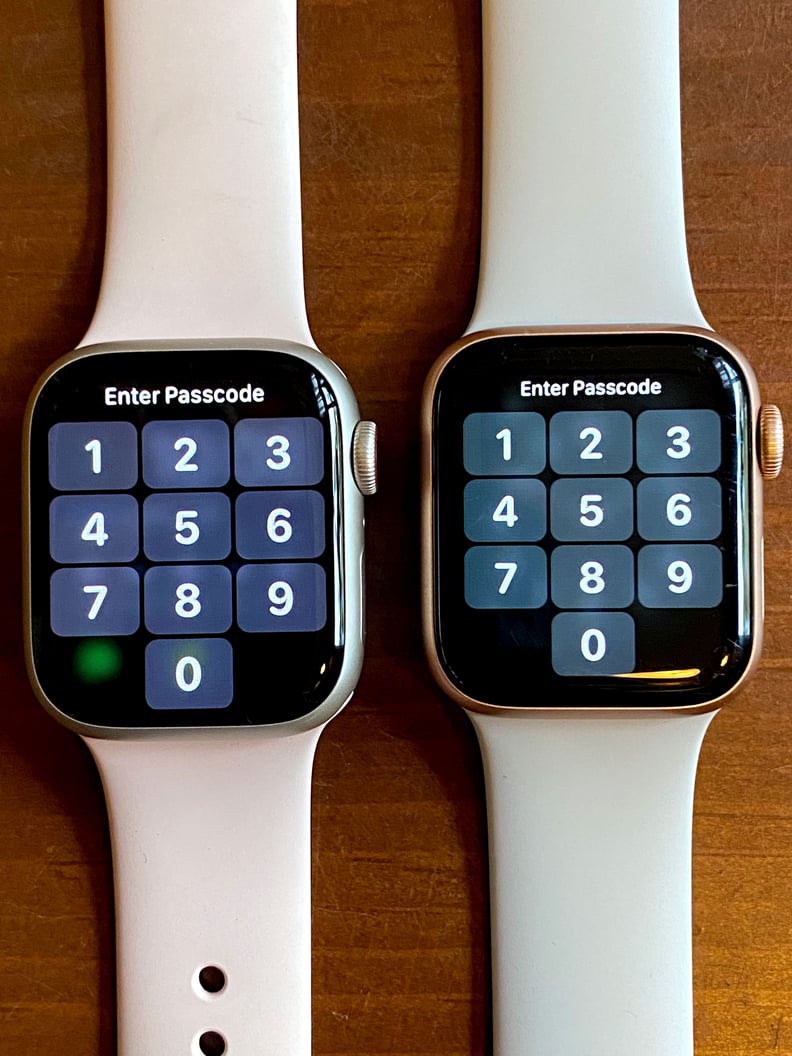 Apple Watch Series 7: Larger Watch Face
Here's a comparison of the Series 7 (left, 41 millimeters) and the Series 6 (right, 40 millimeters). The screen is larger on the Series 7 (20 percent more screen area than the Series 6) and there's a much smaller border around the edge. You can see that the buttons are slightly larger and more visible, as well.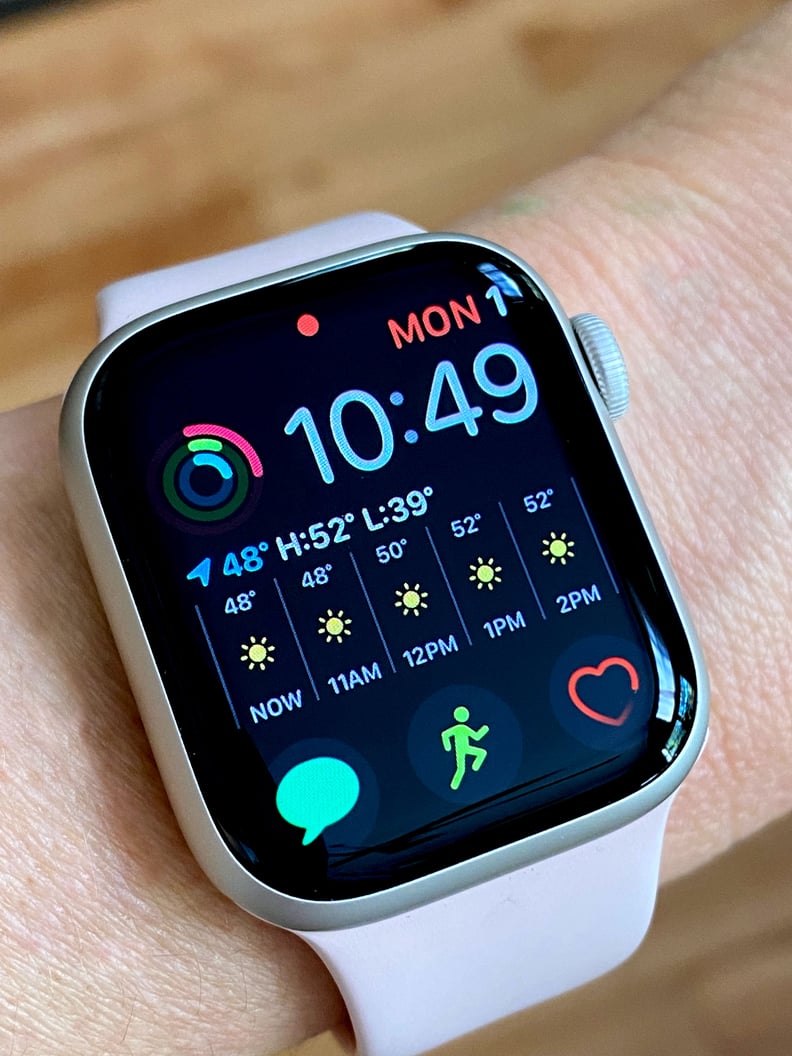 Apple Watch Series 7: Room For More Info
Since the screen is larger, there's more room to customize the watch face and get more info on it. I love being able to see the time and date, but also the weather conditions, my activity, and my texts, and having the ability to start a workout or check my heart rate quickly. The buttons are also larger, making it easier to see and navigate the apps.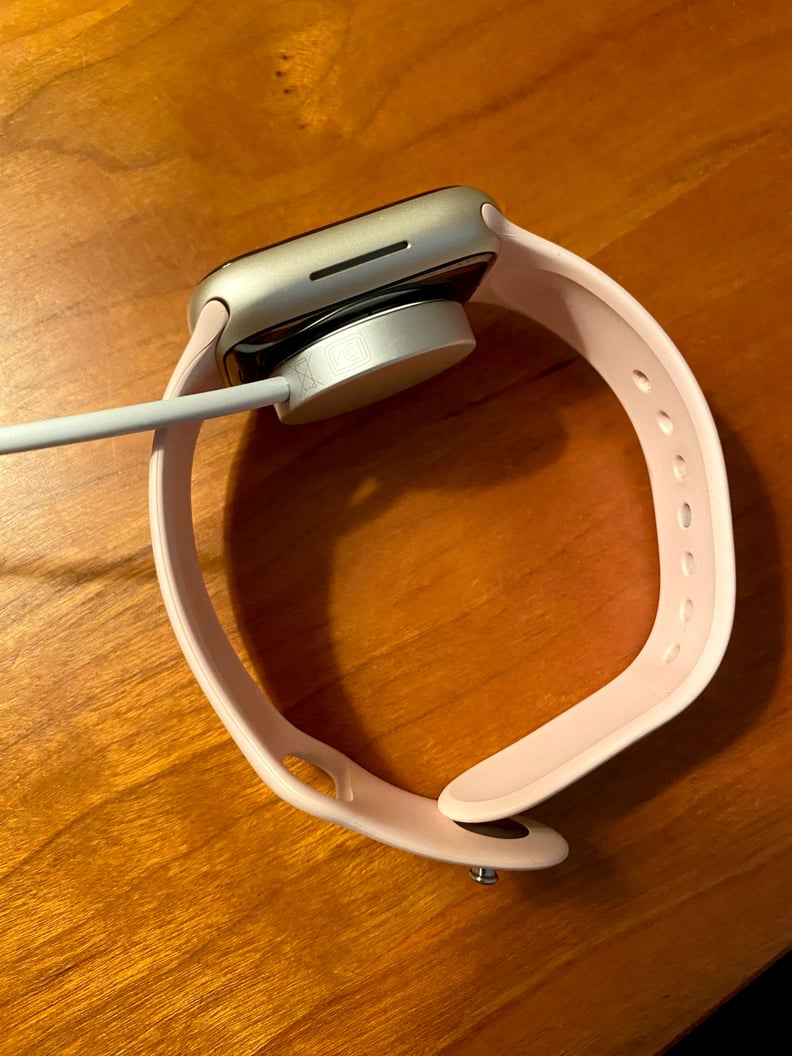 Apple Watch Series 7: Longer Battery Life and Faster Charging Time
The new Apple Watch Series 7 has an 18-hour battery life on a single charge. And what I love is that the new USB-C charging cable (this one has an aluminum back to tell it apart from the previous all-white charging cable) allows the Apple Series 7 Watch to charge faster (33 percent faster than the Series 6), so it only takes 45 minutes to charge it to 80 percent. And it only takes eight minutes to charge it for eight hours. This means you can charge it at night while getting ready for bed, and then you'll be able to wear it during the night to track your sleep.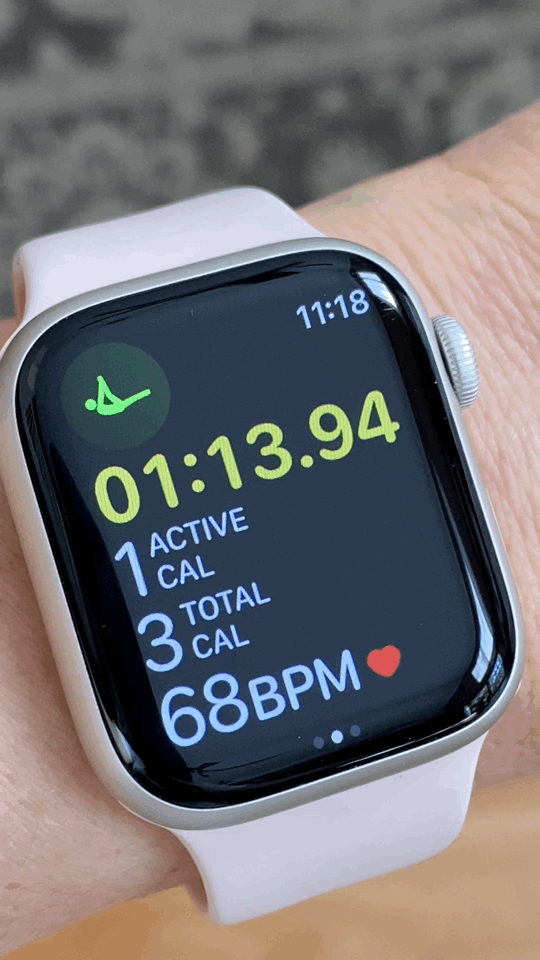 Apple Watch Series 7: New Workout Features
With the new watchOS 8, you can now track Pilates and tai chi workouts. I love the cute little Pilates stick figure on the upper left corner of the screen. It's so cute! I also love that just like the Apple Series 6 would automatically detect when I was walking and remind me to start tracking my outdoor walking workout, the Apple Watch Series 7 automatically detects outdoor cycling workouts. It also automatically pauses and resumes the workout without me having to do anything during my ride.
The fall detection feature is also new for cycling. There is already a fall detection feature for Series 4 and later, when someone falls from say a seizure or heart attack, it will automatically contact emergency services. But on the Series 7, it's able to sense the unique motion and impact of someone falling when they're riding a bike, which is different than if someone fell from just standing. I love this safety feature for road rides, and hope I never need to use it, but it's reassuring knowing it's there.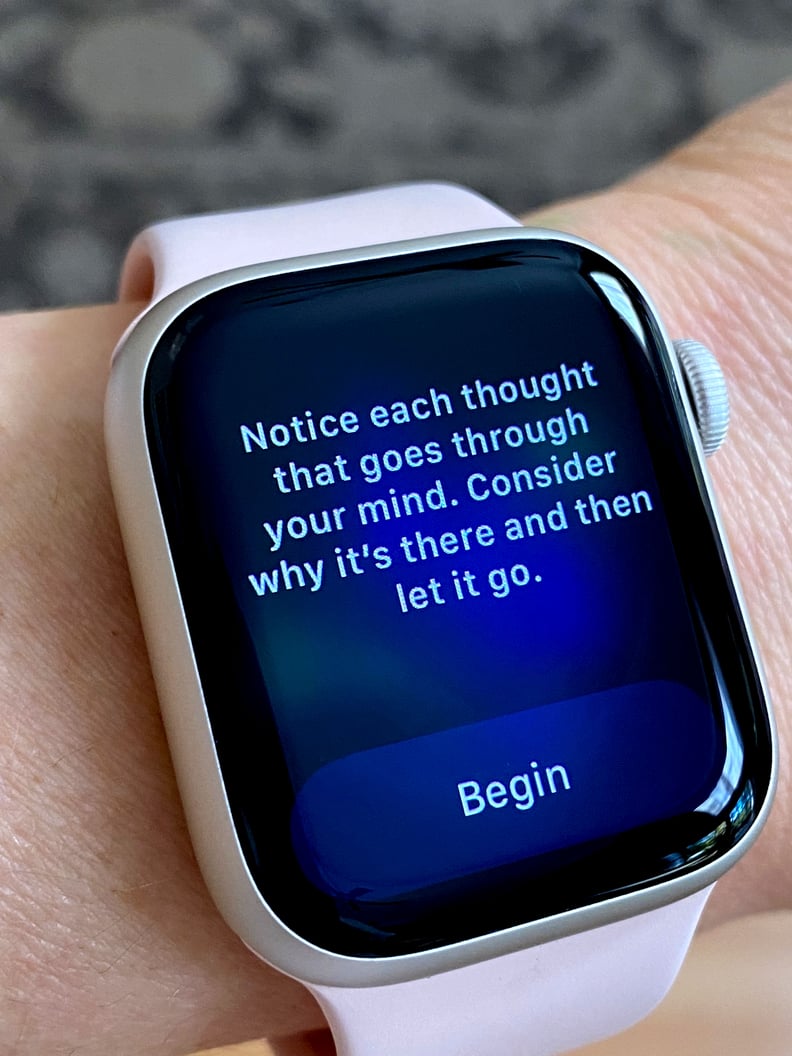 Apple Watch Series 7: Mindfulness
I really liked the "Breathe" feature on my Apple Watch Series 6, and on the Series 7, I love this "Reflect" feature. It's just one minute, and the watch asks you to "take a moment to pause," then gives you a prompt of something to think about and reflect on. Under the Mindfulness app, you can also choose an audio meditation with Fitness+, ranging from five to 20 minutes long. I love this focus on mental health, and I found that even just one minute of breathing or reflecting can make a big impact on my mood. My son likes to do it with me when I tuck him in at night.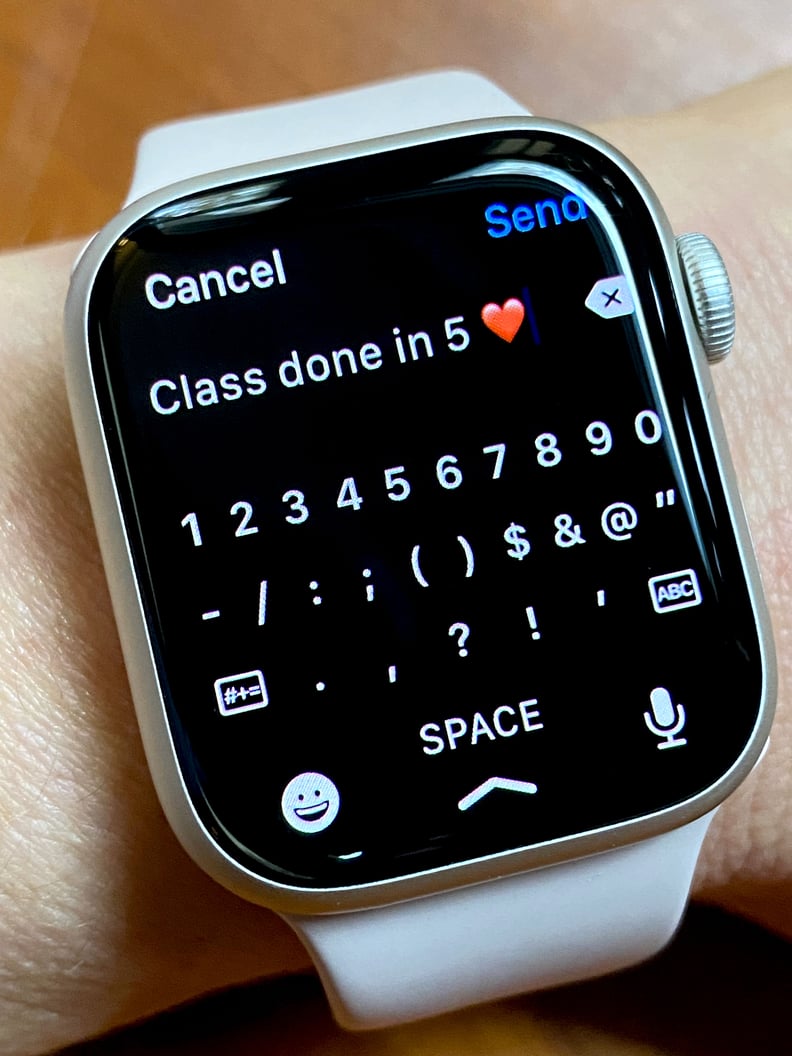 Apple Watch Series 7: Keyboard For Texting
With the larger screen on the Series 7, there's room for a touch-sensitive keyboard. I use this helpful feature when using Siri to speak my message isn't appropriate, like during a yoga class.
Apple Watch Series 7: More Durable Watch Face
The front crystal on the Series 7 is more than 50 percent thicker than the one on the Series 6, so it's the most crack-resistant Apple Watch to date. This makes me feel much safer, since I know accidental drops and bumping into things will happen.
Like the Apple Watch SE and Apple Watch Series 6, the Apple Watch Series 7 is water-resistant up to 50 meters, so it's still great for swimming workouts, soaking in a hot tub post-workout, or showering. But the fact that it has a more durable screen makes it less likely that a crack would nix that water-resistance.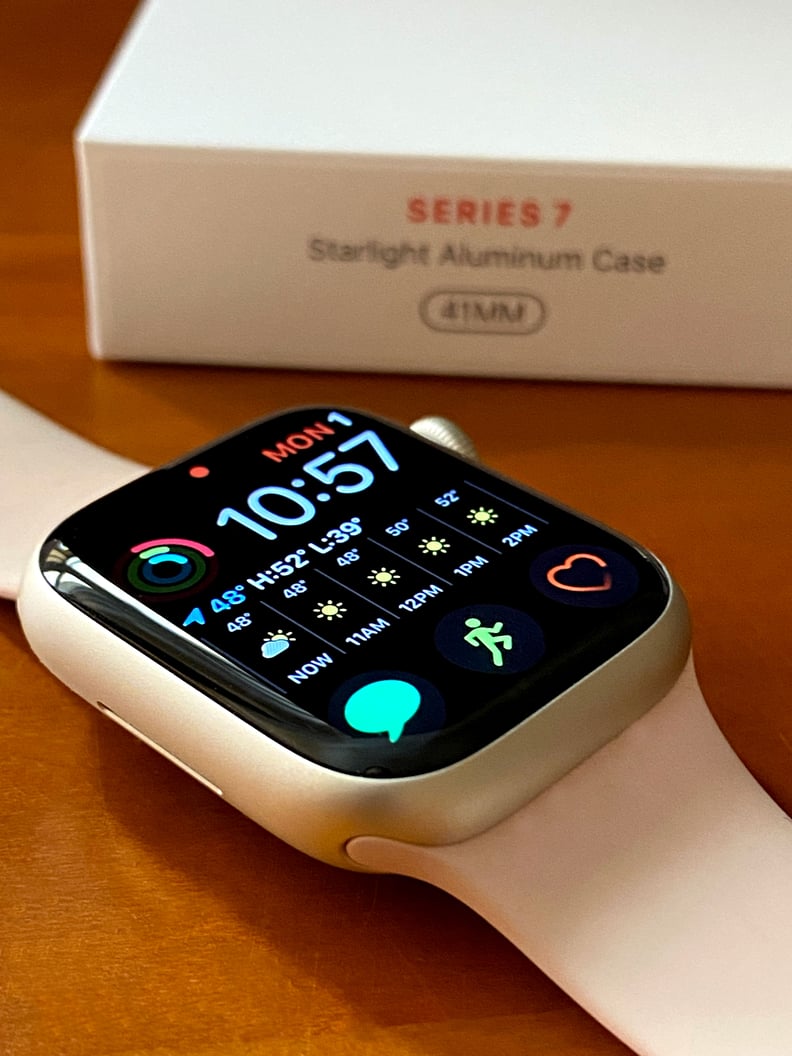 Apple Watch Series 7: Prices, Colors, and Sizes
The new Apple Watch Series 7 costs $399 to $799, depending on whether you choose the aluminum or stainless-steel case and what band you choose. The aluminum case ($399) comes in five colors: Starlight (shown in photo), Blue, Midnight, Green, and Red. I got the 41-millimeter size, but it also comes in 45 millimeters.
The bottom line is that wearing the Apple Watch Series 7 inspires me to stay active, get enough sleep, and slow down and reflect each day. I do love when I close my rings and reach all my move, exercise, and stand goals, but the app on my phone also tracks my mindfulness as well. I also love that this watch is made with more recycled material than any other Apple Watch.
If you're deciding whether spending $400+ on the Apple Watch Series 7 is worth it, know that it's something you would use every single day to make life a little easier and more healthy. So for one year of use, it costs a little over a dollar a day. I think that's totally worth it!