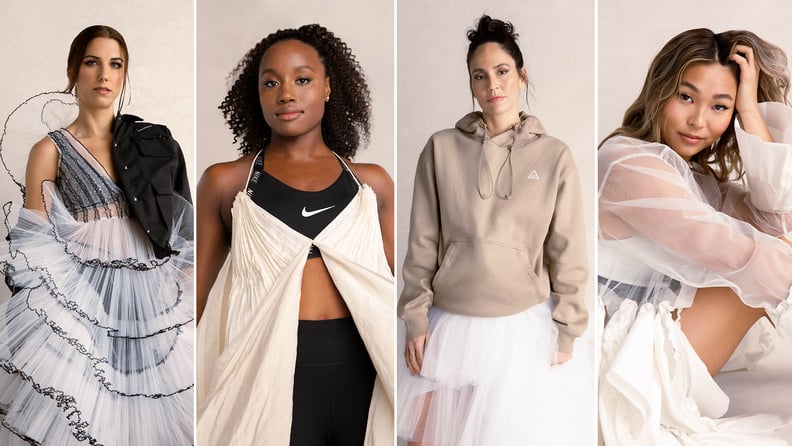 Courtesy of Raven B. Varona
Courtesy of Raven B. Varona
The statistics are loud and clear: 42 percent of participants in high school and college sports are women, and women make up 40 percent of athletes on the professional level, yet, according to the United Nations Educational, Scientific, and Cultural Organization, they only receive four percent of all sports media coverage. Togethxr, a new media company founded by star athletes Alex Morgan, Simone Manuel, Sue Bird, and Chloe Kim, wishes to change that.
Pronounced "together," the company's name literally says "to get her," Chief Content Officer Jessica Robertson pointed out. "It seems so simple and so obvious but also so powerful because that's what this brand is about," she told POPSUGAR. "It's literally, fundamentally seeing a woman and her experience and appreciating it and elevating her voice and giving her a platform."
Robertson, formerly head of content over at The Players' Tribune, joined Togethxr as chief content officer in January 2020, but she'd been in contact with Morgan regarding the brand mission long before that. According to Robertson, the two-time Olympian who also competed in three FIFA Women's World Cups started formulating an idea for the company around three years ago when comparing women's sports coverage to platforms like LeBron James's Uninterrupted and Derek Jeter's The Players' Tribune. "There are all these avenues to tell stories, and all these athletes have production companies," Robertson said. "There's still not one dedicated to our voices, women's voices."
Bringing Olympic-gold-medal snowboarder Kim, basketball legend Bird, and Manuel, an Olympian with four medals in swimming, into the mix made sense because "they completely embody, I think, the attributes and the representation that we were going for," Robertson said. "If we're going to reach the next generation of women, we want to make sure that all voices, all journeys, all experiences, all identities are reflected." She added, "I sort of imagine the four of them as kind of like the Avengers."
In terms of what to expect from Togethxr, the company's main modes of storytelling will be visuals for now — video and photo projects with some upcoming podcasts. We should expect docuseries launching on YouTube, the first being Fenom, highlighting 17-year-old national boxing champion Chantel Navarro, who comes from a long line of boxers and strives for Olympic gold. Kaikaina, launching this April, follows a surfing collective made up of women athletes from Hawaii age 13 to 21.
Unscripted docuseries, Robertson said, will be released every month, with longer-form documentaries in the works as well. Additionally, audiences get to experience photo essays; one highlights speed skater Maame Biney, the first Black woman to represent the US in Olympic speed skating (a video feature will accompany that, too).
"What we want to do is really bring to light these stories in a visual way because women, they're certainly not heard, but they're definitely not seen," Robertson said. Plus, Morgan, Manuel, Bird, and Kim will continue to have a hand in content ideas from here on out. "They are our compass on brand voice," Robertson said, adding that they've already expressed interest in future projects.
While Togethxr aims to lean heavily into sports coverage, it will focus on culture as well. "By culture, I mean music, lifestyle, activism, and so much more because sport and culture are so closely intertwined," Robertson said. "This is a brand where Normani can sit right next to Naomi Osaka, and it makes sense."
The X in Togethxr represents a multiplier, as the brand itself is meant to be a collective of voices, a whole community hellbent on uplifting women. "We also recognize that we are in a world without binary," Robertson noted. "We wanted to make sure that this felt inclusive, so X is a nod to being in a postbinary world and celebrating that."
Follow Togethxr anywhere you consume content — like Instagram and YouTube — and keep an eye out for some momentous projects from this athlete-founded company.