POPSUGAR Photography | Dominique Astorino
POPSUGAR Photography | Dominique Astorino
Holy shnikeys, fam. We have some news — you may want to sit down for this. We know that you all (and us, included) lost our minds when Trader Joe's came out with cauliflower pizza crust. It was a big deal, there's no denying it. But . . . there's a new cauliflower pizza in town . . and . . . it's better. A lot better.
The brand in question: Caulipower. You can buy Caulipower cauliflower premade pizzas or just the crust — we tried the Margherita, Three Cheese, and Veggie premade varieties, and all three blew our taste testers away, in an unprecedented unanimously positive review from over 30 of our colleagues, with a rare "6 out of 5" score (accompanied by the note "crust on fleek").
Breakdown of crust ingredients: cauliflower, brown rice flour, corn starch, water, tapioca, sunflower oil, extra virgin olive oil, sugar, egg, xanthan gum, yeast, salt, vinegar, and baking powder. This differs from the Trader Joe's recipe, which is cauliflower, cornflour, water, corn starch, potato starch, olive oil, and salt. Main differences: Caulipower is NOT vegan; Trader Joe's is. Both are gluten-free and dairy-free.
Caulipower's serving is 1/3 crust, while Trader Joe's is 1/6, but in terms of weight, they're very close (Caulipower is 57 grams and Trader Joe's is 50 grams), with Caulipower's serving being more than double the calories of Trader Joe's (170 vs. 80), with more fat, protein, and carbohydrates.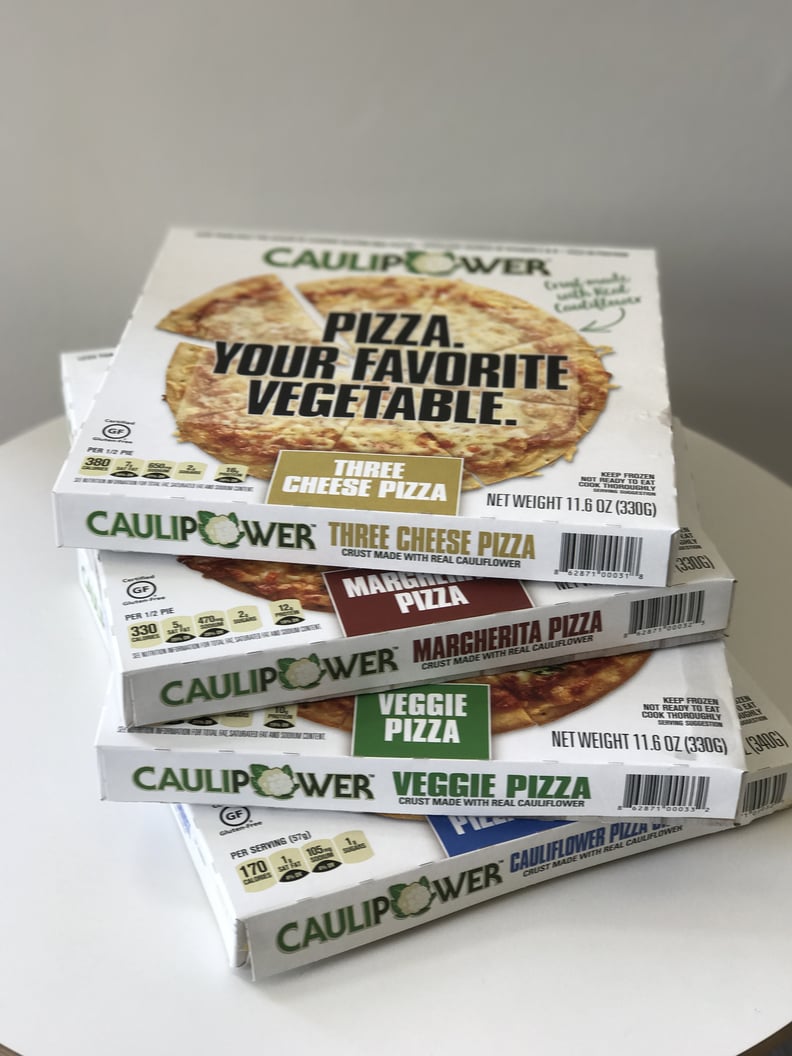 We baked pizza after pizza in the POPSUGAR office (they only took about nine or 10 minutes in the June oven), and every bite was devoured. We could hardly get a photo of the melty, cheesy, cauliflower goodness because our coworkers couldn't keep their hands off of it! Here are some highlights from the reviews:
"Delicious cauliflower flavor comes out, but still get the feeling of pizza!"
"Is this really cauliflower?"
"Never would've guessed this is cauliflower — so good."
"Best healthy pizza I've tried yet!"
"This is SO good! Doesn't taste like cauliflower at all."
"Crust on fleek."
"It's not delivery, it's not DiGiorno . . . it's better."
"Cannot believe it's not bread!"
"This feels like a lie because it's so good."
"The best cauliflower crust I've had. Better than TJ's (doesn't even taste GF)."
"Tastes just like a regular pizza crust."
"I'm a pizza connoisseur and this is damn good."
"I've tried to make this at home and it's never been this good!"
"I love this and would eat it daily! Is it still healthy in that case?"
★★★★
You can get Caulipower pizza in the frozen section from stores like Whole Foods, Gelson's, or Bristol Farms, or even order it on Amazon if your local store doesn't have it.