Chloe Kim Reflects on 2022 Olympics
"Winning Is Cool," but Chloe Kim Doesn't Snowboard For the Medals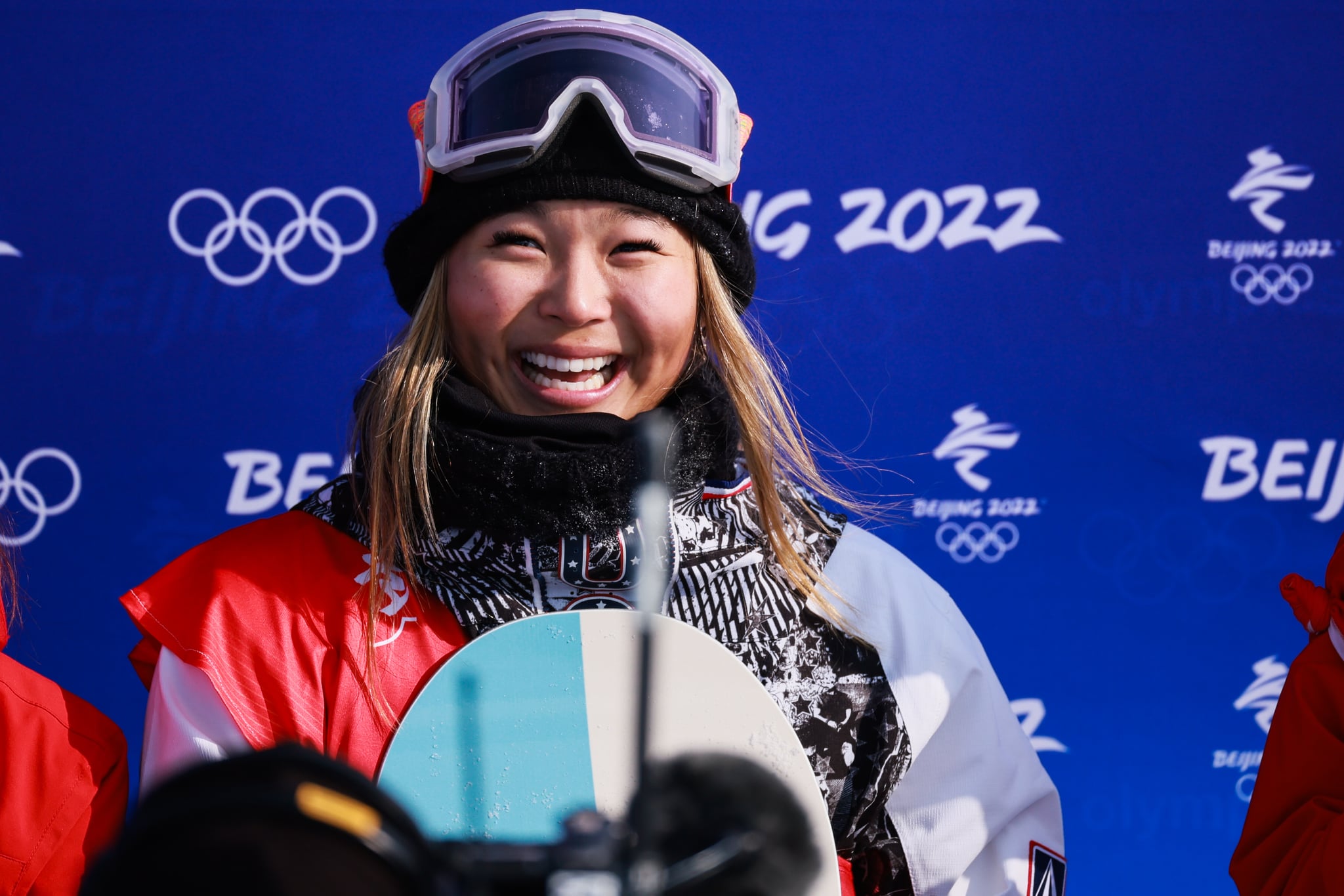 Chloe Kim flew back home with a shiny new Olympic gold medal in her luggage, met her boyfriend and family at the airport, and proceeded to celebrate at the Super Bowl. But right now, the two-time Olympic gold medalist in women's halfpipe is most concerned about getting over the jet lag and hitting up her favorite restaurants. Like a true Californian, she's been craving In-N-Out.
It only took one run for Kim to secure her halfpipe gold medal at the 2022 Olympics, scoring a 94.00 that would stand unsurpassed for the rest of the day. That meant that on her next two runs, Kim had the chance to experiment, attempting more difficult tricks and challenging her limits on the highest stage. And it meant that on her third and final run, she was in a familiar position: the last competitor of the day, her gold medal was already on lock. She could've gone for a victory lap, a joy ride down the middle of the halfpipe, throwing simple airs to play to the crowd and enjoy the moment.
But Kim wouldn't be Kim, the first woman to win consecutive Olympic halfpipe gold medals, if she did that. "I've never just taken a victory run before," says Kim, who spoke to POPSUGAR while promoting her P&G Always There campaign about the support athletes get from their families. Instead, Kim tried a trick that had never been landed in competition by a woman — the 1260 — and used her platform and talent to push women's halfpipe to new heights.
She didn't land the 1260 in either her second or third runs and admits she's still "kind of bummed" about it. "I totally thought I had that trick on lock," she says. "I just think I got a little too excited to do it." But why even try it — tempting injury in the process — when she'd already won gold?
"Just trying to progress the sport is really important to me," Kim says. "That's what I love about snowboarding: going out there and trying new things." In fact, Kim says without hesitation that she gets a bigger thrill out of landing a new trick than winning a competition. (Though the best is landing one in competition.) "Winning is cool, but for me, I just really want to push myself and do new things," Kim says. "That's the whole reason why I do this." If she only cared about the medals, Kim admits, "I honestly don't think I would have kept going. Because it's like, what's the point?"
Her purpose in sport is something Kim has given a good amount of thought to. In 2019, she decided to take a hiatus from competitive snowboarding and enroll at Princeton as a way of seeing "what else was out there," she says. "I've been in this snowboarding bubble for so long that I just wanted to try something else." Taking that break was "probably the best decision I've ever made," she says. It was a way to get out of her comfort zone and explore a new way of life away from the fame, attention, and pressure of her profession.
"Winning is cool, but for me, I just really want to push myself and do new things."
Kim describes the Olympics as a "pretty intense experience" and says she's considering taking another competitive break this year, as is common for athletes following the Olympics. She can't say for sure, though. "I might take a break, but I honestly don't even know if I'm capable of doing that," Kim says. It's because she loves the sport, yes, but also because she feels most confident with her snowboard strapped to her feet. "I turn into a complete different person," she says. It sounds paradoxical, but for Kim, hurtling down a halfpipe and flipping 15 feet into the air is "the most comforting thing to me in my life. It's the most predictable thing to me in my life."
Kim snowboards for the love of it, and that's why we saw her attempt those 1260s in Beijing when she could've sailed down the middle of the halfpipe with a flag around her shoulders. "I wanted to make sure that I didn't regret any decisions," she says. "I was like, 'Let's just do it. Why not?'"