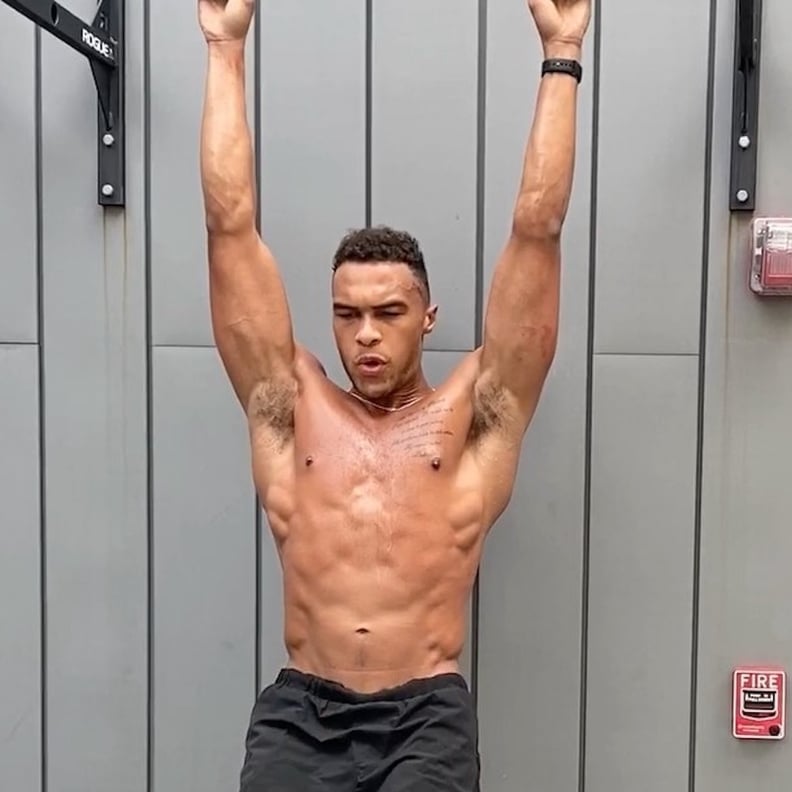 I don't know about you, but my Bachelorette viewing routine typically goes a little something like this: pour a generous glass of wine, snuggle up on the couch with my roommates, sarcastically comment on all of the drama as it unfolds, and, most paramount, stalk the sh*t out of the contestants on social media afterwards. Executing that last crucial step following the premiere of Clare Crawley's Bachelorette season led me down quite the lengthy rabbit hole to learn more about Dale Moss — y'know, the guy who has apparently swept Crawley off her feet and is rumored to currently be her fiancé — and whew, is he fit AF!
An NFL athlete turned model, the 31-year-old hunk used to play for the Green Bay Packers, Tampa Bay Buccaneers, and Chicago Bears, and he hits the gym frequently to keep up his pristine physique. I mean, get a load of those abs of his — he could probably grate an entire wheel of cheese on 'em. Moss regularly shares snippets of his workouts on Instagram, and they're quite the sight to behold, so I took on the arduous task of compiling them all here for fellow Bachelor Nation members who could use some eye candy and fitspo right now. (It's a hard job, but someone had to do it.) Enjoy all of Moss's workout videos ahead, and you'll instantly understand why he nabbed Crawley's final rose.
Anyone Else Completely Mesmerized by Watching Him Do These Incline Dumbbell Presses?
I'd Gladly Be Swept Off My Feet in Those Arms Any Day of the Week
Gotta Love a Shirtless Battle Ropes Sesh, Right?
I Mean . . . Those Back Muscles Though!
Please Direct Your Attention to His Quad Muscles in This Slow-Mo Video
Oh, the Things I'd Do to Be an Innocent Fellow Gym-Goer Witnessing This Workout
Here He Is Casually Crushing Some Weighted Lunges Like a Boss
Really Trying My Darnedest Over Here to Not Make an Inappropriate Joke
He Even Does Underwater Workouts! Will the Real Aquaman Please Stand Up?
These Jumps Are Explosive AF, and I'm Shook
Tag Yourself — I'm the Chick in the Background Staring With Her Jaw Practically on the Floor
This May or May Not Have Influenced Me to Purchase Kettlebells
Teach Me Your Ways, Dale!
Is It Hot in Here, or Is It Just Dale?