The 2021 US Open brought unexpected outcomes, historic victories, and on-court excitement. With notable names like Sofia Kenin, Serena and Venus Williams, Jennifer Brady, Dominic Thiem, Rafael Nadal, and Roger Federer missing from the tournament due to health or injury reasons, the last major of the year looked different than past Grand Slams. But match after match, we saw high-level tennis and intense rivalry. Ahead, we've rounded up some of the most emotional moments from the US Open, including upsets and a few record-setting results.
01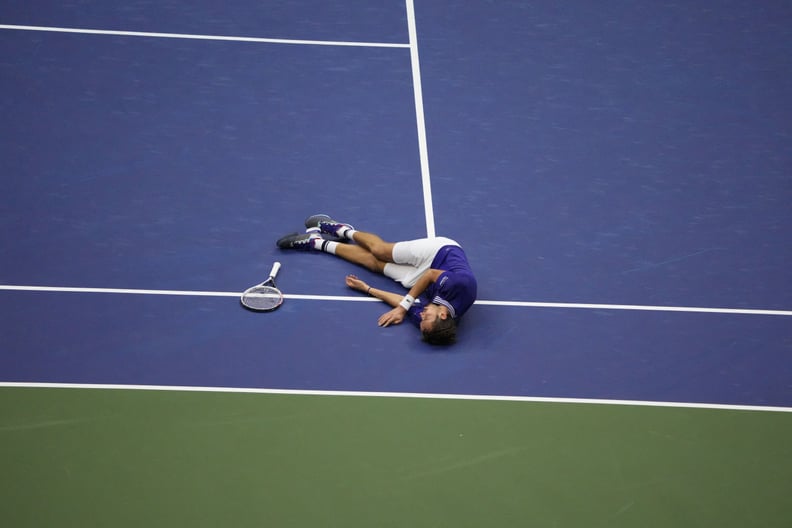 Daniil Medvedev Celebrates His 2021 US Open Men's Singles Title Win Over Novak Djokovic
Russia's Daniil Medvedev faced off against world No. 1 Novak Djokovic in a heated battle for the men's singles trophy. Here, Medvedev has fallen to the court after winning the third and final set, copying a celebration from the video game FIFA. "Only legends will understand," he said after the match when talking about his display of victory.
02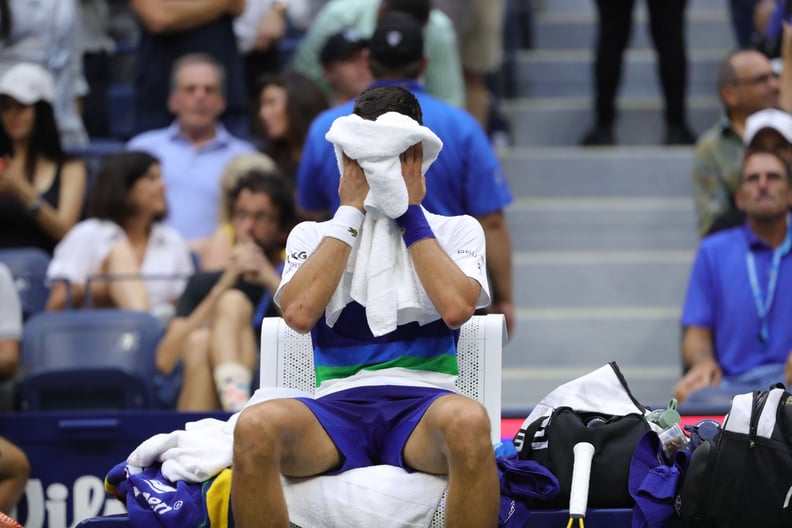 Novak Djokovic Is Moved to Tears During the 2021 US Open Men's Singles Final
The crowd began chanting one of Djokovic's nicknames, Nole, after he won a game to make Medvedev's lead 5-4 in the last set of the men's singles final. Djokovic broke out in tears when waiting for the changeover. "Tonight, even though I have not won the match, my heart is filled with joy and I'm the happiest man alive because you made me feel very special on the court," he said in his acceptance speech. "You guys touched my soul. I've never felt like this in New York."
03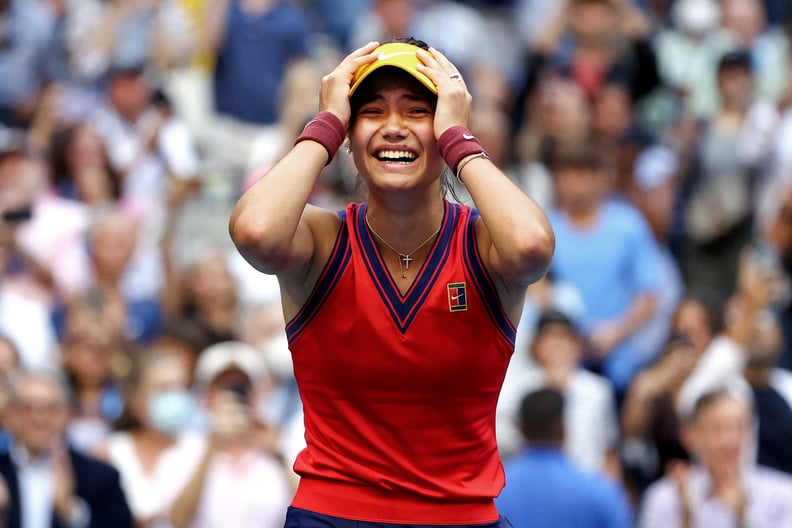 Emma Raducanu Wins the 2021 US Open Women's Singles Title
04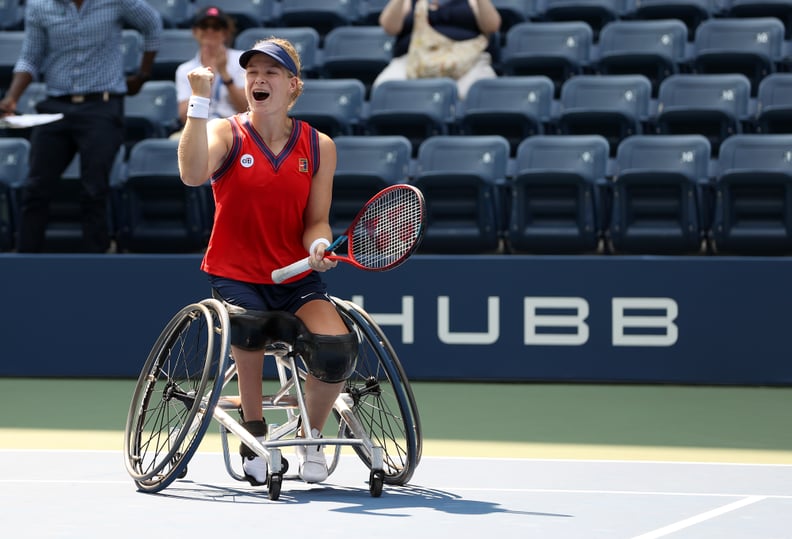 Diede de Groot Completes a Golden Slam in Women's Wheelchair Tennis
Diede de Groot, representing the Netherlands, became the first person in wheelchair-tennis history to achieve a Golden Slam when she won the women's singles wheelchair competition. This feat occurs when you claim titles at all four majors and the Olympic or Paralympic Games in a given calendar year.
05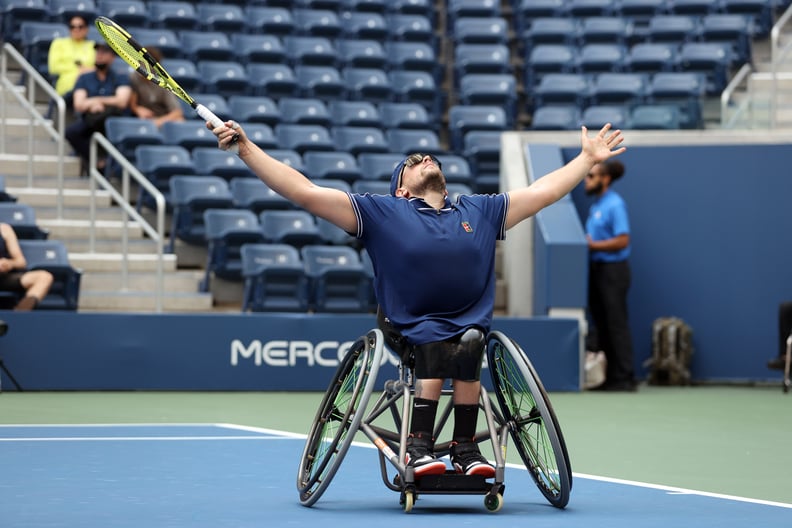 Dylan Alcott Also Completes a Golden Slam in Quad Tennis
Two hours after de Groot's victory, Dylan Alcott of Australia won the US Open quad singles final, making him the first man across tennis disciplines — and third person ever — to achieve the coveted Golden Slam.
06
Shuai Zhang and Samantha Stosur Win the 2021 US Open Women's Doubles Title
China's Shuai Zhang and Australia's Samantha Stosur celebrated after outplaying Americans Coco Gauff and Caty McNally for the US Open women's doubles title. This was their second Grand Slam win together.
07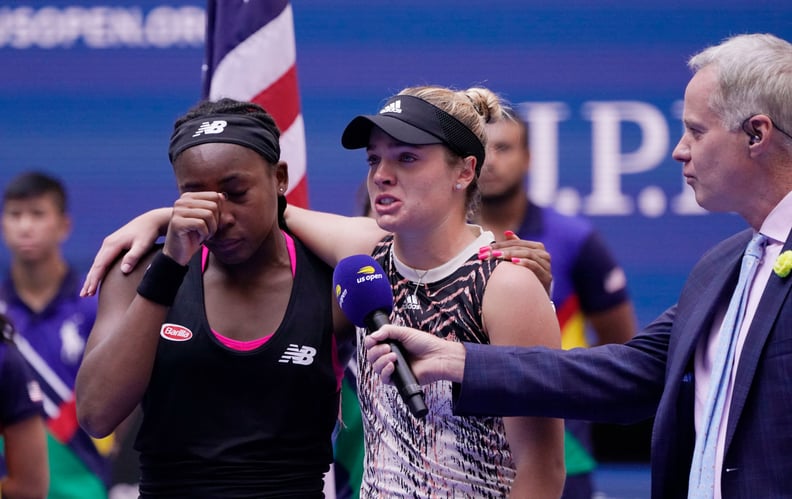 Coco Gauff and Caty McNally React to Finishing Second in the 2021 US Open Women's Doubles Tournament
During the women's doubles trophy ceremony, McNally put her arm around Gauff, her doubles partner, who wiped away tears. "We've been through a lot together, honestly, like ups and downs. We've had some really tough matches, but I'm really lucky to have you next to me along this journey," McNally said. "We're going to figure it out, I know we will. We'll be back here another day."
08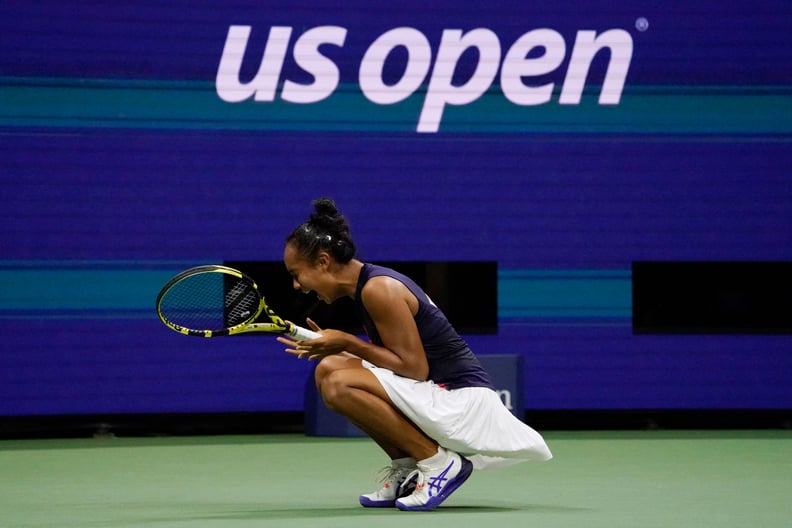 Leylah Fernandez Advances to the 2021 US Open Women's Singles Final
Fernandez had a number of emotional moments at the US Open this year, but this moment in particular is from her semifinal match against Belarus's Aryna Sabalenka. Here, Fernandez reacts to making it through to her first-ever Grand Slam final and becoming just the fourth Canadian to reach a major final.
09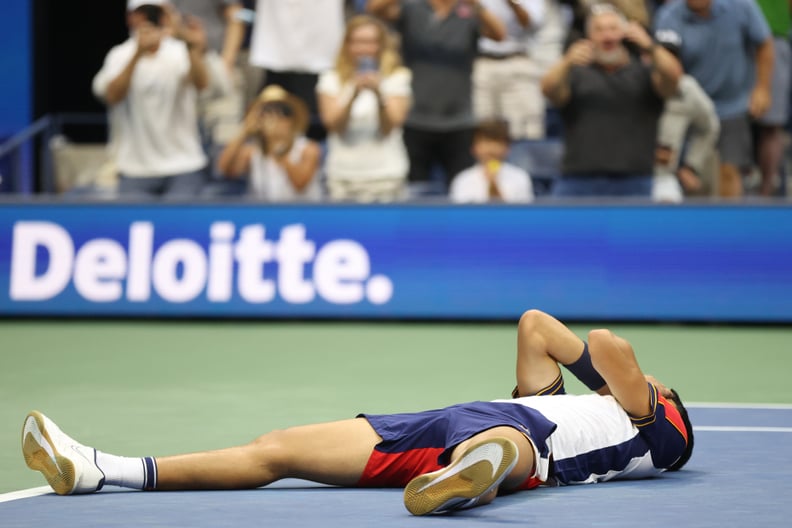 Carlos Alcaraz Beats No. 3-Seeded Stefanos Tsitsipas at the 2021 US Open
10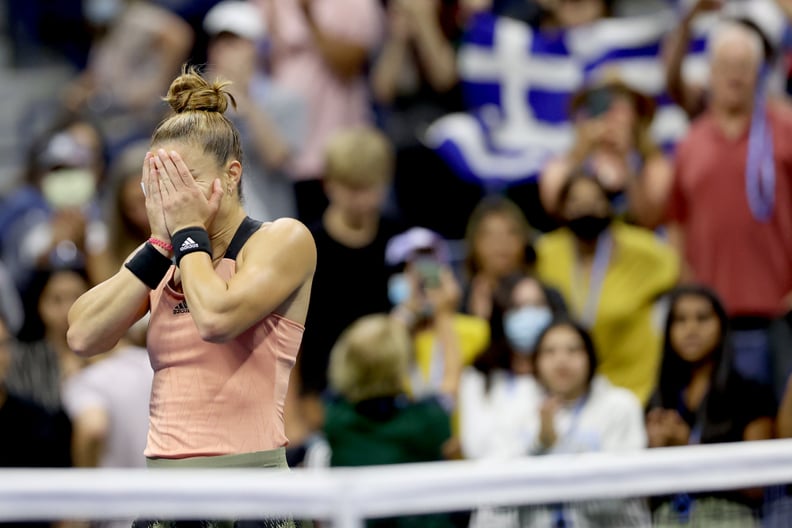 Maria Sakkari Defeats Bianca Andreescu in a 3.5-Hour 2021 US Open Match