What Does a Walkover Mean in Tennis?
Carlos Alcaraz Retires From 2021 US Open Quarterfinals — Here's Why It's Not a Walkover For His Opponent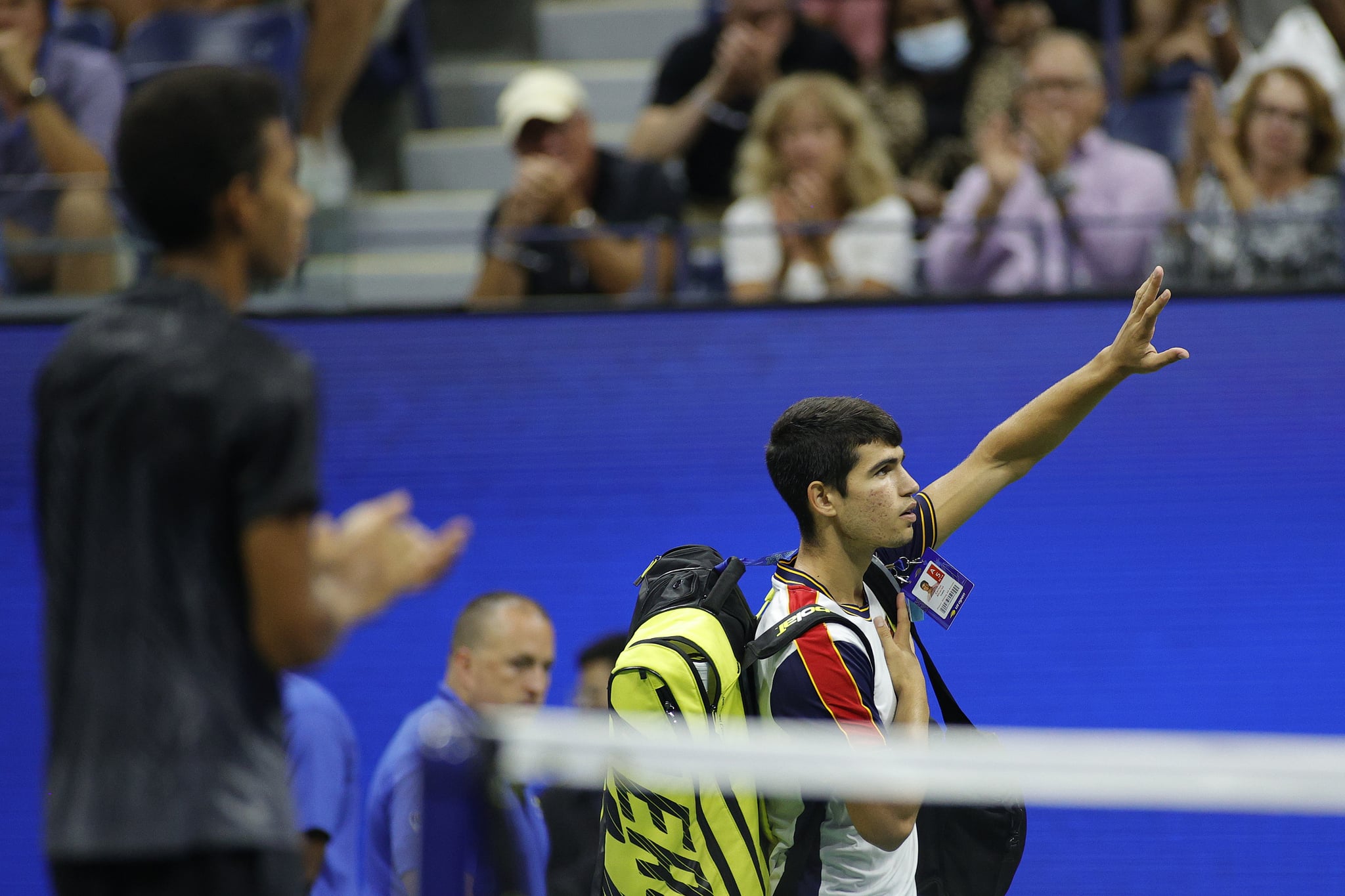 On Sept. 7, Spain's Carlos Alcaraz, the youngest men's singles player in the Open Era to reach the US Open quarterfinals, retired from his match against Canadian Felix Auger-Aliassime after the fourth game of the second set due to injury. According to USA Today, the 18-year-old was having issues with his right adductor. "It's really tough to end a great tournament like this, but I had no choice to still play," he said after the fact. "I have to take care of my body and to stay healthy." While some people may think that Auger-Aliassime won by walkover, advancing due to a retirement is different, technically speaking. Here, we break that down.
What Is the Difference Between a Walkover and Retiring a Match?
According to Friend at Court, a book of rules and regulations from the United States Tennis Association (USTA), a retirement occurs when a player cannot continue a match due to injury or illness. It can also occur due to "personal circumstance or adult discipline." A walkover can still occur due to a player's injury, but it is initiated before a match, not during. For instance, last fall, Williams withdrew from the 2020 French Open because of a left Achilles injury that she sustained at the US Open weeks prior. This caused her would-be opponent, Bulgarian Tsvetana Pironkova, to advance by walkover.
However, on June 29 of this year, Serena Williams retired mid-match during the first round of 2021 Wimbledon because of a hamstring injury, marking the second time Williams had to retire from a match at a major, ESPN reported. Aliaksandra Sasnovich of Belarus advanced due to this retirement, not via walkover. The same thing applies to Alcaraz's case: Auger-Aliassime advanced through to the 2021 US Open semifinals because of Alcaraz's retirement. A walkover doesn't apply.
What Is the Difference Between a Walkover and a Default?
The main difference between a walkover and a default lies in who initiates the action. A player is the one to initiate a walkover when they withdraw from a match beforehand because of injury, illness, or personal circumstance. "Refusal to play for any other reason is treated as a default," the rules state. A default happens when an official decides the player cannot take part in or continue a match due to violation. "Examples of this kind of default include a player who does not show up, a player who is defaulted for lateness, and a player who is defaulted for receiving an injection, infusion, or supplemental oxygen," the rules state.
For instance, 20-time Grand Slam singles title winner Novak Djokovic was defaulted from his fourth-round US Open match last year and, subsequently, the entire tournament for hitting the line judge with a ball. His opponent, Pablo Carreño Busta, advanced to the next round, and the USTA said at the time that Djokovic would lose all ranking points earned at the US Open and be fined the prize money won at the tournament, plus any of the fines from the incident itself.
Does a Walkover Count as a Loss?
Though the phrase "won by walkover" is used — for example, Naomi Osaka withdrew from the Western & Southern Open final in August 2020 because of a hamstring injury, and Belarus's Victoria Azarenka was crowned champion by walkover — a WTA spokesperson told POPSUGAR that a walkover does not count as a match win or a match loss for either player, meaning it does not affect their win-loss record. (A spokesperson working for the French Open further confirmed that Williams's tournament withdrawal, and subsequent walkover, at last year's French Open was not considered a defeat.)
Retirements, though, do count as a match win or loss for the players. Williams's retirement from 2021 Wimbledon therefore counted as a match loss for her, the WTA spokesperson confirmed, as would Alcaraz's retirement from the 2021 US Open, and therefore impacts ranking.