Megan Rapinoe has been on a roll since 2019. The cocaptain of the US women's soccer team took home both the Golden Boot and Golden Ball awards at the 2019 Women's World Cup — as well as, you know, the title [1] — and closed out an epic year as Sports Illustrated's Sportsperson of the Year [2]. All the while, she and her teammates have been fighting for equal pay, even wearing their jerseys inside out in protest [3] in early 2020 after the US Soccer Federation claimed that the women's sport requires less skill [4] than the men's. From dominating the field to taking on injustice (and those who perpetuate it [5]), Rapinoe never holds back, and these facts about the soccer star only make us admire her more.
She Was First Inspired to Play Soccer by Her Older Brother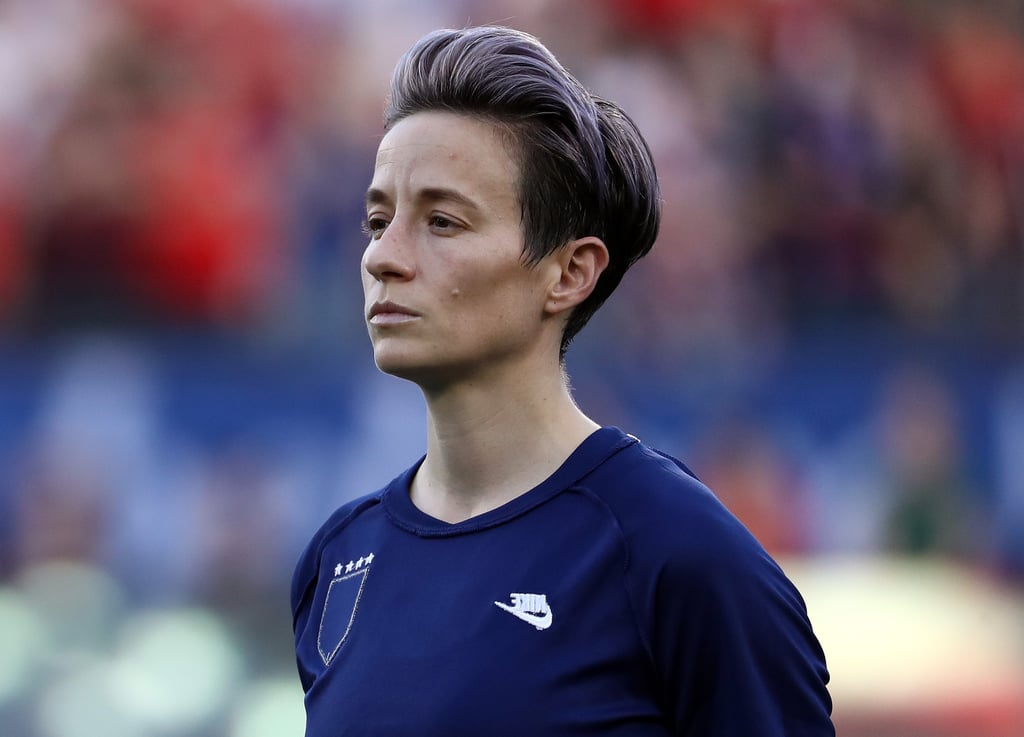 When Rapinoe was on the U-19 US women's national team, she wore a No. 7 jersey, which is the same jersey number her brother Brian wore when he played soccer. Growing up, Rapinoe idolized her brother [7]. As she explained to ESPN in July 2019, "He played left wing, so I played left wing. He wore No. 7; I wore No. 7. He got a bowl cut, so I did, too."
That made it all the more difficult for Rapinoe to cope with Brian's drug addiction and legal troubles. Though Brian spent most of his adult life in prison, the two have kept in contact and she's never given up on him. "My brother is special," she told ESPN. "He has so much to offer. It would be such a shame if he left this world with nothing but prison sentences behind him."
She Was the First White Athlete to Kneel During the National Anthem
In 2016, Rapinoe began to kneel during the national anthem in solidarity with San Francisco 49ers quarterback Colin Kaepernick, who started kneeling in order to bring attention to racial inequality and police brutality. Her protest was met with a fair share of criticism, and Rapinoe later published an essay explaining her decision in The Players' Tribune, saying that protesting felt like her responsibility [8] as someone in a position of influence.
"I can understand if you think that I'm disrespecting the flag by kneeling, but it is because of my utmost respect for the flag and the promise it represents that I have chosen to demonstrate in this way," she wrote. " . . . I believe it is my responsibility, just as it is yours, to ensure that freedom is afforded to everyone in this country."
She and Her Fraternal Twin Sister Both Came Out in College
Rapinoe is technically the youngest of five siblings, but her fraternal twin sister Rachael [9] only beat her by minutes. The twins began playing soccer at age 4, and they went on to play at the University of Portland together. Both sisters are also gay [10], which they learned after coming out to each other their sophomore year of college.
"It was just a matter of one of us saying it first," Rachael explained to the New York Times during an April 2013 interview. "That was really it. I had been dating someone and one of us said it first. It was a ripple effect. We both kind of came to the realization that we're in this together." Now they run a joint business called Rapinoe FC [11], which sells apparel and offers soccer training clinics for kids nationwide.
She's Had 3 Separate ACL Injuries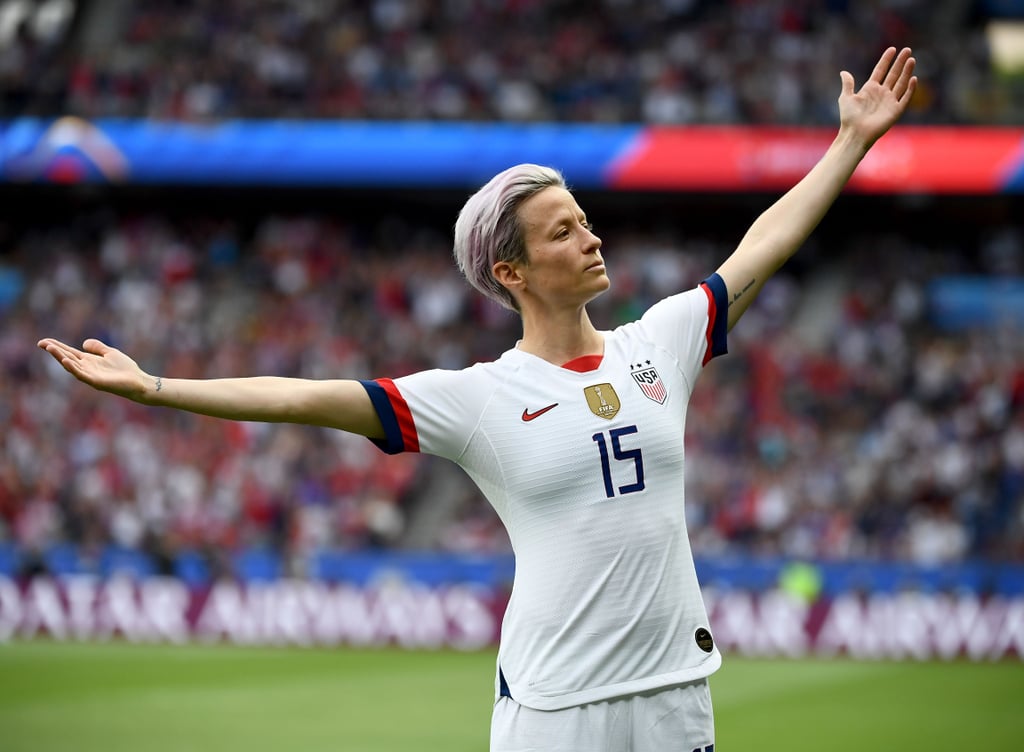 Rapinoe has had an extensive soccer career, so it's no surprise that she's had her fair share of injuries. She's had to endure three torn anterior cruciate ligaments (ACLs) alone. The first time was in 2006 while playing soccer for the University of Portland her sophomore year, and the following season, she tore the ACL in left knee once again. Then, in December 2015, she tore her right ACL [12] while playing for the USWNT.
Following her first two injuries, Rapinoe said she was actually grateful for the experience [13]. "It really gave me a different perspective," she explained to the US Soccer official website in March 2009. "Before, everything was going how it was supposed to be and I wasn't really appreciative of what I was doing and what it took to be there. The injury grounded me in a lot of different ways. The rehab process makes you stronger on all fronts, mentally and physically. I feel stronger and a better person for it. I would never wish it on anyone, but I don't wish I could take it back."
She Has Spoken Publicly About Disagreeing With Her Family's Politics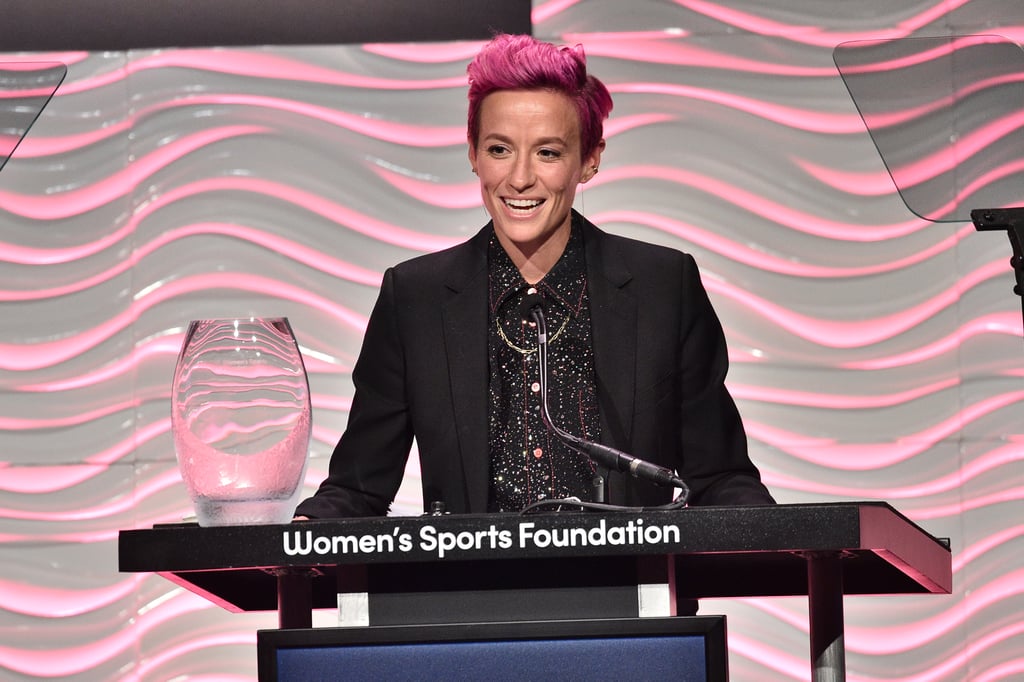 Rapinoe's feelings about Donald Trump [14] are well known, which is why you may be surprised to learn that she suspects her father helped vote him into office [15]. As working class people who strongly believe in justice and equality, Rapinoe has always thought it would make sense for her parents to be more progressive.
"I'm very similar to how they are," she told The Guardian in August 2019, "even though I think my dad voted for Trump and I'll say: 'I don't get it. How are you simultaneously as proud as punch of me, and watching Fox News all the time, [who are doing] takedowns of your daughter?'" However, she considers herself close to her parents, even if they don't always have the same views.
She's Engaged to a Fellow Olympic Gold Medalist
Though Rapinoe was familiar with Seattle Storm point guard and WNBA champion Sue Bird through the Seattle sports scene (Rapinoe plays in nearby Tacoma, WA), they didn't start dating until after they hit it off at a sponsor event [16] at the 2016 Rio Olympics. A little less than two years later, Bird and Rapinoe became the first openly gay couple to appear on the cover [17] of ESPN The Magazine's iconic Body Issue.
Rapinoe has said that she and Bird are "huge fans" of each other [18], and if you read Bird's viral essay during the 2019 World Cup, "So the President F*cking Hates My Girlfriend [19]," then you know she considers Rapinoe "the world's biggest most kissable goofball queen." As the more conservative of the two, Bird credits her soccer-playing partner for helping her live openly and unapologetically (and convincing her to pose naked on the cover of a major magazine).
She Loves Fashion
Though she certainly has a way with words, Rapinoe also finds fashion a great outlet for expressing herself. After becoming the face of the luxury fashion brand Loewe in January 2020, Rapinoe explained how fashion keeps her from feeling pigeonholed [20] as a woman athlete. "Any chance I get to do something outside of sport, particularly in fashion, I'm all over that. Particularly in the context of women's sports, where I feel we're very boxed in," she told CNN, later adding, "For me, [fashion] is my way of getting to do and look and express myself exactly the way that I want to."
Bird has also confirmed Rapinoe's love of clothes. "Megan is very much into fashion [21]," she told the Seattle Times in June 2018. "And I wouldn't just call it clothing. She's into everything — clothing, bags, shoes." Apparently, Rapinoe also isn't great at sharing closet space.