On a Road Trip? Order From the Denny's Not-So-Secret Fit Menu
While I mostly know Denny's Diner now for its hilarious Twitter account, it's also one of the most common truck stop food vendors on Interstate 5, the freeway I frequent between San Francisco and my hometown in San Diego. If you don't want drive-through food and you're aching to get out of the car and stretch your legs, Denny's is often a safe bet when you're making a pit stop. However, it's not known for its particularly healthy choices, right?
Related: Healthiest Vegetarian Drive-Through Options

There are times when all I want are dino-shaped chicken nuggets, pancakes, and a milkshake . . . sure. But most of the time, I'm skipping the drive-through because I'm craving something a little healthier. Surprisingly enough, there's an entire section of the Denny's menu dedicated to lighter options.
Wheat pancakes? Grilled salmon? Not something you thought you could get next to a gas station, right? Order one of these plates the next time you're on the road, away from your go-to health food restaurant and trying to make better dietary choices.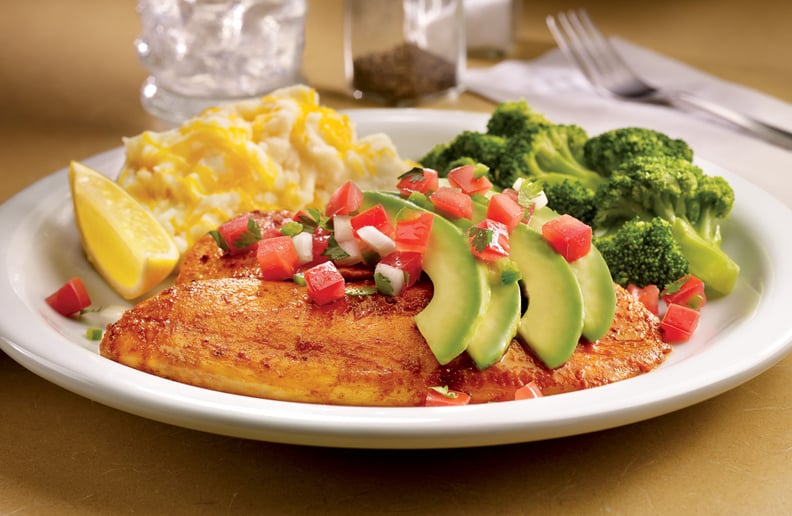 Tilapia Ranchero
A lean, grilled piece of fish with avocado and a side of veggies. The tilapia ranchero meal, ordered with a side of broccoli and steamed zucchini and squash, comes in at under 600 calories, with 58 grams of protein. FIFTY EIGHT! It's also high in fiber and low in sugar, but be a little cautious of sodium content.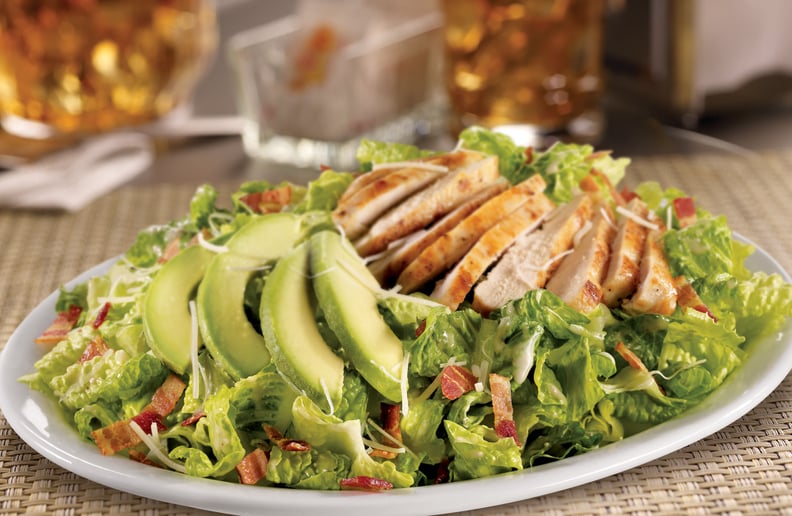 Avocado Chicken Caesar Salad
This Caesar salad served as-is is surprisingly caloric and extremely high in fat, because it's tossed in fatty Caesar dressing. The solution? Get your dressing on the side, and maybe opt for no bacon crumbles. You'll get healthy fats and omega-3s from avocado and lean protein from chicken (the as-is nutritional facts ring this in at 46 grams of protein, a pretty big deal for a salad).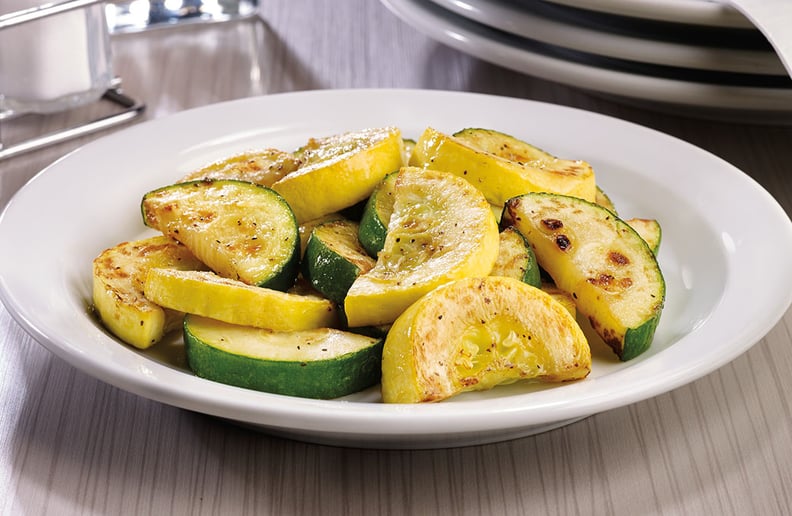 Side of Vegetables
Did you know you can order steamed or sautéed zucchini and squash at Denny's? The steamed variety is only 15 calories per side (!!!). You'll load up on vitamins and minerals with this healthy, tasty option.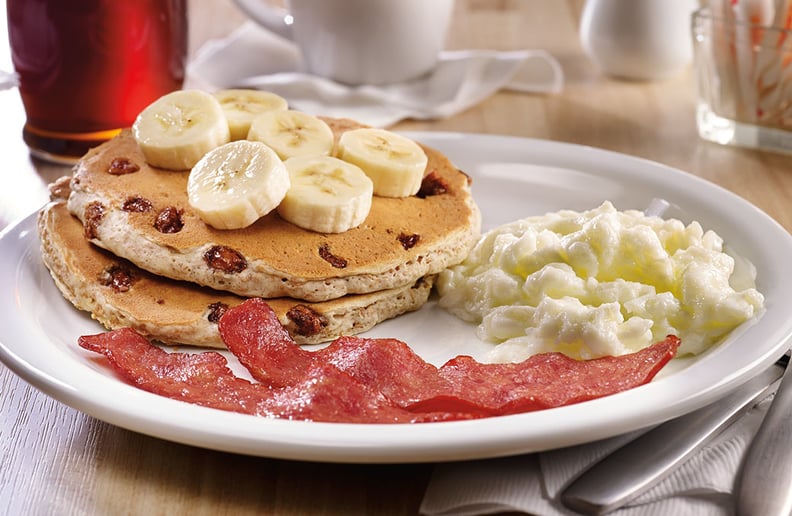 Banana Pecan Pancake Breakfast
Wheat pecan pancakes topped with banana, egg whites, and turkey bacon: this is no ordinary Grand Slam — and it's only got 13 grams of fat. The maple syrup will do some serious damage in terms of sugar content, so be mindful with how much you use to cut down on that number. Additionally, the turkey bacon is high in protein but also high in sodium.
Regardless of how you order this plate, you'll have a "holy sh*t" moment when you compare the nutritional facts of this dish to the peanut butter cup pancakes meal, which looks delicious tbh but clocks in at OVER ONE HUNDRED GRAMS OF FAT.
Lastly, while these aren't listed as "whole-wheat" pancakes, the wheat variety proves to be healthier than the classic buttermilk flapjacks in a few ways: it's lower in calories, lower in fat, lower in sodium, way lower in sugar, and significantly higher in protein and fiber.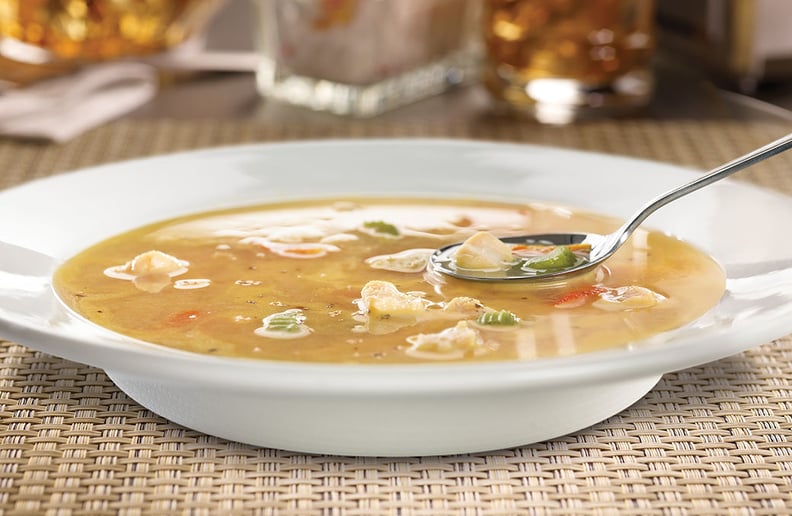 Chicken Noodle Soup
Soup — especially chicken noodle — is a comforting, classic diner-style choice. A bowl of chicken noodle soup from Denny's weighs in at 140 calories, with four grams of fat, only two grams of sugar, and 15 grams of protein (which is great!). The sodium is high, so order a glass of water to help your system dilute the salt.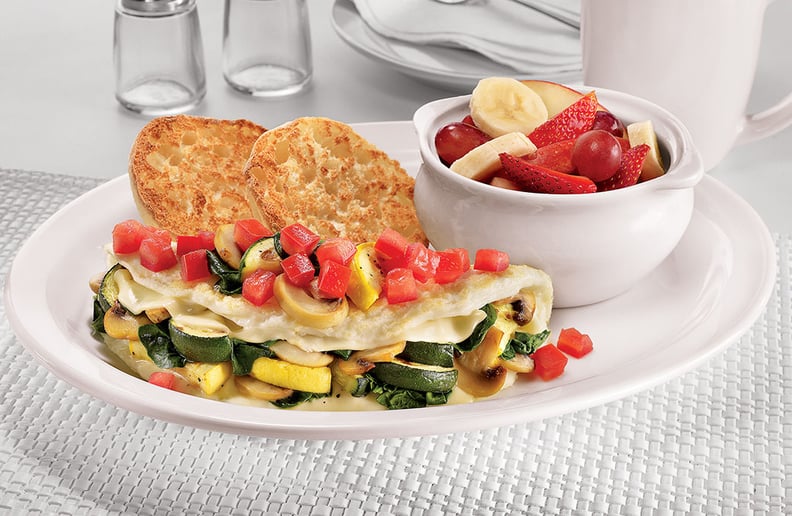 Loaded Veggie Omelet
This is a lean, protein- and nutrient-packed option. With spinach, mushrooms, zucchini, squash, tomatoes, and swiss cheese, this egg white and veggie omelet will keep you full in all the right ways. Although it comes with an english muffin or fruit, you can choose different sides based on your dietary needs and preferences, especially if you're looking to cut down on sugar and carbohydrates.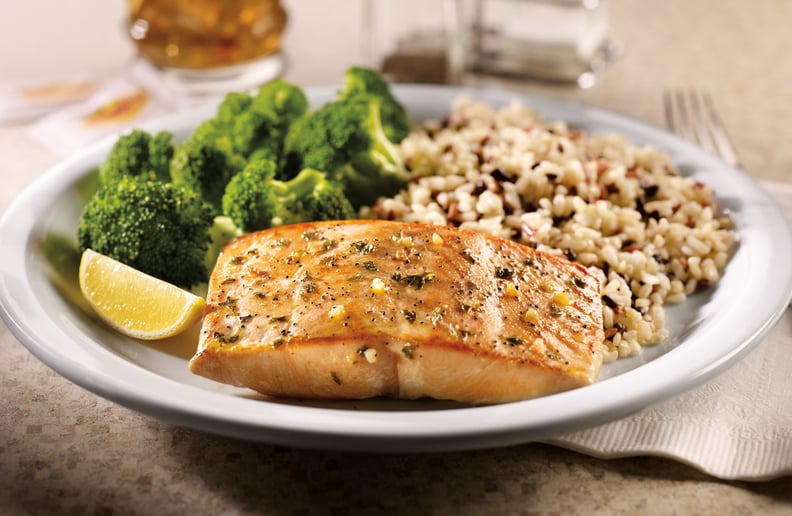 Fit Fare Alaskan Salmon
Say what?! Pacific salmon at a diner? This is almost unheard of. At 520 calories, this plate brings in 39 grams of protein. If you want to cut down on carbohydrates and sodium, swap whole grain rice for steamed vegetables. Salmon offers tons of omega-3 and brain-boosting nutrients that'll keep you full AND put you in a good mood.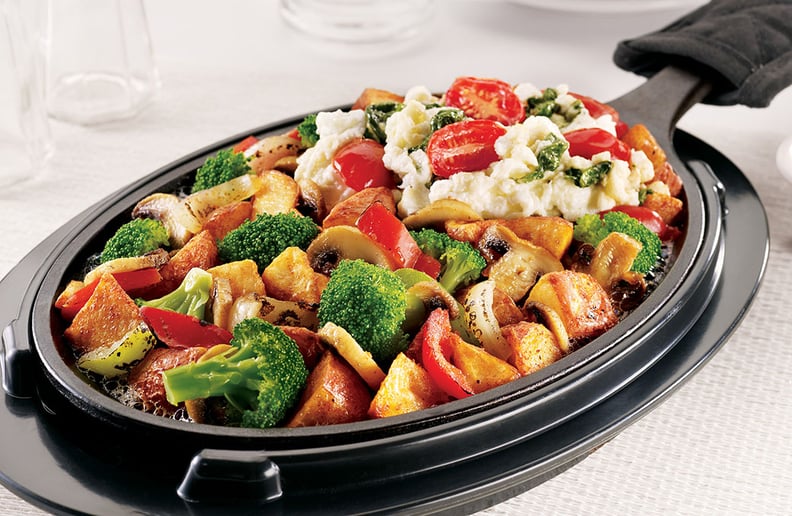 Fit Fare Veggie Skillet
Under 350 calories and loaded with vegetables, Denny's vegetarian skillet has 19 grams of protein from egg whites and vitamins galore from the broccoli, mushrooms, bell peppers, spinach, and tomatoes. You'll also get the benefits of good-for-you potatoes, including relaxing magnesium, which might loosen you up for the rest of your road trip.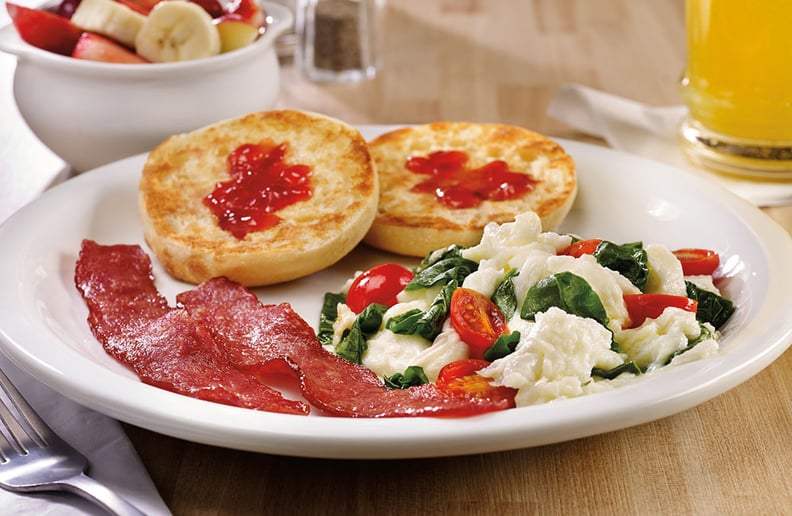 Fit Slam
While the classic Grand Slam of pancakes, bacon, eggs, and sausage will run you 49 grams of fat and 850 calories, the Fit Slam is only 10 grams of fat and under 400 calories. Turkey bacon and fruit take the place of pork bacon and sausage, an egg white and veggie scramble replaces the eggs, and pancakes are substituted with english muffins.