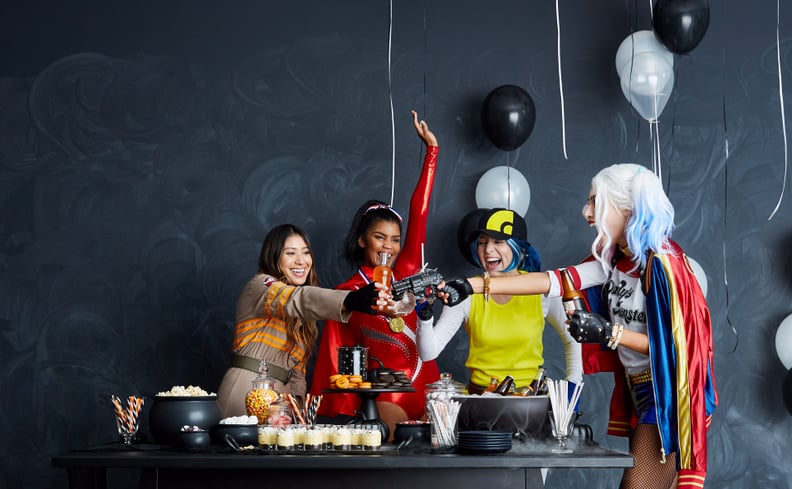 POPSUGAR Photography | Arturo Torres
POPSUGAR Photography | Arturo Torres
Partying down on Halloween isn't just for the kiddos! Adults dig ghostly decorations, clever costumes, and spookily inspired munchies, too. And the party doesn't need to be all about candy, either! If you're hosting a Halloween gathering, here are some healthy and fun appetizers you can create that scream Halloween.
Cheese Pumpkins
Using cold-packed cheddar cheese (the soft kind in a container), spoon out one tablespoon of cheese onto waxed paper. Roll it into a ball, and place on a plate. Use a toothpick to carve lines into the pumpkin, and place a quarter of a pretzel stick (I used Snyder's Organic Honey Whole Wheat Sticks) in the middle and gently press it down to slightly flatten out the pumpkins. Serve with crackers for an adorable yet healthy appetizer — one tablespoon of cheese is only 35 calories.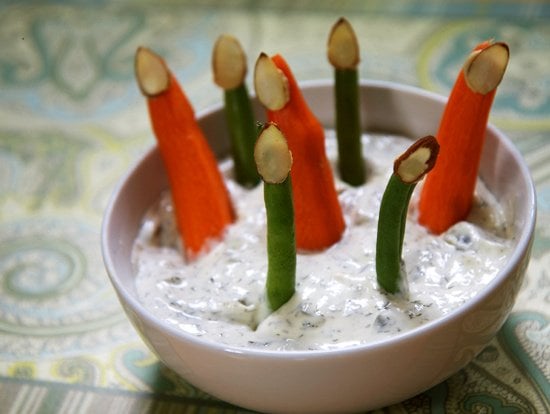 Veggie Fingers Dip
Veggies never looked so creepy. Whip up some Greek yogurt dip, and pour it into a bowl. Peel the carrots, and wash the green beans. Using a dab of hummus for glue, stick a sliced almond on each end to look like a fingernail, and serve with a side of veggies.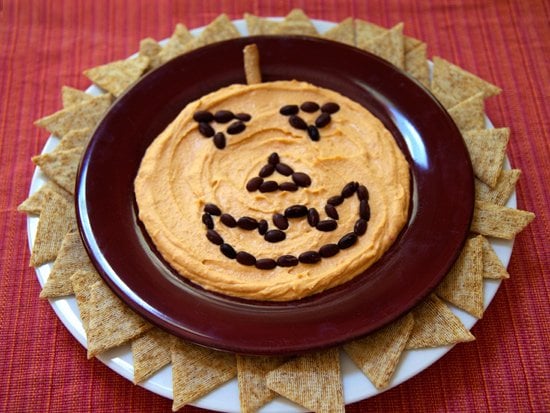 Jack-o'-Lantern Hummus Plate
If you don't have a lot of time to spend on a Halloween-inspired appetizer, this hummus plate is the one for you. Just spread a 16-ounce container of hummus on a salad plate (roasted red pepper has an orange hue). Using canned black beans (rinsed and dried with a paper towel), make a jack-o'-lantern face. Use a pretzel stick for the stem. Place the plate on a dinner plate and serve with chips, crackers, veggies, or toasted pitas. You can also make your own spicy hummus if you prefer to skip the store-bought.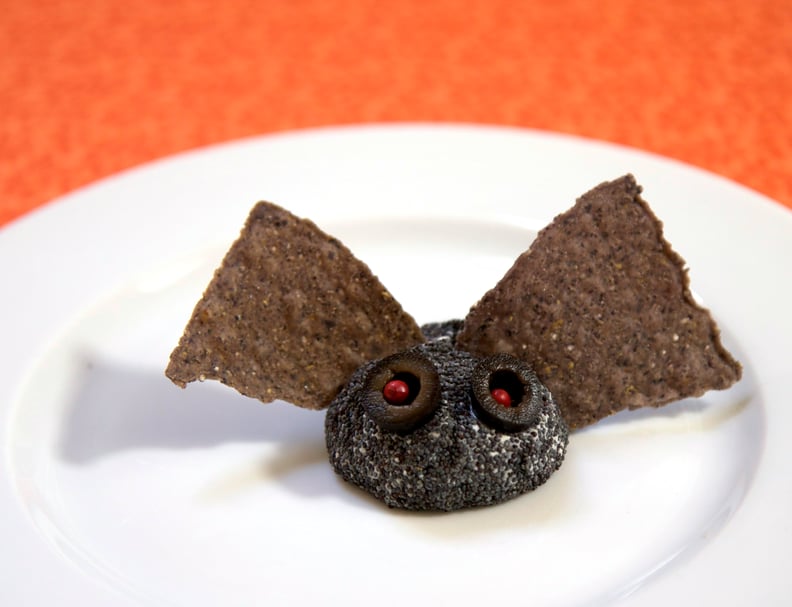 Bat Bites
Start by mixing goat cheese with cream cheese and pesto. Or to save time, use Light Boursin (one tablespoon is only 25 calories). Scoop a spoonful of cheese into a bowl of poppy seeds and roll it with the back of a spoon until the white ball turns black. Adorn with sliced olives and red peppercorns for eyes, then add blue corn chips for wings.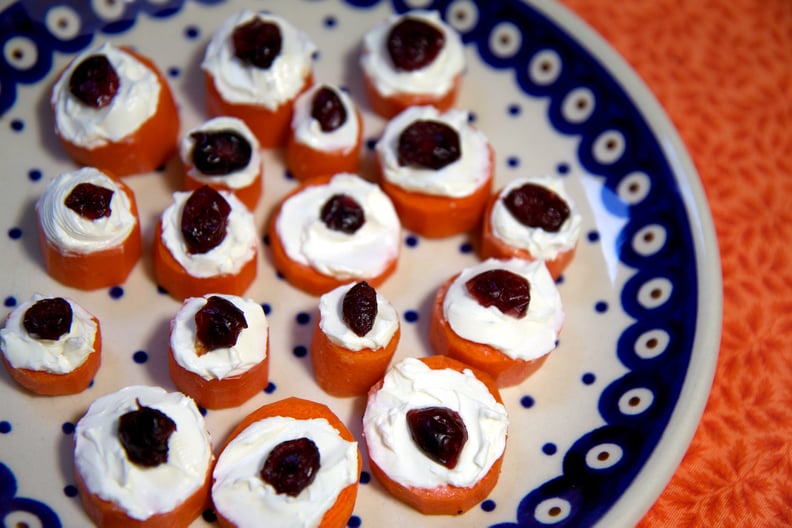 Beady Edible Eyes
This spooky twist on crudités is a cinch to make and easy for guests to pick up. Bonus: all you need are three ingredients. Slice up one big carrot, dry off one side of each slice, and smear with cream cheese. Place either an olive, Craisin, raisin, or dried blueberry in the center, and then place your beady eyes on a platter.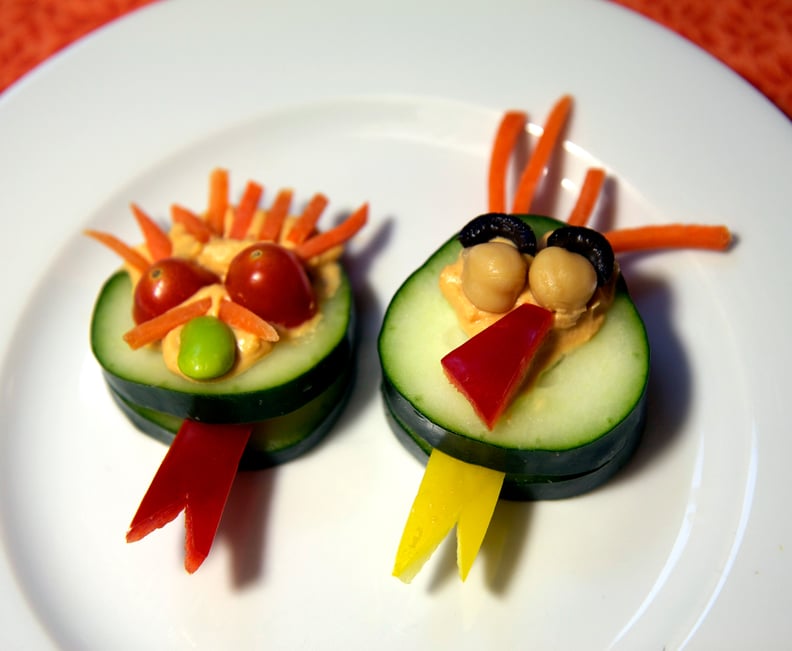 Creepy Cuke Monsters
If there are going to be kids at your Halloween party, here's a snack for them. You can either make these ahead of time, or assemble them as an activity at the party.
Cut a cucumber into thick disks. Slice each disk halfway to make an opening. Slide in a bell pepper tongue, and then decorate the face using hummus or dip for glue and veggies and beans for the eyes, nose, and hair. Have fun getting creative!
Banana Ghost Pops
Scare away your sugar cravings with this Halloween treat: banana ghost pops. Coated in coconut, this variation of the classic frozen banana will satisfy your taste buds and add some potassium to snack time.
Ghost Toast
Using foil and an oven, make these adorable little ghost toasts using slices of baguette and serving with blood-red bruschetta.