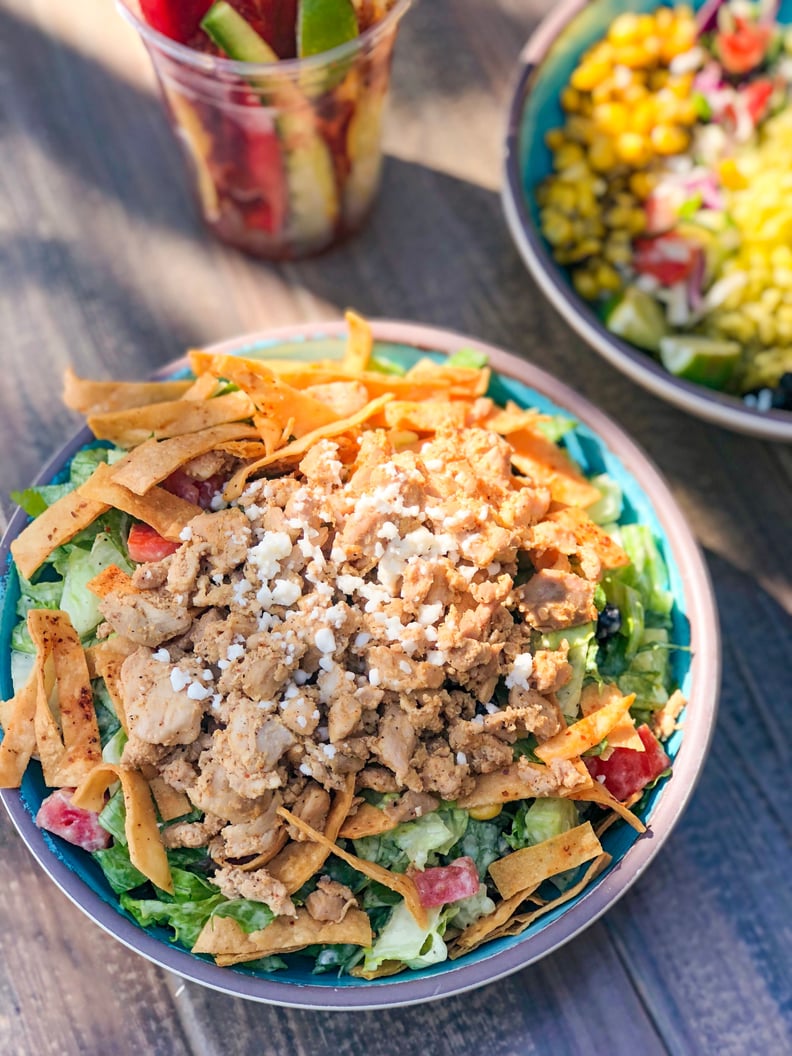 POPSUGAR Photography | Dominique Michelle Astorino
POPSUGAR Photography | Dominique Michelle Astorino
Y'all, when we're at Disneyland, we're in no position to pass up a churro or seasonal treat. But every once in a while, we tap out on all the sugar and need some veggies and protein to balance things out. If you've been in the same position and you're hoping to counteract the several Dole Whips and Mickey ice-cream bars that have become cement in your gut, then look no further!
We took a park tour with the culinary geniuses of Disneyland Resort to check out the tastiest, healthiest meals they offer — which includes vegan, vegetarian, gluten-free, and allergen-free options!
Ahead you'll find meals and snacks that are either lightened-up, plant-based, or protein-rich, but don't go thinkin' these are your only options! The happiest place on earth is jam-packed with mouthwatering meals that'll keep you on track with your health goals (or just offset that cotton candy, if that's what you need). And whether you're eating at a quick service spot or you opt for fine dining, Disney chefs can fix things up to meet your needs so you never go hungry. Now, let's eat!
— Additional reporting by Lauren Harano
01
Rancho Del Zocalo: Cauliflower Tacos
At Rancho del Zocalo, you'll find these tangy, peppery cauliflower tacos with a hearty roasted pineapple slaw, an avocado-pasilla cream, and corn tortillas. The tacos are $13 for two, served with a side of chips. And yes — they're vegan!
02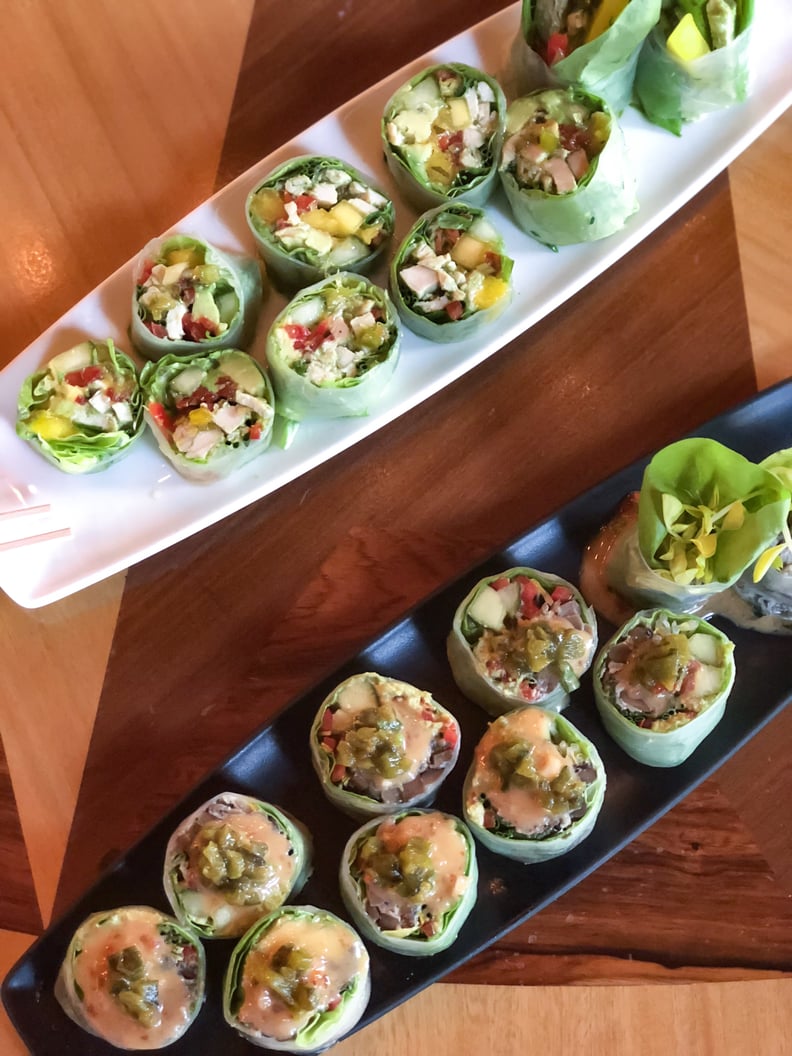 Carthay Circle Lounge: Garden Spring Roll and Adobo Chicken Roll
If you're looking for something a little more upscale, head to Carthay Circle. The fine dining restaurant has a lounge that doesn't require a reservation, where you can find these Asian-fusion style fresh rolls in rice paper wraps. Beautiful and delicious.
The Garden Spring Roll is made from hummus, portobello mushrooms, and red peppers, and topped with a "Dragon Sauce." The chicken variety is made with green papaya slaw and cashew pear sauce. Both are $16. The lounge has plenty of lighter options, so stop in here if you want to stick to your healthy eating goals without feeling deprived in the slightest.
03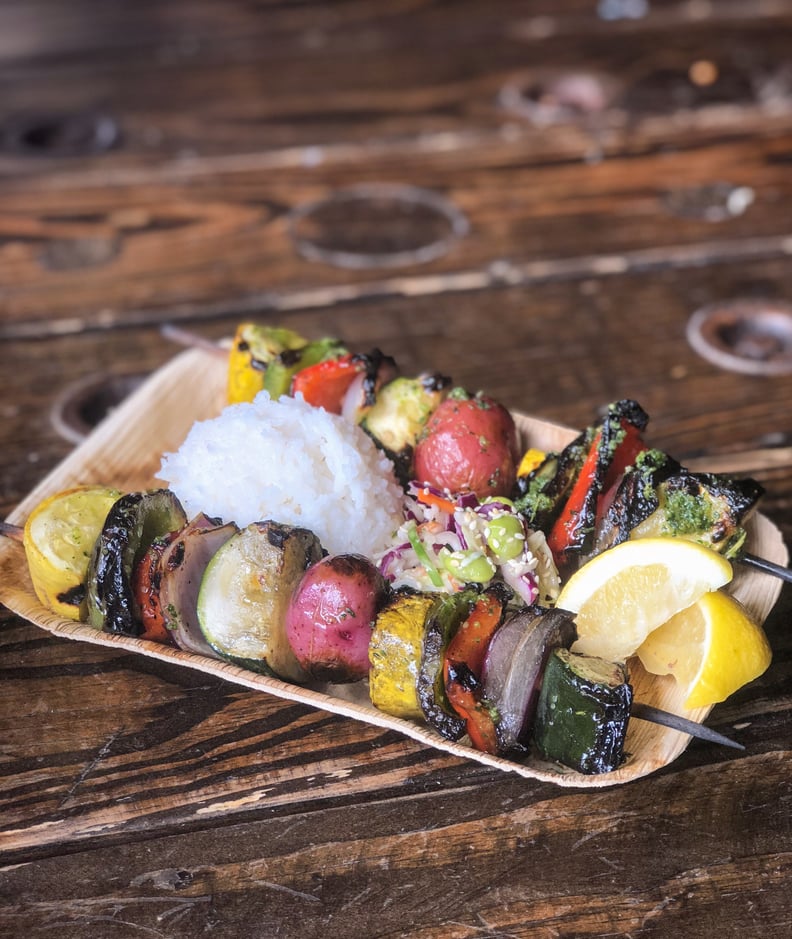 Bengal Barbecue: Bengal Plate
One of the true treasures of the park is Bengal Barbecue and its skewer plates with a fresh citrus-miso slaw. The quick-service counter in Adventureland just outside Indiana Jones and Jungle Cruise serves kebabs packed with hearty vegetables, and if you're in need of some protein, chicken! These plates will seriously fill you up thanks to the sheer volume of food (and that scoop of rice). They're $17, and you can get them on mobile order with the Disneyland app to skip the line.
04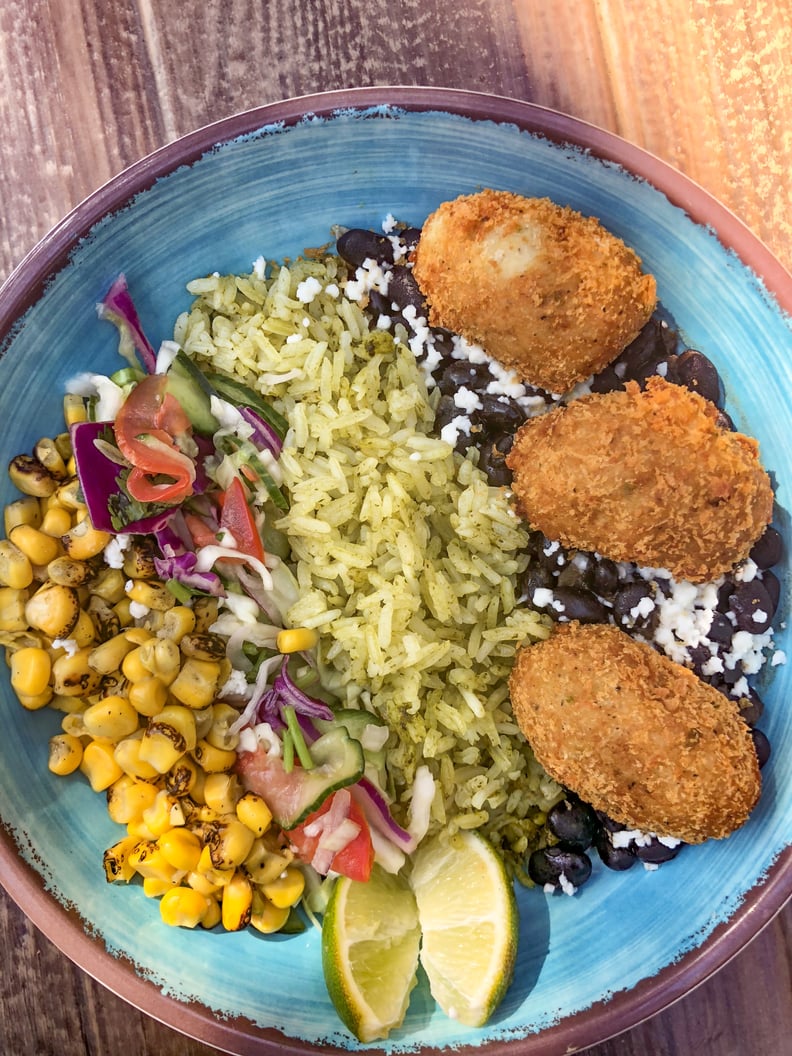 Cocina Cucamonga: Cocina Bowl
Holy yumminess. If you're in the mood for Mexican, head yet again to Disney's California Adventure at the Pacific Wharf, and try your hardest to choose from the exceptionally delectable healthy options on Cocina Cucamonga's menu.
The Cocina Bowl can come with different protein toppings, but we opted for potato cakes to try something plant-based. This $13 dish is so filling, you'd have to have a serious appetite to finish it, but it's so tasty we wouldn't put it past you. The bowl you see here is full of roasted peppers, fiber-packed Epazote black beans, lime rice, corn, limes, and a little cotija cheese.
05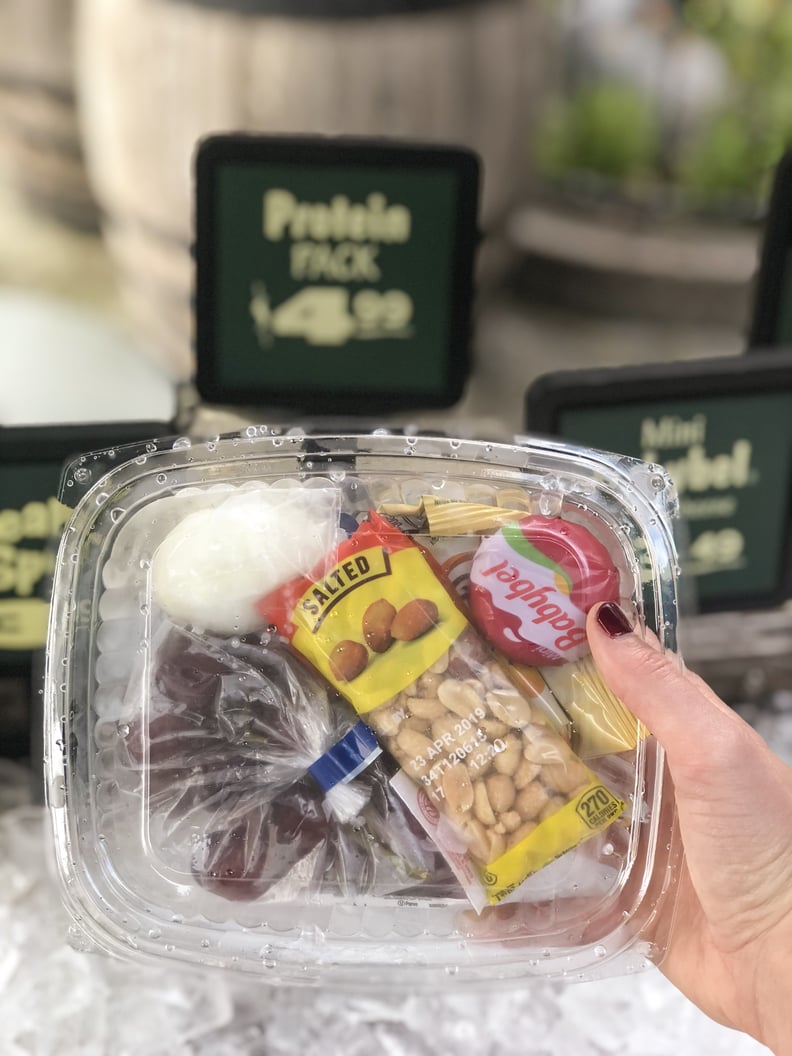 Throughout the Park: Protein Packs
Like your favorite Starbucks Bistro Box, but cheaper! These protein-packed boxes are available throughout the parks at snack carts for $5. Inside you'll get a hard-boiled egg, peanuts, Babybel cheese, grapes, and Goldfish crackers. If you're looking for a lot of high-protein bang for your buck, definitely grab one of these.
06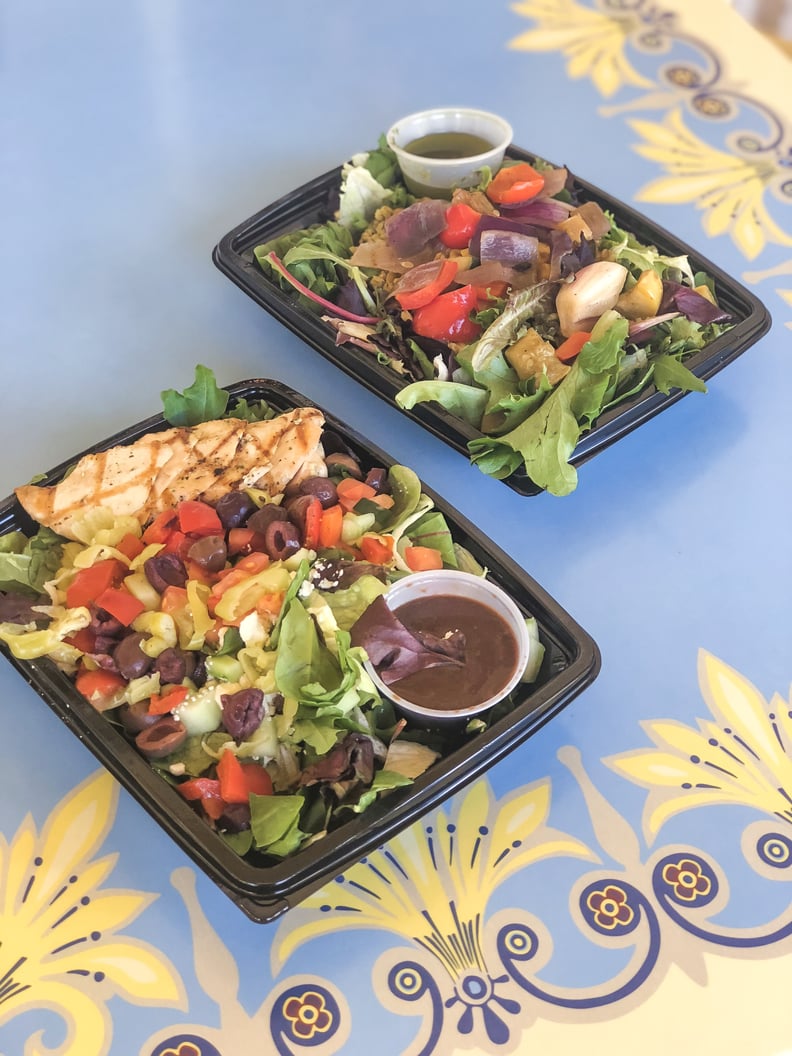 Jolly Holiday Bakery Café: Grilled Vegetables and Whole-Grain Salad
Jolly Holiday is one of the easiest places to find a healthy meal in the park . . . all for under 10 bucks! And if you're in the mood for a great salad, these will certainly hit the spot. They do not skimp on toppings here — whether you get the Grilled Vegetables and Whole-Grain Salad ($9, right) or the Jolly Holiday Salad ($8, not pictured), you won't leave hungry.
The grilled veggie salad is served with a hefty portion of barley and spelt that'll keep you full; and the Jolly Holiday has dried cranberries, raspberry vinaigrette, and spiced pecans that make it anything but a boring old house salad.
07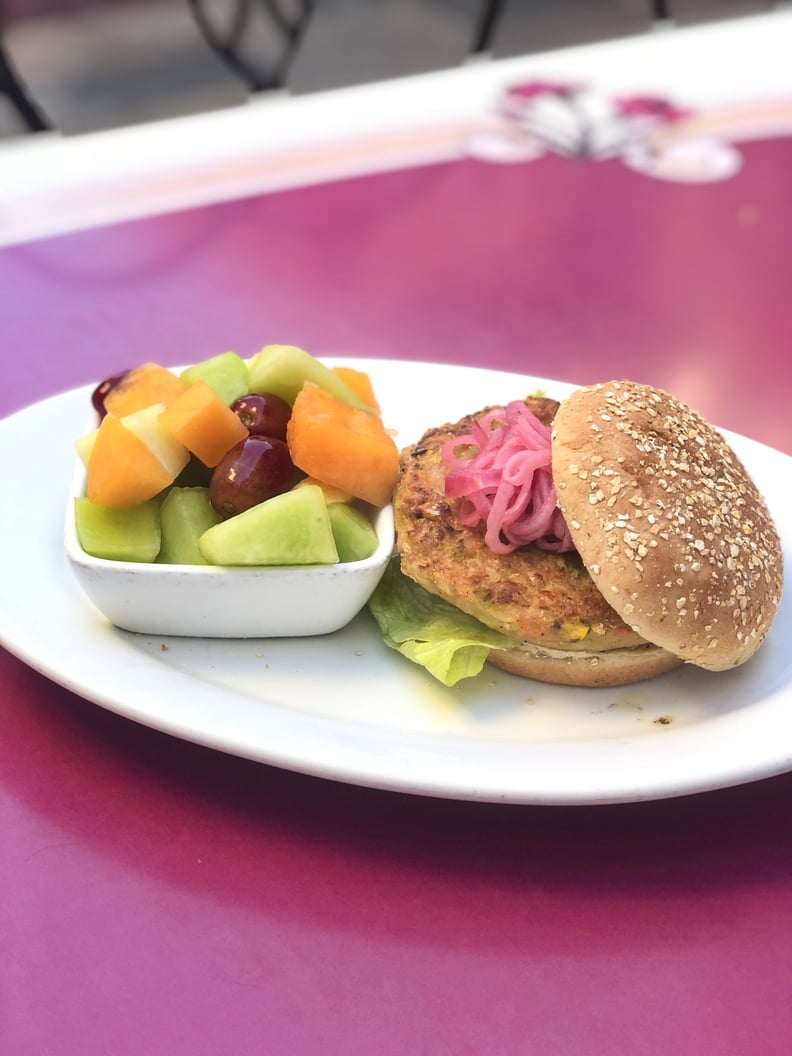 Carnation Café: Chef's Vegan Burger
Stroll down Main Street USA to the classic Carnation Café to find a seriously delish plant-based burger. You'll get old-school diner vibes with a modern health-conscious twist thanks to the Chef's Vegan Burger, made from beans and veggies. Topped with tomatoes, lettuce, pickled red onions, and a vegan chipotle mayo, and served on a wheat bun with a side of fruit, this meal is totally vegan-friendly (and exceptionally tasty). And it's under $15!
If you're not vegan but still looking for something fresh and light, definitely try the Romaine Salad With Shrimp ($17) or Spinach Salad With Grilled Chicken ($15).
08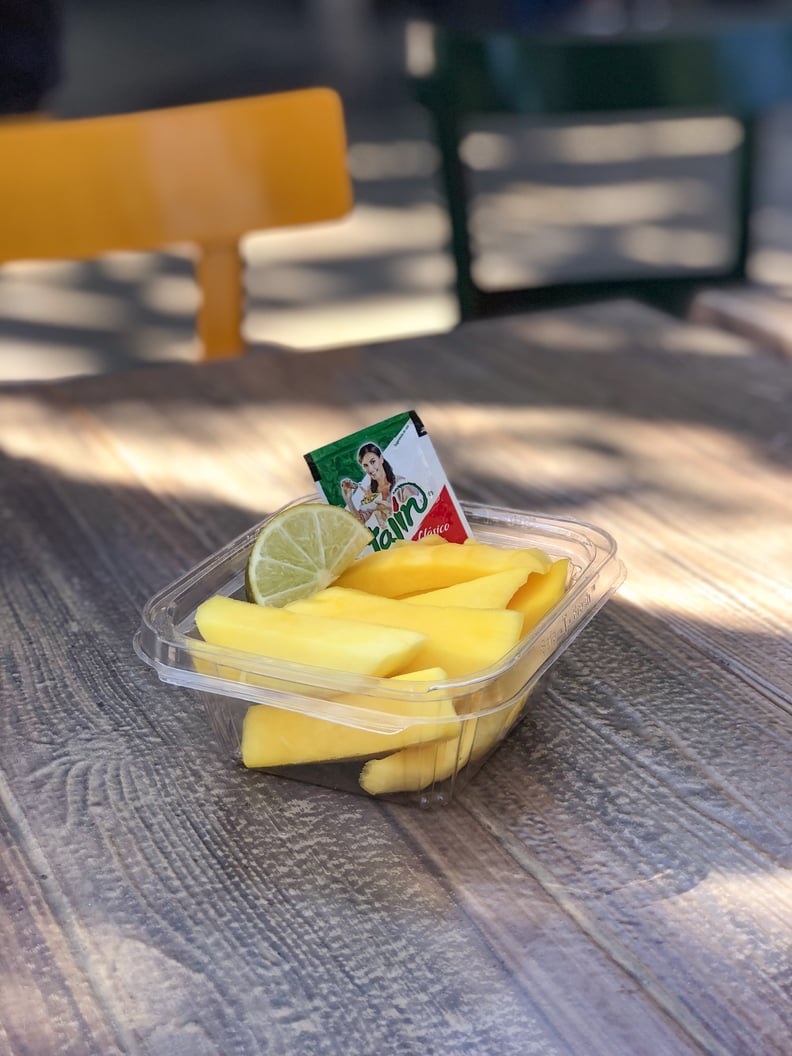 Throughout the Park: Fresh Fruit
Whether you like mango with Tajín, fresh watermelon, oranges, apples, or pineapple spears, the parks are packed with fresh fruit. Our favorite is the box of mango spears with lime and Tajín; it makes for an awesome on-the-go snack with a kick of fresh, spicy flavor. Grab one for $4 to satisfy a sweet tooth and savory craving all at once.
09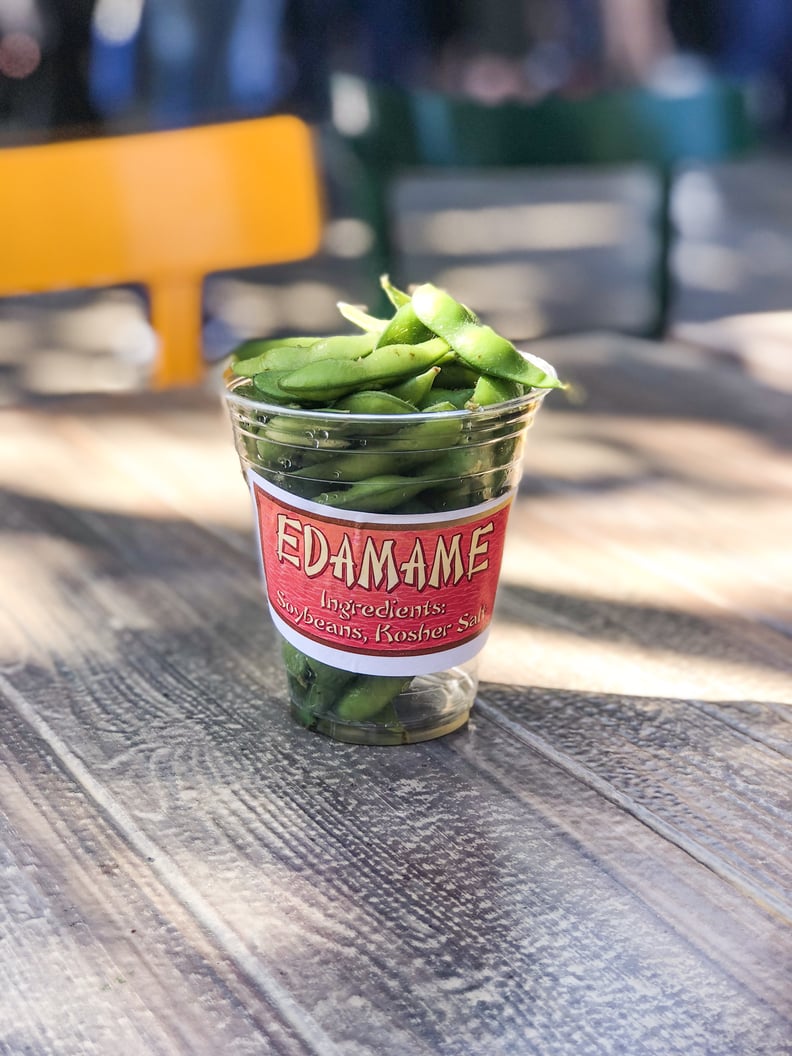 Lucky Fortune Cookery: Edamame
For under $4 you can get a large serving of delicious, plant-based protein. At the Lucky Fortune Cookery in Disney's California Adventure, grab an edamame snack cup — it'll keep you fueled for all your park hopping.
10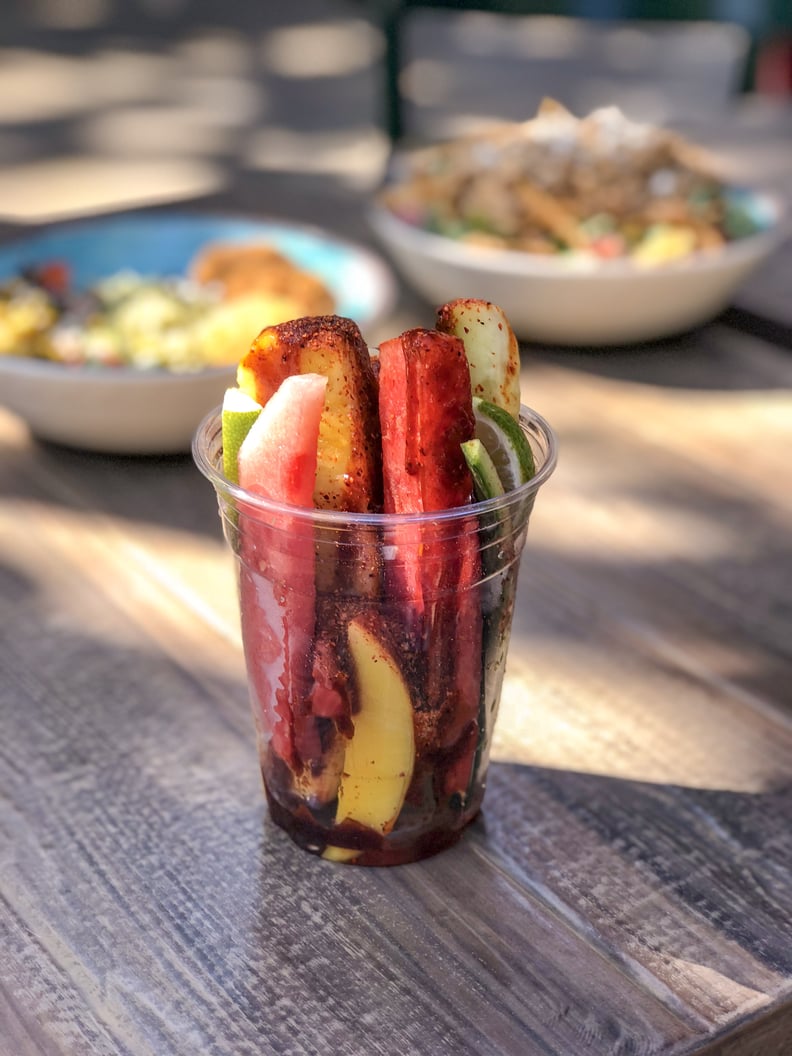 Cocina Cucamonga: Ensalada de Frutas
This $6 fruit salad is out of this world. With a Chamoy and chili-lime salt topping, the combo of sweet and crunchy fruits like pineapple, watermelon, cucumber, and jicama will keep you hydrated and satisfied, for very few calories.
11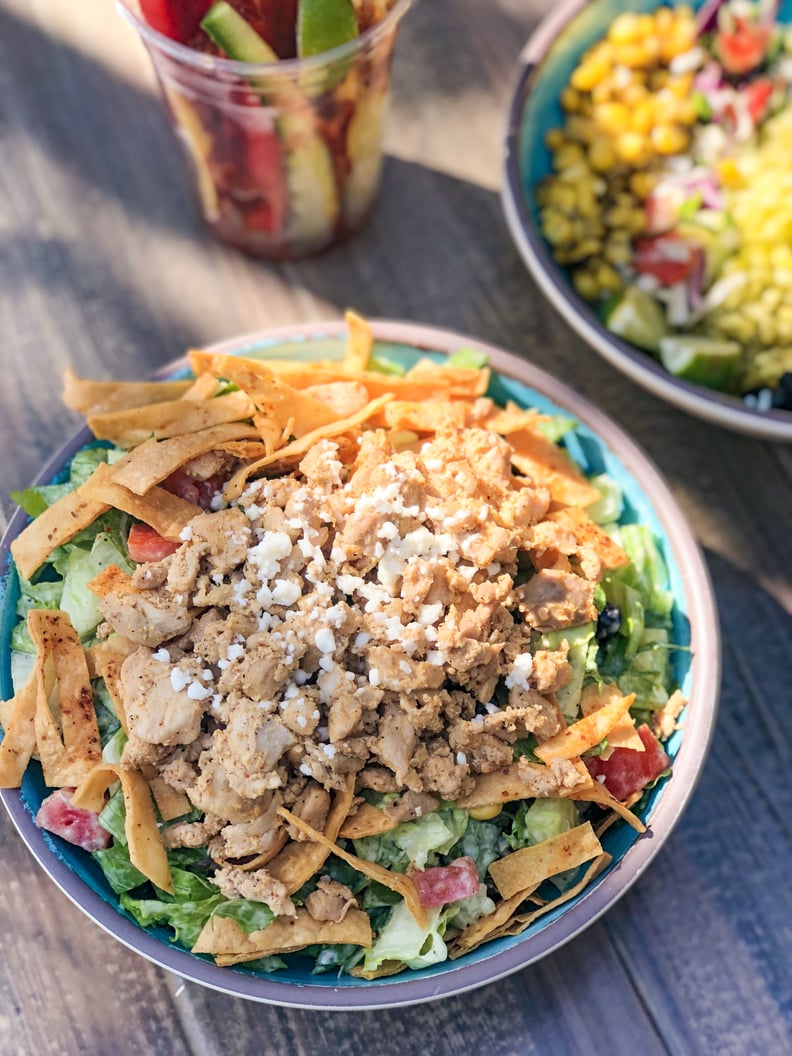 Cocina Cucamonga: Ensalada con Pollo
This ain't your ordinary chicken salad, friends. The citrus-marinated chicken is legitimately phenomenal, and the avocado-cilantro dressing takes this dish over the top. It's kind of crazy to feel this excited about eating healthy at Disneyland, but the chefs really know what they're doing. This salad is only $10 and has so much chicken on it you won't feel hungry for hours.
12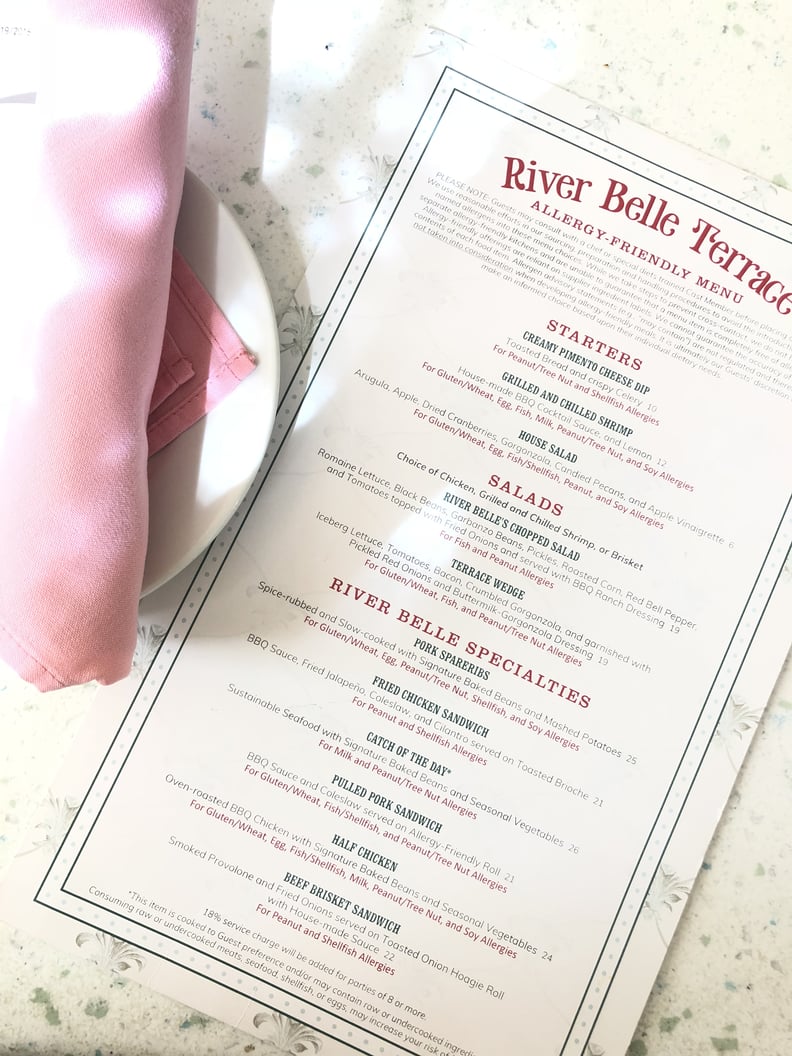 Throughout the Park: Allergy Menus
This isn't even all of it, folks! If you're allergic to gluten, soy, nuts, etc., you'll be pleased to know that this park is particularly allergy-friendly.
Ask any server at a sit-down restaurant for an allergen menu that will guide you through safe choices. If you're ordering from quick service, a Disney chef will come to the front to chat with you about the best options that will keep you safe and healthy. They're more than willing to accommodate even the trickiest of dietary restrictions.
And while we've listed off some of our favorite meals, there are tons more to try! Across the resort you'll find salads, lean proteins, gluten-free dishes, and more and more creative plant-based alternatives for vegan Disney fans.
So there you have it; you don't have to hold back when it comes to treats, but you can feel better knowing you can keep everything in check with these fresh, light, super tasty options, too. Enjoy!