Hilary Duff Quotes on Her Period and Period Poverty
Hilary Duff and Period Activists Are Fighting to Normalize the Convo Around Menstruation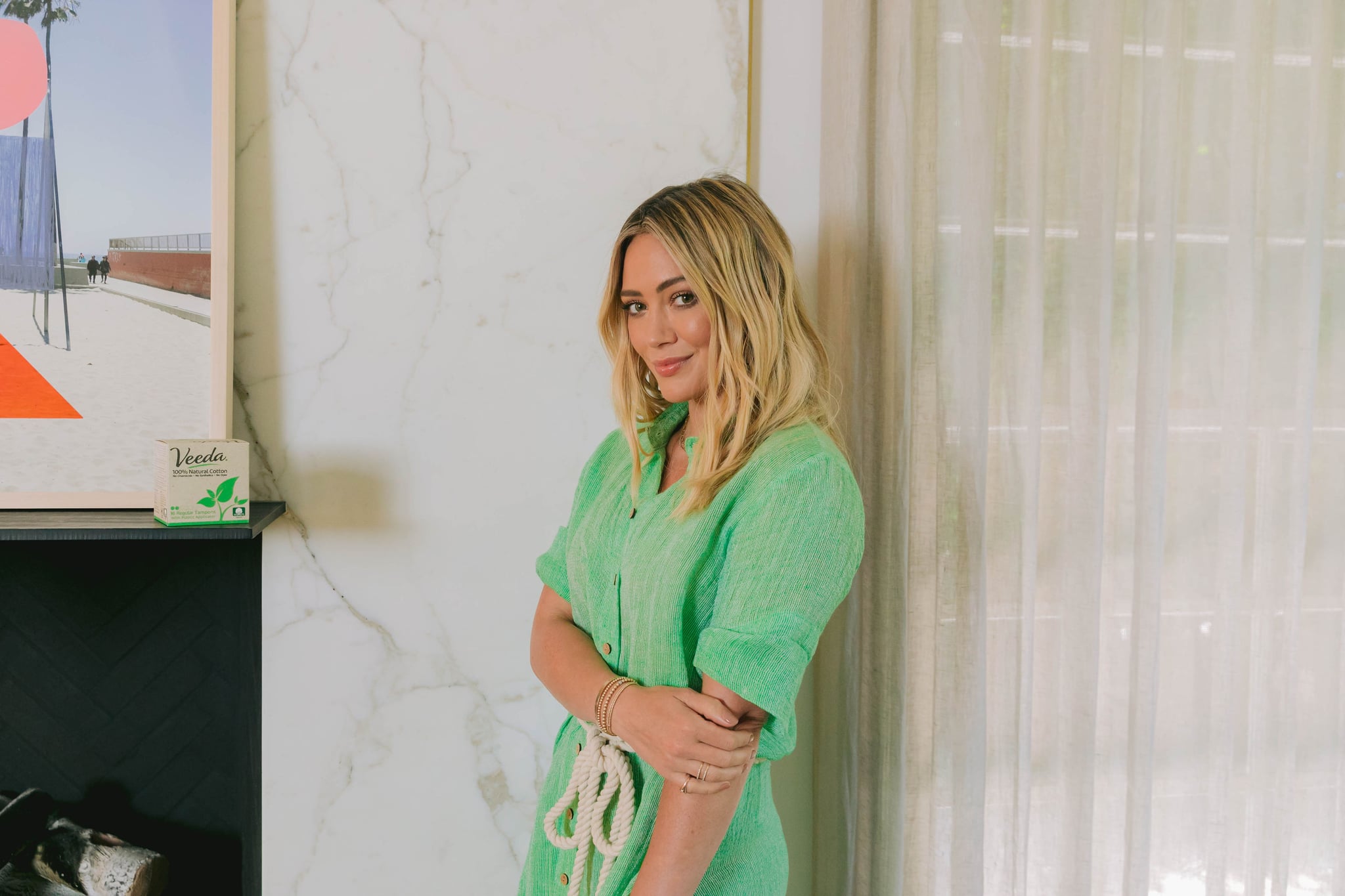 Editor's Note: We at POPSUGAR recognize that people of many genders and identities have periods. For this particular story, most of the surveys and studies we refer to, as well as some of the sources whom we interviewed, generally referred to people with periods as women and girls.
If you've gotten a period, think back to your very first one and how it made you feel. If you were embarrassed or ashamed, you're not alone. In a 2017 survey conducted in the United States by Thinx, 58 percent of women said they experienced embarrassment for being on their periods and 42 percent have been subjected to "period shaming." Research also finds that this shame starts early on. What has society taught us? To hide our tampons and pads, to feel inferior when we're menstruating, and to stay mum about the topic — and that has to change.
Hilary Duff, for one, said she remembers learning how to conceal the fact that she was menstruating — it was a seemingly "important" lesson, she recalled. The mother of two told POPSUGAR via email, "When I have the conversation with Banks when she's old enough, I would like to have her take more pride in what's happening to her body and explain to her why we have a period in detail. And most importantly, make sure she doesn't feel weird or different because of what's happening to her body, mind, and emotions."
It took Duff about 10 menstrual cycles to feel as though her period was more "normal," at which point she started to accept it and "think it was cool." She said she doesn't remember her parents talking to her about her period, nor does she remember delving into menstruation in school. But, she said her sister, Haylie, helped prepare her for that first time having a period at age 12 or 13; the day it happened, Duff had friends over to swim while her parents were out antiquing, and she said she screamed at everyone to leave.
Duff is the chief brand officer of Veeda, a company that makes all-natural, cotton-based period products, and she spoke about the brand's partnership with nonprofit organization Period, which is devoted to dismantling period poverty and mitigating its effects. From Oct. 10 through Oct. 25, for every Veeda subscription box sold, one will be donated to a person in need.
Period poverty, the lack of access to affordable menstrual products as well as inadequate menstruation education, both driven largely by stigma around periods, is nothing new. Globally, "at least 500 million women and girls lack a private place to change their sanitary protection" while on their periods, according to UNICEF. Though illegal, women in Nepal are still banished to huts when on their periods, a fact that Duff pointed to and said was devastatingly unacceptable.
Gabriela Lopez-Castillo, a college senior from Period's Youth Advisory Council, told POPSUGAR, "For a lot of people like students, low-income and homeless women and girls, transgender and nonbinary individuals, and those who are currently in prison, they all struggle with period poverty, whether it be for economic reasons that they're not able to afford them, for access reasons where they're not given the proper amount of products, or because they're not given the most hygienic products in their situations."
"I don't want any young person going through puberty and going through menstruation to ever feel like they can't speak about their biological functions with the dignity and grace and respect that it deserves."
Fact: in 2016, New York City became the very first city in the US to require free menstrual hygiene products in public schools, prisons, and homeless shelters (two years later, New York public schools across the state followed suit). What's more, 84 percent of teens in the US have either missed class or know someone who missed class because they didn't have access to necessary products, and an estimated 20 percent of girls in India drop out of school altogether after they hit puberty. Lopez-Castillo said that though progress has been made in schools specifically, there's still work to be done (read what other activists have to say about this here).
Lopez-Castillo stated that "when we think about period equality, we need to make it a human right," where access and education are equitable for everybody (aka, menstrual equity). Aside from addressing accessibility, we need to continue to push for the normalization of discussing periods, she said.
Growing up, Lopez-Castillo rarely talked about menstruation with peers at school — and even with her family and friends. "I shouldn't have had to be ashamed, and I shouldn't have had to have been embarrassed," she noted. "Although I can't help that I went through that when I was younger, I don't want any young person going through puberty and going through menstruation to ever feel like they can't speak about their biological functions with the dignity and grace and respect that it deserves."
Duff stressed that it's everyone's job to normalize these conversations — "the mom, the dad, the brother, and the sister. Everyone needs to normalize it and take the stigma away from it." Lopez-Castillo agreed. "When we end these stigmas surrounding menstruation, that's crucial to ending period poverty," she said. "When we normalize the topic of periods and being able to speak about it freely with our peers and within our community, we'll be able to normalize it so much so that it will become more of a priority in our communities and our legislative bodies and for eradicating it as a whole."
Image Source: Courtesy of Veeda and Laura Moll