Full-Body Fitness Quickie: 20-Minute Cardio HIIT Workout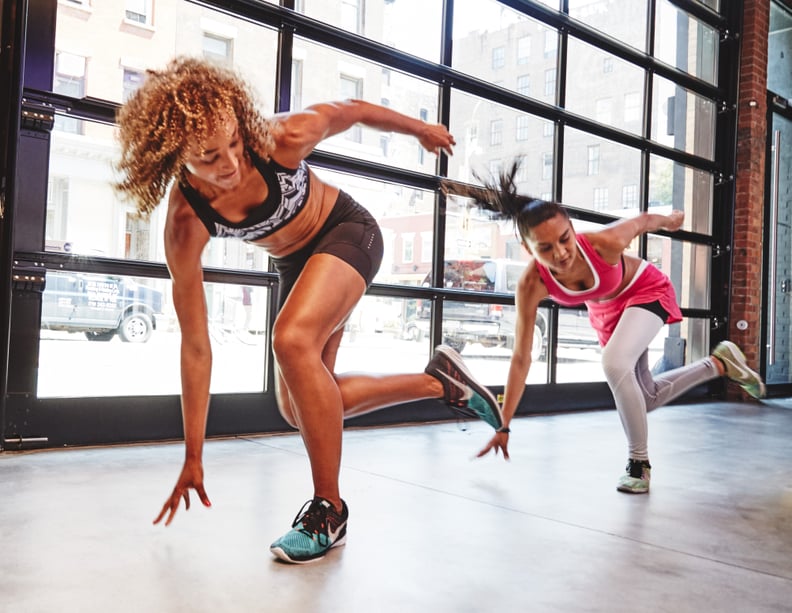 POPSUGAR Photography | Benjamin Stone
POPSUGAR Photography | Benjamin Stone
This killer HIIT workout will burn major calories while cutting some seriously sleek abs. By mixing plyo moves with core-centric planks, we keep your heart rate up and your entire body working with every move. And let us remind you, HIIT workouts are designed for you to push yourself and go at 90 percent of your personal max (emphasis on personal, you be the judge of your exertion level — but you do get rest periods! And to time those rest periods, we recommed the Simple Interval Timer app. It's free and easy to use.
Directions
Warmup: Do each warmup exercise for 30 seconds, and repeat the warmup circuit a total of three times. Then take two minutes to work out any kinks you're feeling with some dynamic stretches for you quads, hamstrings, hips flexors, and shoulders.
Workout: Repeat each three-exercise circuit twice; perform each exercise for 40 seconds and rest for 20 seconds before moving to the next exercise. Rest one minute between the circuits.
Cooldown: Take three minutes to stretch your legs and shoulders.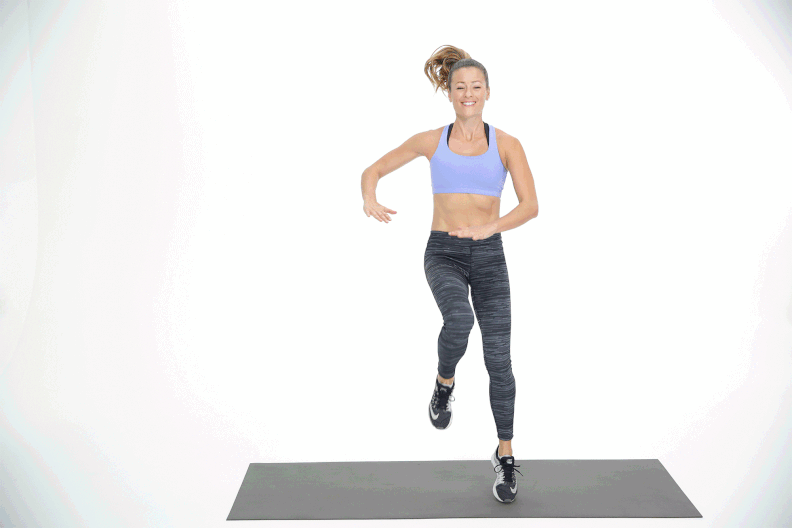 Warmup: Knees and Toes
Start with two high knees, bringing your right knee to your left hand, then your left knee to your right hand.
Now rotate your right knee slightly outward to bring your right ankle to your left hand, then your left ankle to your right hand.
Continue in this alternating pattern for 30 seconds, then head to the floor for plank jacks.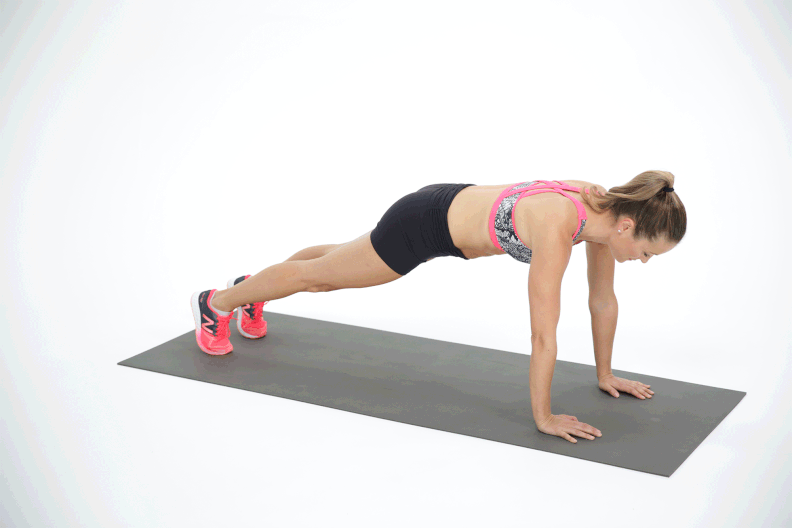 Warmup: Plank Jack
Begin in plank position, with your shoulders over your wrists, your body in one straight line, and your feet together.
Like the motion of a jumping jack, jump your legs wide and then back together. Jump as quickly as you want, but keep your pelvis steady and don't let your booty rise toward the ceiling.
Do for 30 seconds then get ready for 180 jumps.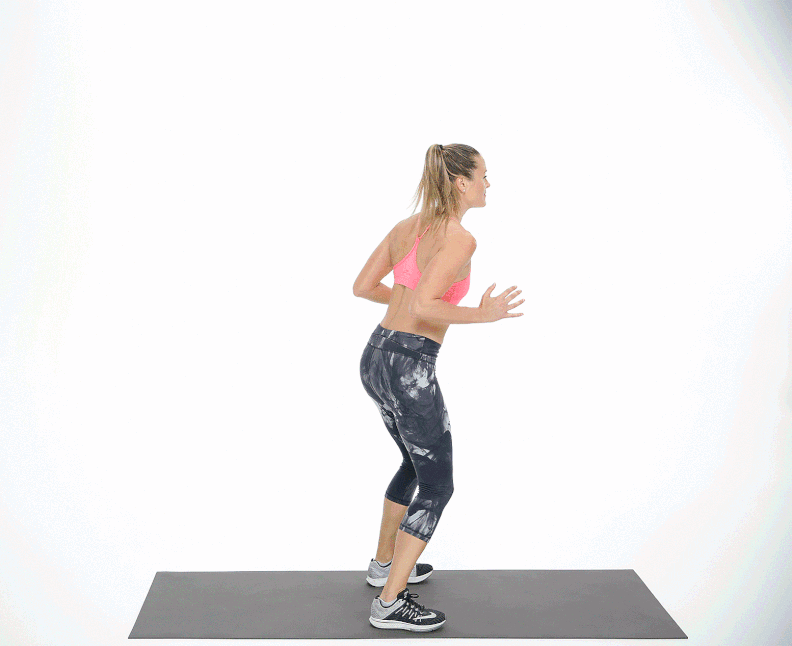 Warmup: 180 Jump
Begin facing the left side of your mat (or space) with feet hip-distance apart, core tight, slightly hinged at the hips.
Jump 180 degrees to your right, keeping your elbows near your rib cage and hands in front of you for balance.
Jump 180 degrees to your left; make sure to be light on your feet, moving quickly.
Repeat, jumping back and forth for 30 seconds. Then start your next round of knees and toes.
Do three rounds of the warmup circuit, followed by two minutes of dynamic stretching.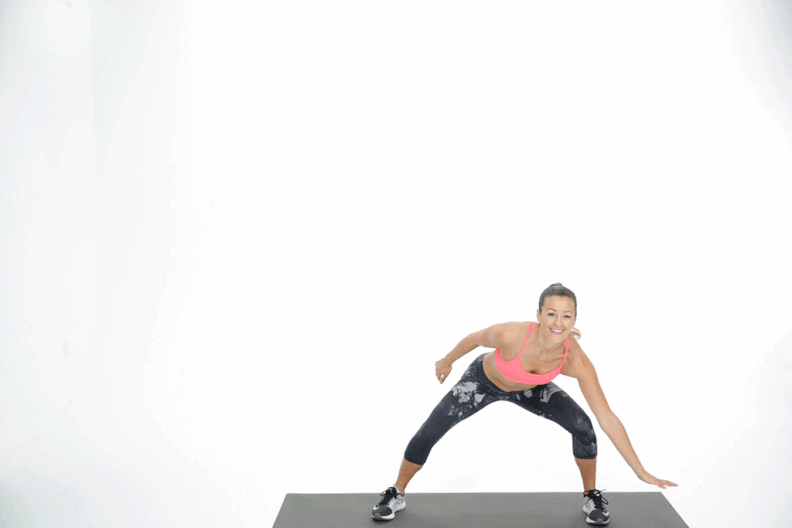 Circuit One: Jump Shot
Start at the left edge of your mat and take a big step to the right, moving through a low, wide squat, sweeping the mat with your left hand.
Bring your left foot to your right, coming into a narrow squat. Jump straight into the air and "take a shot" with your right hand. Don't forget to follow through by straightening your elbow and flicking your wrist as if you were shooting a basketball.
Land softly with your feet parallel. Keeping your knees bent, step the left leg wide to the side to repeat the entire sequence on the other side. The side-to-side movement should be fluid and controlled.
Continue to take jump shots for 40 seconds. Rest for 20 seconds then get ready to plank.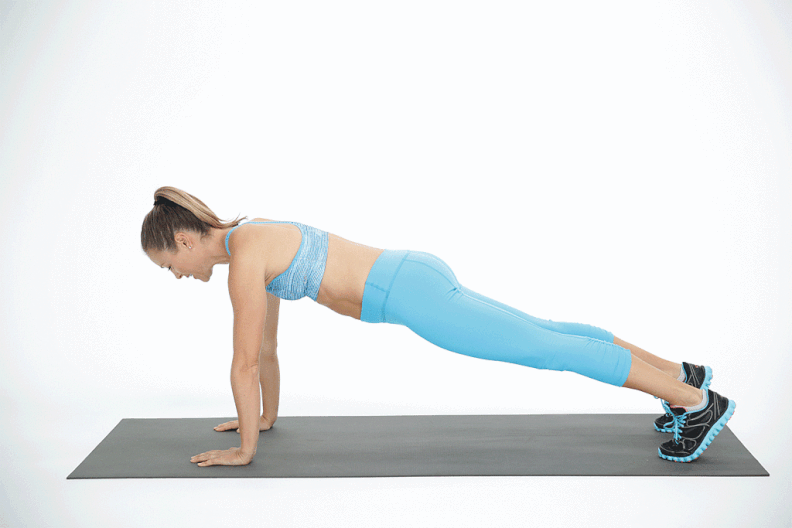 Circuit One: Alternating Two-Point Touch
Start in a plank position with your hands directly under your shoulders and your feet in line with your hips. Lift your left leg off the ground so your heel is even with your pelvis.
Keeping your torso stable, bring your right elbow to your left knee under your body. Do not round your back or twist your spine, and keep your pelvis down. Then reach the arms and leg out and away from each other.
Repeat on the other side, keeping the movement steady and controlled.
Continue alternating sides for 40 seconds, and feel free to take a Child's Pose during your 20 seconds rest before moving on to jumping lunges.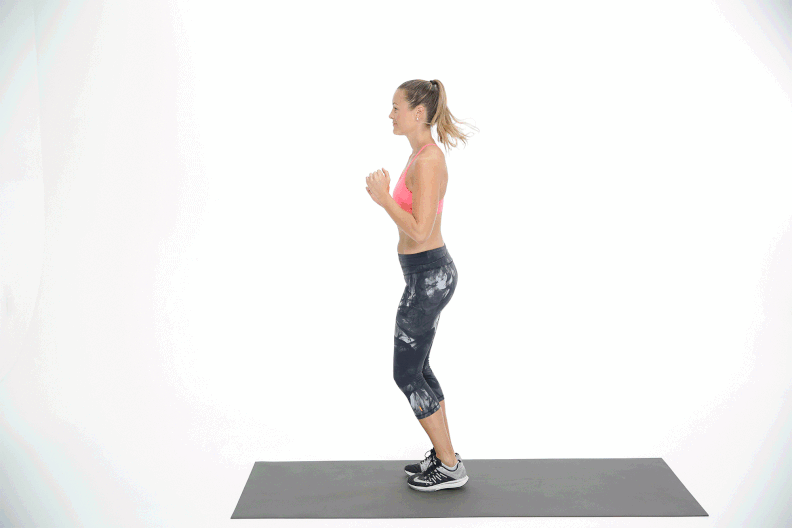 Circuit One: Jumping Lunges
Stand with your feet together and your knees soft.
Jump and come into a lunge with your left leg forward.
Push off with both feet, jumping them together, then hopping into a lunge with your right leg in front.
Continue alternating sides for 40 seconds, then rest for 20.
Do two rounds of this circuit, and rest for one minute before starting the second circuit.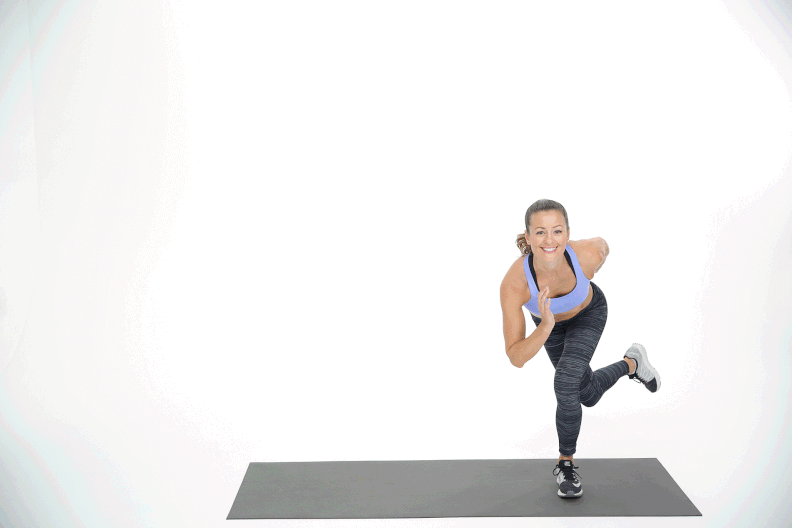 Circuit Two: Side Skaters
Start in a small squat.
Jump sideways to the left, landing on your left leg.
Bring your right leg behind to your left ankle, and don't let it touch the floor.
Reverse directions by jumping to the right with your right leg. Continue alternating sides for 40 seconds, then rest for 20 seconds before coming to side plank.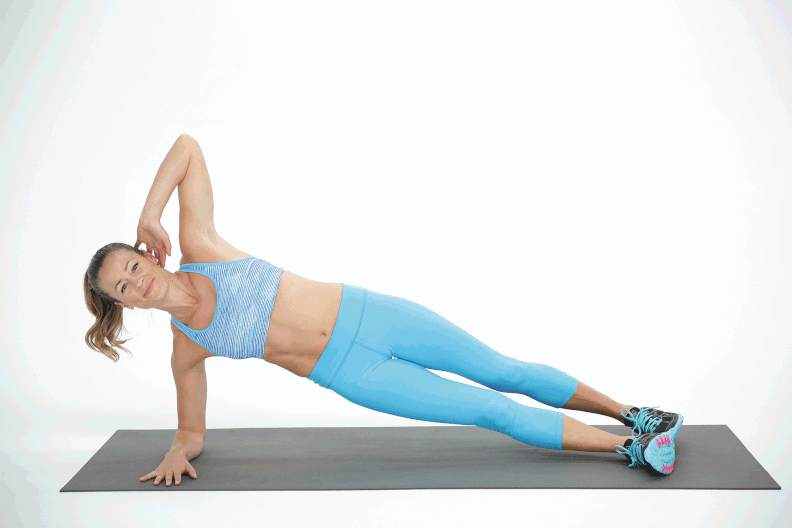 Circuit Two: Side Plank March
Lie on your side with your body in a straight line and your elbow under your shoulder. Your feet should be staggered with the foot of the top leg in front.
Lift your hips off the ground, creating a straight line from shoulder to ankle.
Bring your bottom knee toward your chest, and hold for two seconds. Place your foot on the ground and raise your top knee toward your chest and hold once again for two seconds before returning to starting position. Do not sway forward or backward or let the rib cage sag while marching in this position.
Continue marching for 40 seconds, then rest for 20 seconds and get ready for 180 jump squats.
Do this exercise right side for the first round, and then do on the left for the second round.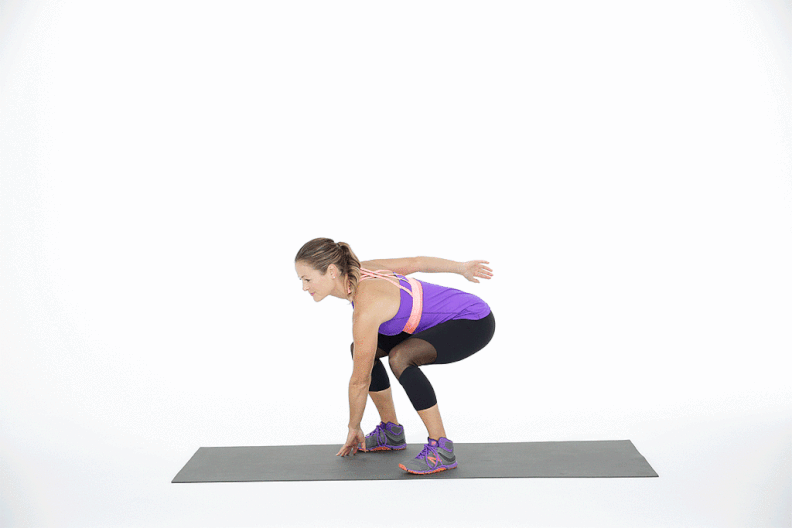 Circuit Two: 180 Jump Squat
Start in a deep squat with your legs a bit wider than your hips and your toes pointed outward. Twist your torso to the right, reaching your right hand to the ceiling and your left hand toward the floor.
Jump up, spinning to the left 180 degrees (halfway around), bringing both hands overhead. Land softly in a deep squat, twisting your torso to the left, with the left hand reaching toward the ceiling and the right hand toward the floor.
Repeat, but reverse directions so you jump spinning to the right and go back the way you came. This completes one rep.
Repeat for 40 seconds; rest for 20 seconds.
Do two rounds of this circuit, then take three minutes to stretch for a cooldown. Be sure to give yourself a high five for a job well done, too!