Sleep is the foundation upon which all other aspects of health rest. Think about it: the more sleep you get, the stronger your immune system will be and the better chance you have of staving off infection. You can help reduce your stress levels and cortisol, thus improving your overall mental and physical health, all by catching regular, sound zzz's. You improve your mood and energy, which propels you through workouts. And when you're solidly rested, you're more likely to make healthier dietary choices, which will improve your nutrition overall.
Pretty wild how one thing has such a profound butterfly effect, right? So, how can you go about improving your sleep? We've gathered up some helpful hacks, tips, and tricks that will help you make a good night's sleep as regular as your eating, breathing, and teeth brushing.
01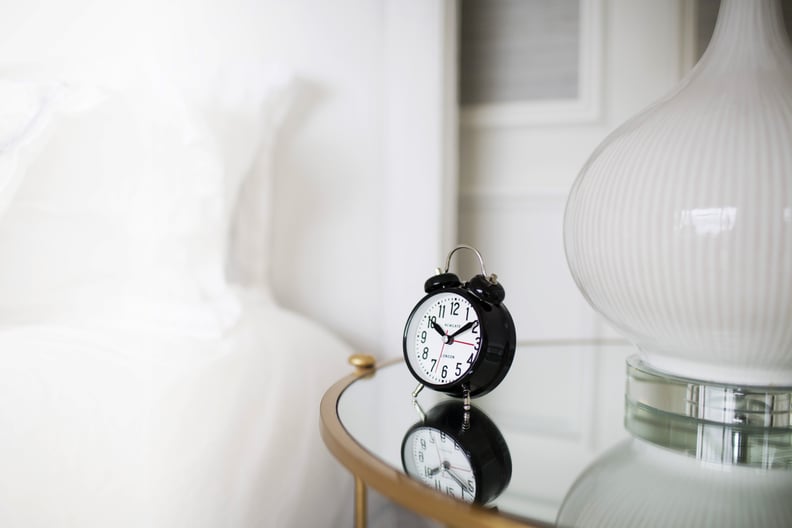 Set a Bedtime
Step one: you'll want to set a bedtime. This will keep things consistent for you and remind you to start preparing for a night of restful sleep each evening.
Conor Heneghan, PhD, is Fitbit's sleep researcher and director of research and algorithms — and he emphasized this emphatically. "It's important to keep a consistent sleep cycle. Shifts (like daylight saving and travel) can impact our schedule, so it's essential to find a routine that helps keep your body on track," Dr. Heneghan told POPSUGAR.
"One significant source of variability is called 'social jet lag,' brought on by the shift in sleep schedules experienced on weekends versus workdays, which can impact your sleep schedule," he continued. "Fitbit found correlations between bedtime consistency and social jet lag, impacting an estimated two-thirds of the population."
02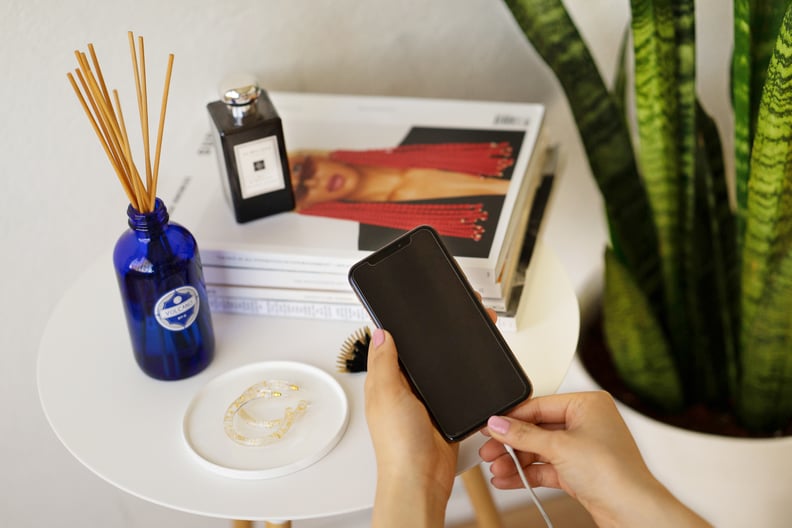 Avoid Screen Time
OK, so you've heard this a thousand times at minimum, but you know it's true. Screen time before bed disrupts the circadian rhythm and makes it difficult for you to fall asleep. Avoid the phones and tablets and TVs and laptops (we know, that means no late-night Netflix bingeing) for at least an hour before bed. It'll help significantly.
"Artificial lights and screens can offset your sleep cycle and confuse the body on when to go to sleep," said Dr. Heneghan. "Darkness is essential for the body to wind down, including shutting down electronics to make your bed a sleep zone."
03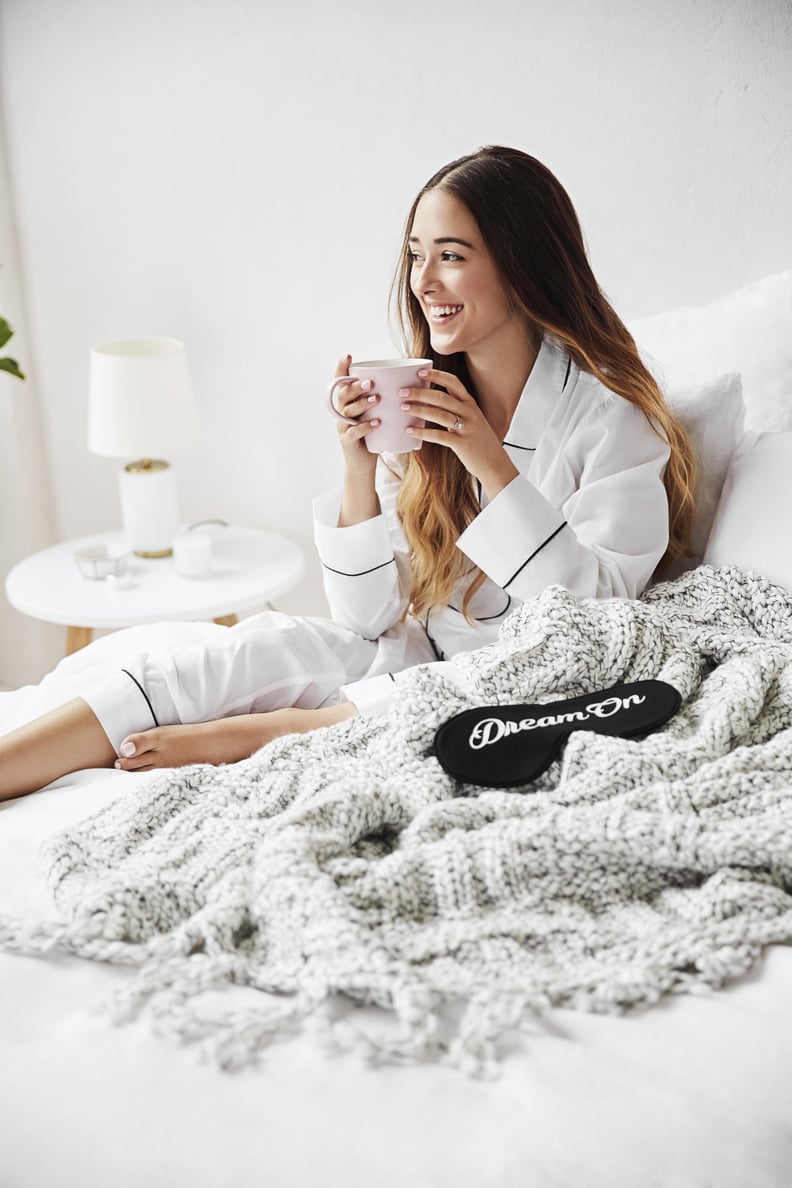 Create a Wind-Down Routine
Warm showers improve your body's ability to get into a restful state, and creating a routine for yourself — whether that's doing your skincare, lighting a candle, meditating, or gratitude journaling — can also help your brain be better prepared for a deep and peaceful slumber.
04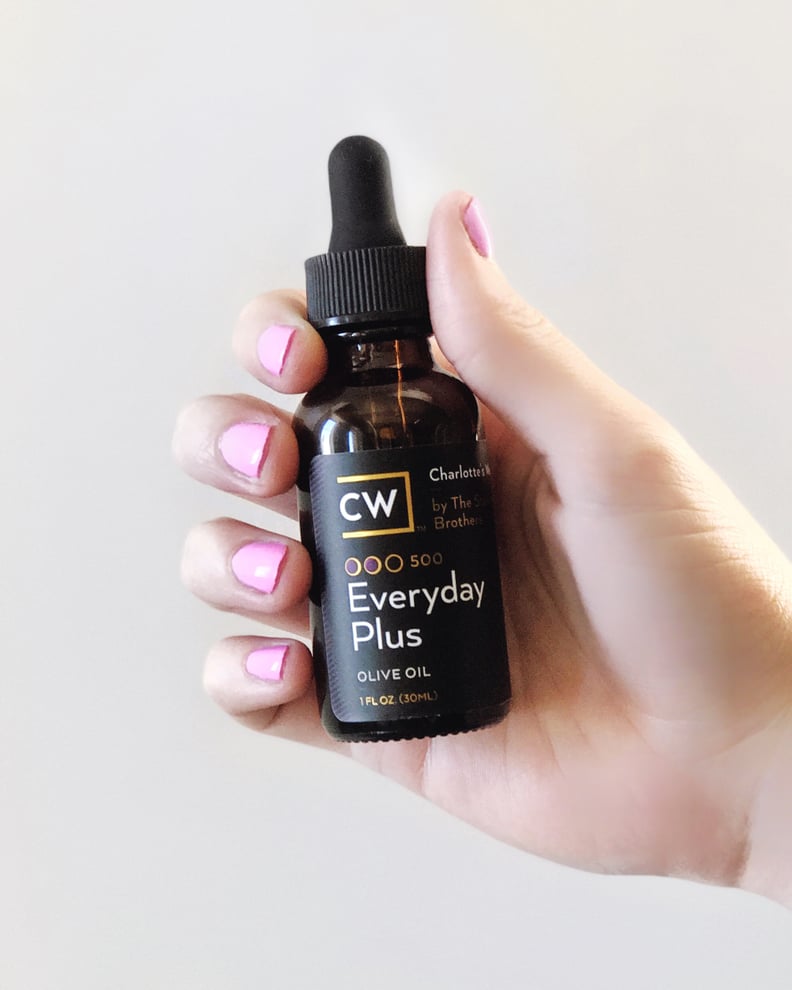 Take Some CBD
05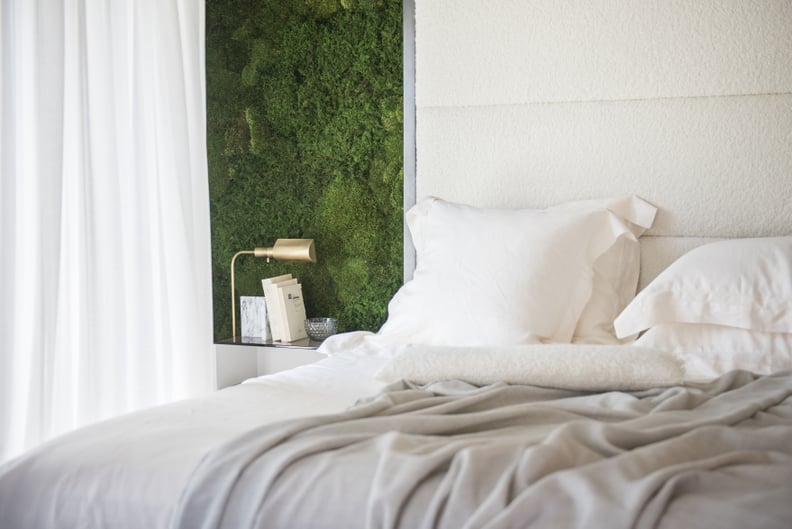 Turn on the AC or Fan
Did you know that cooler temperatures are better for sleeping? "Check the temperature of the room," Dr. Heneghan said. "Turning down the thermostat slightly or using a fan to circulate air may be an easy way to help improve your sleep quality." The National Sleep Foundation recommends keeping the temperature in the room between 60 and 67 degrees.
06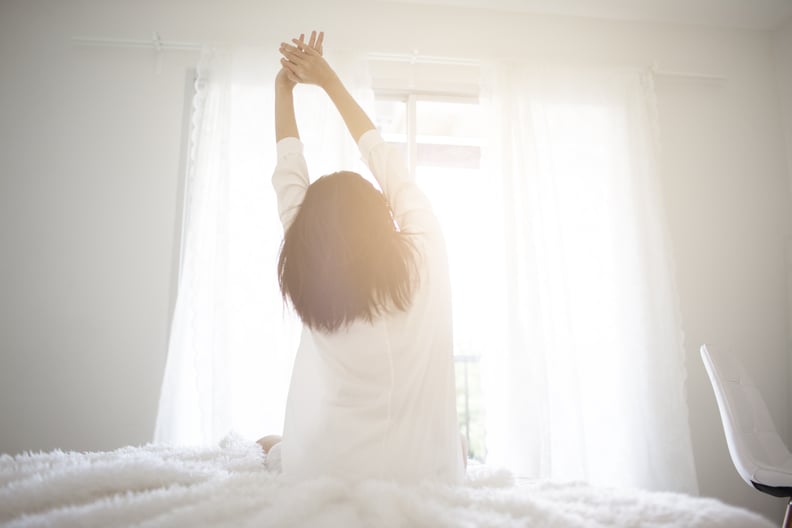 Wake Up and Get Some Sun!
Sun to the retina, friends. This kick-starts the circadian rhythm early, allowing your brain and body to be ready for bed by the time the sun's down. You'll want to do this at the same time every day, as much as your schedule allows. "In addition to going to bed earlier, it's important to keep a consistent wake time — keeping your circadian clock dialed in is extremely important for upholding quality sleep," Dr. Heneghan told POPSUGAR.
And don't hit snooze! "Many people set multiple alarms in the morning because they still feel tired when they wake up and think that snoozing their alarm will give them extra minutes of sleep back," Dr. Heneghan said. "While this is fairly common, this inconsistency of sleeping and waking can be disruptive to your sleep cycle — it's important to remember that you won't gain much back when snoozing for a few minutes."
His solution? "Set one alarm for the latest time you can wake up, and be consistent," he said.
07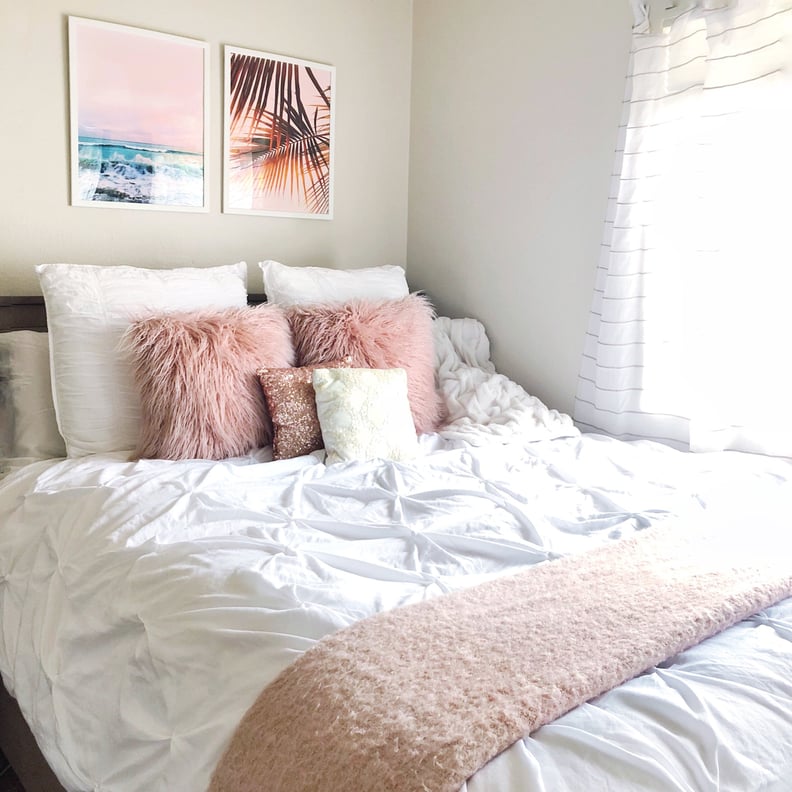 Make Your Bed
08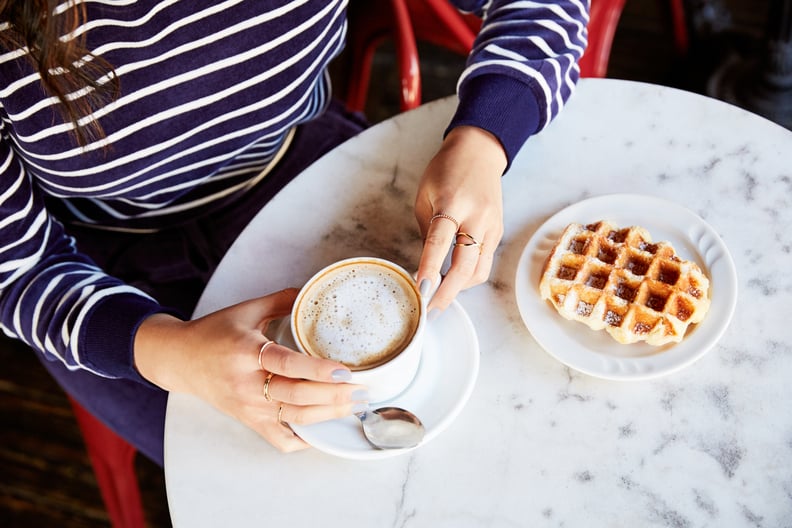 Watch Your Caffeine and Alcohol Intake
Give yourself a coffee cutoff (we know, we know) so that your body can process it out by the time you're ready to hit the hay. Noon works for many people as the hard stop time.
Also be mindful of alcohol. "Alcohol can disrupt your circadian rhythm and directly interfere with your sleep cycle," Dr. Heneghan said. "While alcohol may help you fall asleep faster, it contributes to poor overall sleep." One reason you don't feel as rested? You may not get as much REM sleep, the deep, restful slumber that helps your brain process the information it's collected. "Not getting enough REM sleep can negatively impact your short-term memory, cell regeneration, and mood, so you may feel groggy when you wake up after a night of drinking," he explained. Skip the nightcap, and opt for a hot tea instead.
09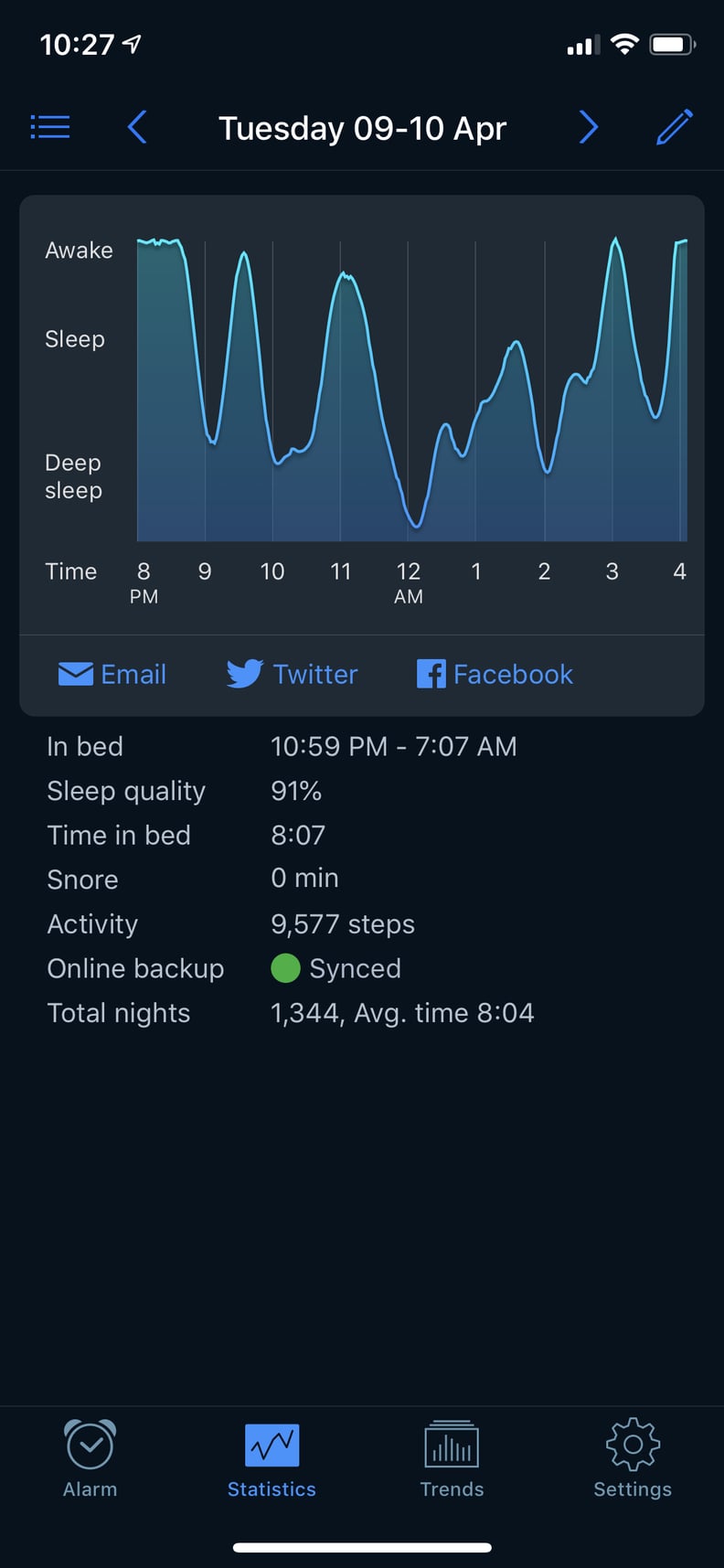 Use a Sleep Tracker
Apps and devices like SleepCycle and Fitbit help you put a little more focus on the quality of your sleep. Watch for patterns that may signal that there are ways to improve your sleep hygiene, or if you're concerned that your sleep issues could be a sign of an underlying condition, talk to your doctor.