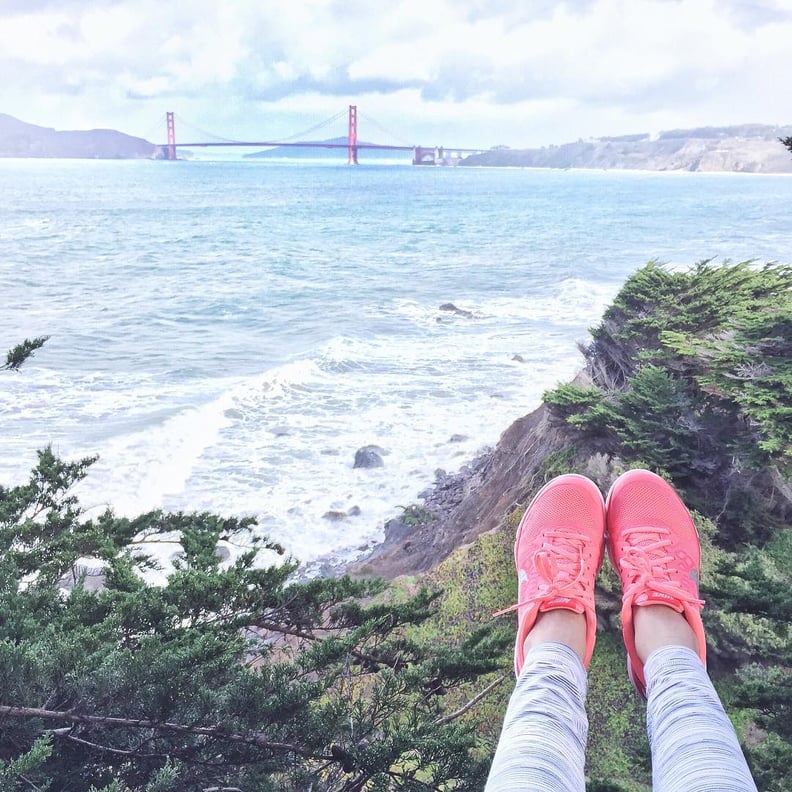 POPSUGAR Photography | Dominique Astorino
POPSUGAR Photography | Dominique Astorino
Moving is probably my least favorite activity. Growing up, my parents moved our family about 20 times — in the third grade alone, I went to three different schools, in three different states. Seven elementary schools later, I knew what it was like to be "the new kid" more than anyone really wants to, and I clearly remember the feeling of isolation in a new place.
As an adult, I decided to stay put. I went to college in Southern California, a little over an hour from my home. I stayed local in the four years after. I built an incredible group of friends, my family was all nearby, and I had my favorite local places pretty much anywhere I went. I was comfortable.
But when an exciting job opportunity opened up in an exciting new city (hint: it's this one), I knew it was time for me to leave my comfort zone to take advantage of an unbeatable experience. To me, the risk was low, and the benefits were infinite . . . but I still had to move.
And it was terrifying. Packing my car with as many worldly possessions as I could fit into a compact hybrid, I whispered "You're a badass" to myself repeatedly as I drove 500 miles from my San Diego home to start a new life. I kept telling myself I was an awesome "independent woman who don't need no man" to reassure myself that leaving my friends, family, old jobs, yoga studio, favorite juice place, and community was the right decision.
So what does one do when they're new and alone in a brand-new, jam-packed city like San Francisco? Book a bunch of fitness classes and activities to compensate for the fact that you don't have a social life! Kidding, but also totally serious.
By diving into fitness, I opened up myself to new friends, joined a new community, explored new neighborhoods, and have gotten to know my new city in an intimate and exciting way. Let's talk about how fitness became my gateway to calling this city and community home — if you're moving far away from home, don't panic! These tips will totally help your transition.
Making Friends at Studios
As an extrovert and perpetual new kid, I'm pretty comfortable talking to strangers. I'll (politely) hop into a conversation in the locker room or ask an instructor to get coffee after class.
I talked about this (over coffee, naturally) with one of my favorite SoulCycle instructors, Luigi, who told me that the studios here (like SoulCycle) foster that community feeling — he actually goes to get coffee or breakfast every Friday with friends he's made in class. Because of that, going to class at your favorite studio is about more than getting your workout; you're getting together with your community!
This "tactic" of just talking to people and starting conversations has worked out really well. I've also become close friends with my trainer Caroline from Equinox, who has shown me new trails for weekend walks and hikes, as well as Brittany from Ritual Yoga, who invited me to her Fourth of July BBQ and has made me feel like a longtime friend.
Moral of the story? Get to know your instructors and classmates. Ask them to coffee or get a smoothie after class! It might seem scary at first, but trust me, the feeling of walking into a studio in a place where you basically know no one, and having someone smile at you and give you a hug? That's pretty awesome.
Walking and Running Everywhere
Want to get to know a new place? Start walking! I'm not going to lie — my Fitbit challenge with my dad and one of my best friends has totally led me to walk places that I otherwise might have taken a bus or an Uber to (I'm not really competitive, but I totally want to crush them . . . with steps). As such, I've discovered new shops, cafes, landmarks, parks, and markets — all while getting my buns in shape on these San Francisco hills.
I also don't really like running on the treadmill (that's a nice way of putting it), so when I'm training for races or just going on a regular old run, I like to mix it up outside. I'll run along the beach, in the Embarcadero, or through Golden Gate Park. Every time I go out for a jaunt, I see something new and feel so much more connected to the city.
Also, I've made it a habit to find a new spot to run to or plan a pit stop at a cafe I haven't tried. It's helping me find new places in new neighborhoods I wouldn't have found otherwise — and I don't have to wait for someone to make plans. I can just go myself!
Next on my list? Joining a local running club to meet even more people and get those extra miles in with some company.
Going to Community Events
Next weekend, I'm running the San Francisco Half Marathon; it'll be the third half marathon I run in the city, which makes me feel really connected to this place (and honestly, kind of like a local!). Making strong, positive memories here with major events has helped deepen my connection to my new home.
The other perks of participating in these kinds of events like 5Ks, charity walks, and festivals? Meeting new people and giving back to your local community. I went to the Dare to Bare event hosted by the Movemeant Foundation a few months ago, and in one fell swoop, made friends with an instructor and another girl my age — we just went to a SoulCycle class together last week — and raised money to fund athletic grants for local girls.
Using ClassPass Like a Community Passport
In a city like San Francisco, it's easy to get stuck in your own neighborhood — there's so much packed into every single one! But I've been testing ClassPass this month, which has totally acted as a passport to the city — I've been exploring new neighborhoods I've never seen before (which is crazy, given that SF is so tiny in the first place!).
And when I try a new studio in a new neighborhood, I always try to find a place to eat nearby after, opening me up to even more discoveries. Yoga at Ocean Beach with an acai bowl shop across the street? Sounds awesome. Pilates in the Mission before dinner at that new vegan place? Sign me up! Megaformer in Nob Hill to counteract all the cruffins from Mr. Holmes Bakehouse? Probably a good idea.
The short six months that I've been here have absolutely flown by, but I feel like I've grown so much. I used fitness as a tool to better myself, and in the process, I've made friends, seen more of the city, and gotten settled in a new place. It's also softened the blow of leaving home, helped me adjust, and made the whole "being by myself" thing a lot less scary. I guess I am an independent woman after all.