Body Positivity Tip From Movemeant Foundation
The Best Tip I Ever Got at a Fitness Class Wasn't About Exercise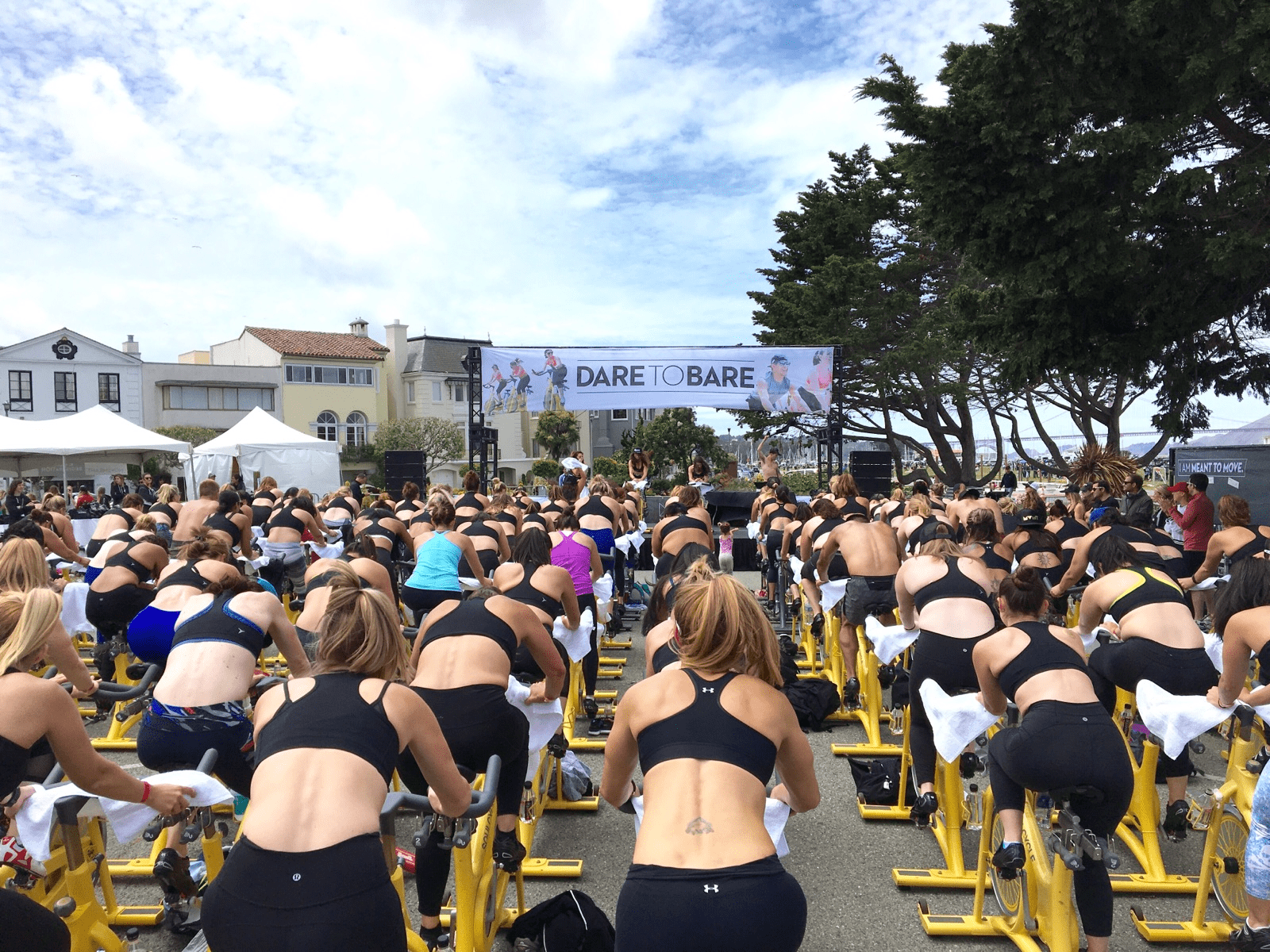 On a stationary bike outside in the cool San Francisco sunshine at the Marina Green, looking out at the Golden Gate Bridge while surrounded by over a hundred women in their sports bras, all of us riding in unison with Rihanna blasting on loudspeaker, I had a life-changing moment.
If I sound like a cliché, it's OK; I'm fine with it. The whole "SoulCycle changed my life" thing can definitely incite some judgment, I get that. But this was about so much more than a great fitness class or a great ride or a fun event. I learned something really deep — and even a little painful — about myself that day.
Related: Boxing Is the Therapy I've Been Waiting For
At the Dare to Bare outdoor charity festival in San Francisco, The Movemeant Foundation encouraged women to strip down to their sports bras and literally dare to bare their bodies — with pride. The foundation challenges fear and the mental pressure of constant perfectionism, aiming to empower and inspire women to live their best lives with the utmost confidence. The charity was raising money to write grants to local girls to help them "take charge of their bodies through sport."
I was so grateful when Movemeant invited me to join their event; I loved the idea behind the fundraising and felt such a strong draw to the concept. Jenny Gaither, CEO and founder of Movemeant, is also a senior SoulCycle instructor — and she found herself so afraid to wear a sports bra while teaching class that she'd cover herself up in "ridiculous" ways, including riding in a leather jacket. After realizing how problematic her mindset had become, she reached out to a student and asked if they would ride in a sports bra with her; it wouldn't be so scary if they did it together.
The idea of those two women riding together in sports bras was multiplied at Dare to Bare — hundreds of women of all shapes and sizes participated, celebrating their bodies. Jenny led the classes outside in San Francisco, joined by two other master instructors: Ian from SF and Olivia from NYC (the winner of The Biggest Loser, season 11).
When Ian began instructing, his long hair flowing in the wind, he transitioned his instructions from "tap it back" and "you guys look gorgeous" to one of the most beautiful motivational speeches I have ever heard.
"Perfectionism is a defense mechanism," he told us. It might sound silly, but I had never heard it framed that way — and that simple statement reeeally hit home. As someone who deals with internal (and sometimes external) pressures coupled with a very type-A, perfectionist personality, I heard so much truth in his words. I am defending myself. From others . . . from judgment, from criticism, from pain.
Have you ever felt that way? Have you ever been in an exercise class thinking, "I have to have perfect form, I have to keep up, people are watching me . . . people are judging me." Or beyond the studio, in everyday life — are you constantly keeping up appearances to defend yourself from criticisms and judgment? I can definitely be guilty of that.
Ian continued to tell us that we don't have to be afraid; we don't have to worry about people watching us or judging us. "It's not about what they call you, it's what you answer to. What do you answer to?"
Then it happened: I was crying, I was smiling, and I was on a stationary bike wearing minimal clothing outside in San Francisco (aka I was a mess, but it's fine) — and I had my mini epiphany. Ian's speech reminded me that I don't need to be perfect for anyone, not even for myself — even if that just means "stop trying to be perfect in class." I can just enjoy the ride! It's okay to love myself (more than just my body) the way I am, wherever I am, in whatever stage of life I am in at this moment.
"Progress, not perfection."