Many newbie runners give up on running because within a mile, their legs are on fire and they're breathing so hard they feel like they're a huff and a puff away from passing out. Don't expect to be able to run five miles right from the get-go — it takes time to build endurance, but it's so worth it.
"Endurance gives runners the ability to run longer and faster," explained Danielle Hirt, a NASM-certified personal trainer and RRCA Level I-certified running coach. "Building endurance can help you learn how to manage pushing through being uncomfortable and reach new levels of fitness." So how do you get there? Keep reading for Hirt's five tips for building endurance and running longer and faster, no matter what level you're starting at.
—Additional reporting by Maggie Ryan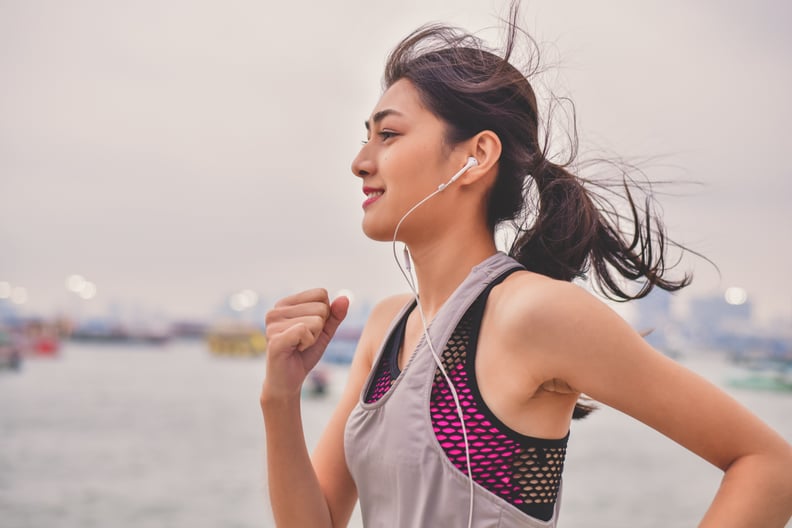 Run 2 to 3 Times a Week
It's a common misconception that you have to run more often in order to build up endurance. Instead of running every day (and risking injury or burnout), Hirt said new runners looking to improve their stamina should plan to run two to three times a week. "First-time runners should not try and run as far as they can without stopping," she explained. "Instead, they should begin with a defined run/walk plan to help their legs and lungs build up strength and stamina. The only way to build up endurance is through consistency over time."
It's also best to run on nonconsecutive days to give your body time to recover, and to mix non-running workouts throughout your week (more on that in a bit).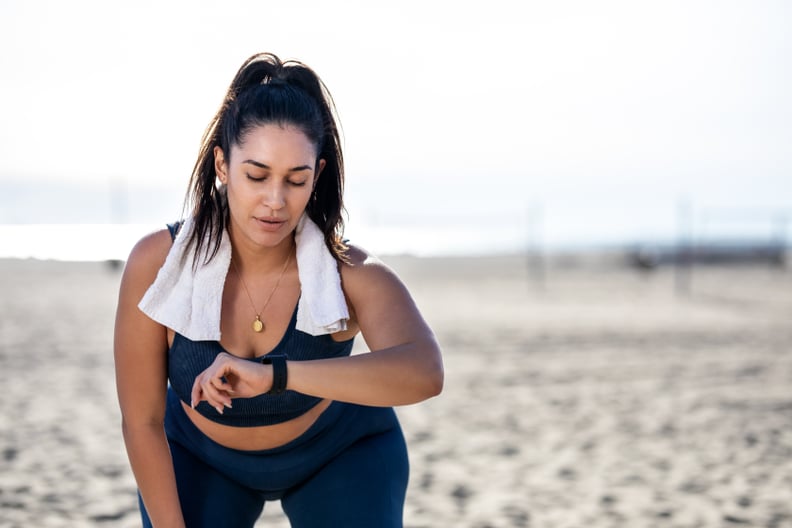 Mix Up Your Running Workouts
Many new runners simply hit the pavement without much of a plan besides going as far and fast as they can. But if you're looking to improve your endurance, Hirt said, remember that "every run has a purpose," and try these different running workouts throughout your week.
Easy run: For an easy run, aim for 20 to 30 minutes of a walk-run combo, Hirt said. "The pace that you run should be conversational, meaning you can talk in full sentences while you are running." Experiment with it; at first, you might run for 30 seconds and walk for three minutes to recover. Over time, you'll be able to increase your run intervals and the length of the overall workout.
Fast, short intervals: Interval runs are a challenging but effective way to increase your speed and endurance. To start, first warm up with 10 minutes of walking or easy running. Then, around a track, run one lap as fast as you can. (If you can't run a full lap, try running half or just the straightaways.) Recover with three minutes of walking, then repeat this two to four times. As you get stronger, you can increase to two fast laps around the track and recovering with one lap of jogging.
Hills: Running hills is a great way to help strengthen your legs and lungs, Hirt said. Try adding hill repeats to a run by sprinting uphill for 10 seconds, then walking or jogging back down to recover. Repeat this six to 10 times. As you get stronger, challenge yourself with steeper hills or by increasing the uphill interval to 30 seconds.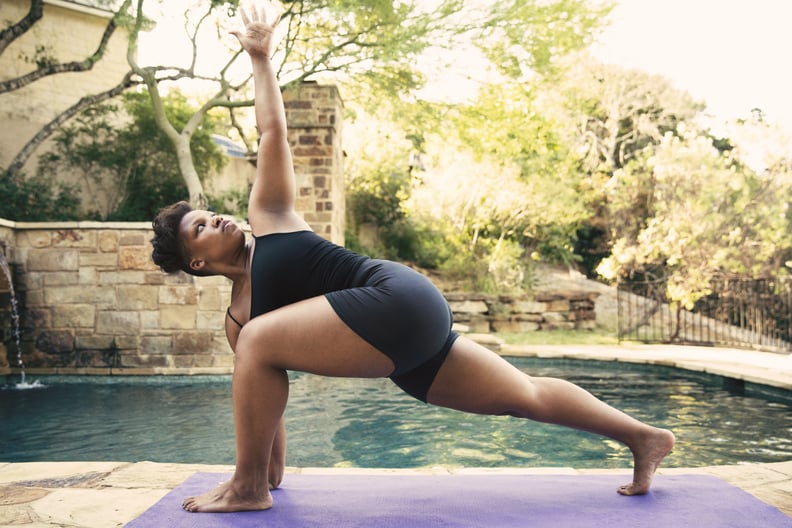 Incorporate Non-Running Workouts
"You can build endurance for running by not running," Hirt said. "Crazy, right?" Cardio conditioning workouts are key, and can be pretty simple. Hirt's favorite low-impact, endurance-building workout is a five-minute AMRAP ("as many rounds as possible") session: 10 squats, eight burpees, and six push-ups, repeating the circuit for as many rounds as you can.
Beyond full-body cardio workouts, you should also mix in strength training as well as low-impact cross-training workouts like swimming, cycling, or yoga. Mix up your schedule to see what works best for you, or try this weekly running and cross-training routine that's designed to help improve your endurance.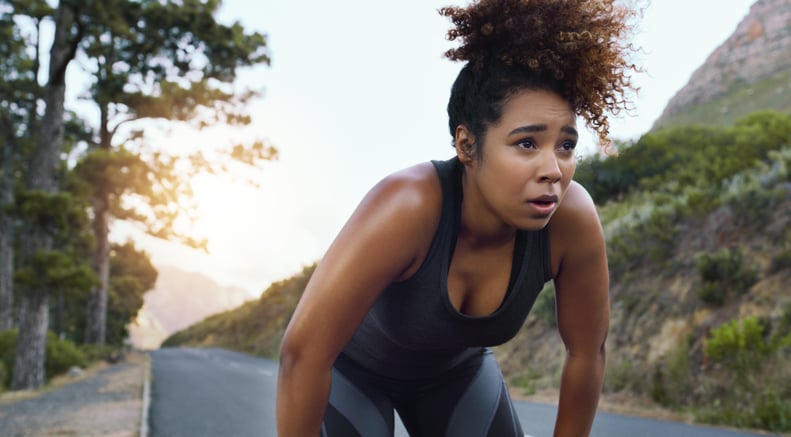 Don't Be Afraid to Push Yourself
Increasing your endurance means pushing your limits, which means it's not going to be easy. "When building endurance, do not stop when it gets hard," Hirt said. "I tell my runners, when you think you can't go anymore, hold on for 10 more seconds, then back off."
That said, trust your body. If the pain in your muscles or joints feels like an injury, stop and assess the situation. If it's discomfort — your lungs aching as you run hard, lactic acid burning in your leg muscles — see if you can push a little more before you back off.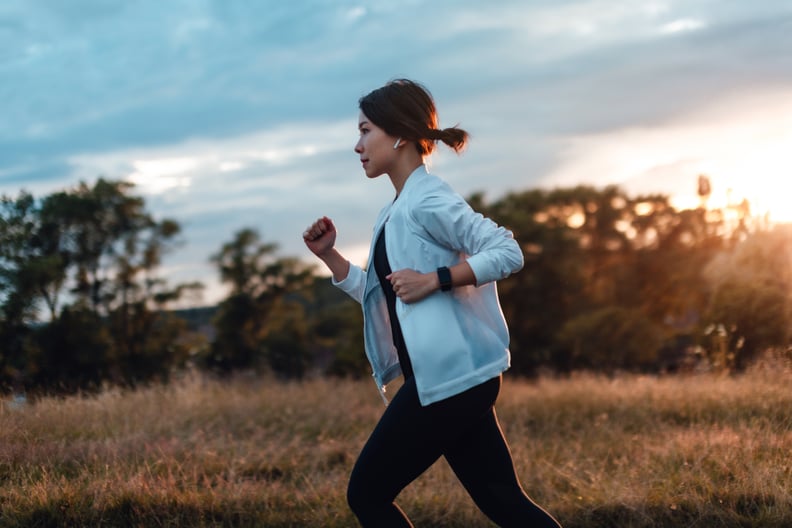 Be Patient
Even with the perfect routine, building endurance takes time. Know that you're on your way and on your own timeline, and avoid comparing yourself with others. "You don't have to be great to start, but you have to start to be great," Hirt said. "All endurance runners have been beginners at some point."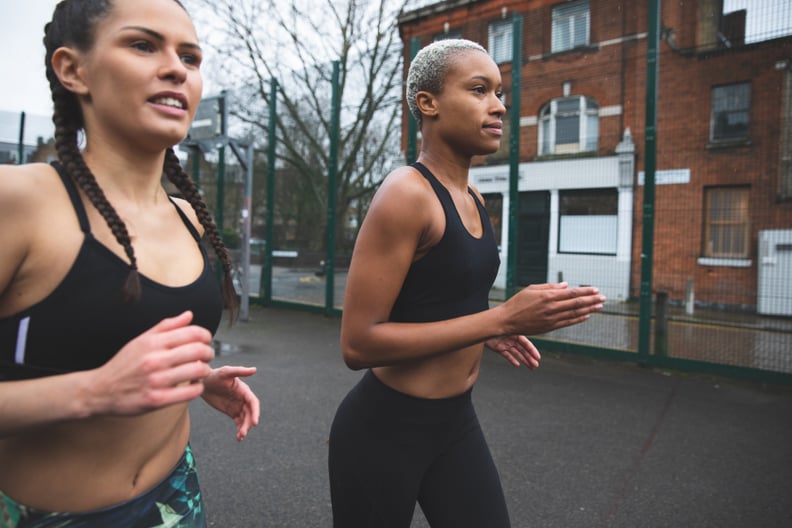 Get Support
With long-term goals like building endurance, it can be hard to stay motivated on your own. Hirt recommended joining a virtual workout group or running club, or pairing up with an accountability partner. For more individualized workouts and tips, plus some professional-grade motivation, you can also work with a running coach. "There will be days when you don't want to do the work," Hirt said. "Having someone doing it with you can help you push yourself."