Last year, the New York City Marathon saw over 50,000 finishers, and April's 2019 Boston Marathon saw more than 25,000 people cross its finish line. Other popular marathons take place in Chicago, London, and Berlin (fun fact: Karlie Kloss ran both the New York City Marathon and the Berlin Half!). With each big race, thousands upon thousands conquer those 26.2 miles. The double-digit mileage doesn't seem like an easy feat — even if you're not full-on running the whole thing — but training, especially if you're a new runner, might just be the hardest part, as recently depicted by the film Brittany Runs a Marathon.
James Steinberg, DO, orthopedic surgeon and sports medicine specialist at The Centers For Advanced Orthopaedics, has injury prevention tips for first-time marathoners — but he noted that although beginners are definitely at high risk of injury, everyone can overdo it in training. "A lot of times for would-be more established runners, it's more chronic," he told POPSUGAR, where they fall into the same patterns that exacerbate a recurring problem (which we'll get to later).
The most common running-related injuries are shin splints, tendonitis like Achilles tendonitis, hamstring injuries, partial tears, anterior knee pain or "runner's knee," and plantar fasciitis, inflammation of the tissue that connects your heel to your toes. Iliotibial band (IT band) syndrome, or pain and tenderness in the band of tissue that runs from the hip down to the knee due to overuse, is another common one. Runners should be especially wary of shin splints, said Dr. Steinberg, who's worked with ultramarathoners in his 17 years in the field, because it could progress and turn into a stress fracture. Ahead, check out his advice for avoiding injury while training for 26.2 miles, and what to do if you're in pain.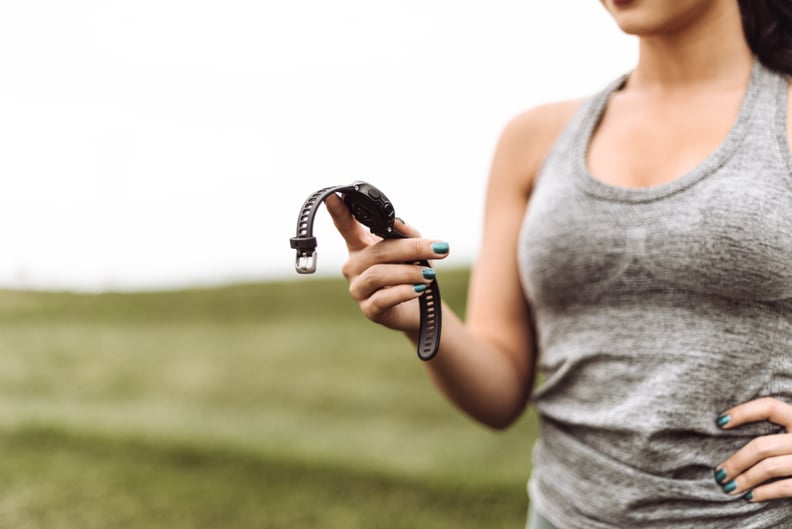 Have a Set Plan
If you're a first-time marathoner, Dr. Steinberg said there are countless resources online where you can find the best training plan for you — Hal Higdon and Nike Run Club, to name a couple — but the most important thing is to have structure. It will all depend on your ability level starting out, and you should aim to increase your mileage about 10 percent per week, he said, adding, "Set realistic goals and know your abilities." He also recommends using a training log to track your progress.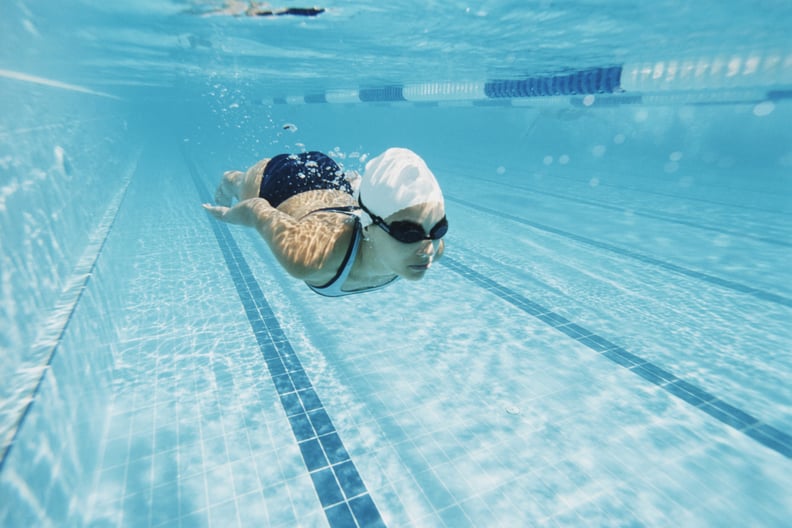 Cross-Train
You should be doing more than just running, Dr. Steinberg said. For one, cross-training with cycling, swimming, and weights adds variety and makes your schedule of runs, which some might perceive as "boring," more fun. "In addition, cross-training may be beneficial for recovery, flexibility, endurance, and strength, depending on the activity," he explained.
For example, he noted, swimming is a low-impact aerobic exercise that works many muscle groups used in distance running. If you're injured and can't run, swimming is a great option (just ask Olympian Colleen Quigley). On the other hand, working muscles that running doesn't target can help prevent overuse during runs. Yoga, he said, is an activity that's good for developing core strength and flexibility.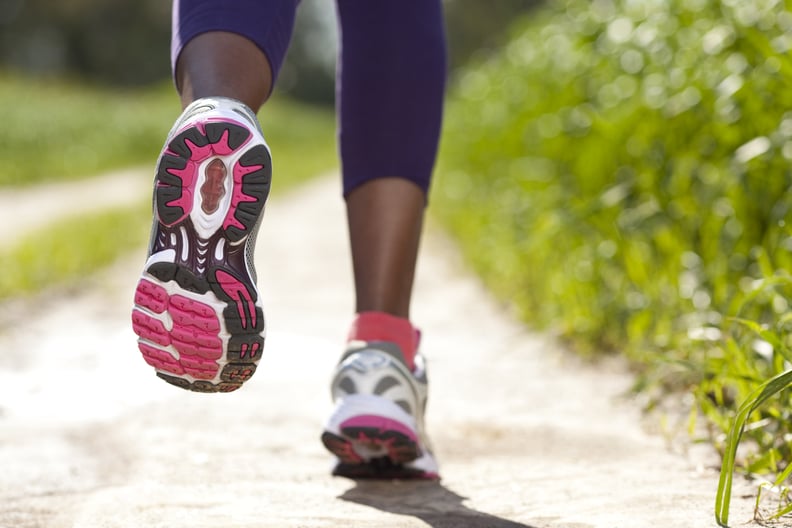 Have the Right Shoes, and Don't Overuse Them
Having a shoe that fits properly and supports your stride is essential. Some people are overpronators, meaning their feet fall inward when they strike the ground, or supinators, meaning they strike with the outer edge of the heel and forefoot. Others may have flat feet or high arches that require a special kind of shoe. There are shoe stores that will actually do a gait analysis to find out what the best shoe is for you, Dr. Steinberg said, naming New Balance as an example.
You also have to be wary of how long you're using your running sneakers, Dr. Steinberg advised. Running excessive mileage on the same pair of shoes, he said, is not a good idea. The baseline is around 400 miles, so if you've surpassed that on the same pair of shoes, it might be time for new ones. Dr. Steinberg suggests rotating between two pairs to avoid this problem, too. And, one last note: don't put on a fresh pair the day of the marathon.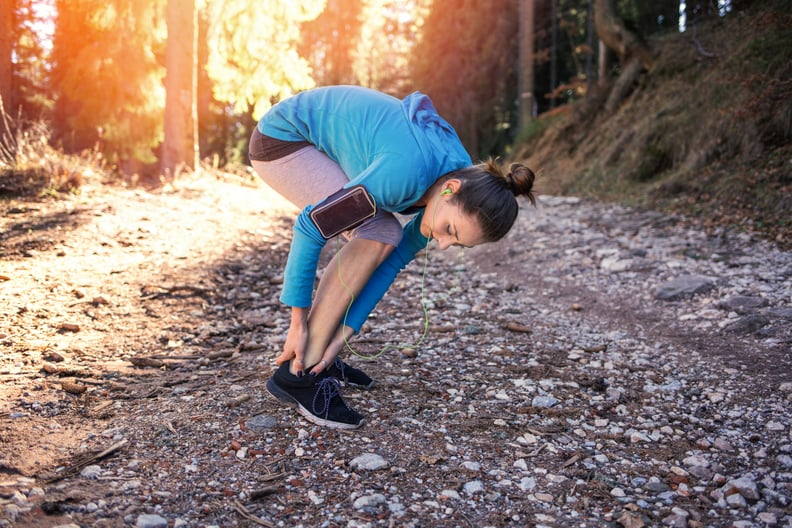 Don't Overdo It, and Always Take Rest Days
Take rest days especially after a long run or your "heavy days" of training, Dr. Steinberg advised. For most beginners, he recommends only running about three or four times per week. If you wake up sore and you're feeling better after foam rolling or stretching, you can train, but sharp pains are definitely a warning sign. "You've just got to be mindful and listen to your body," he cautioned. Other things to remember along the way include nutrition, hydration, and sleep. Sleep deprivation can be very harmful to training, he said.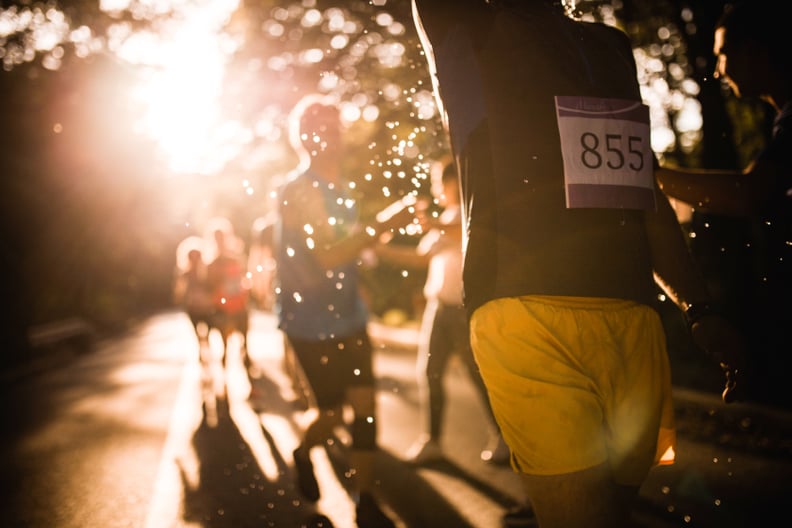 Do at Least a Half-Marathon Before the Race
Dr. Steinberg said that marathoners have found tapering off their runs — not doing major long runs a few weeks prior to the race — is a good idea. As marathon coach and Codirector of the Portland Marathon Clinic Patti Finke explained to Runner's World, "In those last few weeks, it's the rest more than the work that makes you strong. And you don't lose fitness in three weeks of tapering. In fact, studies show that your aerobic capacity, the best gauge of fitness, doesn't change at all."
But, Dr. Steinberg did recommend, especially for first-timers, doing a half marathon a month or six weeks prior to the marathon, "just to kind of get an idea of your nutritional requirements and see how you fare so you can set realistic goals."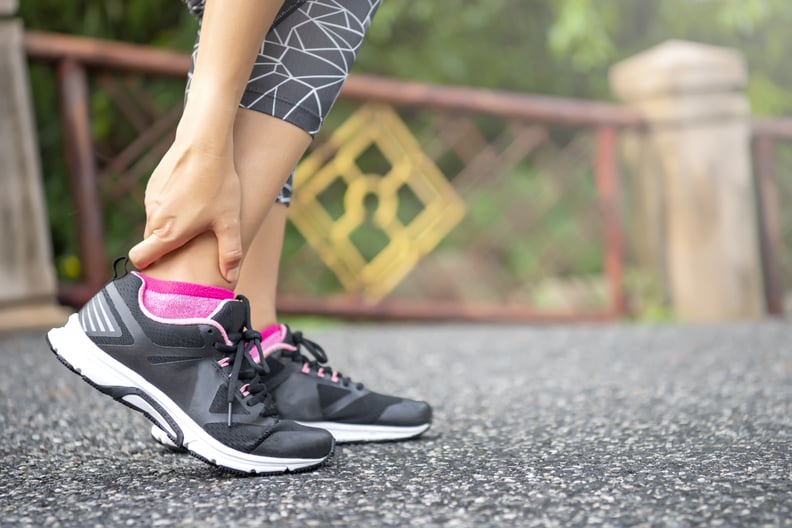 What to Do When You're Injured
No matter what type of injury you could get while training, whether it's to your foot, ankle, knee, or hip, Dr. Steinberg said it's a good idea to see an orthopedist who specializes in sports medicine if possible. "There's a lot of nonoperative sports medicine physicians, which would be a good place to start as well," he noted.
Injuries such as the ones Dr. Steinberg mentioned earlier are typically treated with periods of rest, anti-inflammatories, and, most of the time, physical therapy. "Because usually there's a cause for these things whether someone's tight somewhere or there's a muscle imbalance of some sort that usually can be addressed," he said. "A lot of runners fall into a cycle where they'll train, have recurring plantar fasciitis or Achilles tendonitis, do a little bit of therapy, and do some anti-inflammatories. It goes away, but they don't address what the ultimate cause is."
Shin splints are especially troublesome because it's repetitive microtrauma, Dr. Steinberg said. The area is weakened, so if you do too much, then it could become a true break or a stress fracture. Make sure you go get checked out if you suspect you have shin splints. Overdoing it will only make matters worse and could cause you to miss your big marathon day altogether.
Dr. Steinberg explained that he typically doesn't like to prevent people from doing what they enjoy — he wants them to go back to running! If an injury isn't harmful, he'll let them run, but if the injury interferes with running and, for example, there's a significant limp, he'll have them take a break since there's a higher risk of getting worse or damaging some other body part. He'll mainly suggest anti-inflammatories, physical therapy, and sometimes cortisone or other types of injections. It depends on the injury and how long you might have until your marathon, but talk to your doctor about appropriate treatment plans and what to do moving forward.