After Ditching Yo-Yo Diets, Angela Lost 75 Pounds With Jenny Craig
If you've ever felt like you were hitting rock bottom emotionally, Angela Estrada can definitely relate. As a self-described emotional eater, Angela turned to food as a comfort after a terrible loss. Though she was in a horrible place emotionally, she realized that she needed to make a change. With the help of her close friends, she discovered Jenny Craig. This choice created a snowball effect, leading her to not only lose weight, but become happy, confident, and energized.
Angela: Before
POPSUGAR: What made you decide to start your weight-loss journey?
Angela Estrada: I've struggled with my weight for most of my life and have yo-yo dieted for years. I am an emotional eater, so when my mother passed away five years ago, I really hit rock bottom. I came to a point where I was absolutely miserable and I knew I could not go on feeling this way; I knew my mother didn't want me living this way either. My days of trying quick-fix diets that I simply hated, with results that never lasted, were over. I knew for my life to change I needed to learn new habits and make real changes. I'd seen two of my friends be successful on (and love) the Jenny Craig program. I walked into my local Jenny Craig office on Nov. 28, 2015 feeling skeptical and desperate.
PS: What drew you to Jenny Craig specifically?
AE: While at a weekend away with some girlfriends, one of my friends was raving about Jenny Craig and how much she loved their food. A few months later a coworker was telling me how she joined Jenny Craig and was loving the yummy food, too. One day after talking with her about Jenny Craig for probably the fifth time she said, "Just go. Give it a try." The staff at Jenny Craig could not have been more wonderful. This weight-loss experience was going to be different. It was not a quick-fix diet, and with Linda, my Jenny Craig consultant, I wasn't going to be alone on my journey to a healthier life.
"My days of trying quick-fix diets that I simply hated, with results that never lasted, were over."
PS: What's your favorite way to work out?
AE: I love to run! If you would've told me about a year and a half ago that I would be saying that, I would never have believed you! When I started Jenny Craig, I knew I had to find something I enjoyed doing if I was going to stick to it. I started out by walking. I'd walk around a local lake which was five miles. It took me about an hour and a half. As I kept going, and as I lost weight, it got easier. So, I started doing some jogging intervals. Those intervals got longer and longer until I found myself running the whole thing. The last time I ran it, it took me 46 minutes!
It was baby steps, little by little. I find that now instead of eating my feelings, I run them out! It's such a therapeutic thing to throw on my running shoes at the end of a long day of work and just run all the stress of the day out. If gives me a chance to clear my mind and reconnect to what's important. As I lost a lot of weight, I realized I needed to tone up and not just get my cardio in. I discovered Pilates on reformer machines and have found a community of support at my local Pilates studio. It's definitely made me stronger and toned!
Angela: After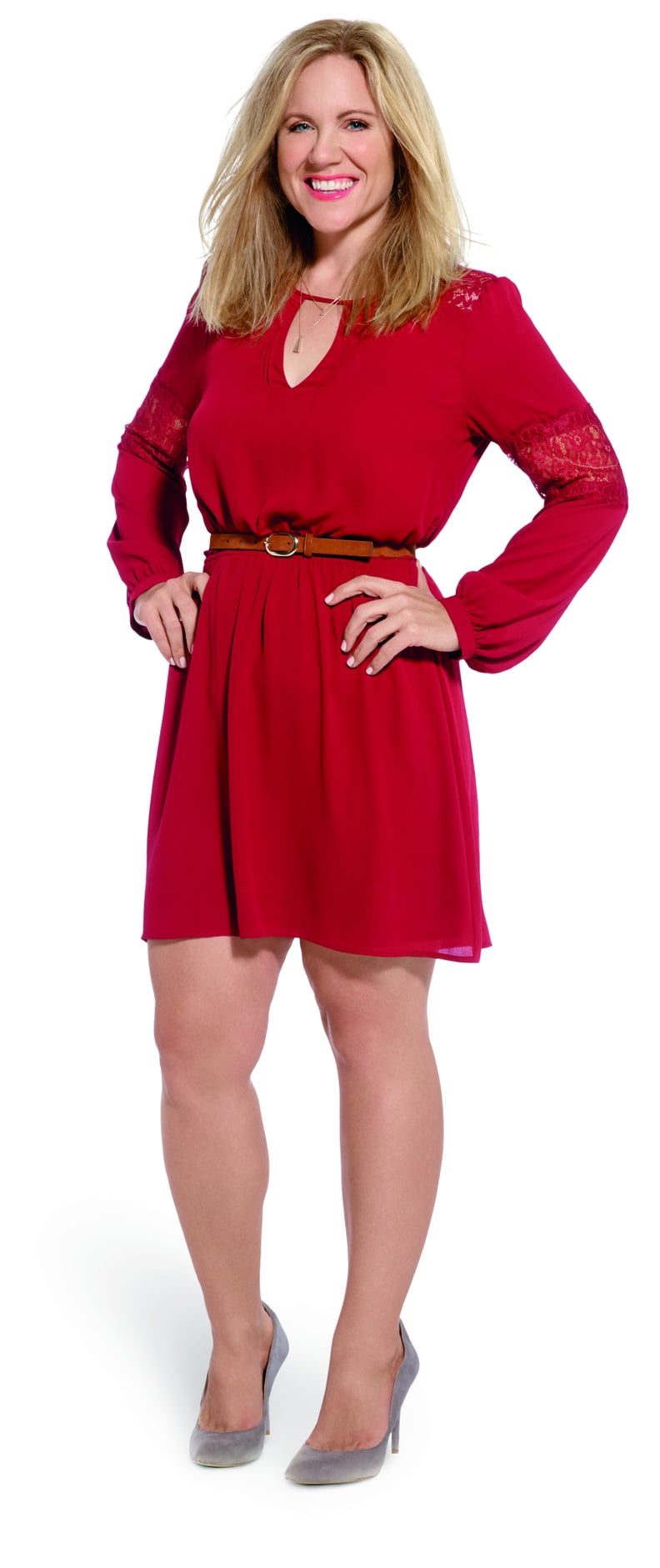 PS: What's your weekly exercise schedule?
AE: I work out three to five days a week. I'm not a morning person, so I pack my gym bag in the morning, then I either head straight to the Pilates studio or running trail after work. This way I'm not tempted to skip by going home first. I take my workouts seriously, but I also am kind to myself. If I'm have a busy week at work, I don't stress out. Instead, I find some time to carve out, even if it's just a quick 20-minute jog. I put my workouts into my calendar, just like I would a doctor's appt. or work meeting. By making my workouts a priority, I know I'm working on being a better me, which is going to make me a better daughter, teacher, friend, colleague, etc.
PS: How do you keep workouts exciting?
AE: I have a few friends I go to Pilates classes with, which makes workouts much more fun! I love setting goals, so running races is a great way to keep me challenged, motivated, and consistent to a training schedule. Finding different fun playlists or new places to run or hike keeps things new and fresh as well. I love getting a group of my friends together for a fun weekend hike, too.
PS: How much weight have you lost?
AE: 75 pounds.
Angela: Before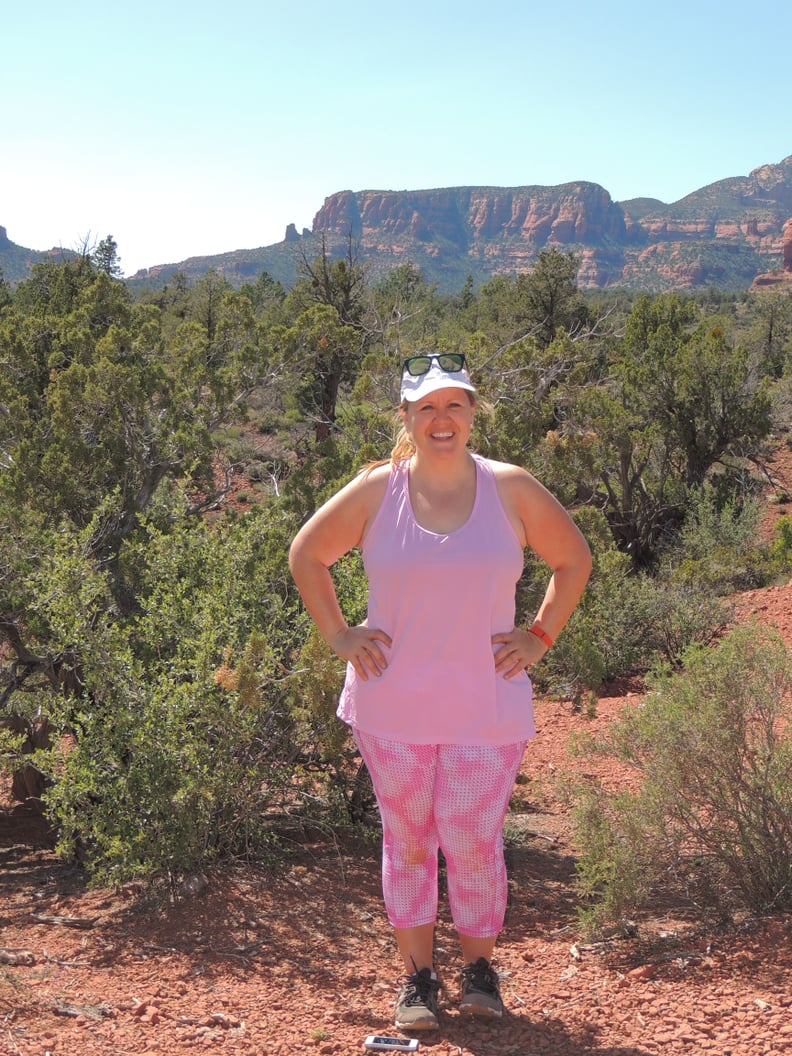 PS: What was the first big difference, other than the number on the scale, that really made you feel proud and excited?
AE: I think every woman has clothes in their closest that are a size or two too small, that we're hoping to fit into "one day." I had this pair of shorts my "skinny" friend gave me as a hand-me-down. When I began my weight-loss journey, I would look at them and think, "These are so small, I can't imagine ever fitting into them!" After being on Jenny Craig for a while, I finally had the courage to try them on. They fit perfectly! That was so exciting!
PS: How do you track your weight loss?
AE: I meet with my Jenny Craig consultant once a week. I get weighed during this time, too. I find this is the best way for me to track weight loss. This way I'm not focusing so much on the number on the scale, but more on eating healthy and feeling good.
"By making my workouts a priority, I know I'm working on being a better me, which is going to make me a better daughter, teacher, friend, and colleague."
PS: What's a typical day of meals and snacks?
AE: On Jenny Craig, you eat a lot! On a typical day I'll have a breakfast like their breakfast scramble or Sunshine Sandwich and 1/2 fruit serving in about 6 ounces of nonfat Greek yogurt or I'll blend the fruit in one of their ready-to-drink shakes. I have an Anytime Bar for my morning snack which is packed with protein & keeps me satisfied. Then it's a lunch like my favorite margherita pizza or mac and cheese with a big green salad. After my students leave for the day, I'll have a piece of fruit for snack. Finally it's a dinner like chicken carbonara or homestyle beef pot roast with some steamed veggies (I can even add a soup addition if I'm extra hungry from my workouts) followed by a yummy Jenny Craig dessert. You can have your cake and eat it too!
PS: Do you count calories?
AE: No! On Jenny Craig, you don't have to. You just follow the menu. It's so easy! If I'm not able to follow Jenny Craig for some reason, I track my calorie intake on My Fitness Pal, or keep a food journal in my notes on my phone.
Angela: After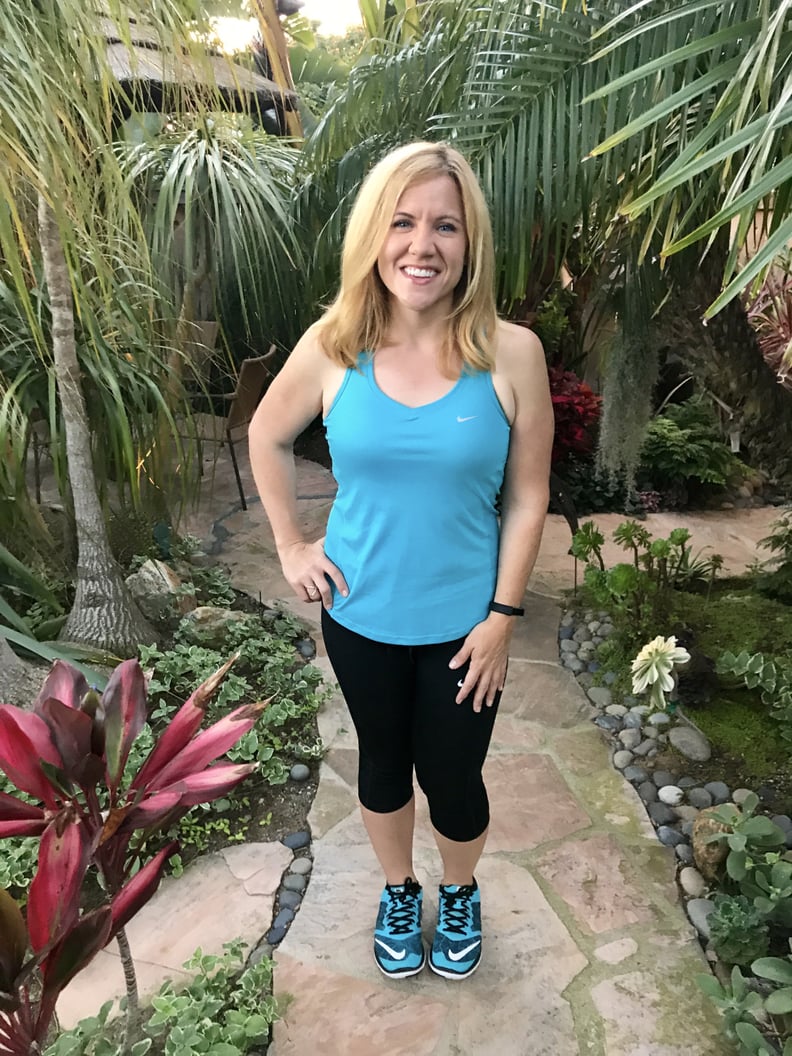 PS: What are the healthy staples that are always in your fridge?
AE: I always have easy-to-grab and snack-on veggies like carrots, cucumber, snap peas, and peppers. I keep lots of salad greens including spinach and kale on hand not just for salads but I like to throw a hand-full in a blender with my ready-to-drink shake too. I drink tons of water, so I keep mineral water in my fridge like La Croix to mix it up a bit.
PS: How do you strategize for meals out?
AE: If I know what restaurant I'm going to, I'll look up their menu ahead of time to plan what I'll order. While on JC I've learned you always have a choice! You can request a dish to be cooked a certain way, and most menus have a low-calorie or healthy options section. One thing I love to do is keep a packet of Jenny Craig dressing in my bag. When I'm out and I order a salad, I put my own dressing on it and save a ton of calories!
"I love to run! If you would've told me about a year and a half ago that I would be saying that, I would NEVER have believed you! "
PS: Do you use a fitness tracker? Which one, and how do you think it helped you?
AE: I have a Fitbit, and it really keeps me moving and motivated! I tend to be competitive and love to set goals, so when I reach my step goal, it's always a good feeling. I also like Map My Run to help me with my time and pacing during my runs.
PS: What role did Jenny Craig play in your journey? Would you recommend it?
AE: It hasn't just been about losing weight on Jenny Craig. Jenny Craig has been a true education in healthy living, and as an educator myself, I really appreciate that! Before, I had no idea what living a healthy lifestyle looked like. This program gave me individualized support and guidance through my consultant. Meeting weekly with my consultant keeps me on track, inspired, and gives me practical skills to handle the challenges during this journey. Now I have the skills not just to lose weight but how to keep it off by knowing portion control and how to listening to my body when I feel full. I've learned how to find healthy ways to deal with life's challenges and stress like working out, spiritually connecting to my faith and journaling, and enjoying time with loved ones. I would highly recommend it!
PS: What advice do you have for anyone starting out on a weight-loss journey?
AE: Start today! Don't wait! I had no idea how life-changing this weight-loss journey would be, so my only regret now is not having started sooner. Don't let set-backs or failures stop you either. It's a step-by-step process. Just keep moving forward. You can do it!