How Joe Biden Plans to Beat COVID-19
7 Steps Joe Biden Would Take to Tackle the COVID-19 Pandemic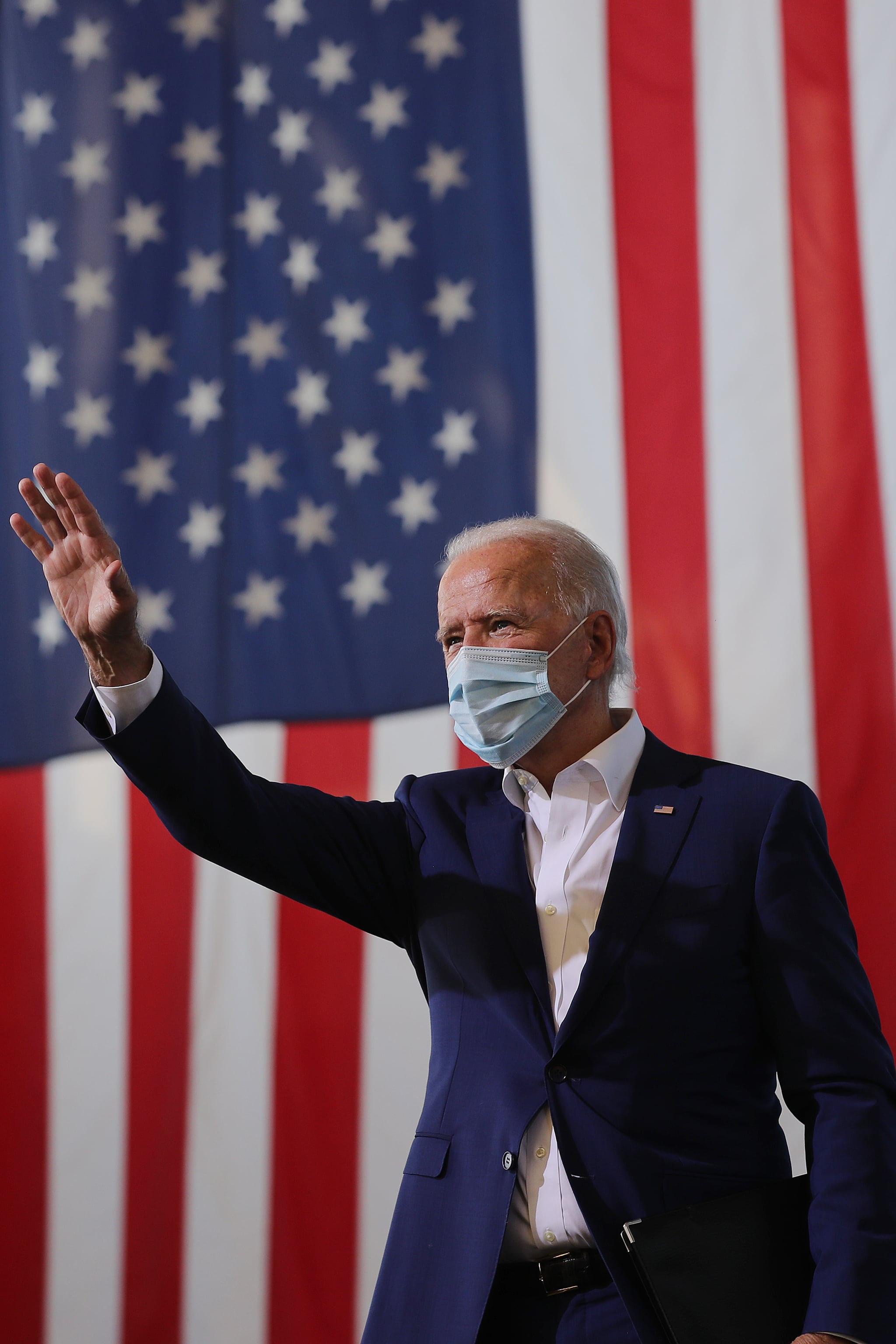 COVID-19 is without a doubt one of the most pressing issues in the 2020 election. President Donald Trump has had months to show the country how he's handling the pandemic. But what about his opponent, Joe Biden? If elected, Biden has said he'll take the following steps to slow the spread of COVID-19 and ensure the US is prepared for another pandemic, should this ever happen again.
1. Expand Testing and Contact Tracing
"One of the biggest obstacles to containment has been the fact that we don't have a testing strategy and people don't know their status," Amesh Adalja, MD, a senior scholar at the Johns Hopkins University Center for Health Security, told Business Insider.
Biden's goal is to "ensure all Americans have access to regular, reliable, and free testing." He would do this by doubling the number of drive-through testing sites — GoodRx currently lists around 8,000 drive-through sites in the country, though not all of these are open to everyone — and by investing in next-generation testing such as instant tests and home testing. Turnaround times for COVID-19 tests are currently between one and three days, depending on the test and where it's administered, and while we'd hope that everyone waiting on a COVID-19 test result is self-quarantining, the reality is that instant testing could accelerate contract tracing and help save lives.
To ensure the success of these initiatives, Biden has proposed the creation of two agencies. First, a Pandemic Testing Board to supervise the production and distribution of tests, modeled after Franklin D. Roosevelt's War Production Board, which oversaw production of military equipment and supplies during World War II. He would also establish a US Public Health Jobs Corps, which would work with local leaders in at-risk communities to provide culturally competent contact tracing and mitigation efforts. It would draw from volunteers from AmeriCorps, the Peace Corps, and others who have been laid off during COVID-19.
2. Ramp Up Production of Personal Protective Equipment
In addition to increasing testing, Biden also wants to bolster the supply of personal protective equipment (PPE), which includes masks, gloves, goggles, face shields, and gowns. To do so, he plans to fully invoke the Defense Production Act, which gives the president the authority to expedite and expand the supply of materials and services for the purpose of national defense. Essentially, it allows the president to direct private companies to prioritize orders from the federal government.
While Trump has invoked the act to some measure, many don't believe it's been used to the extent that it could be. In August, a survey of 20,000 nurses found that one in three didn't have the N95 masks they needed and that 68 percent of them had been asked to reuse single-use equipment. Both practices put them and their families at risk, and both could be prevented if healthcare facilities were properly stocked with PPE.
3. Provide National Guidance Aimed at Slowing the Spread
Biden promises to work with the Centers for Disease Control and Prevention (CDC) to provide specific, evidence-based guidance for how to adapt COVID-19 restrictions based on the level of risk and degree of viral spread in a community. He's committed not only to providing the guidelines but also providing the resources local governments, businesses, and schools need to comply with them, including a "restart package" to help small businesses cover the costs of operating safely, including supplies like Plexiglas and PPE.
In comparison, the Trump administration has provided less-complete guidance for reopening, which asks individuals only to "strongly consider" wearing face coverings in public, softening the recommendations from the CDC.
4. Ensure Treatments and Vaccines Are Available to Everyone
The equitable distribution of therapies and vaccines is a primary concern for Biden. He has plans to ensure consumers aren't price gouged as new treatments emerge and has said he will invest $25 billion in a vaccine manufacturing and distribution plan that will guarantee that every American who needs the vaccine can have it, at no cost to them. (Trump's distribution plan only touts a "safe and effective vaccine in record time.")
Biden also wants to restore public confidence in the vaccine by allowing scientists to determine when it's ready to be distributed and publicly releasing clinical data and reports on any vaccine approved by the Food and Drug Administration.
5. Take Steps to Protect Those Who Are High Risk
For older Americans and people with underlying conditions that put them at greater risk of complications from COVID-19, this is a particularly stressful time. Biden plans to create a national dashboard, where Americans can assess community transmission in their zip codes and use that information to make decisions about how best to protect themselves.
There's also evidence that Black, Latinx, and Indigenous people have been disproportionately affected by COVID-19, which is why Biden's running mate, Kamala Harris, has proposed a COVID-19 Racial and Ethnic Disparities Task Force to identify disparities in the public health and economic response and make recommendations. At the end of this crisis, the task force will transition to a permanent Infectious Disease Racial Disparities Task Force. Considering the persistent health disparities BIPOC face, regardless of COVID-19, it's long overdue.
6. Work With State and Local Leaders to Implement Mask Mandates
A study published in the journal Nature Medicine found that universal mask-wearing could save 130,000 lives between now and the end of February. Biden has called on every American to wear a mask when they're around people outside their household and on every state governor to make masks mandatory. His original call for a national mask mandate may prove unconstitutional, which is why he has shifted his strategy to work with local leaders. Trump, on the other hand, has consistently undermined public health officials on masks, a decision that will continue to cost American lives.
7. Make Sure the Country Is Prepared For the Next Virus
Biden plans to rebuild and expand many of the health defenses that have shrunk under the Trump administration. This includes restoring the White House National Security Council Directorate For Global Health Security and Biodefense, a unit responsible for pandemic preparedness, which was disbanded by the Trump administration in 2018. Biden also intends to repair the country's relationship with the World Health Organization and to relaunch and strengthen the US Agency for International Development's pathogen-tracking program, PREDICT, which was created in 2009 to help detect viruses that had the potential to jump from animals to humans and become pandemics. The US government cut off its funding in 2019.