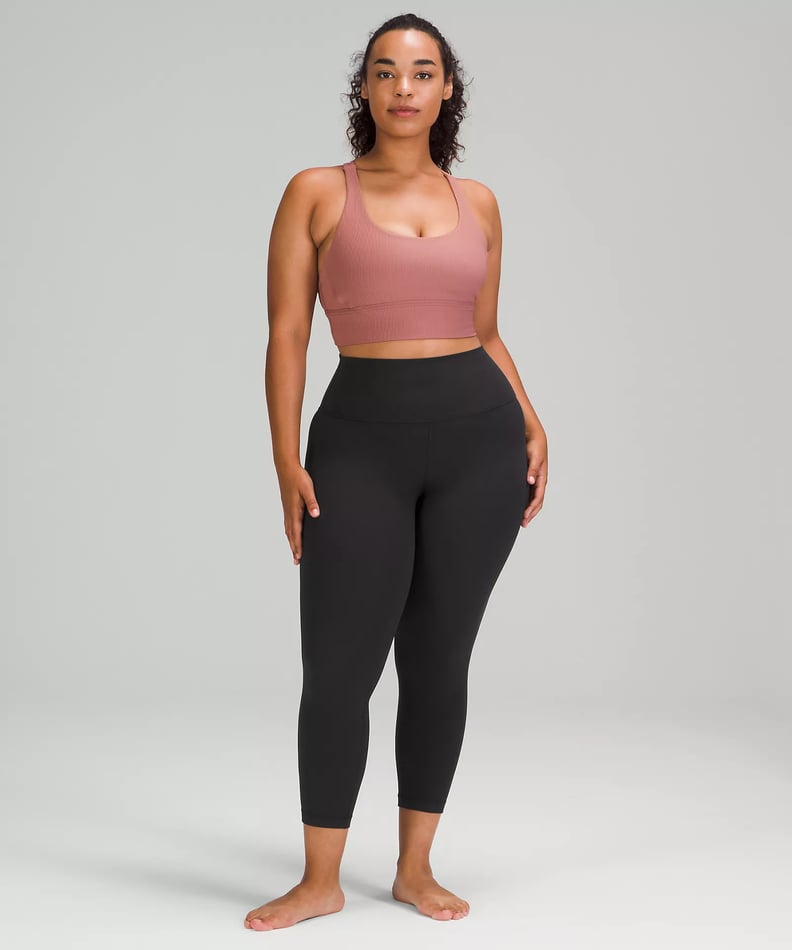 Lululemon
Lululemon
As POPSUGAR editors, we independently select and write about stuff we love and think you'll like too. If you buy a product we have recommended, we may receive affiliate commission, which in turn supports our work.
When I first heard about the Lululemon Align Pants ($98), I was curious but admittedly skeptical. At first glance, they look like ordinary leggings, so I didn't think they were going to change my life in any major way. The athletic leggings are made from a signature fabric called Nulu, which is basically the softest material ever — or at least the softest one in Lululemon's inventory. I have a lot of leggings in my workout wardrobe, but few feel quite like this; they're soft and cozy but not overly warm. Plus, they're so lightweight that they fit more like a second skin rather than actual pants.
I wear my Align Pants for basically everything — from Pilates to daily walks and even when I'm just lounging around the house. If you're in the market for a super-comfortable legging that you'll want to wear 24/7, Lululemon's Align collection is a great place to start your shopping spree. These are the athletic styles that first made Lululemon famous, and the brand has continued to expand on its product offerings in the collection ever since.
To help you determine which Align leggings are best suited for you (and your workout wardrobe), we rounded up a few of our favorites for your shopping convenience. Ahead, read our full breakdown to find out why we love each piece, what reviewers are saying, and what you might want to consider before investing in one of these pairs yourself.
— Additional reporting by Angela Elias and Kyley Warren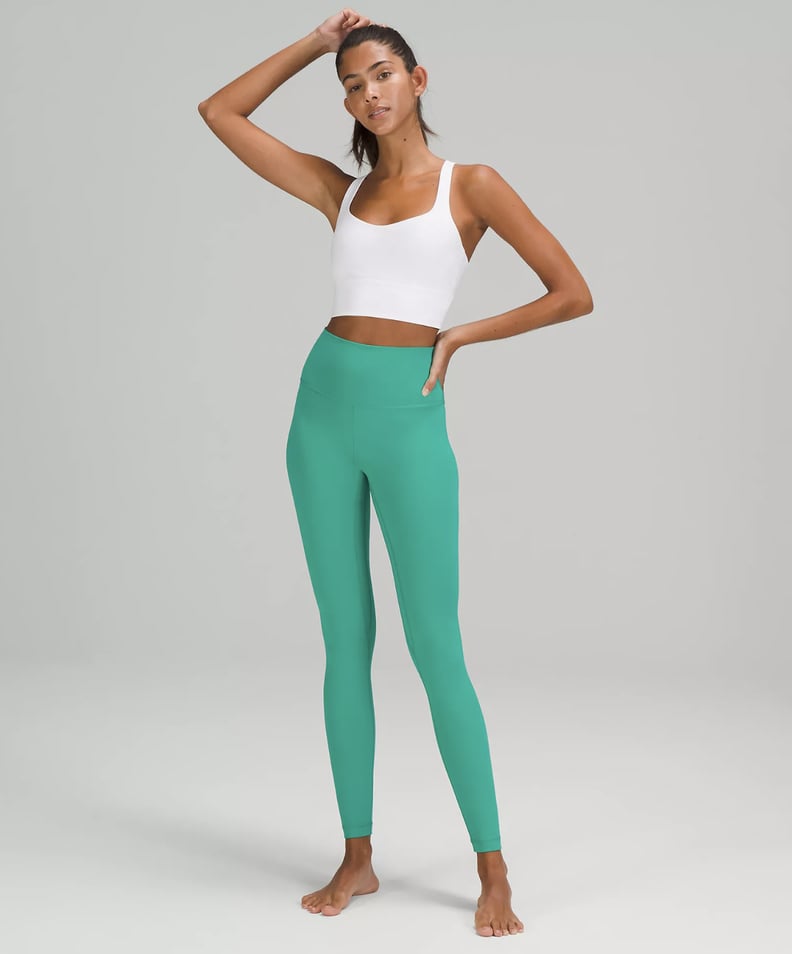 Best Overall Lululemon Leggings
Lululemon Align High-Rise Pant ($98-$118)
These are the buttery-soft yoga pants of your dreams. When you think of cozy, comfortable leggings, you'll think of these — and reach for them over and over again, whether it's for Pilates, your next yoga class, or just a relaxing hang at home. The pants are designed to move with your body, so you can feel comfortable and supported enjoying any high-movement activity.
What reviewers say: These pants have more than 7,000 five-star reviews, with one user calling them the "perfect everyday pant" and another saying, "These tights stay up yet are very easy to pull off without any struggle. Very true to size, and they are just the right length. I wear these everywhere."
Why we love them: The style has a high-waisted design that provides ample coverage on the tummy and also manages to stay up, regardless of whatever movement-heavy workout you're doing.
What's worth noting: Some reviewers note that the material of these Align leggings feels less durable than other Lululemon styles, and they've noticed this particular pair has a tendency to pill pretty quickly.
Additional details: Sizes: 0-20 | Length: 25", 28", 31" inseam | Colorways: 20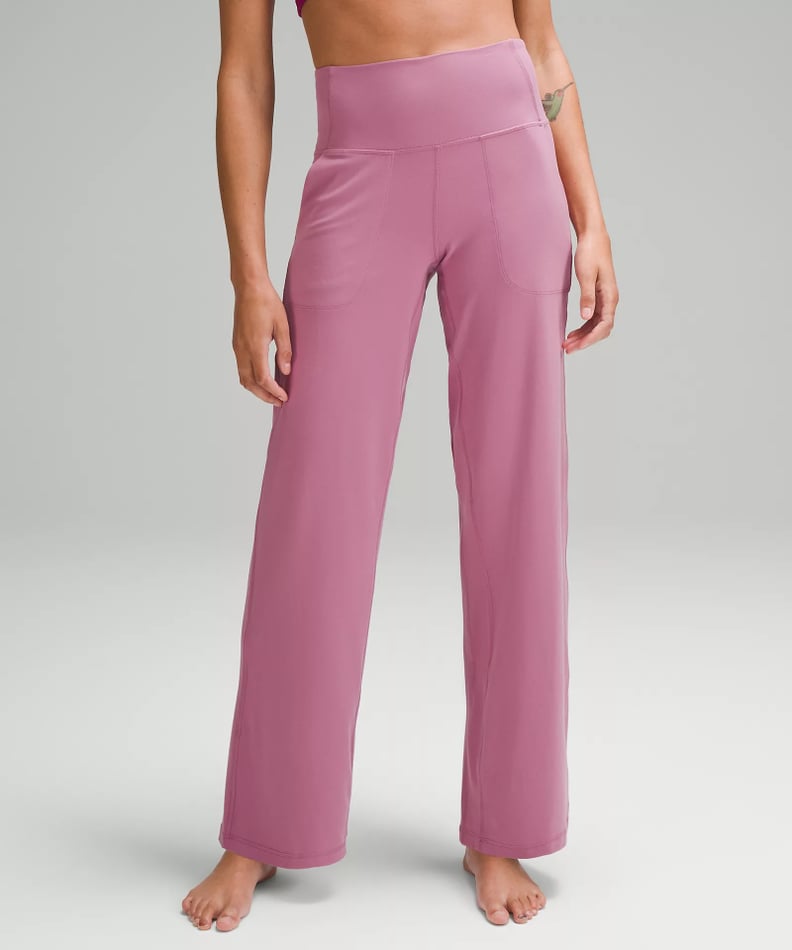 Best Wide-Leg Lululemon Leggings
Lululemon Align High-Rise Wide-Leg Pant ($128)
Workout leggings are great for lounging, but sometimes you just want a looser-fitting style that you can really unwind in. That's where these wide-leg pants come in. The breezy style is fitted with plenty of extra wiggle room, so you can move around with ease — whether that's in a morning yoga class or just sprawling out on your couch.
What reviewers say: Unlike traditional leggings, these pants have more of a cozy, loungewear-inspired feel, with one reviewer saying: "They're as comfy as my sweatpants and look really cute too! They fit true to size. I cannot be without these now, absolutely love them."
Why we love them: The style boasts all the same breathability and comfort as a classic pair of leggings, just in a looser and more comfortable silhouette inspired by sweatpants. What's not to love?
What's worth noting: Some reviewers note that these leggings have an awkward length that tends to favor more petite sizes. If you're taller and looking for wide-leg pants that will cover your entire leg, it's probably worth looking at other styles.
Additional details: Sizes: 0-20 | Length: 31" inseam | Colorways: 7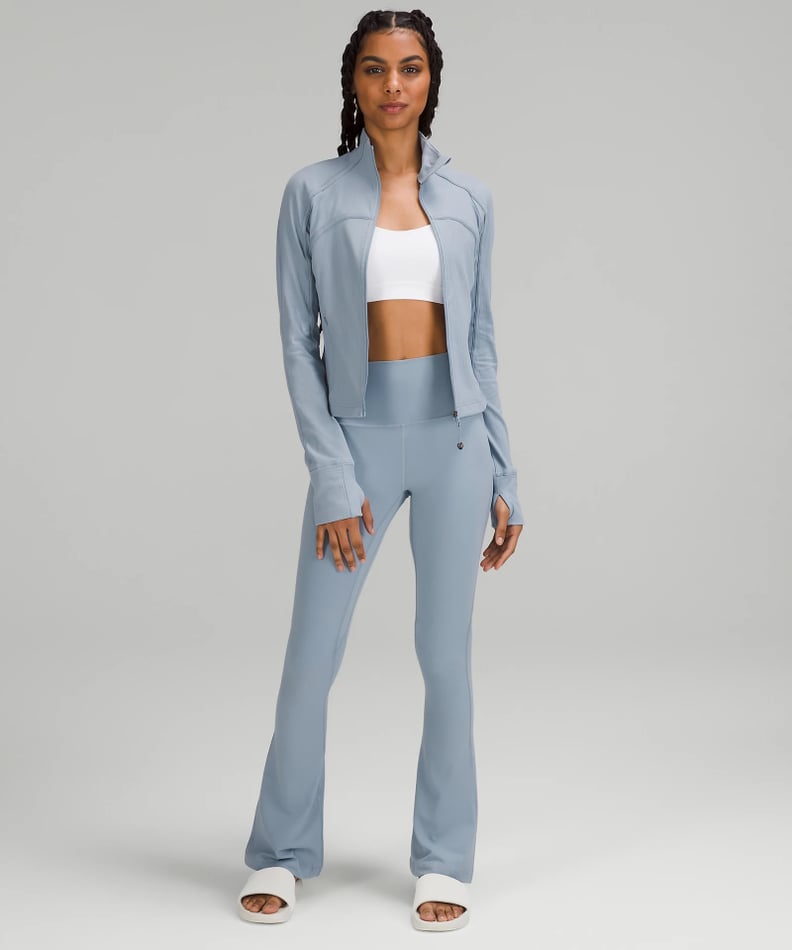 Best Flared Lululemon Leggings
Lululemon Align High-Rise Mini-Flared Pant ($118)
If you're looking to add more of a vintage flair to your wardrobe, you can't go wrong with these flared leggings from Lululemon. Wear them for your next workout with a cool pair of running shoes, or dress them up with an oversize T-shirt for a casual coffee run.
What reviewers say: One reviewer claims she gets "so many compliments" while wearing this stylish pair of leggings, while another says that the pants have just the right fit, which will make your legs look "longer and slimmer."
Why we love them: While it's hard to believe that flared leggings are back in style, this pair from Lululemon proves that the look is here to stay. We love the nostalgic flair of these pants, as well as the way they combine style with comfort.
What's worth noting: These flared leggings have limited length options, and some reviewers note that they've found the pant to either be too short or too long as a result.
Additional details: Sizes: 0-14 | Length: 28", 32" inseam | Colorways: 7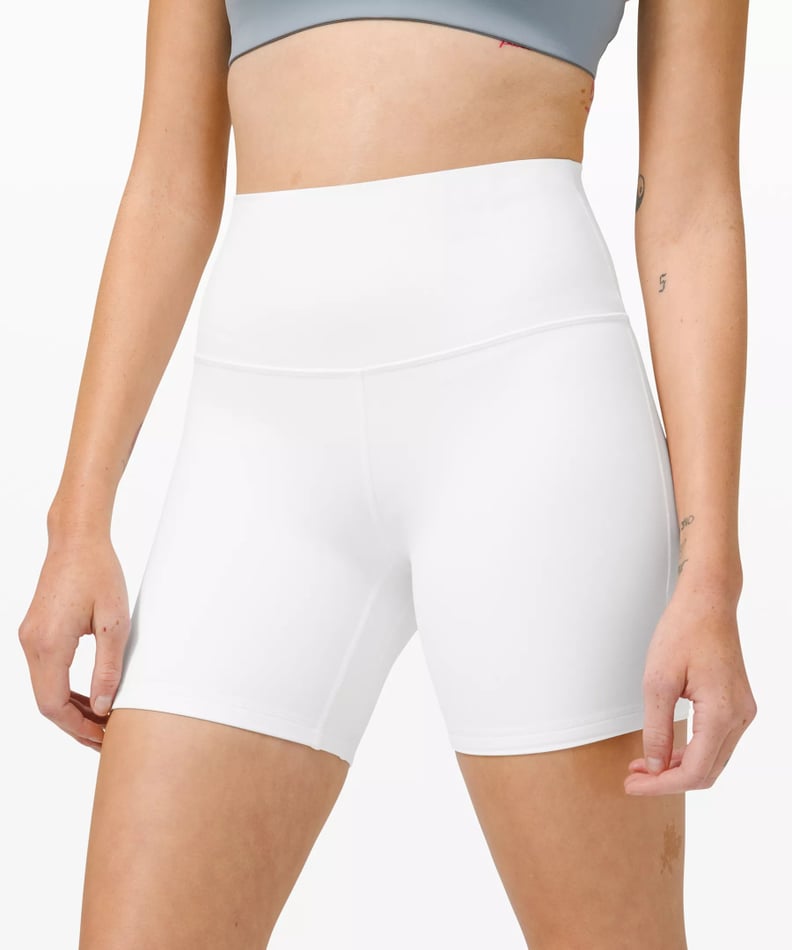 Best Lululemon Shorts
Lululemon Align High-Rise Short ($64-$74)
These shorts take everything shoppers love about Lululemon's ultra-sleek leggings and translate them into a cropped style that's breathable, easy to move around in, and great for those sweaty, outdoor workouts when you want to wear as little as possible.
What reviewers say: The consensus with these Lululemon shorts is that they're seriously great. Some reviewers claim that the style is a winner because they feel "buttery soft" while on, and others have called them the "best biker short ever" because they fit like a dream and don't ride up when you run.
Why we love them: These athletic shorts are available to shop in a wide range of sizes and even feature three different length options, so it's easy to find your perfect fit.
What's worth noting: A few reviewers note that the lighter-colored shorts are easy to see through in direct sunlight. If this is a concern for you or you'd just prefer something more conservative, it's probably best that you purchase the shorts in a darker color.
Additional details: Sizes: 0-20 | Length: four inches, six inches, and eight inches | Colorways: 14
Best Lululemon Joggers
Lululemon Align Joggers ($118-$128)
For a little more coverage on your next run or sweat-inducing gym session, opt for these stylish joggers from Lululemon. The hybrid style pairs the stretch of classic leggings with the comfort provided by cozy sweatpants.
What reviewers say: A few reviews noted that the style is "totally aligned" in size, color, and fit. As one reviewer put it: "These pants are great! They are so buttery and comfortable, I want 10 more pairs! A great option if leggings sometimes make you feel too exposed. I stuck with my regular size in Aligns, which is one size down from my normal size, and they fit well."
Why we love them: The pants are fitted with tons of unique details, including front pockets with an interior card slot that is ideal for runners, hikers, or anyone who wants to leave their wallet at home.
What's worth noting: These Lululemon joggers are only available to shop in one length, so it's best to review Lululemon's size guide to ensure you purchase the pant best suited to your height.
Additional details: Sizes: 0-20 | Colorways: 11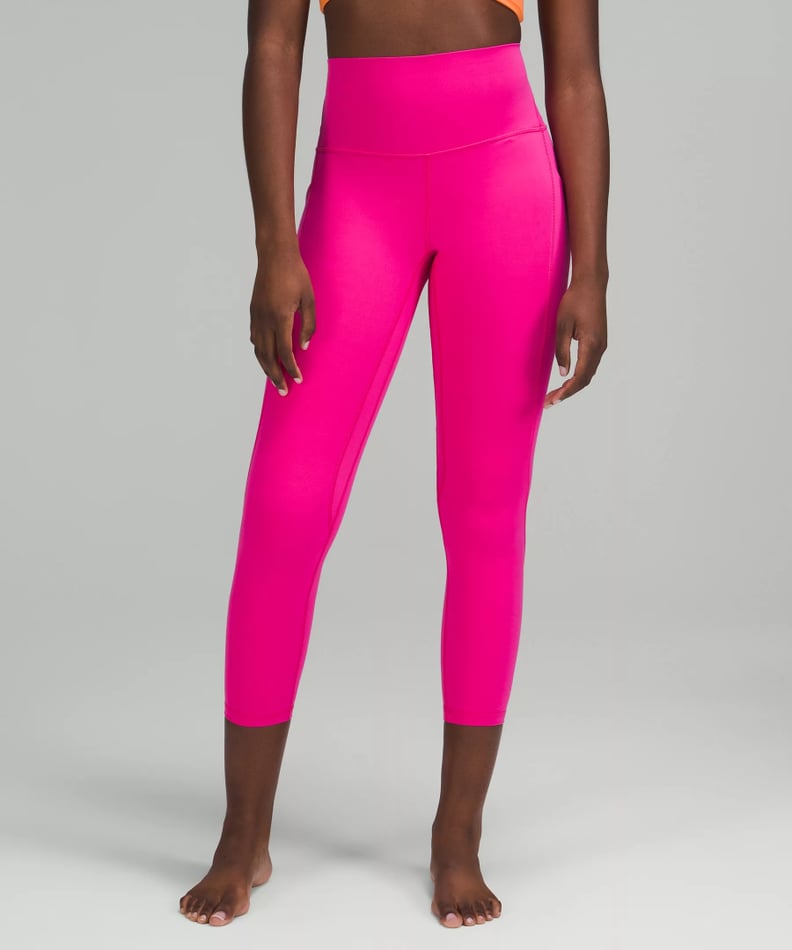 Best Lululemon Leggings With Pockets
Lululemon Align High-Rise Pant with Pockets ($128-$138)
Just when you thought Lululemon couldn't possibly improve on its bestselling athletic wear, the brand decided to upgrade its most beloved leggings with pockets. These cropped pants feature side pockets that are deep enough to hold items like your cell phone, credit cards, and even car keys.
What reviewers say: These Lululemon leggings prioritize comfort, and it's apparent throughout all of the product's reviews. One shopper wrote: "Hands down these are the best leggings I have ever worn in my life. I cannot get over how soft and comfy they are, it feels like I am wearing nothing at all."
Why we love them: The side pockets are a huge part of the appeal of these leggings, as they allow you to keep all of your essentials close without having to carry around a gym bag or backpack.
What's worth noting: These leggings are made from Lululemon's signature Nulu fabric, which is one of the brand's softest and most lightweight materials. Similar to other styles, it's recommended that users are careful when washing these pants, as they tend to pill over time if not properly cared for.
Additional details: Sizes: 0-20 | Length: 25", 28", 31" inseam | Colorways: 17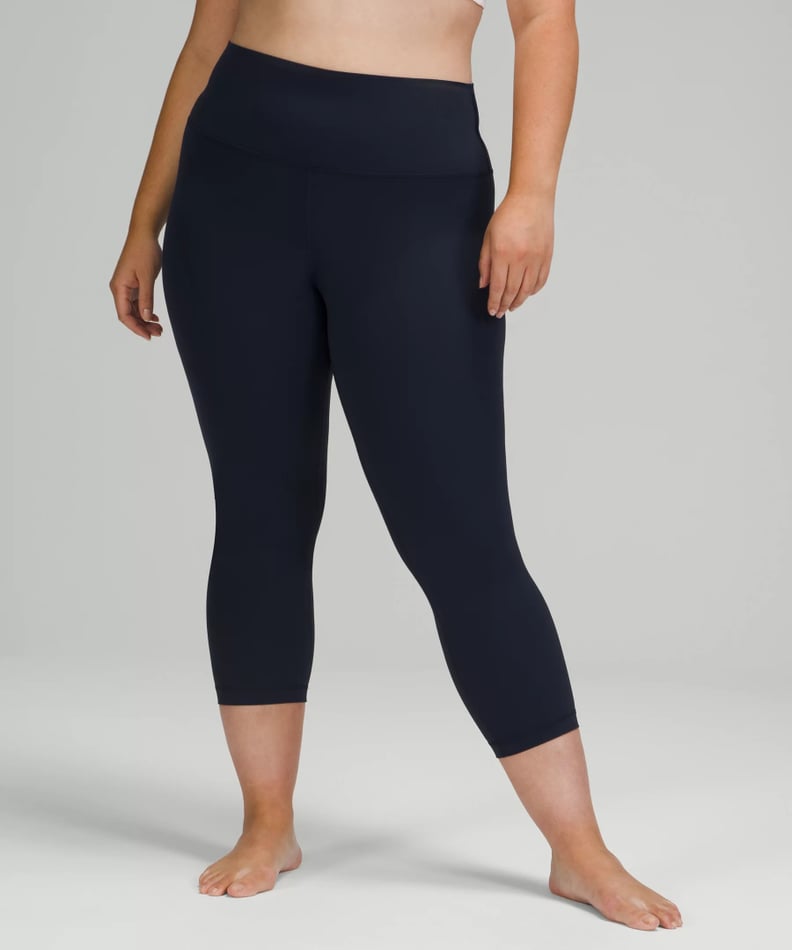 Best Cropped Lululemon Leggings
Lululemon Align High-Rise Crop Pant ($88-$98)
If your workout wardrobe is already filled up with full-length leggings, now's the perfect time to invest in a cropped style — especially heading into the spring and summer months. These Lululemon leggings are available in a variety of different colors, lengths, and sizes, so you'll have no problem shopping for the best style for your closet.
What reviewers say: These pants are known for their ultra-soft nature, with one reviewer saying, "These are my first pair of Align Leggings and I loveeee them! I've been true to the Fast and Free High-Rises but these have a bit more structure without being too restrictive."
Why we love them: The cropped length makes these leggings more breathable than a traditional, ankle-length pair. As temperatures begin to warm up, these leggings will be the perfect option to wear outdoors on hikes or runs.
What's worth noting: While the cropped design of these pants is unique, a few reviewers note that the leggings tend to roll up at the bottom as they become looser and more lived-in. If you want a style that will hold its shape over time and stretch down to your ankles, it's probably best that you shop for another pair.
Additional details: Sizes: 0-20 | Length: 17", 21", 23" inseam | Colorways: 22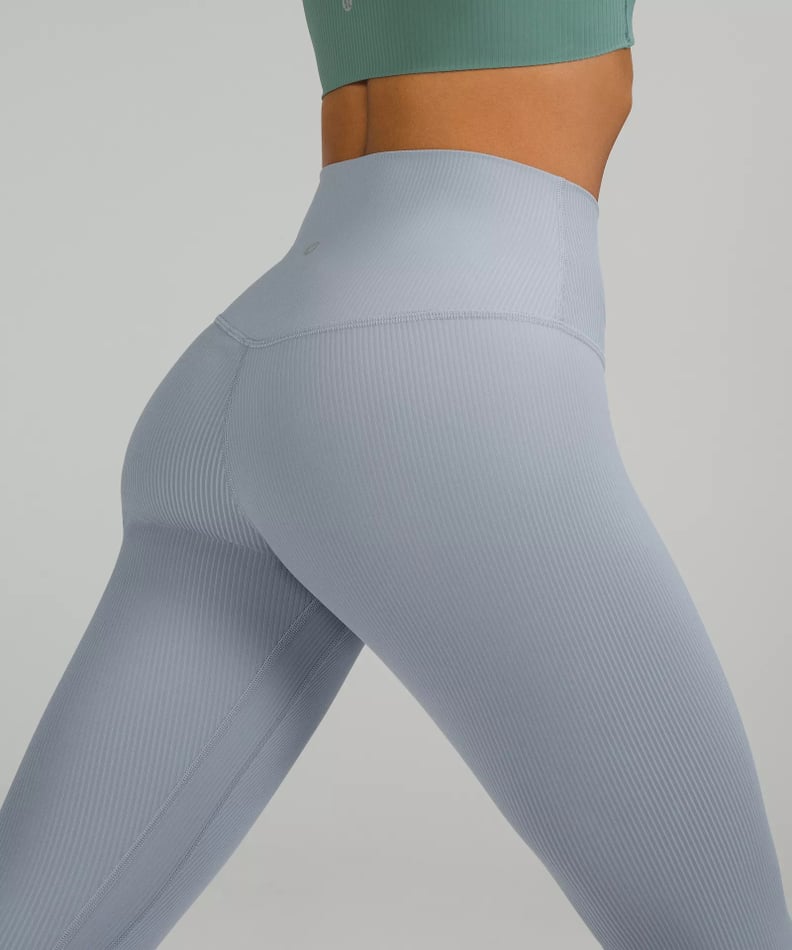 Best Ribbed Lululemon Leggings
Lululemon Align Ribbed High-Rise Pant ($118)
If you want to switch up the look of your favorite yoga pants without reaching for a bold color or pattern, try an on-trend texture instead. This ribbed option was designed with yoga workouts in mind, so it's comfortable and cozy.
What reviewers say: Customers note how soft these leggings are and also appreciate the flattering nature of the ribbed material, with one reviewer saying, "I've lived in the align Lulu leggings for 10 years now- I own about 50 pairs and these are by far my favorite pair I've owned. Extremely flattering and with the rib detail it definitely shows less of the imperfections on my legs."
Why we love them: Aside from being comfortable and flattering, these pants also have a hidden waistband pocket so you can discreetly tuck away a card or key without it bothering you during a workout. These pants are perfect for low-impact workouts when comfort is your priority.
What's worth noting: Some reviewers note that the double lining makes them thicker and harder to wear during the warmer months, so keep that in mind if you're looking to snag a pair to wear for a hot yoga session.
Additional details: Sizes: 0-14 | Length: 25" and 28" inseam | Colorways: 7