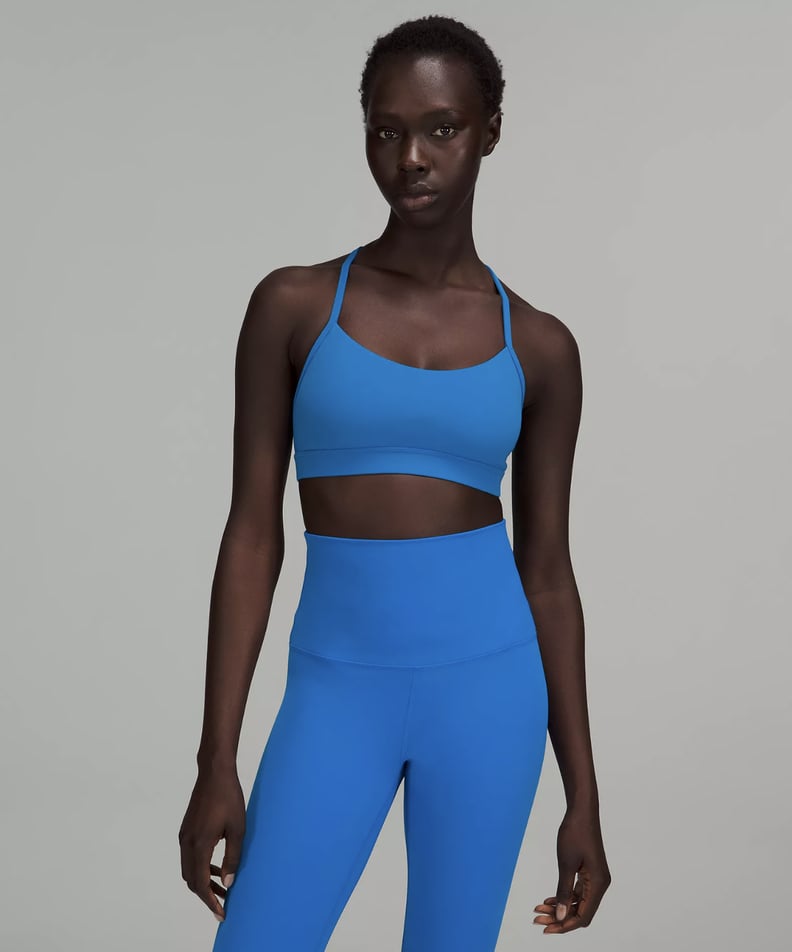 Lululemon
Lululemon
As POPSUGAR editors, we independently select and write about stuff we love and think you'll like too. If you buy a product we have recommended, we may receive affiliate commission, which in turn supports our work.
Let's face it: sports bras can be tough to shop for. They need to be functional and supportive, but in an ideal world, they're also pretty enough to be worn on their own or seen peeking through a tank. Lululemon has cute, supportive sports bras down, but it can be tricky figuring out which one to pick — especially when so many of them have strappy backs and a wide range of sizes. We know the shopping struggle all too well, which is why we've done the tough work for you and broken down the differences between nine of the best Lululemon sports bras, so all you have to worry about is working on your Downward Dog.
Whether you like a lightly supportive bra or need all the structure you can get, these options are the best of the best. There are plenty of colors and patterns that'll seamlessly fit into anyone's workout wardrobe. And even better, there are also styles for people of all chest sizes, so you can feel confident that you'll find the perfect fit. An added perk? Lululemon has so many cute tops to layer over those sports bras or leggings to complete the outfit — we love a matching set, after all. Keep reading to shop our picks.
— Additional reporting by India Yaffe
01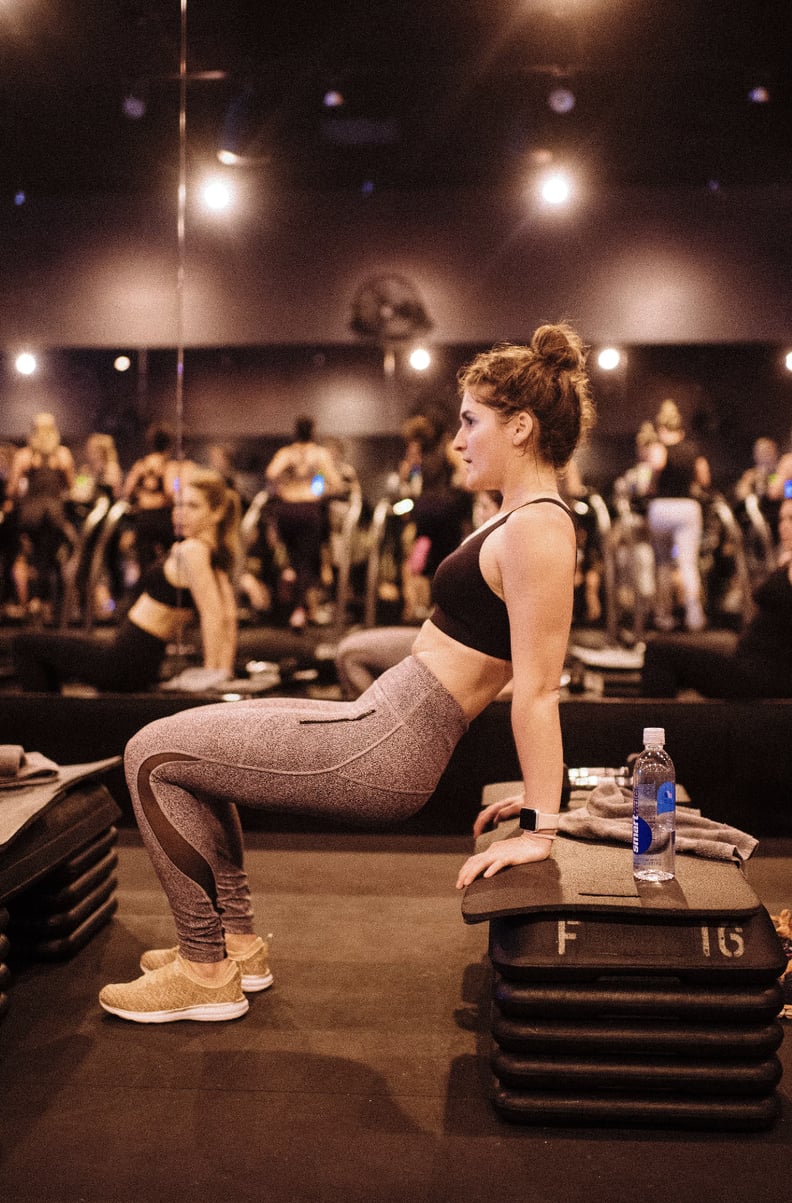 Best Size-Inclusive Lululemon Sports Bra
Lululemon Enlite Front Zip Bra ($108)
Have you ever felt that your sports bra negatively impacts the way you move? Well, no more. Meet Lululemon's most innovative and size-inclusive sports bra to date. This bra is actually comfortable, which is not something you can say about most high-impact sports bras; they usually weigh you down or keep you overly constricted. This bra magically feels light against your skin and keeps you held in enough that you're supported without feeling like you can't breathe. It's sized from A to DDD(E) cups, so anyone who's running or dancing can have a high-support bra they love regardless of their cup size. Read our full review of the Lululemon Enlite Bra.
What reviewers say: One reviewer called the style the "world's most comfy bra," while another said: "This is my favorite bra ever. It's easy to put on and take off. It's supportive. It holds up to exercise, daily wear, and repeated washing. I was delighted to find it in this bright, cheery color. If I could wave my magic wand, I would get one in plum purple and burnt orange, please."
Why we love it: Few Lululemon bras have as many size options as this particular piece. We love that it comes in a wide range of fits, which ensures that anyone can find the perfect style for their size and body type. Plus, the layer also features a bonded band, which provides total comfort and will keep the style from constricting or digging into the skin.
What's worth noting: While the product is listed as being true to size, a few reviewers have noted that the style's compressive fabric makes the piece feel much tighter on the body. If you'd prefer a looser fit, size up or consider another sports bra.
Additional details: Cup sizes: A-DDD(E) cups | Colorways: 2
02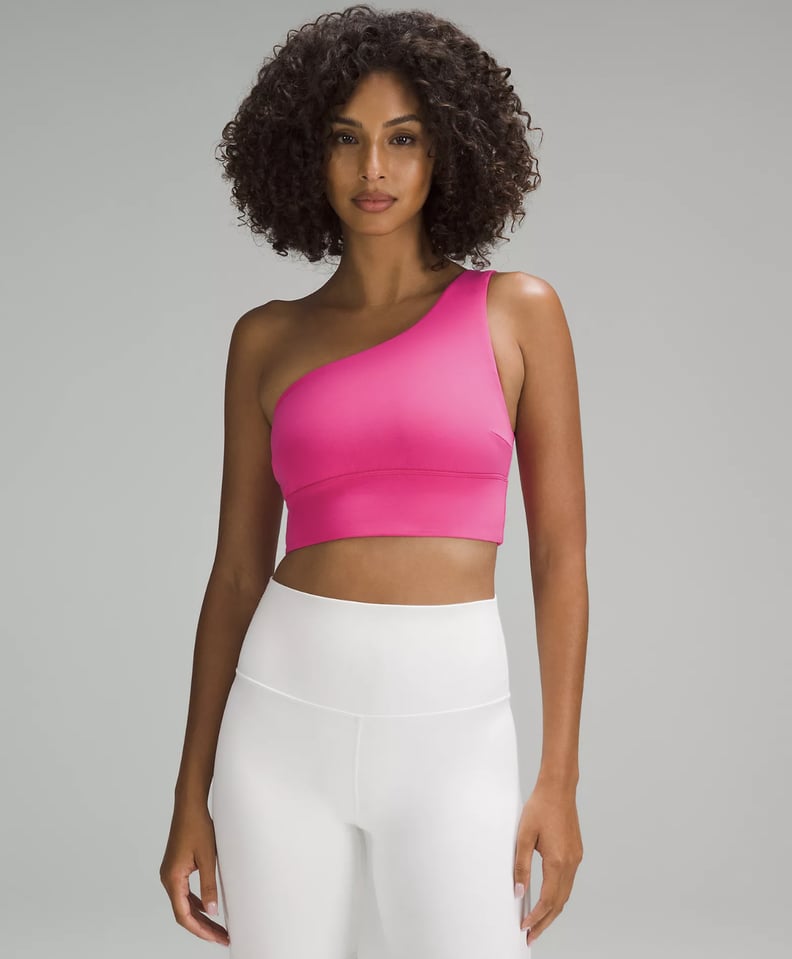 Best Asymmetrical Lululemon Sports Bra
Lululemon Align Asymmetrical Bra A/B Cups ($58), Lululemon Align Asymmetrical Bra C/D Cups ($58)
This lightweight bra is a total game changer if you want something that's supportive yet trendy — and we're talking about the style's asymmetrical design, of course. This Lululemon bra has a one-strap silhouette which provides lots of freedom of movement and looks super cute while remaining just as comfortable as the brand's other styles.
What reviewers say: Reviewers say this product fits true to size and is a great option for yogis, with one shopper writing: "Flattering, stylish and comfortable. I am glad [this bra] is offered in different cup sizes. I am at 36DD and a size 10 in womens' clothes and the size 12 fits perfectly. I use this top for my hot yoga practice and sculpt weight lifting classes."
Why we love it: The product is made from Lululemon's signature Nulu fabric that's supremely soft and feels amazing against the skin.
What's worth noting: Per Lululemon's website, this bra offers lightweight support and much less lift compared to some of the brand's other sports bras. Several reviewers have noted that as a result, it's not necessarily the best fit for high-impact workouts or for those with larger busts.
Additional details: Sizes: 2-14 | Cup sizes: A-D | Colorways: 8
03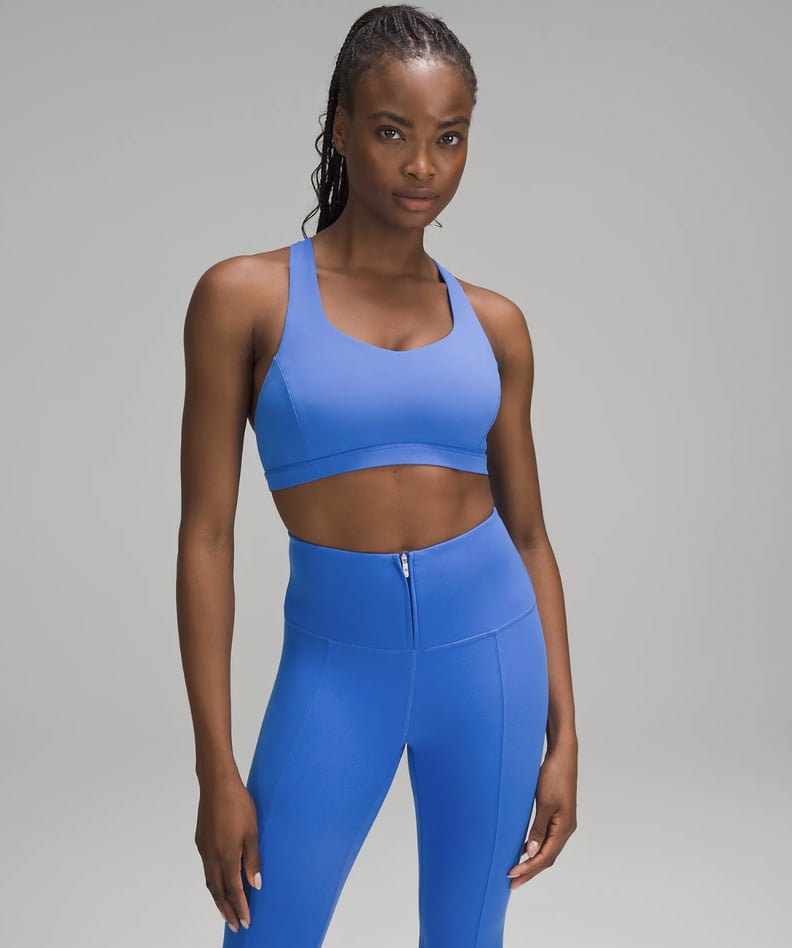 Best Lululemon Sports Bra For Larger Busts
Lululemon Free to Be Serene Bra ($52)
This Lululemon sports bra was made for the more well-endowed athletes. It provides light support for a C-D cup, which is deceptively difficult to find. It's the perfect comfy companion for a weekend hike or Pilates class. Best of all, it comes in four colors, including a cobalt blue shade that's bound to make a statement.
What reviewers say: Shopping for the right sports bra is serious business, as detailed by this one reviewer: "This is hands down my favorite Lululemon bra. I own 10+ and will die if they ever discontinue. Trust me… get one for yourself! Worth it!"
Why we love it: Besides the style's slick, cooling design, this sports bra is also made from a sweat-wicking fabric, which ensures the product won't stain or wear down as easily — even after the most high-intensity workouts.
What's worth noting: As with any back-strap bra, some reviewers have noted that the straps have a tendency to loosen over time — ultimately making the piece less form-fitting. For something that can hold its shape, we'd recommend getting a more compressive piece.
Additional details: Sizes: 2-14 | Cup sizes: C/D cups | Colorways: 4
04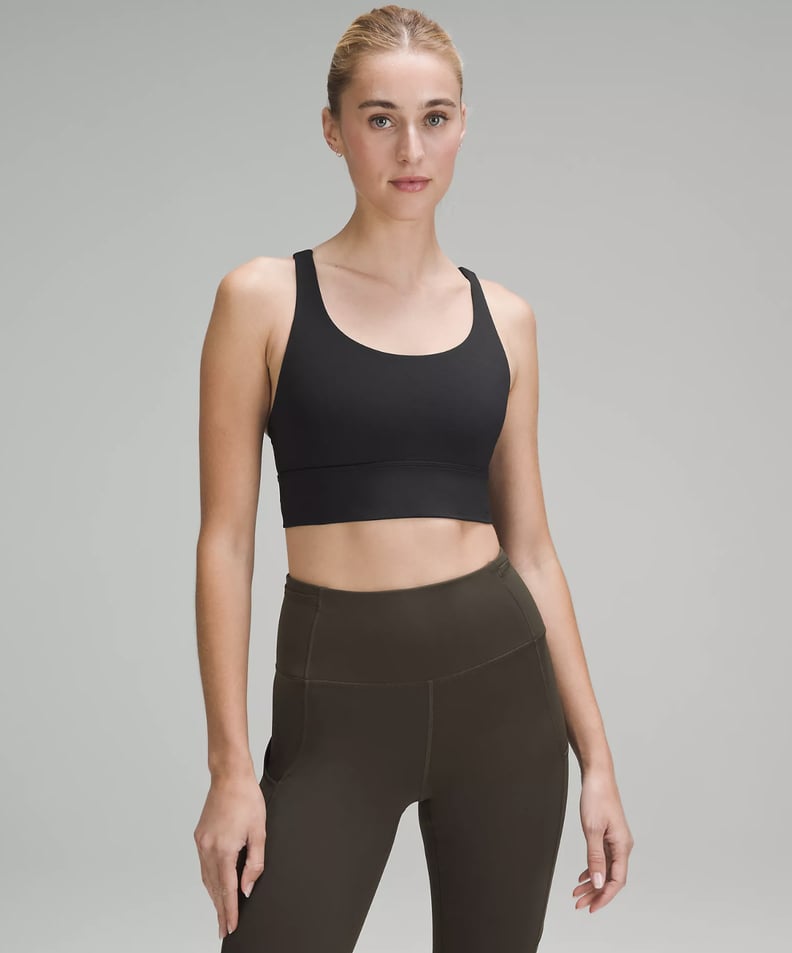 Best Lululemon Sports Bra For Everyday Wear
Lululemon Energy Bra ($58)
The is the ultimate do-it-all bra. Medium-impact, with a cute strappy back, this is the athletic bra you're going to turn to for pretty much any workout. It comes in 10 colors, so there's one to suit every workout look, and the Luxtreme fabric helps to wick sweat well.
What reviewers say: This style is designed to work for any workout, and the piece seems to live up to the hype, with one reviewer writing: "Love how this bra looks on. Very flattering, very pretty. Great support. [I] use it for yoga, jogging, and rowing."
Why we love it: The product is marketed as being an "all-sport bra," meaning that whether you're training, going for a hike, or just enjoying a low-key yoga workout, this style will ensure you feel supported and comfortable through it all.
What's worth noting: A few reviewers have noted that because the bra's material is so compressive, it runs on the smaller end and can be a challenge to get on or off. Athletes who prefer a more breathable fit might be better off purchasing another sports bra style.
Additional details: Sizes: 2-14 | Cup sizes: B-D cups | Colorways: 10
05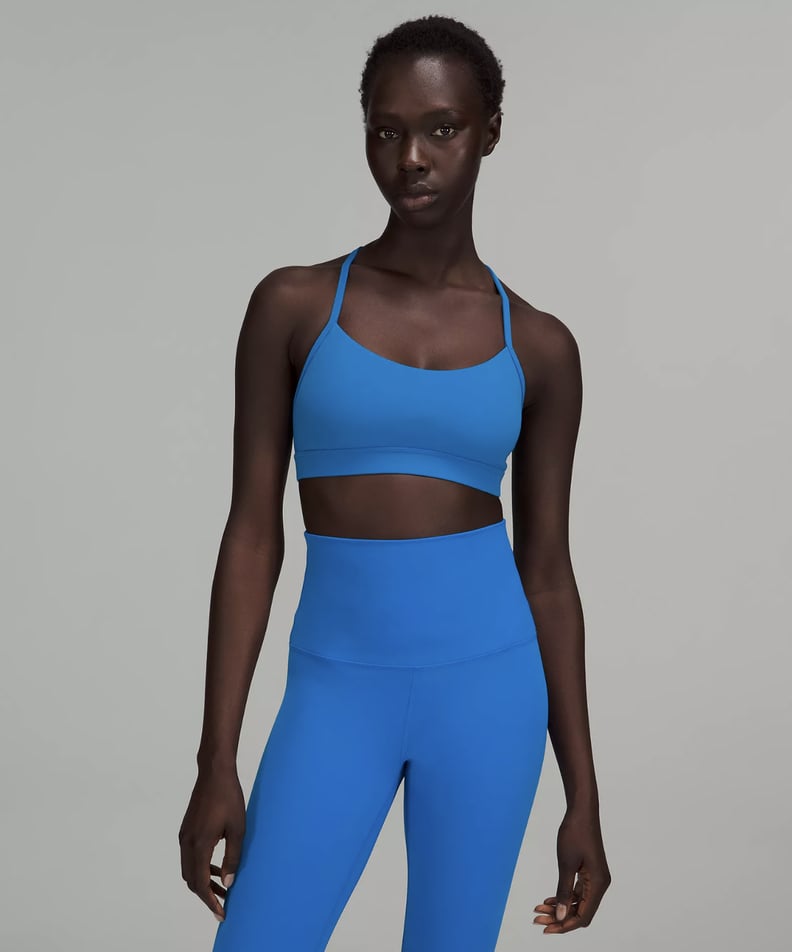 Best Lululemon Sports Bra With Thin Straps
Lululemon Flow Y Bra ($48)
This strappy essential is the classic low-impact bra that the brand is known for. It's super comfortable, thanks to the Nulu fabric, which is the same material that's used to make Lululemon's ultra-soft Align leggings you know and love. It also has the skinniest racerback design that fits seamlessly under tank tops. If you're looking for something that's lightweight and minimal but still supportive enough to keep you feeling secure, this is the bra for you.
What reviewers say: One reviewer hailed this style as being one of their "all time favorite sports bras to work out in," and continued by saying: "Makes the girls look great and offers plenty of support!"
Why we love it: The racerback design of this bra is so lightweight and minimal, you might honestly forget that you're wearing a bra at all. It provides total support without feeling too constricting, so you can seamlessly move around.
What's worth noting: While the thin straps are comfortable, they're also designed with low-impact workouts in mind. For high-impact activities like running, hiking, strength training, and more, we'd recommend opting for a thicker and more compressive bra style that'll ensure everything stays in place.
Additional details: Sizes: 2-14 | Cup sizes: A-C cups | Colorways: 13
06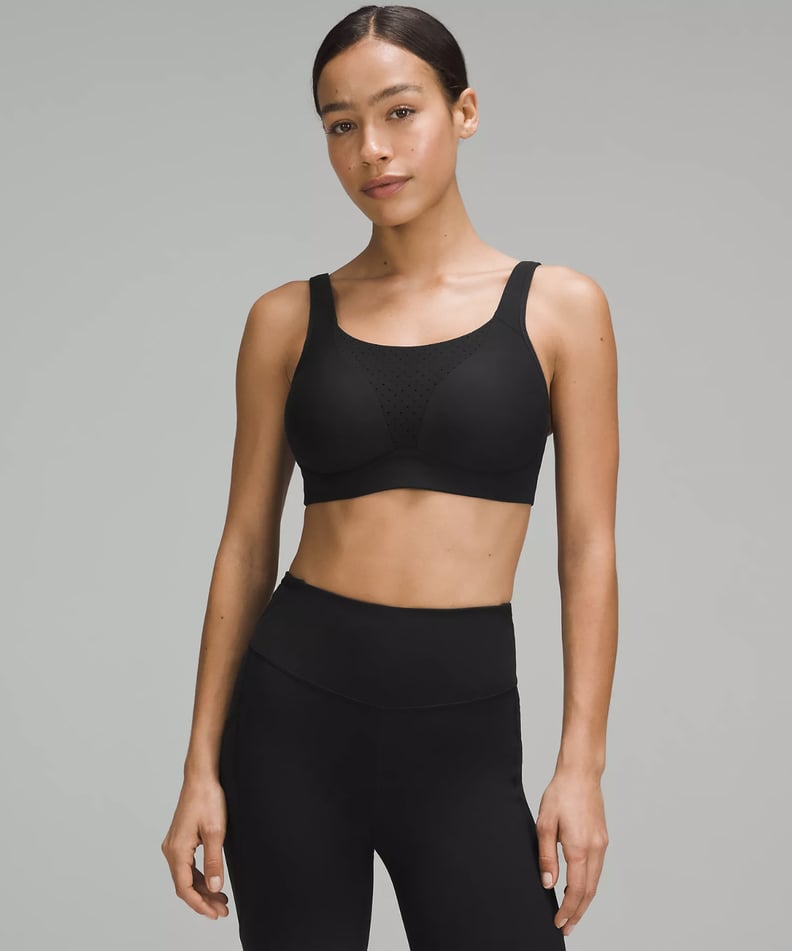 Best Lululemon Sports Bra For Running
Lululemon Run Times Bra ($68)
The Lululemon Run Times Bra is ideal for high-impact sweat sessions. It holds you in without feeling overly restricting, so basically, it's a miracle worker. This is a bra made for lots of different chest sizes; it starts at a 32B and goes up to a 42DDD, so no matter your chest size, there's an option for you. Plus, we love the more breathable patch at the center to help ventilate air.
What reviewers say: This style truly lives up to its name, with one reviewer saying: "I needed a bra that was gonna hold the girls in place and not let them move when running. This bra is perfect. Fits true to size and is comfortable. I like that it has a regular clasp versus a pullover style. This won't be my everyday workout bra but for running and high-impact classes, this is perfect."
Why we love it: There are so many thoughtful design details that help to make this piece great — from the padded straps and soft underband to the style's hook-and-closure design.
What's worth noting: While this bra is available to shop in a wide variety of sizes, some reviewers have noted that the material tends to cut into the arms and occasionally pinch the skin. As a result, it's best to reserve this piece for wear only when running, versus for any activity that might require you to move your arms excessively.
Additional details: Cup sizes: B-G cups | Colorways: 4
07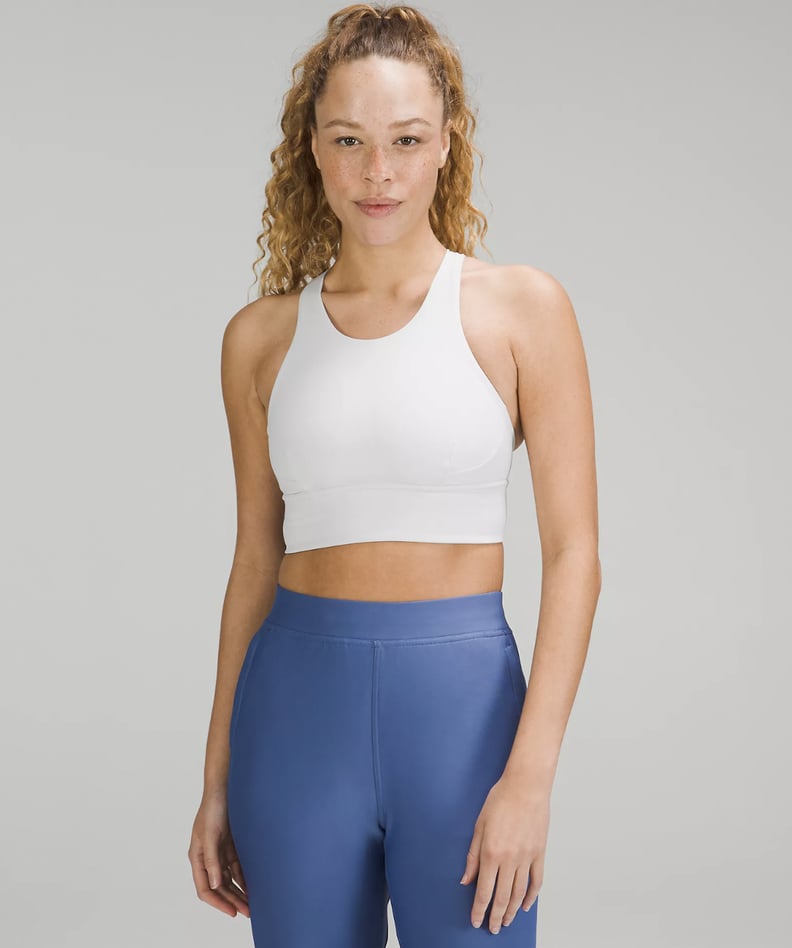 Best Lululemon Sports Bra For Medium Support
Lululemon Wunder Train Longline Bra ($68)
This Lululemon style is the bra you'll reach for when you're going to do pretty much any type of movement. It'll be the most versatile piece in your workout wardrobe because it's made for medium-impact workouts, so you could wear it to Pilates, cycling, or bootcamp. The piece is supportive and easy to move in, and we love the high neckline, which helps to conceal any annoying gym cleavage.
What reviewers say: The perfect bra for running exists, and one reviewer claims she found it in this style, saying: "I love this bra! Since I got it, I wear it almost all the time to run and to do my cardio workouts. Definitely, offers high support for me."
Why we love it: The style's high neckline is such an underrated accent on this piece. The last thing you want to worry about when running or lifting weights is feeling unsupported in the chest area. Fortunately, this sports bra helps to conceal any cleavage, so you can focus on hitting your sets in the gym.
What's worth noting: This bra is fitted with removable cups, and some reviewers have noted that the cups tend to fall out in the wash.
Additional details: Sizes: 2-14 | Cup sizes: C/D cups | Colorways: 1
08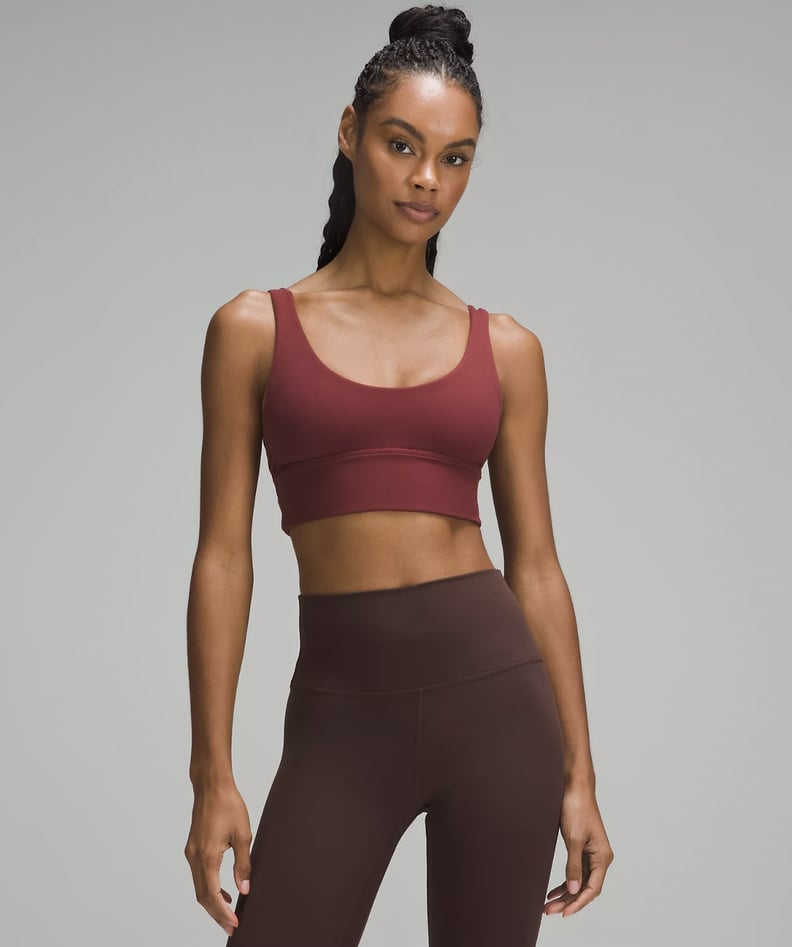 Best Reversible Lululemon Sports Bra
Lululemon Align Bra Light Support A/B Cups ($58), Lululemon Align Bra Light Support C/D Cups ($58)
This reversible bra is made with the brand's signature Nulu fabric, so you know it's buttery soft and super comfortable. Plus, it's reversible, so it's like getting two bras in one. The bra is a low-impact option that's great for everyday wear and light movement.
What reviewers say: Reviewers are obsessed with the bra's comfortable fit and practical, reversible design, but others hail the product's supportive build, with one noting: "I love everything about this sports bra! It has enough support to hit the gym, do dancing, yoga, etc."
Why we love it: This style is crafted from Lululemon's Nulu fabric, which is a buttery soft alternative that's smooth to the touch and helps to prevent any chaffing or irritation on the arms.
What's worth noting: This particular style comes in more limited sizing options compared to other Lululemon pieces.
Additional details: Sizes: 2-14 | Cup sizes: A-D cups | Colorways: 5
09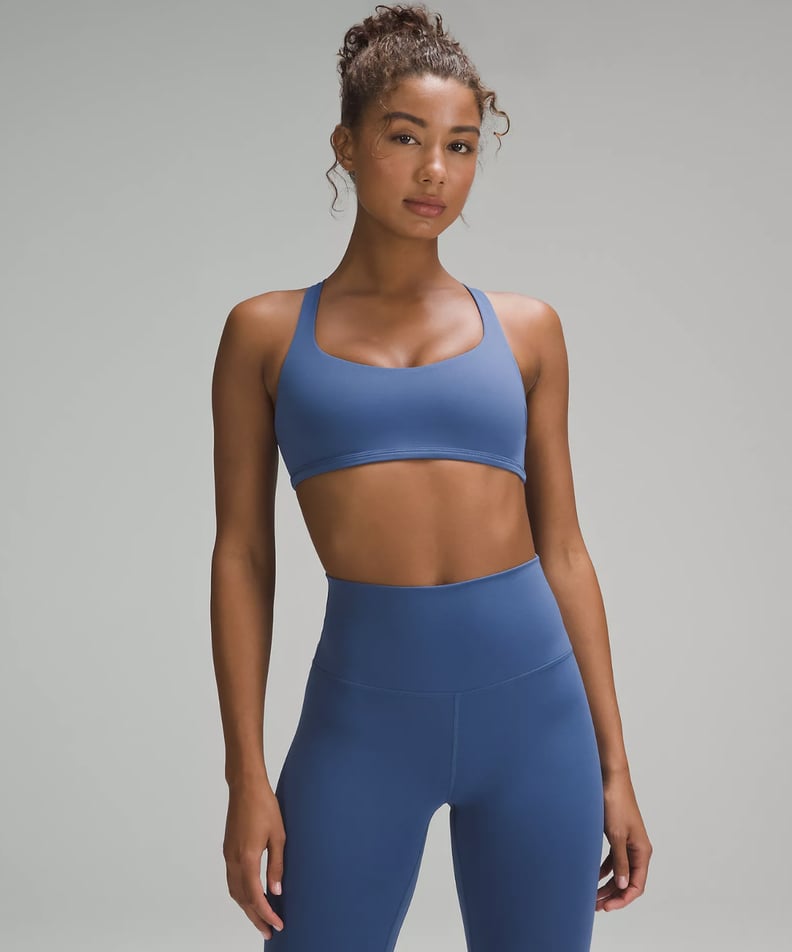 Best Lululemon Sports Bra For Yoga
Lululemon Free to Be Bra Wild ($48)
Yogis, rejoice! This Lululemon workout bra has enough support to guide you through inversions but won't feel too constricting. Also ideal for an A-B cup, it's made of the brand's beloved Luxtreme fabric, which has low-friction, sweat-wicking properties, so you can hit up hot yoga if that's more your thing. Plus, how cute are these full cross-back straps?
What reviewers say: One shopper went so far as to call this the "best Lululemon bra out there," saying: "I love this bra. I've been into the Like a Cloud Bra recently and I just ordered this one. I like the Flow Y and Energy Bra, but they are a little tight. I love this one because it has padding and is conferrable. Definitely a must have!"
Why we love it: This style features minimal fabric — and that's on purpose. The sports bra is designed for yoga specifically, and the open-back silhouette provides a more movable fit which ensures users can easily stretch and move their arms without feeling constricted.
What's worth noting: Interestingly, a few reviewers noted that some of the colors for this bra don't reflect the shades shown in the images. Frankly, we care more about the fit of a sports bra, rather than the look. But if you're trying to pair this style in a set or just want to ensure you're getting the exact color you want, we'd recommend reading through the comments to confirm the exact shade you want.
Additional details: Sizes: 2-14 | Cup sizes: A/B cups | Colorways: 5