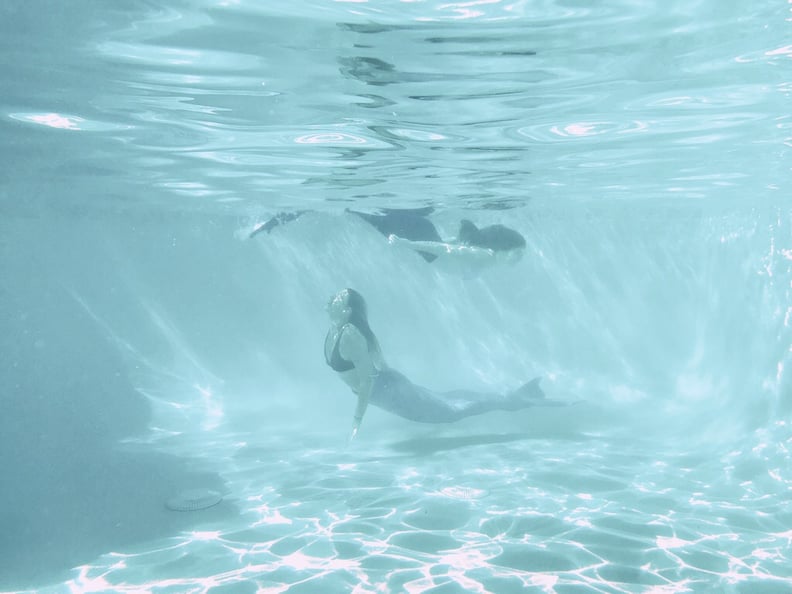 Dominique Astorino
Dominique Astorino
As someone who has an affinity for merculture and all things maritime — and someone who is obsessed with group fitness — I couldn't have had any more FOMO for the past two years since I first heard about the mermaid fitness pool workout. I had one goal: get to the Hotel Del Coronado in San Diego and get. a. mermaid. tail. This year would finally be my chance to see what it was all about, so before I even had flights booked to San Diego, I reserved spots for myself and my best friends in the 8 a.m. Saturday mermaid fitness class (I know, I have really awesome friends. I hope they don't hate me for constantly forcefully bringing them to early a.m. weekend workouts. In mermaid tails.).
Imagine yourself living your best mermaid life in a cool pool, seaside on the sunny shore of San Diego — the sun sparkling on the water, the air just ever so slightly warm, and Demi Lovato's "Sorry Not Sorry" playing in the background. You're surrounded by your best friends, wearing a glittering, colorful mermaid tail in whatever hue speaks to your soul, and a "Lead Mermaid" fitness coach named Jessica is ready to kick your butt with some core exercises. It's not too good to be true — it exists and it's $25 on Coronado Island.
Believe it or not, this isn't a class for kids — because the tails are heavy and somewhat challenging to swim in, this particular kind of group fitness is reserved for adults (it's an 18+ activity, but younger mermaids between 14 and 17 can attend with an adult).
Yes, it's absolutely a novelty, but we also burned some calories and worked our muscles (one of my friends said she had sore triceps for three days!). We began with some familiar exercises while sitting on the pool's edge: think Russian twists and V-crunches . . . but in a mermaid tail. The weight on your feet from the fin is comparable to light ankle weights, intensifying the challenge (not to mention the extra challenge once you're in the water with that extra weight).
In the pool, the swimming alone gives you a bit of a LISS cardio workout, but the coach adds toning moves with a foam pool noodle. You'll work your triceps against the resistance of the buoyancy and work your butt, legs, and abs while you grip the ledge of the pool (while in the water) and body roll and kick like a mermaid.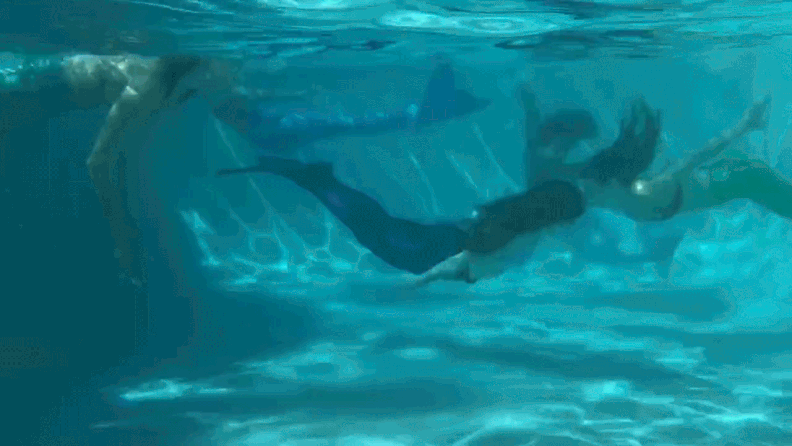 After 45 minutes of the most fun workout of my life flew by, we also got time to play around a little, take photos, and live out our wildest merdreams. I'm not going to lie: it was hard to go back to my standard on-land fitness routine after this, but I have every intention of returning for a few more classes in the near future. After all, it's pool weather year round in San Diego!